At a glance
Gilbert Ho FCPA is executive director of Hong Kong-based NWS Holdings, responsible for overseeing business development and mergers and acquisitions.
NWS Holdings is a conglomerate that manages four core businesses spanning aviation, construction, toll roads infrastructure and life insurance.
Diversity resulting from a strategic decision made in 2018 has helped NWS Holdings perform well during the pandemic.
Executives in many organisations that specialise in a particular industry, sector or field of practice have had a difficult few years. As the pandemic has torn business-as-usual to shreds, they have had to relearn almost everything in their area of business, from supply chain management to customer expectations and remote people management.
Those in leadership positions within conglomerates, like Gilbert Ho FCPA, executive director of Hong Kong-based NWS Holdings, faced an added challenge. Rather than relearning all parts of a single industry, they have been responsible for the fortunes of diverse businesses across numerous sectors. Ho's charge, NWS, spans aviation and life insurance, toll roads and construction, logistics, healthcare and more.
Change over the past two years has been persistent and unyielding. Some companies within the NWS portfolio have blossomed, while others have wilted. Entirely new skill sets have been required for some, while long-term strategic plans for others have had to be accelerated.
The secret to success – and there has been great success, with NWS Holdings reporting an attributable operating profit boost from just over HK$3.5 billion (A$628 million) in the 2020 financial year to more than HK$5.2 billion (A$933 million) – has a lot to do with the optimisation of the business model. It is a strategy that was set long before the pandemic took hold.
"The overall strategic direction of how to drive the company did not change because of the pandemic," says Ho, also deputy chair of the Greater Bay Area Committee for CPA Australia, as well as non-executive director with several infrastructure and manufacturing businesses.
"However, we knew the pace of doing various things would become very different, and there would be a lot of change within certain businesses," he says.
Ho offers the example of Gleneagles Hospital, a private Hong Kong healthcare institution in which NWS holds 40 per cent equity interests. The hospital has been directly and massively disrupted by the COVID-19 health crisis.
"During the pandemic, people hesitated to go to any hospital," he says.
"This was understandable, so we quickly collaborated with a telecom operator to set up online subscriptions that allowed people to see doctors without coming to the hospital. We'd been thinking about this service for a while, but because of the pandemic we had to speed it up."
The grand plan: optimisation
Look back a few decades, says Ho, and you see a time in business when the idea of a conglomerate was a popular one.
Times have changed, however, and many businesses have moved towards a strategy of specialisation, focusing on one industry or sector.
The NWS team took a different tack with its approach to diversification. Less than two years before the COVID-19 outbreak, the leadership team decided to focus on four core businesses. They would hold on to several more, while non-core assets would be sold off to optimise the portfolio.
"We sold a number of our businesses. Even during the pandemic, we found the right windows to sell with good valuations. This allowed us to focus on a few core businesses. That focus helped us ride out the pandemic."
When Ho first came on board in early 2018, NWS managed 15 businesses. It now counts just four core businesses, plus another five in its portfolio.
The core businesses are commercial aircraft leasing firm Goshawk, building and infrastructure company Hip Hing Construction, life insurance business FTLife, and a roads portfolio consisting of 15 roads in the six Mainland China locations of Guangdong, Zhejiang, Shanxi, Hubei, Hunan and Tianjin.
The breadth of the portfolio has created great resilience against the worst of the pandemic, with unaffected or growing businesses propping up the ones lagging due to COVID-19 lockdowns and restrictions.
While navigating the curveballs of the pandemic and dealing with uncertainty, Ho says he looked to trusted colleagues for advice.
"This made me realise how thankful I am for the people I work with," Ho says. "It felt as if there was nowhere to look for guidance on the very best decisions to make, but a lot of good strategic decisions could be made by utilising advice from the frontlines."
For example, when life insurance policy sales plummeted during the pandemic, some of FTLife's most experienced agents told Ho not to be concerned, but to instead use the time to prepare for the enormous boost in demand that will come after COVID-19 had run its course.
"The company's most experienced people told me that during SARS the same thing happened," Ho says. "Once SARS passed, demand spiked, so we moved towards preparing for when that happens."
Career: a commercial interest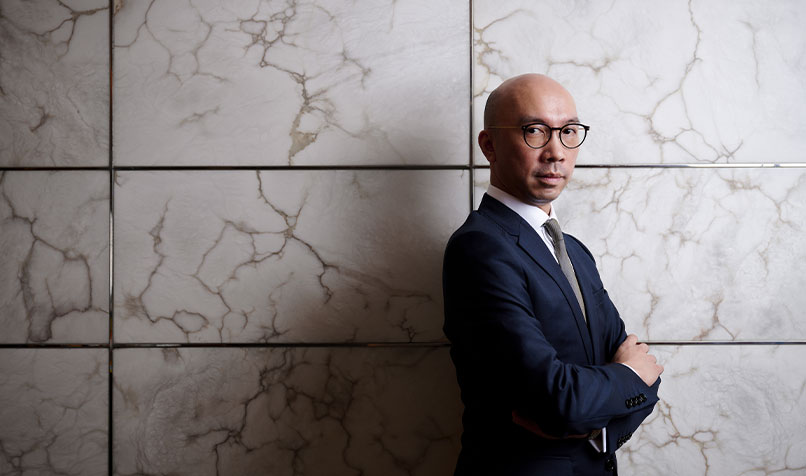 Gilbert Ho FCPA earned a double degree in commerce and law from the University of Sydney, majoring in accounting and finance. After that, he took a summer job at PWC in Hong Kong, before accepting a traineeship at an international law firm in Hong Kong.
"After university, I was a blank sheet of paper," he says.
"I basically took whatever opportunities I could get at the time, but I focused myself from the beginning on corporate finance and corporate law. My accounting and finance background helped a lot."
Ho became a partner of international law firm Fried, Frank, Harris, Shriver & Jacobson LLP. From there, his focus on corporate and commercial finance and law saw him accept roles as chief investment officer, CEO, executive director and managing partner with various organisations, mostly in Hong Kong and Mainland China.
What drove his passion for the corporate world? "As a young lawyer, I always admired people who sat on the other side of the desk making commercial decisions," Ho says. "I found a great connectivity between finance and everyday life, especially in Hong Kong, where finance is a key industry."
The experience of the past few years has enabled Ho to put in place various processes and systems that strengthen the organisation as the business world emerges from the pandemic.
"We took the chance to look at our businesses to see where we could create synergies between units," he says.
"Predictably, that has mostly been in the accounting, finance and HR functions. Overall, in terms of frontline people, a lot of the skills are not as transferrable because of the unique nature of each industry."
Thinking outside the box helped make some more unusual connections, too. "When our company bought the life insurance business in 2019, it looked like it was very different from our other businesses," says Ho.
"However, one question I ask is, 'What is the most difficult part in growing the life insurance business?' It's getting new customers, and what we have with our group is a wealth of different customers. That's where the synergy comes.
"I think today's customers are very sophisticated. They have loyalty to a brand. Our ecosystem can help create loyalty for them, and they can come to us for our insurance service and for other services."
Most important for this approach to be a success is organisational culture. "Culture is about speaking up," he says.
"Even if you're the most junior person, you can provide your ideas to the most senior, and they will be taken seriously.
"Culture drives this behaviour, as well as how we use this information from the frontline to drive our decisions. That's one of the hardest things to get right, but it has never been more important."