Cyber security made headlines in 2018 due to the Facebook-Cambridge Analytica data scandal and other high-profile breaches and vulnerabilities. However, that doesn't mean that 2019 has been any better.
The total number of malware threats is closing in on one billion – 903.14 million in May 2019, according to IT security research institute, AV-TEST. That's up from 856.62 million in 2018.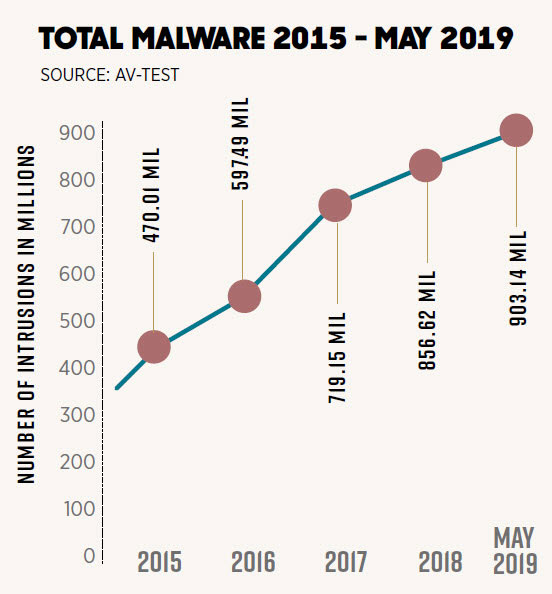 The cost of not taking cyberthreats seriously can be significant.
The average cost of a data breach to an organisation has increased by 12 per cent over the past five years to US$3.92 million, according to a global study by the Ponemon Institute.
The good news is that most breaches are preventable.
Prevention starts with the fundamentals, such as comprehensive antivirus software. As more people work remotely or at home, it's crucial that employees' devices are comprehensively protected.
Which antivirus software should you choose?
AV-TEST regularly evaluates the effectiveness of security software using thousands of known and "zero-day" malware. It also assesses performance, based on how much the software slowed down various tasks such as launching applications, and usability, based on false detections of legitimate system activities such as running software. Here's a rundown of the better performers.
Windows anti-malware software
Windows systems are still the primary target of virus makers. More than half of all newly developed malware programs in 2018 targeted Microsoft's operating system, according to AV-TEST.
The good news is there's no excuse for not protecting your system.
AV-TEST evaluated 20 home security products and found that Windows 10's built-in tool, Windows Defender, and another free product, Avast Antivirus, achieved perfect and near-perfect scores.
These are very much no-frills anti-malware tools, so if you want additional security features such as anti-phishing and online transaction protection, you will need to purchase a commercial tool.
Fortunately, seven commercial tools of the 20 products evaluated by AV-TEST were also top performers: AVG Internet Security, Bitdefender Internet Security, F-Secure SAFE, Kaspersky Internet Security, Symantec's Norton Security, Trend Micro Internet Security and VIPRE Advanced Security.
Windows business endpoint protection
For companies with more than a handful of employees, it makes sense to buy endpoint security software for business.
Providers often offer volume discounts and features specifically designed for businesses, such as a control panel that makes it easier to install and manage the software on every device.

AV-TEST evaluated 18 endpoint protection products for Windows 10, and nine received perfect or near-perfect scores: Avast Business Antivirus Pro Plus, Bitdefender Endpoint Security (and Endpoint Security Ultra), F-Secure PSB Computer Protection, Kaspersky Endpoint Security (and Small Office Security), Symantec Endpoint Protection (and Endpoint Protection Cloud) and Trend Micro OfficeScan.
Mac security software
"Anyone who thinks that Mac users are not worthwhile targets for Trojans, ransomware, etc., is mistaken," AV-TEST says.
In fact, the institute says the number of new Mac malware threats increased from 5227 in 2016 to 94,966 in 2018.
Although that's still a tiny proportion of the total malware threats, it's perhaps enough reason to invest in anti-malware software.
In its testing of 16 security tools for Mac, AV-TEST found that seven home products were top performers: Bitdefender Antivirus for Mac, Symantec's Norton Security, Trend Micro Antivirus, VIPRE Security, Avast Security, AVG AntiVirus and Kaspersky Internet Security.
For businesses, Sophos Endpoint, Bitdefender Endpoint Security for Mac, ESET Endpoint Security, and F-Secure CP and RDR for Mac received perfect or near-perfect scores.
Android security apps
Given the popularity of smartphones, it stands to reason that virus makers would target the most popular mobile operating system, Android. Although the number of new Android malware threats dropped during 2018, there were still 5.49 million of them, according to AV-TEST.
The results of AV-TEST's Android anti-malware tests showed greater variability than with other platforms. However, again there's no excuse for lack of protection because a free app, AVG AntiVirus FREE, achieved perfect scores.
There were several other top performers, too: Antiy AVL and AVL Sec, Avast Mobile Security, Avira Antivirus Security, Bitdefender Mobile Security, Cheetah Mobile Security Master, ESET Endpoint Security, G Data Internet Security, McAfee Mobile Security, Symantec Norton Mobile Security and Trend Micro Mobile Security.
Other tools and features
These tests measure the essentials: malware protection, software performance and propensity for annoying false positives.
While these factors are crucial for system protection, they don't cover other useful security features and tools.
For example, one feature well worth considering for businesses is patch management – a tool designed to make it easier to keep all software installed on corporate PCs up to date.
This is crucial for minimising software vulnerabilities, one of the key ways cyber attackers target businesses.
Also note that other technology products and strategies have also become important parts of the multi-layered approach recommended for business cyber security.
Depending on the size and needs of your business, these products may include data discovery, endpoint detection and response (EDR) and data loss prevention (DLP) tools.
For cyber security resources, visit CPA Australia's cyber security hub.