Smartphones stopped being just about a phone a long time ago. Each new release sees more and more tech and gadgetry being added.
For example, with screen resolutions commonly higher than "high definition", the focus is now on refresh rates higher than the old standard of 60Hz. Higher-end smartphone screens now tend to offer 90Hz or 120Hz rates for smoother scrolling and game-playing.
When you're looking to buy a new smartphone, one lesser-known feature to consider is an eSIM, an electronic or embedded chip that can replace a physical SIM card.
It means you can change your mobile service provider with a simple software download and use the physical SIM card slot for a second phone number, for example for business. Telstra, Optus and Vodafone support eSIMs, along with many newer smartphones.
Latest smartphone releases
There is plenty of choice for consumers in the market for a new smartphone. Here is a closer look at some of the latest models on offer.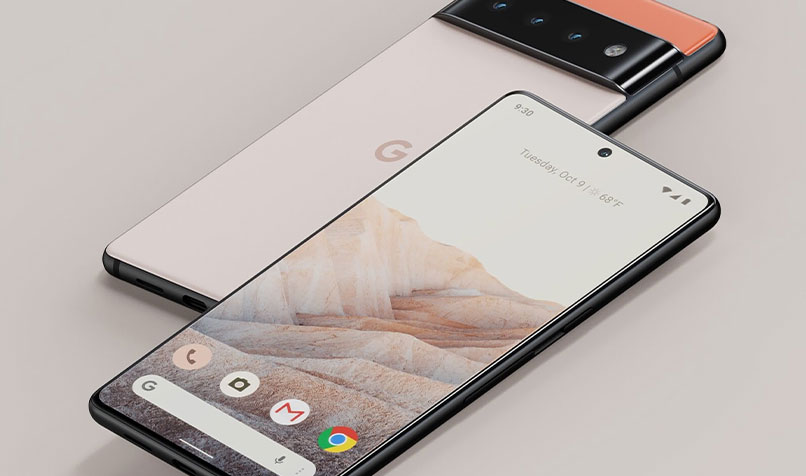 The latest Pixel phones mark Google's return to the premium end of the market, after two years in the mid-range space. Despite the high-end specifications, however, Google seems intent on shaking up the market with very competitive pricing: from A$999 for the 6.4-inch Pixel 6 and from A$1299 for the 6.7-inch Pixel 6 Pro.
The headline new feature is the first Google-designed chip, the Tensor. In addition to being a high-performance chip, it allows enhanced security, artificial intelligence and photography features. It can, for example, allow you to instantly translate messages and videos without internet access.
The latest Pixels have larger batteries and improved cameras, including a 4x optical zoom for the Pro. They also come with Google's latest mobile operating system, Android 12.
Samsung's foldables
Samsung leads the market when it comes to innovative hardware, offering two models of foldable phones. At the premium end is the Galaxy Z Fold3, a flexible device with two displays – a conventional 6.2-inch screen on the front and a 7.6-inch fold-out display inside.
The phone is hefty both in the hand, weighing 271 grams, and in the hip pocket, priced from A$2499 in return for high-end performance and features.
If you want a smartphone that doubles as a small tablet, the Galaxy Z Fold3 is your best option. Alternatively, the Galaxy Z Flip3 is Samsung's modern take on the flip phone. The Flip has a 6.7-inch display that folds up into a much more compact device – and it is about A$1000 cheaper than the Fold3.
The downside is limited battery size and, subsequently, battery life, but that can be extended if you spend less time glued to the large screen – and the Flip allows you to do just that. It has a second smaller 1.9-inch screen on the front that you can use to view notifications, make payments, take phone calls and selfies, and more.
Both foldables are in their third generation. That means the early design kinks have been largely ironed out and they are more robust than earlier models. For example, they both offer IPX8 water resistance.
Apple's iPhone 13 handsets offer incremental upgrades from the previous models, but these are still among the very best smartphones on the market. The new A15 Bionic chip has upped the ante, offering market-leading performance and improved power efficiency. The phones offer several other enhancements, including improved cameras.
Apple again offers four models – the 5.4-inch iPhone 13 mini (from A$1199), the 6.1-inch iPhone 13 (from A$1349), the 6.1-inch iPhone 13 Pro (from A$1699), and the 6.7-inch Pro Max (from A$1849).
The Pro models' extras include 120Hz displays and more advanced cameras with telephoto, wide and ultra-wide lenses. All come with Apple's latest mobile operating system, iOS 15.
Affordable alternatives
If these flagship phones are too pricey for your needs, there are plenty of other options. For example, Apple still offers older-model iPhones for under A$1000, while the 4.7-inch iPhone SE is priced under A$700.
In the Android world, the likes of Nokia, Oppo and Motorola offer some very good value. Samsung's Galaxy A52s 5G also offers a nice balance of features for A$649. These include a 6.5-inch Super AMOLED display, upper mid-range processor, quad-lens camera, 5G connectivity and IP67 water resistance.
Software support
When choosing your new smartphone, one important aspect to consider is software support. Apple has long been a leader in this respect, providing software updates for each of its iPhone models for five years or longer. By comparison, until recently, three years was the best you could expect for many Android phones.
Samsung changed that in 2021, bumping up software support for its latest phones to four years. Google has just also upped the ante to at least five years for its Pixel 6 phone. Unlike other phone makers that customise Android, the Pixels use the latest stock version, so you'll get faster updates, too.