By Abigail Murison
From Victoria's crystalline snowfields to the fiery orange vistas of the Northern Territory's Outback, chances are a Scott Leggo landscape has caught your eye on the wall of a company head office or proudly displayed in someone's living room.
Phillipa Leggo FCPA runs the Scott Leggo Gallery with her husband and business partner Scott Leggo, a Royal Australian Air Force veteran and one of Australia's most well-known landscape photographers. Phillipa is also the ACT divisional president of CPA Australia.
The Canberra-based business originally began as a side hustle for the Leggos, selling Scott's photographs as premium quality artworks.
"We wanted the opportunity to create and grow something ourselves, and we really wanted a lifestyle where we could travel and work from anywhere around Australia," Phillipa explains.
"We don't think of ourselves as a small business. We think big. A lot of our thinking comes from my corporate and Big Four background.
"They have amazing structures, systems and processes, and that has helped us in terms of thinking about where the business can go and the best way of setting up to scale. Add Scott's air force and fighter pilot training, and we're a great team."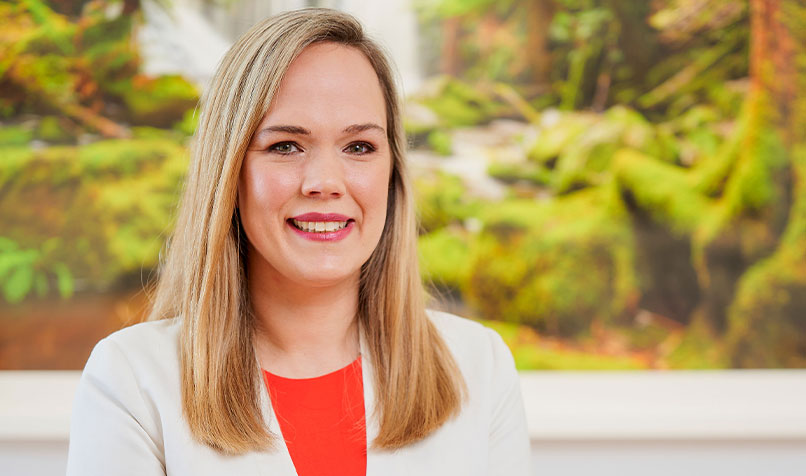 The Leggos did the opposite of what most retailers do: they started out as an online-only business more than 15 years ago.
"Then, about five years ago when online growth had slowed, we launched the bricks-and-mortar gallery to accelerate our growth and have a permanent space where customers could come in and visit us, and see the product in person. The growth since we've opened the physical store in Canberra has been huge," says Phillipa.
Currently, the revenue split between online and bricks-and-mortar is about 60:40.
With the gallery open seven days a week, Phillipa admits managing a business and a young family is "a juggle".
"We're a family owned business and we're both working in it, so there's no 'external' salary. We're all in.
We have a small team of staff who help us manage the day-to-day operations so Scott and I can spend more time on the business, versus in the business."
Phillipa manages all the commercial aspects, including business development. She has outsourced the bookkeeping, but stays heavily involved and across the numbers. "As a small business, you have to know your numbers and know what's in the bank. It's crucial."
Ups and downs
Like many entrepreneurs, the couple has experienced some highs and lows. One challenge came with securing the right gallery space. They found the ideal location in Kingston, ACT, but when they approached the landlord with lease terms, he turned them down.
However, three months later – and just two days after Phillipa had given birth to their first child – the landlord called to renegotiate.
"We said to ourselves, do we lean in and do it, or do we sit on the sidelines?" Phillipa remembers.
"I recall lying on the bed and breastfeeding our newborn, while giving our lawyer instructions on the lease terms over the phone. That's all part of running a family owned business."
However, the gallery is also delivering on the couple's dream to travel and explore Australia – in a big way.
In mid-2022, the Leggos spent 10 days visiting and photographing the Whitsundays and Hamilton Island. This included a private helicopter flight over the Great Barrier Reef and the Whitsundays – a true bucket-list experience.
Says Phillipa: "We work hard and there's really no off button, but we do celebrate and enjoy the good times and make the most of awesome opportunities like that."
Where to next?
Phillipa says marketing is probably the couple's weakest area and the one where they have learned the most. They use TV, radio, social media and digital advertising to promote the gallery, as well as their prestigious Australian Made status.
"The current environment is challenging," she says. "Despite everything opening up, people are still working from home and everyone's a bit unsure and hesitant. I'm certainly factoring that into our numbers and we're looking at what we can do differently and ways to be agile."
The Leggos have launched products such as jigsaws and a new coffee table book titled AUSTRALIA, which were successful during lockdowns. They are also looking beyond the legal and accounting firms that supported the business initially, to engage industries that are doing well in the current conditions and looking to spend.
These range from large ASX-listed entities to retirement villages that love to display striking Australian landscapes – especially of the Australian bush.
The Leggos are also harnessing their USPs and their fascinating business story to find new supporters and customers.
"Lots of businesses want to work with small and medium businesses, and many like and relate to our story," says Phillipa. "They like supporting family businesses, female-led businesses, CPAs and veterans.
"Part of our business strategy is to focus on what you're good at and not to have too many different revenue streams diverging from the core strategy of selling beautiful Australian landscape photography as wall art," Phillipa explains.
"We want to be one of the leading Australian landscape photography businesses and we want to be a leading supplier in that space, and we think we're close to that."
One piece of advice for entrepreneurs
What you've learned through the CPA Program and accounting profession – your accounting and finance skills – is all transferable. Back yourself, have a plan and lean in!