It is being touted as the greatest wealth transfer in history. Over the next 10 years, as ageing baby boomers pass their estates to their heirs, research group McCrindle predicts more than A$3 trillion will change hands in Australia. Some of that wealth will be tied up in family businesses – the world's most common business model.
Of the 2.1 million businesses in Australia, about 70 per cent are family owned, says peak industry body Family Business Australia (FBA), and they employ more than 50 per cent of the workforce. Yet a big question hangs over the longevity of a family business.
Generational change is a big risk factor, and two-thirds of family businesses will not survive the process, says FBA chairman Mark Kagan. This can have significant implications for the national economy.
"Family business gives the economy a stable foundation with patient capital, so you want to maintain that foundation," Kagan says. "When generational change doesn't work, the business is at risk and those jobs are at risk."
Why does an established family business fail? It can be that incumbents are living longer and do not want to hand over the reins, or that the next generation is more educated and lifestyle focused. Toss in unspoken rules or an assumed right to leadership, and the conditions are ripe to create tensions strong enough to send a business crumbling, says Kagan.
Unless the family can solidify its vision, values and culture with structures such as a family constitution, a defined board and the acceptance that a place in the business is earned, not given, many families won't survive the handover.
Kagan says, more often than not, the issues that cause the demise of a family business are family issues, not business issues.
"The family is the weak underbelly," he says. "If it starts falling apart the business will be affected."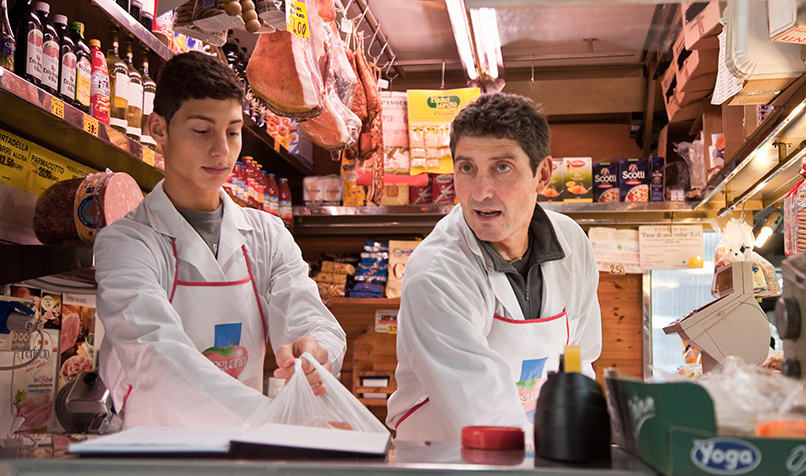 In a survey KPMG conducted in 2015 in conjunction with FBA, more family businesses acknowledged they were ill-prepared for succession or exit than a similar survey two years earlier revealed. More businesses were implementing formal governance mechanisms, too.
Some 76 per cent of families were planning to transition leadership over the next five years, and 60 per cent intended for the next generation to take over that leadership. Yet half of them felt the next generation wasn't ready.
KPMG partner Dominic Pelligana believes the family business model is the optimum business model. A good generator of wealth, the family business has the advantage of long-term vision, a quick decision-making chain, a values-led culture and a hefty injection of passion.
The challenge, he says, is the delicate balance of developing the frameworks within which the business can grow – and therefore continue to provide for the growing number of family members – without stifling the flexibility, entrepreneurship and customer-centric values that the business was founded on.
These issues have always been there, he says, but globalisation and digitalisation have exacerbated the speed at which change is happening.
"The scene is set for tension around the strategic direction between the two generations, and if you can't get alignment you are stuck," says Pelligana.
Eighty per cent of the families surveyed said they had experienced conflict in the previous year. The number-one source of contention was different views on the vision, goals and strategy of the business.
"You have to run the family as a socialist, where everyone is considered equals and treated fairly, but you have to run the business as a capitalist – you want the best people and it has to be all about merit," says Pelligana.
Do it the other way around, he warns, and you'll be out of business and "eating Christmas dinner by yourself".
Leaders by choice
Entrepreneur David Werdiger is the author of Transition: How to prepare your family and business for the greatest wealth transfer in history. In his view, belonging to a family business is often both an opportunity and a burden. You have the safety net of a job, existing capital and a defined career path. However, with that can come an expectation to take your life somewhere you may not want to.
He says children must be allowed to go into business by choice, not obligation, and earn their place on merit, not name. Sibling rivalry, conflicting stakes, defections and different visions are an inevitable part of a family business, so the way family members communicate is critical.
Werdiger advises establishing family councils or management boards with independent outsiders, who have family business experience. They understand the family dynamic without the emotional baggage, he says. Most importantly, their words don't have any relationship overlay.
"Families don't consider the true cost to their emotional health," says Werdiger. "They just look at the bottom line and if it's good then everything's OK. But you don't want a family therapy session happening in the boardroom when business is being driven."
Separating the family and business through good governance processes – whether it be a board of directors, a family trust or clearly defined family rules – can reduce the impact when disagreement arises.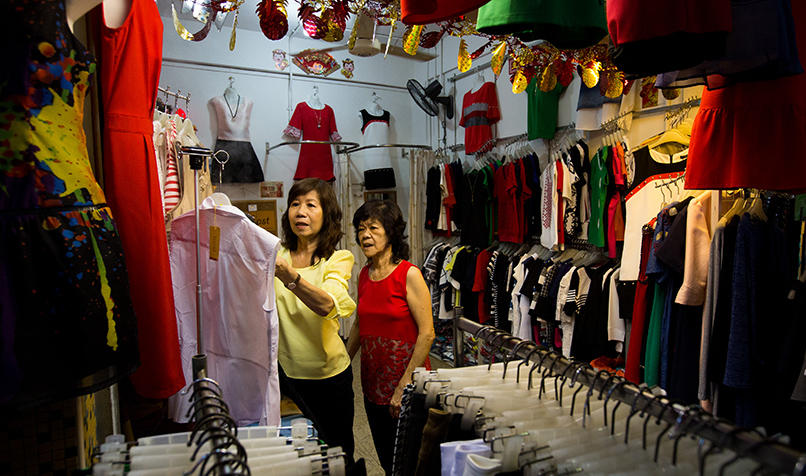 While the KPMG surveys over the years show more Australian businesses are investing in planning for generational handover than ever before, the situation in Singapore is slightly different.
Economic growth in South-East Asia, and the Singapore Government's push for small and medium enterprises to expand internationally, makes family businesses particularly important to Singapore's economy. However, with only 13 per cent of family businesses in Singapore surviving to the third generation, there is a need to improve the odds.
KPMG and CPA Australia recently released the findings of a year-long study on the successes and challenges of local family businesses in the city state.
The Two Sides of a Coin: Differing perspectives in Singapore's family businesses report found that while, globally, most founders of family enterprises want to leave the legacy of an enduring name, in Singapore 93 per cent of business founders felt continued profitability was more important than preserving their legacy. They would rather let go of a business than have their name attached to a sinking ship.
The study also identified the difficulty both founders and successors had around separating business ownership and management.
David Harland FCPA is co-founder of family business consultancy FINH, and has worked with enterprises across Australia, New Zealand and South-East Asia. In his experience, successful family businesses do four things:
They don't treat transition as a single event, but as an ongoing process over a period
They develop a culture of stewardship, instead of a "when can I get my hands on the ownership" mentality
They move from thinking locally to behaving globally
They stop thinking that you have to work in the business to be part of the business
Being able to recognise you are a family in business gives you the ability to look beyond what your current business focus is and to make decisions about the long-term future in a rapidly changing world, Harland explains.
Allowing the next generation to innovate and adapt will ensure the longevity of the family's business interests, even if the enterprise becomes very different to what it started out as.
Recognising that a family's legacy can be much more than its business interests could also be a game changer, says Werdiger. For example, introducing a philanthropic focus is a way to preserve a family's reputation through different economic climates and instil a culture of stewardship.
It also has a practical aspect. Many business owners agree that the earlier that children are taught about business rules and processes, the more successful their transition into business leadership will be.
Philanthropy can be a great introduction for the next generation into the family enterprise, Werdiger says, because it educates them on the business and helps them understand the stewardship of their name and the values attached to it.
If your aim is for your family business to survive through to your grandchildren, that could be a good place to start.
State of play
52% of family businesses have a formal board of directors (39 per cent in 2011)
51% have a formal policy for the selection, renumeration and promotion of family employees (26 per cent in 2013)
43% have a shareholders' agreement (36 per cent in 2013)
36% have a family constitution or code of conduct (20 per cent in 2011)
Source: Family Business Survey 2015, KPMG and Family Business Australia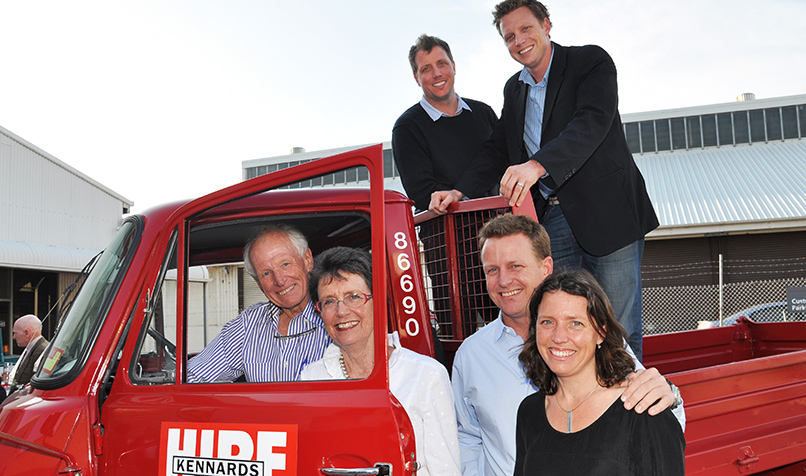 When Angus Kennard was appointed chief executive of Kennards Hire in October 2016, he was the third generation of Kennards to lead the business in its almost 70-year history.
Started in 1948 by his grandfather Walter in the rural town of Bathurst, west of Sydney, by the time Angus took the helm at Kennards, the equipment hire business had grown to more than 1300 employees across 170 branches in Australia and New Zealand.
Angus had to earn his stripes: first working outside of the business and then from the ground up, even cleaning toilets and sludge pits.
As the years passed, he bought into the business, helped it expand, including founding the Concrete Care specialist unit, and attained an MBA. He has been on the Kennards board and leadership team since 2005.
When the company was seeking a new CEO, Angus asked to be considered.
His three younger siblings are also involved. Kirsty and Rory are on the board: Kirsty drives the family's philanthropic efforts, while Rory has his own business but is part of Kennards' innovation program. Youngest brother Cam runs Keneco Property, which works closely with Kennards Hire.
The company does, however, have a non-executive chairman and non-executive directors on its board.
"Having that independence is really important," says Angus. "It allows them to ask the questions of family members that maybe other family members can't ask, but need to ask. When we had the external people chairing it, not only did we behave better, but they drove the agenda."
As in many family businesses, transitioning between generations two and three was the toughest. Founder Walter's two sons, Neville and Andy, followed him into the business and scaled it to include a self-storage operation.
However, in 1991, as Neville's son Sam was entering the business, some robust discussion was had and the two brothers made the difficult decision to split the business assets down the middle.
Angus's father, Andy, took control of Kennards Hire and Neville took Kennards Self Storage, now headed by Sam. The two families remain close, but there is no longer a financial connection between the two.
For Angus, the most important element of any business is relationships.
When his father insisted on equal shareholdings for the family, regardless of who was working directly in the company, initially Angus wasn't impressed. He felt he was working longest and hardest, but in hindsight says his father was right.
"It puts us on equal ground. We are all as important as each other because we all have a contribution to make, and I think it is more important for me to have strong relationships with my siblings than money. Happiness is often about being connected to people. We are all working to support each other and we all do better for it."
To protect those relationships, the family goes on an annual retreat. Some of it is educational, where anyone above the age of 10 takes part, but the main focus is ensuring the children spend time together.
"Roll forward another 25 years and another generation will be coming through," says Angus. "Some will be in the business, some won't – but it is that equity of relationships they are forging now that will help them in the future."
However, what works for one business, may not work for another.
"Dad never pressured any of us to go into business and I won't be pressuring my kids," says Angus. "Our family value is you have to live a fulfilling life for yourself. When you are fulfilling your dreams you do a better job.
"There are 14 in the next generation; hopefully, we will get a couple interested."
12 commandments for the family business
Family Business Australia has these tips for making a family business work:
Leave work at work, and home at home.
Communicate. Don't avoid the bad news. Family members must be transparent about their intentions, motivations and reasons.
Have clearly assigned roles for each family and non-family member in the business.
Pay the market rate. Remunerate the job, not the person.
Develop a succession plan before you need it. Ensure it is endorsed by all involved.
Develop a robust management structure for both business and family governance.
Prepare the next generation.
Use external advisers; they can be an objective sounding board.
Undertake professional development to build lasting support networks and better manage business ownership transition.
Enhance your family business brand. Research shows consumers have more trust in family businesses, so make sure they know you are family owned.
Build your online profile. Customers expect to be able to access your business around the clock.
Make philanthropy part of your strategy. Not only can it make your business stand out in the community, it can strengthen the bond between generations and the legacy of family business values.
What's your strategy?
There are two main strategies used in running a family business:
Defender: Stick to what we know and do it better than anyone else.
Prospector: We're innovators, willing to take necessary risks to provide new products and services.
A KPMG survey from 2015 shows that prospectors perform the best.