A shutdown of the Sydney Harbour Tunnel for maintenance works normally sends congestion-weary motorists into a spin.
However, EY Oceania's chief economist Jo Masters thinks such projects are crucial for long-term economic growth in Australia, New Zealand, Asia and other markets in the aftermath of a crisis.
Major road, rail, airport and energy infrastructure projects are likely to be key components of post-pandemic fiscal stimulus packages, but Masters says they are "not a silver bullet". Such projects require long planning phases and rollout timeframes, and can be delayed by labour and raw material capacity constraints.
This means that, while major infrastructure projects drive significant long-term benefits for economies, governments seeking a more immediate boost also need to consider the quick stimulatory impact of repairs and maintenance projects.
Social housing construction work and maintenance projects, for example, can usually start quickly and are often labour-intensive.
"You can get shovels into the ground rapidly, because planning for such work is less complex," Masters says.
"Routine maintenance and safety work can be spread across the economy, which is important, because COVID-19 has had a really broad impact."
Masters cites EY analysis of Australian Bureau of Statistics data indicating that A$1 billion of investment in construction services, using a range of trades, stimulates 2700 direct jobs and up to 2900 supporting jobs.
The combined value-added impact for the national economy is estimated at A$800 million.
International experience
To maximise the impact of infrastructure projects – both large and small – on economic recovery, the Asian Development Bank recommends embracing public private partnerships (PPPs), because they can attract private capital and technical expertise in the infrastructure sector.
Singapore has heeded such advice with its Growing Infrastructure Programme – developed by Infrastructure Asia and the World Bank Group – to raise awareness about sustainable and resilient infrastructure solutions.
The program will train regional government officials involved in project preparation. Part of the plan is also to create a regulatory environment that is friendly towards PPPs, with the first stage of the initiative to focus on clean energy.
Dato' Mohammad Azlan Abdullah FCPA, a Malaysia divisional councillor for CPA Australia and CEO of Prolintas group, is confident that large infrastructure projects will have a significant stimulus effect for the region, noting that they have long been one of the main catalysts for economic growth, especially in developing countries.
Prolintas is one of Malaysia's premier highway builders and operators. Azlan says six new urban highways are under construction in Malaysia, while the Mass Rapid Transit 2, the Light Rail Transit 3 and the East Coast Rail Link are contributing to jobs growth and economic activity.
"There are other infrastructure projects being proposed or to be revived subject to the feasibility and viability of each proposal," he says. The impact of these projects is "very evident", Azlan adds, suggesting they will drive development in townships and boost supply chain construction activities and employment.
After the COVID-19 pandemic initially caused some infrastructure projects to stall, Azlan says Malaysian authorities stepped in to give the green light for projects to proceed under strict safety rules.
These actions were aimed at promoting a relatively fast rebound from the pandemic.
"Once things are back to normal, those activities can seamlessly move into full capacity," Azlan says.
Given the slowdown during the peak of the outbreak, some repair and maintenance works have been reassessed, but he expects them to resume quickly after the worst of the pandemic is over.
In the Asia-Pacific region, CPA Australia's pre-budget submission on the Australian Government's 2020-2021 Budget echoes EY's support for more public spending on repairs, maintenance and preservation works of public infrastructure to stimulate the national economy.
Preference should be given to awarding contracts to local trades business, the submission says.
"Such projects are also less prone to the capacity constraints of larger projects, and can be deployed quickly in areas impacted by recent bushfires and drought," it states in the submission.
Sustainability counts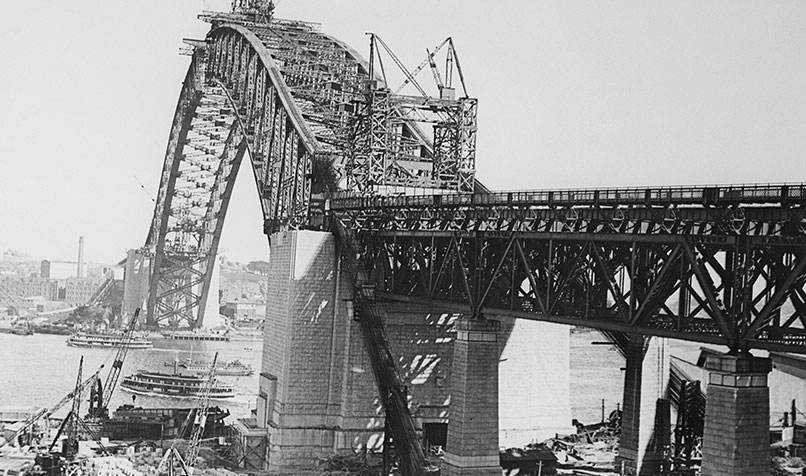 From the construction of the Sydney Harbour Bridge in the 1920s and 1930s, to the development of the Snowy Mountains Hydroelectric Scheme from 1949 to 1974, Australian governments have, on key occasions, turned to bold infrastructure projects to boost the economy and create jobs.
In June, the Australian Government announced plans to speed up the approval process for 15 major projects, including the A$10 billion inland rail project from Melbourne to Brisbane, a second underwater power cable to Tasmania and the expansion of the Olympic Dam in South Australia.
Then Prime Minister Scott Morrison commented in June this year, that the move will support "over 66,000 direct and indirect jobs.
Under our new approach, this investment, and most importantly these jobs, will be brought to market earlier by targeting a 50 per cent reduction in Commonwealth assessment and approval times for major projects, from an average of 3.5 years to 21 months."
Big or small, the Infrastructure Sustainability Council of Australia (ISCA) wants the rulebook to be run over any potential projects. The ISCA's IS Rating Scheme shows that infrastructure projects that meet social, environmental, governance and cultural outcomes deliver up to A$2.40 in benefit for every dollar spent.
"When you're investing dollars in public benefit, there needs to be public good delivered as well as economic benefits," says Ainsley Simpson, the ISCA's CEO.
She says taking such an approach to infrastructure projects trains people to think more strategically about the lifecycle of assets. This, in turn, enhances procurement and supply chain efficiencies.
With groups such as the ISCA and the Green Building Council of Australia and New Zealand having already released ratings tools that can provide a framework for smart and ethical investment decisions, Simpson says there is no excuse for pursuing infrastructure projects that are not sustainable.
"Every single project can deliver more, but to do that you need a framework to guide that kind of thinking and decision-making."
Ready to roll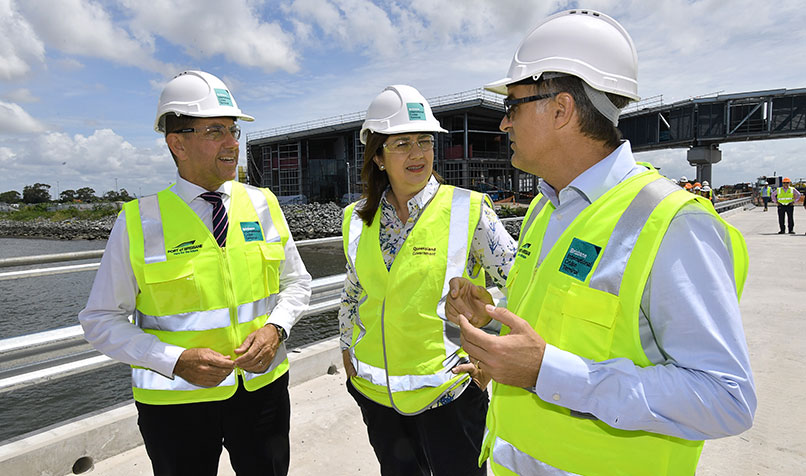 Engineers Australia CEO Dr Bronwyn Evans says projects already in the planning phase or under way should be the priority if a short-term stimulus is the aim. For example, the new international airport in Badgerys Creek is on track to create an "aerotropolis" in western Sydney.
"It will bring jobs to that area, and there's an opportunity to create an innovation ecosystem," Evans says.
Engineers Australia has unveiled a plan to drive the post-pandemic economy, emphasising maintenance of infrastructure assets, more effective procurement and contracting processes, and renewed emphasis on "shovel-ready" projects.
Evans says the role of engineers will be important to ensure a thoughtful approach to infrastructure that keeps the project pipeline going. "Australia needs projects that matter," she says.
In Queensland, Treasurer and Minister for Infrastructure and Planning Cameron Dick says infrastructure investment is one of the key pillars of the state's economic recovery plan.
"We've seen through our recovery efforts following natural disasters, that investing in infrastructure helps local economies bounce back faster," he says.
"The COVID-19 pandemic is a different kind of disaster compared with a cyclone or bushfire, but our focus remains on helping communities rebuild and keeping Queenslanders in work."
Queensland has announced a A$51.84 billion infrastructure guarantee to maintain state infrastructure investment over the next four years to 2022-2023. It has also unveiled a range of other infrastructure initiatives, including a A$400 million Accelerated Works Program to deliver new road, bridge and pavement sealing works across the state.
Dick is also counting on multi-billion-dollar projects such as Cross River Rail and Queen's Wharf in Brisbane to help protect the state from the impact of COVID-19, in addition to investment in healthcare and education.
"[And] our significant state-wide roads investment of more than A$23 billion will also help drive our COVID-19 recovery, including upgrades to the Bruce Highway and the M1 between Brisbane and the Gold Coast."
New Zealand has also been proactive in leveraging infrastructure projects.
A Deloitte report, titled Beyond COVID-19: A Brighter Future Through Infrastructure Investment, points out that New Zealand was experiencing an infrastructure boom before the pandemic hit.
Welcoming additional infrastructure spending, the authors suggest the government must maintain public sector investment as it contributes to productive capacity through more efficient labour and cheaper energy while providing an unemployment buffer in the short term.
The report concludes: "We need to shift the focus into investing in the existing asset base, improving efficiency, improving resilience, improving broader cross-sector economic impacts through precincts and using technology to transform and de-risk delivery. These logical steps can accelerate infrastructure as an economic stimulus."
Building a legacy
As infrastructure priorities are being evaluated, Simpson says it is incumbent on governments to make smart decisions, given that taxpayers will have to repay the enormous debt that is being incurred in their delivery.
"Let's build them something that they can be proud of and that serves them, and not waste this opportunity."
Masters agrees that the pressure will be on leaders to pull the right levers and deliver economic and productivity-enhancing results.
How others are responding
Singapore – Trade and Industry Minister Chan Chun Sing has recommitted to the government's infrastructure plans, saying "we will get them all done". He has highlighted projects such as Changi Airport Terminal 5, Tuas Mega Port and submarine cable hubs, and the Greater Southern Waterfront regional leisure, office space and residential development.
Hong Kong – the Asian powerhouse's recovery from COVID-19 should benefit from a string of projects set to come on line or continue, including the HK$90 billion (A$16.6 billion) Sha Tin to Central Link and the HK$42 billion (A$7.8 billion) Central Kowloon Route road project that is due for completion in 2025.
New Zealand – a NZ$50 billion (A$47 billion) recovery fund comes on top of the announcement in January of NZ$12 billion (A$11.2 billion) of funding for the New Zealand Upgrade Programme, which will invest in road, rail, public transport and walking and cycling infrastructure, in addition to public facilities such as hospitals and schools.
Not so fast
Not all ideas are great, but not all innovations fail because of the ideas themselves.
As an infrastructure top boss, you would expect Michel Masson to want major projects to be fast-tracked to help economic recovery.
However, the Infrastructure Victoria CEO urges caution and rigour when signing off on developments.
"Regardless of the crisis or the urgency, governments should ensure the projects they progress are carefully selected and optimise multiple economic, social and environmental benefits," Masson says.
In Victoria, government and industry continue to pursue critical infrastructure through the state's Big Build program to keep employees in work and the economy moving and to ensure that important projects are delivered.
Work is progressing on major projects such as the North East Link and the Metro Tunnel, while some parts of the level-crossing removal program are being brought forward.
Yet Masson believes talk of accelerating infrastructure projects is over-hyped.
"When governments say they are fast-tracking projects, usually the projects are already shovel-ready, and the normal environmental and regulatory approvals have already been met. I am certain neither industry groups nor the broader community would want to compromise on these standards for the sake of stimulus."
Masson says governments should still take an evidence-based approach to policymaking and apply a framework to ensure they maximise the value and impact of their investments.
This framework might ask questions such as: Is this measure boosting our resilience so that we are better prepared when the next crisis emerges? Does this measure help improve overall efficiency or productivity? Does the measure support private sector employment and investment? Are there levers government can use to stimulate private investment? Will this improve business liquidity?
The Victorian Government has made some substantial recent infrastructure commitments, such as a A$2.7 billion Building Works program, which includes A$1.18 billion for new and upgraded schools, A$1 billion for Aboriginal and social housing, and A$328 million for roads, rail and pier upgrades.
Masson says there is clear evidence of the positive impact of community-driven infrastructure projects such as social housing, as well as mental health and addiction recovery facilities.
"These are all 'no regret' investments, because the initial government investment is much less than the societal costs avoided."