At a glance
Professor Raymond Gordon CPA was appointed vice chancellor and president of British University Vietnam in 2018.
International education has taken a hit during the pandemic, but Gordon is confident that there are opportunities for the sector to bounce back.
Recovery will involve institutions embracing a hybrid model in which digital technology complements exciting physical spaces.
The global higher education sector is undergoing upheaval as COVID-19 forces domestic students off campuses, out of labs and into a world of virtual learning.
The international student market has also ground to a halt, severely affecting the financial fortunes of universities around the world and leading to calls for new ways of teaching as the industry contemplates the future.
Finding solutions to the challenges to the education sector is front of mind for Professor Raymond Gordon CPA, a Hanoi-based academic and vice chancellor and president of British University Vietnam, which just celebrated its tenth anniversary.
He is confident the industry will recover in time, and there is now an opportunity to reshape the sector, particularly the financial models that have dictated a heavy reliance on revenue from international student fees.
"In Vietnam, we've seen the industry change very rapidly," he says. "It's a large market, with a lot of opportunities, and the government has successfully attracted direct foreign investment into the sector.
"However, the financial models have to change – and that is a good thing," Gordon adds. "There will be a reworking of risk management and, while it might take some time, we will see students return to travelling and studying overseas.
"It is such a rich experience for a young person to live and study in another country – but I think the way that is done will be different."
Education takes a financial hit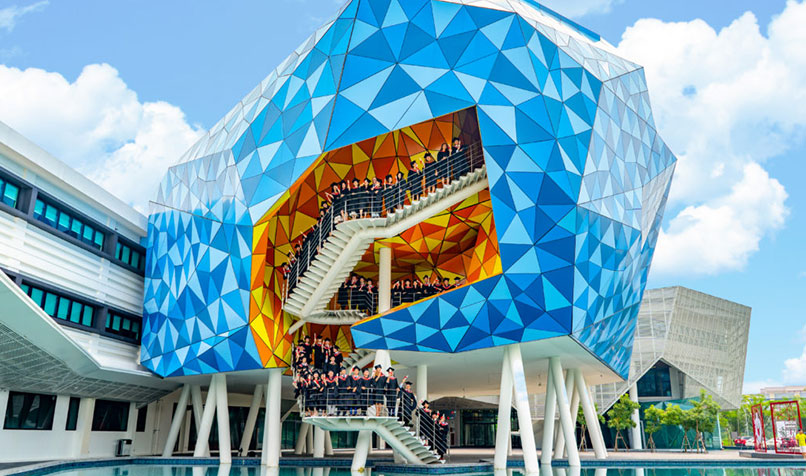 In Australia, where international education is one of the country's largest export industries – worth more than A$35 billion per year to the economy – the numbers paint a bleak picture.
Modelling from the peak industry body, Universities Australia, indicates that universities will lose up to A$16 billion by 2023 due to the impact of the pandemic.
During 2020, Australian public universities reported revenue losses of A$3.4 billion, leading to 5600 full-time equivalent jobs being cut and predictions that an estimated 17,500 casual and researcher positions will be next, according to research by the University of Melbourne's Centre for the Study of Higher Education.
The impact on future research capacities, as well as the ability to teach the next generation of students, is also a major concern. It has led to calls for government investment in research and teaching that may be repaid by helping the economy rebound quickly after the current crisis passes.
"We haven't seen the full economic impact yet, and it will be very interesting to see the action that will be taken by the industry, and also governments, in finding the opportunities to shape the future," Gordon says.
Learning on the job
Gordon entered academia relatively late in his professional career. He received his PhD in leadership and power from the University of Technology Sydney at the age of 38. Prior to this, he had worked in industry-based roles in electronic engineering, service operations management and distribution management, as well as sales and marketing management.
After receiving his PhD, and within a relatively short time, Gordon received a full professorial appointment, based on his research, publication and teaching achievements.
Originally from New South Wales, Gordon has been based in Vietnam since 2014, where he relocated to take up the position of head of the Centre for Commerce and Management at RMIT Vietnam.
It was an opportunity Gordon hasn't looked back from, and he speaks highly of his adopted country, particularly the challenges his current role provides.
"Anyone who comes to Vietnam falls in love with it," he says. "I certainly did, and the opportunity to live and work here in my current role has been enormously satisfying.
"I've been continually challenged throughout my career, and I have enjoyed all of those opportunities at different stages of my life.
Working as a hardware and software engineer was immensely satisfying – for example, you could write a customised piece of software that automated systems and procedures, enhanced productivity and quality, and, in many cases, led to the redesign of the organisation's structure and strategy.
"In my current role, the satisfaction mostly comes from developing a strategy that has resulted in very rapid growth for a university that had struggled for eight years."
Rising to the challenge
Gordon says that, while the pandemic has deeply affected the higher education sector, it is exhilarating to consider the opportunities it presents in changing the way education is delivered.
How the sector will emerge post-COVID-19 remains to be seen, and, in a crowded space, the fight for market share will continue to intensify. Some institutions will merge or collapse, leading to new management strategies and revolutionary ways of operating.
"We are at an epoch in time, if you like," says Gordon. "The challenge is dealing with the tension between the ways we used to do things and finding a new way – and we have to do it quickly."
Innovation and discovery are more than just buzzwords for Gordon. Much of his research has focused on exploring the relationship between power and leadership, and he says his own leadership style is built around helping people develop a culture of innovation and learning.
"I understand that I will be a leader for some people, but I strive to create environments in which people, without necessarily knowing it, lead themselves," he says.
"In times of crisis, people look for the 'white knight' or heroic leader who can show them the way forward. However, this type of leadership is constituted on a power relationship that runs the risk surreptitiously of constraining innovation and learning. In times of radical change, the need for innovation and learning is essential."
Reshaping teaching methods
Like most industries, the COVID-19 lockdowns forced the education sector to innovate to survive. The adoption of new technologies saw a swift move towards a greater use of digital technology to facilitate teaching and learning.
For institutions that had the ability to do so, moving classes to a fully online environment often happened "literally overnight", Gordon says.
"The British University Vietnam, like most Australian, US and UK universities, had already invested in digital platforms and had been operating in a blended learning environment, so we were able to move all classes online overnight, with full online access to digital learning tools and engagement between teachers and students," he says.
"Those universities in the world that weren't already using the technology have suffered, and I think the pandemic has forced them to recognise they need to move to further enhance their digital learning resources, platforms and capabilities rather than continuing with the traditional face-to-face teaching methods.
They've had to engage with new ways of working, and we will see that continue post-COVID-19."
The first step is broadening people's understanding of what education technology is.
Gordon says Vietnam differs from Australia in many ways, with one challenge being a lack of awareness of how education technology can provide a quantum leap to help the country acquire the skills it needs to support its economic growth.
"We've had to work with the general population to help them understand that digital education technology is not the same as simply watching a video for free on the internet or using Microsoft Teams or Zoom meetings software.
"While these are valuable software tools and can help, they do not constitute the depth of digital education technologies."
For example, Gordon explains British University Vietnam, like many other universities in the world, has an inhouse learning experience platform (LEP) that facilitates virtual classrooms and real-time engagement between academics and students, as well as among students.
At British University Vietnam, the technology is also designed to enhance a discovery, exploration and consolidation-based pedagogy and bring together the data and processes that students need to innovate and create new ideas.
"People who understand the potential of education technology can create new opportunities – and it will be the people who can create new opportunities for themselves and others that will thrive in the future of work," he says.
In some ways, COVID-19 has accelerated a transformation that was already underway, says Gordon.
Preparing people for the future of work means accepting and implementing a hybrid model, where digital technology complements exciting physical learning spaces that bring people together to discuss, engage and discover, and thereby enhance their ability to learn.
"People will always seek contact and engage face-to-face.
"Education technology has simply enhanced the learning process, and any institution that doesn't recognise and facilitate this will be doing their students a disservice."
While significant challenges remain, Gordon says this is an exciting time to be involved in the education sector.
"We are being forced to push forward changes in the sector, and that is exhilarating."
Career highlights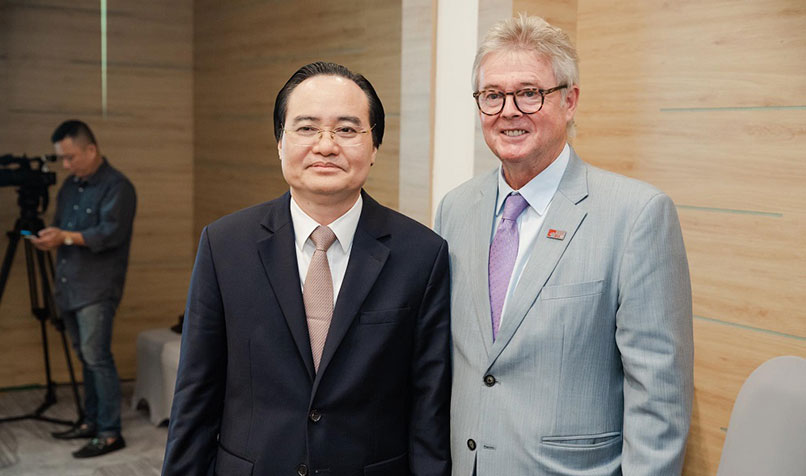 PhD in leadership and power, University of Technology Sydney in 2003; on the vice chancellor's list for excellence in research in 2004.
Appointed professor and head of the Centre for Commerce and Management, RMIT University Vietnam in 2014.
Appointed vice chancellor and president, British University Vietnam, Hanoi, in 2018.
Received the International Education Australia Award for innovation in international education for the design and delivery of hybrid/blended MBA programs to the international community.
Opportunities in the higher education sector post-pandemic
Like many other industries, COVID-19 has presented great challenges for the higher education sector, as it struggles to adapt to the constraints brought by the virus.
Professor Raymond Gordon CPA argues that opportunities sit alongside these challenges, and highlights three key points that are set to change the sector for the better.
Hybrid models that boost innovation
Hybrid learning environments will fast-track the use of education technologies and will not only continue to provide access to education for more people, but will also encourage innovation and discovery-based learning.
A shake-up of financial models
Financial dependency on the international student market will be shaken up and new sustainable models explored.

Thinking outside the square
The benefits of revolutionary ways of thinking, bringing new management strategies and challenges to the status quo will come to the fore.