Poppy King has been called many things in her lifetime, but one of the more favourable monikers of late has been "Don Draper".
The comparison to television's favourite ad man stems not from the Mad Men character's dapper style – although King's sense of fashion is almost on a par – but from her know-how when it comes to brand positioning and marketing.
The Melbourne-born entrepreneur, who launched Poppy Industries straight out of high school in 1992 only to watch her company go through a very public bust a few years later, is now content to stay out of the spotlight, working with corporations as a branding adviser.
One is US fashion retailer Kate Spade New York, for which King has helped market a range of fragrances and cosmetics that includes a lipstick called Supercalifragilipsticks.
"Usually companies that aren't already in beauty will come to me and get me to identify what they can do in beauty, what their point of view could be that supports their core competency," King explains when we meet in New York, her home for the past 10 years.
"My name is not attached, but I come up with their whole beauty platform … I do feel like Don Draper at times, coming up with the emotional connection to a brand, what they should name it, how it should be retailed, their relationship with the press – I'm designing brands from behind the scenes," she says.
King has been in the beauty industry for 20 years, in roles from start-up guru to vice president, working in Australia, the US and Europe.
At 40, she is elegantly dressed and poised – ever the stylish New Yorker, but when she opens her trademark fire-engine red mouth, her accent is broad Australian.
You can't take the Aussie out of the girl, but you can certainly take the girl out of Australia – which is exactly what Estee Lauder chairman Leonard Lauder did in 2002 after the demise of Poppy Industries, setting King to work on rebuilding his Prescriptives line as vice president of creative marketing.
"It was my first time working in a corporation, as a working New Yorker," King says.
"As much as I had a red-carpet ride in terms of being brought in by a powerful corporation and a powerful person, it was very hard. I'd come out of a very difficult few years and even though this was a lifeline, in retrospect I arrived here pretty exhausted."
King lasted three years before branching out on her own again with Lipstick Queen, a range of matte Sinners and sheer Saints lipsticks, glosses and lip pencils, which she launched in New York department store Barneys and the British retailer Space NK in 2007. While King retains creative control of Lipstick Queen, last year she sold the company, handing over financial responsibility to investment firm Space Brands Ltd, which shares the same parent company as Space NK.
"Now I'm doing the part that I really enjoy, that I'm really good at – I design all the product; it's my baby and I'm the creative force behind it," she says. Living in the land of opportunity renewed her confidence.
"New York doesn't sap your energy," King says. "It matches it."
Lipstick Queen is stocked in the UK, Australia and stores in Dubai, Canada and Hong Kong. The brand has also just launched in 150 new spaces across the US, including at QVC, C.O. Bigelow and Anthropologie stores.
The business is growing at almost double digits week-to-week, King says, adding the reason she sold the company was that "after a certain point I wasn't able to focus on product because of the growth of the business … now I've given the growth of the business to people for whom that's their mission".
King was 18 when she launched Poppy Industries with a A$40,000 cash injection from investor Daniel Besen (who has since invested in Mimco and sass & bide). Her rich, opaque lipsticks in the signature Seven Deadly Sins range were immensely popular – she made A$1 million in her first eight months and the colours called Lust and Gluttony became women's handbag staples Australia-wide.
"I've always been fascinated with the role of beauty in women's lives and struggled with it in mine," she says. "I felt very awkward as a teenager; I don't have conventional features. Really, the reason for my fascination with beauty was because of my own constant struggle against beauty norms.
"I started Poppy Industries for the same reason I do anything today – to make a difference in the beauty industry. The only reason I'm in it is to fight against how standardised it makes beauty."
Regardless of her reasons for entering the market, King's company found fast success. At its height in 1995, Poppy Industries had a A$6.5 million turnover and the then 23-year-old entrepreneur was made Young Australian of the Year. Soon after, things turned sour.
A cash injection of A$3.5 million from property tycoons Eva and Tab Fried, to fund new cosmetic lines, a lingerie range and expansion into the US, resulted in a bitter feud over the future of the company. In August 1998 the Frieds resigned as directors and the company went bust. Poppy Industries was placed in receivership and 40 staff lost their jobs. According to some reports at the time, the Frieds never recouped their investment.
Poppy Industries was bought out in December 1998 for A$1.3 million by Adam Trescowthick, then chairman of Australian retailer Harris Scarfe. King was kept on as chief executive officer. Meanwhile, the Australian Securities & Investments Commission investigated claims that Poppy Industries traded while insolvent, but in May 1999 announced it would not proceed to a formal investigation. Poppy Industries never returned to its former glory and in 2002 the company was dissolved.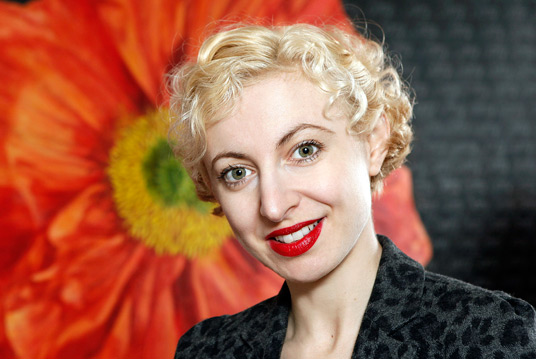 While King is not the first owner of a beauty brand to struggle financially, the experience left a bitter taste in her mouth. She is loath to dwell on the past, but keen to set the record straight. After all, the rise and fall and rise of Poppy King is as well documented as her red matte hues and forms part of the story told in her 2009 book, Lessons of a Lipstick Queen.
"Contrary to all the rubbish in the press, the business was sold, Poppy Industries was sold and I was brought over to New York," she says firmly. "The sale was part of that, so that I could be contractually free to work for the Estee Lauder company at Prescriptives, which was a brand they were having trouble with and wanted somebody to add new flavour to."
King says she had no choice but to leave Australia: the backlash was brutal. Along with criticism about how the business was run, King was scrutinised for having personal relationships with Besen and Trescowthick.
"As soon as you leave Australia you start to realise, relative to many other countries, that it's really, really rough. They say if you can make it in New York you can make it anywhere, but I think if you can make it in Australia you can make it anywhere because there vilifying people in the paper is kind of a sport," she says.
"Everything I got accused of in Australia which I am not, other than OK, I messed up with some business stuff, yes totally, but in terms of [being called] a rampant self-promoter, this and that, and overly living the high life – all this stuff that I never [did] and still don't."
Through it all, the piles of newsprint and a very public dispute with the Frieds, King wore her red lipstick like armour. Back then the colour she wore was Courage.
"I've had to put red lipstick on and face scenarios I've never imagined myself in," she reflects. "When I look at any of the articles in the middle of press scrums and all sorts of horrible stuff, somehow it was as if I've got my superhero cape on. It really did help me to find an inner strength."
King's move to the US and foray into its beauty market, which last year was estimated by Demeter Group Investment Bank to be worth US$59.8 billion, has not been without its own challenges.
She's found the American way of working both a blessing and a curse. "I'm a terrible over-explainer and Americans don't want to know details, they just want to know the result," she says. "There's a lot of freedom in that and it's very exciting, but sometimes I miss people making connections between past, present and future. Here it's just what's happening now, so I've had to adjust how I relate to the business community."
She also found Americans were less smitten with lipstick than their counterparts in Australia. Young women viewed it as a thing their grandmothers wore.
"I think women are very scared to wear lipstick – certainly in America," she says. "I would approach young girls and it was like I was offering stirrup pants … here there is a big fixation on the smoky eye and nude lip. They don't know how to go back to wearing a strong colour."
A collaboration with fashion label J. Crew in 2011 – which had been featuring young women sporting bright shades of lipstick on its catalogue covers – helped change women's attitudes. Poppy King for J. Crew ran in stores for about a year and eventually sold out.
"I made it much more sheer than the catalogue as I knew it had to be baby steps and that they wouldn't go full on with the pigment," King says, adding that lipstick should make women feel empowered.
"There's something very dignified about it. You feel dignified with it on in a way that's different to lip gloss. It's a very optimistic thing to do and it gives you a little bit of a shield as well."
One of Lipstick Queen's most popular shades is Medieval, which enhances the lip's natural colour and suits most women. To get the right shade, King squeezed copious amounts of lemon juice onto her lips to bring blood to the surface the way women did in Medieval times.
A spokesperson for Space Brands says the US$20 tube is the best-selling lipstick at Space NK by volume and revenue – even when compared with makeup brands such as By Terry, Nars, Laura Mercier and Chantecaille.
"Medieval was a real game-changer over here," King says. "It's a lipstick I designed because so many people tell me they can't wear red lipstick, but what they mean is they're not comfortable wearing a red matte lipstick."
The Invisible Liner from King's original Poppy Industries range remains another bestseller (King's mother insisted she re-release it). King also has plans to bring back the Seven Deadly Sins and expand Lipstick Queen to include more products. "Watch this space," she says.
While Australia gave King her start in the beauty industry, her gripe with the local media means she will never return home for good.
"I think Australia is a beautiful country and I'm from Australia. I'm not trying to deny any past, it's just that it doesn't share my values in any way, shape or form."
Her ties to the country, however, remain strong. King is currently working with one of Australia's national icons on a beauty range, although she won't say whom. And she goes back often to speak or launch new products.
"When I go back to Australia and do events, the women that I see and meet I adore. My beef is not with the Australian people; my beef is absolutely with the Australian media and the mindset of the Australian media," she says.
"I genuinely would not have had any of the success I'd had if it hadn't been for the incredible welcoming of the Australian people."
As for her new role, it's clearly something she is relishing.
"One of the reasons I only lasted three years in a corporation is because I have a very different approach," she says, matter-of-factly. "The big beauty industry is in the business of denying the human condition, making everything very non-human, and I'm in the business of making it human."