When Dato' Mohammad Azlan Abdullah FCPA returned to Malaysia in 1991 after four years studying at the University of Tasmania, he was ready to kick off his career as a professional accountant.
Azlan, CEO of investment holdings company PROLINTAS Group, says he had it all mapped out. He was ready to take the next step towards his dream of starting his own company after gaining experience at one of the Big Four accounting firms.
Instead, after a year at Coopers & Lybrand, he took a left turn. It was the first step to a career as a CEO across a variety of industries including highway and road infrastructure, as well as media and advertising.
"When I started my career, Malaysia was embarking on a large‑scale program of the privatisation of public enterprises," Azlan says.
"I had the good fortune to work as a finance executive on the largest ever privatisation project in the country – the North-South Expressway project – which was to build and operate the longest expressway in the country, linking Malaysia to Thailand and right down to the border with Singapore.
"It is a classic case of being in the right place, at the right time, and meeting the right people," he says. "It gave me opportunities, exposure to successful people and the drive to become a leader."
Cultural immersion
Azlan left Malaysia at a young age to gain professional qualifications. He chose to complete his accounting degree at the University of Tasmania and credits his time in Australia for his ongoing connection with CPA Australia.
"My family didn't have much, but I did quite well in my studies in my high school and was offered a government scholarship. I almost went to the UK to study economics, but accounting was what I was really interested in, so I accepted an offer to go and study in Tasmania. I really wanted to be able to help my family," he says.
For four years in Launceston, with only one visit home to see his parents and nine siblings in their village on the east coast of Malaysia, he polished his English language skills, navigating the minefield of Australian slang, and found a few other Malaysians in the city of 70,000 people.
"On the weekends I worked in a Malaysian Chinese restaurant, not only for some extra cash, but so I could practise my English – and it really taught me how to survive in a foreign country at that age, and I really enjoyed it," he says.
Azlan says that Launceston was initially a culture shock. "I think there were only about 15 people from Malaysia there, so we'd go to Hobart sometimes where there was a bigger population – it was good to be around other Malaysian people sometimes, because I only went home once to see my family."
What skills do you need to become a CEO?
The budding leader
Once back home, and well on his way to future success, Azlan realised the most successful people around him had further qualifications.
"I knew I wanted to be a CEO, so I looked around to see what I needed to do to get there. What were the successful people doing? What would it take for me to enhance my position?"
Azlan considered an MBA, but realised that the CPA Program would serve him better, as an accounting graduate.
In the early days of his career, Azlan was also starting a family. He now has five adult children. He says parenthood contributed to his drive to be a successful business leader and has motivated him to seek new challenges and opportunities.
While he has a degree in accounting, Azlan has primarily held executive finance positions and leadership roles throughout his career. The accounting profession is more than bookkeeping and fulfilling accounting standards – it is also about being a business leader and being able to make fully guided business decisions, he says.
"An accounting degree opens doors to a variety of roles – you can be the chief strategy officer, chief auditor, CFO or COO, whatever the industry. It is as much about the human side as it is about the numbers," he says.
"I am passionate about helping young people see the opportunities accounting can bring to them," he says.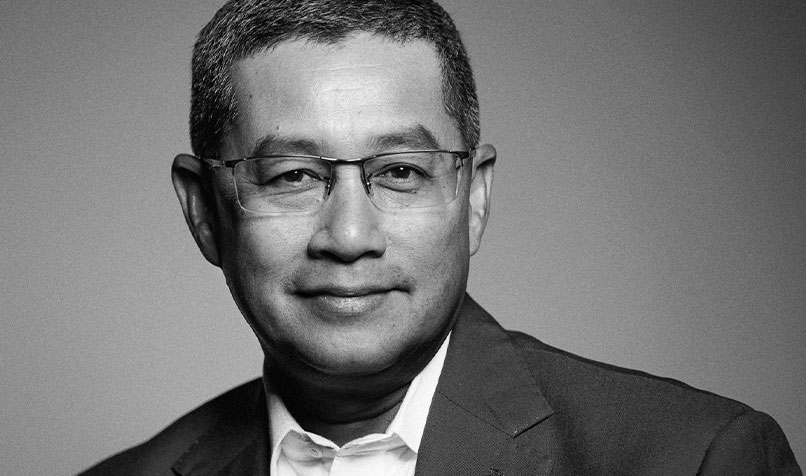 This attitude has taken Azlan across many different industries, including 17 years in media and advertising, including six of those as CEO of the New Straits Times Press.
He started off as general manager of Malaysia's leading outdoor advertising company Big Tree Outdoor and became its CEO in 2009. Azlan completed the ASEAN Senior Management Development Program by Harvard Business School Alumni Club of Malaysia in 2009. He also attended the Linkage Global Institute for Leadership Development Singapore in 2018.
"I started off in the highway business, and I have now come back to it many years later, in a different company and with some new challenges to manage. Those experiences along the way have contributed to where I am now."
Those challenges include addressing the increasing global pressure for all major infrastructure works to operate more sustainably.
"We have introduced many sustainability measures into the company to improve the way we do things. Something as simple as replacing all the LED lights on highways can bring a massive difference, for example.
"We have also upgraded the rest areas on the highways and recycled the old materials from the original structure. All the food waste is also processed on site into organic matter for composting. These are small things we can do to try and address the environmental issues we are facing. There are many more," Azlan says.
Malaysia's progress over the past 50 years and the increased demand for infrastructure development has given rise to privatised infrastructure companies, Azlan says. It has also led to the construction of many more highways since the one he worked on as a new graduate, including those that now criss-cross Kuala Lumpur.
New challenges and opportunities have accompanied that progress. Developments in technology in the period Azlan spent out of the highway industry have changed the way many things operate. It has opened up incredible opportunities to improve efficiency and provide a better experience for motorists, he says.
"The biggest challenges we have are how we can use technology to improve the use of roads. We have come up with an app, for example, that users on our roads can access for help if they have a flat tyre or run out of petrol.
"It is part of the service of using the roads and drastically improves the time it takes to respond to breakdowns, which means the roads keep moving smoothly for other drivers," Azlan explains.
In a career that has so far spanned three decades, Azlan has his eyes firmly on the future, but reminds himself that an accounting degree was his ticket to career success.
"I've held different roles across different industries, and I think it really shows that if you are a qualified accountant, you can apply whatever you learn in any industry, in different capacities and in different positions."