Most would think anyone tagged with the moniker "serial entrepreneur" would be one of the strongest advocates for the start-up culture – but not Phil Richards FCPA.
Richards, the New Zealand-born, Gold Coast-based founder and chairman of technology firm SmartPayroll, has owned and run diverse businesses for the past 20 years. Of today's all-pervasive, young, hip start-up culture, he says: "It's been heavily fantasised and romanticised."
He gives the impression he would rather take on a bakery than a fintech robot if he believed the bakery could find a niche to outperform all others. Indeed, that has been his strategy pretty much since starting out – improving existing businesses, adding new pivoting products or bolting on new ideas to perfect old ones.
It sounds so old-school: test products incessantly and put yourself in the shoes of customers to ensure the exchange of value is fair.
There seems to be no sense these days of how hard it is to make a start-up successful, he says. "I haven't had any founders who have taken my money and failed, who then offered to pay me back. They just moved on like it was a donation to their life."
Richards, aged 46, is no dinosaur, he's just unwilling to believe that despite all the jargon and constant talk about disruption, business principles have greatly changed.
He straddles two worlds. He is part highly qualified accountant, part tech pioneer – the man who put his SmartPayroll business in the cloud three years before the term "cloud" was coined. Richards started SmartPayroll in 2004 as an automated, single-touch payroll process linked with bank and tax office software. It was like the Xero of payroll before Xero was invented.
He has since become part of entrepreneurial folklore. Hailing from a lower-middle class family north of Auckland, he yearned for more. His father, a parks and reserves manager, knew nothing about business, but everyone knew where the local business leaders gathered.
From golf lessons to a career in accounting
As a 12-year-old, Richards offered to caddy for them at Whangarei Golf Club. He was particularly impressed by the fact that the wealthy golfers had so much time on their hands. He had read that the richest people had three things in common – they played golf, trained as accountants and owned a business.
"They paid me NZ$5 and I asked lots of questions about business and I listened and learned," he says.
He did well at his first job as an auditor at Arthur Andersen, but when the business folded after the Enron scandal, he saw the light. He wasn't going to work for anyone. It was his light-bulb moment. He would never be an employee again.
"One moment I was part of one of the largest accounting firms in the world and the next my colleagues and I were pushing our chairs down Queen Street [Auckland]. From then on I knew I had to do my own thing."
He later became involved in importing food from India and became the "King of Butter Chicken", built a retail optometry chain (he successfully sold both businesses), invested in pet treat delivery company PetBox in the United States, and was involved in nurturing the careers of world-class athletes.
In the past five years Richards has divested and sold off peripheral businesses, and maintained and consolidated the two that have become his mainstay. He owns a chain of 16 partly franchised accounting practices called Smart Business Centre Group in New Zealand, as well as SmartPayroll.
Launching SmartPayroll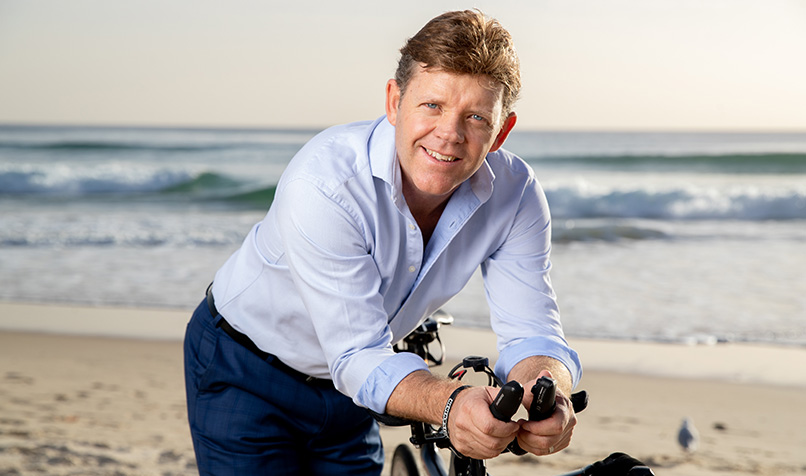 The original idea for SmartPayroll came from a tech conference Richards attended in the US nearly 20 years ago. He realised that the technology he was witnessing could be adapted for accounting purposes, but it would take a long time to generate returns.
It probably would never make it in today's instant grab, app-obsessed climate – as it required too much old-school hard work and self-belief.
SmartPayroll is now a large SaaS (software as a Service) cloud payroll company, processing over A$5 billion per annum for 25,000 small businesses throughout Australia and New Zealand. At the outset, it was a pivot from an existing accounting software company that was doing basic cashbook, GST and profit-and-loss preparations for 600 businesses.
"It was easy to sell our payroll into this existing customer base and we had cash flow to help pay some bills," Richards says, "but it took four years of losses to get that business to break even and that is a very long time to lose money."
Over the past two decades, use of customer relationship management, marketing automation and sales funnel tools has transformed the way his companies have managed their sales pipelines, the way they find leads and the way those leads have been turned into paying customers.
Social media has also been a game changer but again, Richards has not been overawed by the hype that surrounds it. Business growth doesn't change even if the tools do – it's still all about balancing the cost of acquiring each new customer against the lifetime value of that customer to the business.
"In the old days, all we did was buy bigger Yellow Pages adverts because we still got a return on our advertising investment," Richards recalls.
"It's no different today with Facebook ads and Google AdWords. I have to outsource a lot of this new 21st century marketing because it is more specialised, but the metrics and objectives are still the same."
Richards could have retired at age 35, but his love of business and desire to give back to others – particularly to his original accountancy profession – is what keeps him going. He is currently writing the first of three books which explain his philosophies on growing businesses while still having a life. The final book in the trilogy will be about the freedom a person has when all is set up and done. It's to be called Your Best is Still to Come.
Online training for accountants
Richards is also creating an online training platform to bolster accountants' continuing professional development and help them to gain a new form of certification, one that will allow them "to differentiate themselves and expand their knowledge and value".
Richards' strategy for building businesses appears to be as much a mental as financial one. He says accountants tend to focus almost exclusively on risk mitigation but that many lack knowledge to deal with the risks inherent in business growth.
"The irony is that accountants are notoriously bad at business," he maintains. "They need to think like the businesses they are advising." Turning this around is the basis for his first book, titled The Entrepreneurial Accountant, which should be hitting shelves early this year.
Risk needs to be a positive-negative face-off, where the negative is never allowed to undermine the effects of positive growth. List all the risks and downsides that may happen, Richards advises. Next to each risk, map out how you would mitigate it and visualise what a loss would mean to you.
"How often does the bad thing actually happen? Provided you don't place yourself in a position where failure means losing everything, you will be fine."
Phil Richards' advice to up-and-coming CPAs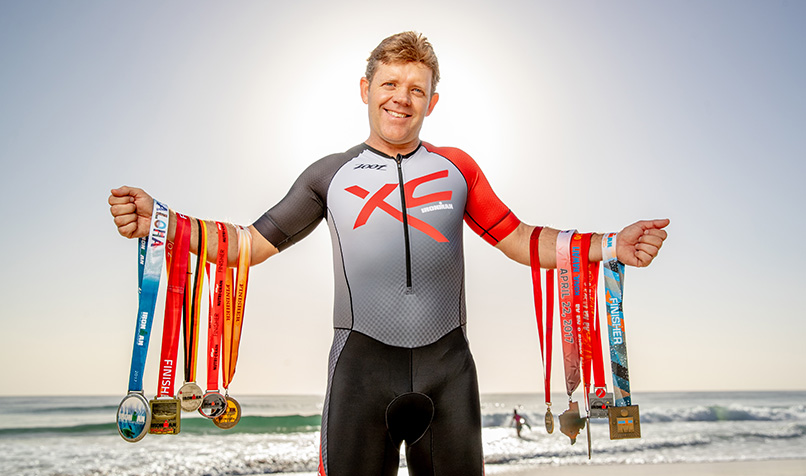 Essentially, Richards is saying is that if you keep focused on growing a business, even the worst circumstances can't destroy it. It's the basis of his advice to all up-and-coming CPAs.
Richards is full of homilies on how to run, grow and exit a business [see below] and has a similar list about how to feel fulfilled in life, which he calls his five Fs. After family and fun, he lists fitness, then finances and future freedom.
If there is one thing that clearly differentiates him from other entrepreneurs, it is his dedication to the most physically vigorous of his "Fs" – Richards is a former world champion triathlete in the under-44 year division. He applies much of the same intensity to his fitness regime as he does to his businesses, having completed 10 ironman triathlons, including two at the Ironman World Championships in Kona, Hawaii.
"I love ironman because it requires many of the values I love – goal setting and planning, passion, determination and persistence. With the hard work comes achievement and reward, a sense of accomplishment and feeling good about myself."
Richards says Queensland's Gold Coast lifestyle was made for him.
"Here, everything starts very early. My standard alarm is 4.45am and I can easily do four hours of training in the morning and still be at work at 10.30am, until I need to pick up my kids from their after school activities at 5.30pm to 6pm. Train early and work until [the] school pick-up run, and be a good dad and husband in the evening. It's the perfect lifestyle."
Where does this perfectly honed lifestyle lead? Richards says he is just focusing on building the businesses he has and that having made it, it's clearly time to give back.
"I don't want my headstone to say Phil sold a shitload of payroll," he insists. "I want to be remembered for all the business owners I made happier by reducing their stress and helping them to grow their business and get their time back to live the life they always wanted to live.
"One by one, we can change communities and increase happiness all over the country."
So, you want to start a business?
"In my new book [The Entrepreneurial Accountant], I provide the framework of exactly what accountants should address in their own or a client's business," Phil Richards says.
"This is the framework I developed from pitching to venture capitalists in Silicon Valley and [it is built around] the five most important questions you must be able to answer. It is how I suggest an entrepreneurial accountant should think."
Product market fit: what is the problem you are solving, and how does your solution address it?
Business model: how do you make money and, ideally, is there some recurring nature to the business? It takes a lot of effort to acquire customers, so you want them to return regularly.
Scale and distribution: how are you going to grow the business and scale it?
Team: who is on your team and who do you need to get onto your team?
Exit: are you going to create a business to sell, or are you going to keep it and create a "forever business"?