At a glance
Dean Morrison CPA is CEO and founder of LassWho, a platform that offers opportunities for people to engage personally with those who inspire them.
Morrison's career spans audit, financial reporting, project management, compliance and risk management across industry and public practice.
Morrison also has a strong background and interest in cricket, and inspiration for his start-up stemmed from the experiences he has had in the field of sports.
There are certain people in the world whose conventional curriculum vitae reveals virtually nothing. Run through the jobs, places and dates and it says very little of what they are really about. The panoply of their lives extends way beyond a simple jobs listing.
This is the case with Dean Morrison CPA. Anyone reading his CV would no doubt be impressed by the breadth of his experience and achievements in every facet of banking and finance.
During his career he has worked across audit, corporate and personal insolvency, financial reporting, product control, project management, compliance and risk advisory in both public practice and industry.
For the past 17 years he has been at Swiss bank, UBS – in the UK and Jersey – across the investment bank, group treasury and wealth management divisions. Prior to that he had gained experience working with KPMG, Hall Chadwick and HBOS. That's the conventional side.
What about the less conventional? Morrison is a Bidjara man, descended from the people who lived for eons in far western Queensland. He also played first grade cricket in Brisbane district competitions for Toombul and the northern suburbs.
After moving to Europe to experience professional life, he settled on the island of Jersey and then went on to play international cricket for Jersey in International Cricket Council (ICC) sanctioned tournaments in India, Nepal, Malaysia, Singapore and Holland. In addition to this, he is also a Life Member of the prestigious Marylebone Cricket Club (MCC) at Lord's.
Morrison is also the founder and CEO of LassWho, the new global digital platform (website and app) connecting people and organisations with inspirational leaders for live virtual events.
Dual lives
Morrison seems to have experienced two lives. The first denotes his more straight-laced business professional life, and the other, which has given him free rein to encompass his many passions and interests.
This duality may be the result of his diverse background. On his father's side, he is of Irish American, German and Danish ancestry and on his mother's side, he is descended from one of the country's most lauded indigenous stockman, Reginald Hart.
Hart took up droving in the 1930s during the depression years, and had many notable experiences throughout Queensland, New South Wales and the Northern Territory.
Famously he once herded 5,000 head of cattle from Wave Hill in the north of the Northern Territory to Walgett in NSW, a distance of some 3,000 kilometres. He is considered among Queensland's greatest ever drovers, his name well ensconced in the Australian Stockman's Hall of Fame in Longreach, Queensland and other historical museums throughout outback Australia.
This only tells part of the story. Hart's father, William, was part of the stolen generation, taken from his Aboriginal family in Bidjara country near Charleville to be raised on a sheep station by the Hart family, who had emigrated to western Queensland from Scotland in the late 1800s.
William's story of being removed from his family, from his land and his people is a common one from that time, under the White Australia Policy. The stolen generation comprised a number of generations and the removal and placement of indigenous children was going on well into the 1960s.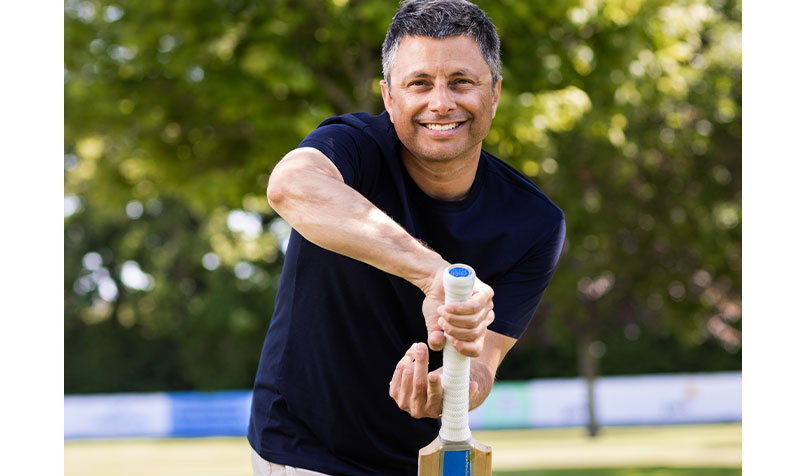 While Morrison was raised to understand what happened during this dark period of Australia's history, including the ethical and moral wrongs of the past, his family raised him to take positivity from this sad time and to use the pain and sacrifice of his elders as inspiration to take every opportunity with both hands to lead him on a pathway of achievement in life.
"My grandfather [Reg Hart] never dwelled on the past. He never blamed the people of today. My grandfather always said there was no point in looking back – you must always move forward and do everything you can to be a good person, be kind, a contributor to society and all we can do is try to work towards ensuring the wrongs of the past do not happen in the future.
That is all we can control. This attitude has remained with me for life."
Morrison grew up in the inner city of Brisbane and attended Ascot Primary School and Wavell High before gaining a bachelor of commerce (accounting and finance) from the University of Queensland at St Lucia.
He always showed a penchant for the social sciences, accounting and mathematics. "I guess it was unsurprising I ventured down the path I did," he says.
One thing he never queried was his passion for cricket. Like most young Australians, he took to it from a young age, enjoyed the team environment and learned his craft through the Queensland Cricket structure.
"When you are a kid you want to play cricket for Australia, but my head was clear and I knew I needed to knuckle down and educate myself to ensure I had a solid foundation for the future.
A good solid grounding in accounting and finance was the choice at the time and now, looking back all those years later, I feel certain that it was a good decision."
Career journeys
Morrison left for the mecca of most young professionals in Australia – the United Kingdom – in 2004, but shortly before leaving he was also selected for the Queensland Imparja Cup side that won the National Indigenous Cricket Championships in Alice Springs.
His performance as part of the winning team led him to being selected for the Aboriginal and Torres Strait Island Commission XI to play the Prime Minister's XI later that year.
In 2004, Morrison moved to the UK for his second season as the overseas professional at Marchwiel Cricket Club, and while there he worked in the finance function for HBOS (Halifax Bank of Scotland) on a six-month International Accounting Standards contract.
He describes his stint in the north-west as an eye opener – he was living in the prestigious Marchwiel Hall, home to arguably one of the most famous building and construction families in the UK, the McAlpine family.
In late 2004 he moved to London to take on a financial reporting and product control role with UBS Investment Bank at the Swiss Bank's iconic flagship building at Liverpool Street in London.
In 2006 he moved to Jersey to join UBS Group Treasury and it was around this time that Jersey had gained Associate Status with the ICC, coincidentally playing alongside now test cricketing nation Afghanistan in World Cricket League 5 in 2008. After fulfilling the ICC qualifying period requirements, Morrison was selected to play for the tiny island nation in 2010.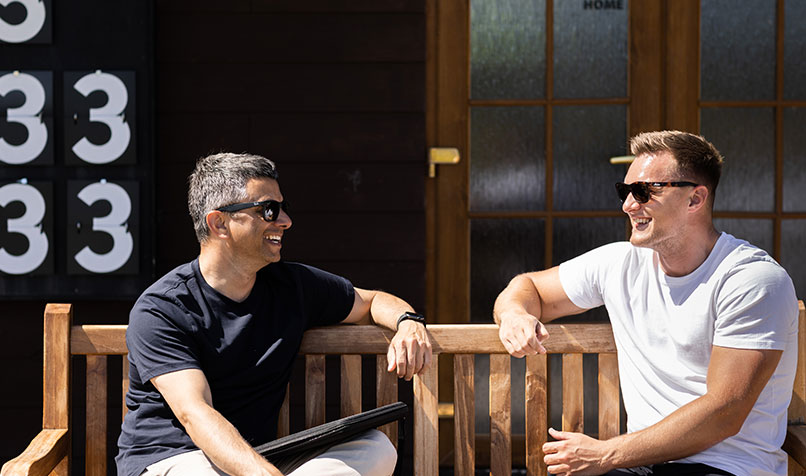 Where was all this heading? Could the many skills and experiences come together as a single idea? In the depths of the pandemic he dreamt up LassWho (lasso) – a global digital platform that would initially allow people to live video chat directly to their sporting heroes. Morrison was a fan, but he also knew a great many of the heroes.
"It was June 2020. People around the world were isolating, and everyone was living and working from home," he recalls.
Zoom was just beginning to take off. Intrigued by the opportunities the videoconferencing platform could provide and inspired by former cricketers from his club in Brisbane Mitchell Johnson and Brendan Nash, he thought: "Why not get some of these current and former first class and test players on a call, during my cricket club's core fitness sessions, for a Q&A?"
After trialling the concept with several cricketers attending Zoom sessions, Morrison worked on his pitchbook and after that raising the funding to ensure LassWho could deliver a global digital platform with scalability to make anything possible – from one-on-one live video chats to small groups (five to 20 fans or business clients), large groups (schools and clubs) and large-scale corporate events, all by virtual connection.
After a successful pre-seed round capital raise, Morrison had started working full-time on LassWho in May 2021, setting up the business, engaging key vendors and selecting talent for his start-up.
"When conducting early round fund raising, you need to articulate the problem you are solving: What is so revolutionary or disruptive that should make me want to invest, is the question you are trying to answer," Morrison says.
"We now have a fully integrated website that captures top of funnel traffic for all target audiences and sitting alongside it is our app with both platforms built on industry leading 'React' platforms. The platform now boasts many other keynote speakers and industry experts covering topics such as leadership, inspiration, empowerment, resilience, motivation and more.
LassWho carries a tiered fee structure that is determined by the speaker, which usually depends on their profile, experience and the impact they have made throughout their career. Prices range from A$60 to $A22,000 depending on the booking type (individual or group size).
It includes people who have overcome the most extraordinary and unimaginable situations. Some have conquered mountains or swum across great seas. Morrison wants the "fan" – be they an organisation or a person – to come out of the experience wholly inspired.
The initial target markets are the UK, Australia, New Zealand, Hong Kong and Singapore, but Morrison plans to take LassWho global.
There are other sites across the world with similarities to LassWho, with well wishes and shout-outs from celebrities predominantly on a pre-recorded basis. Morrison wants LassWho to offer a much deeper experience, where people are left with a long-lasting memory that is impactful.
"These moments are unlike others. They are not temporary but designed to leave an indelible, deep, fixed memory in those who take part."