Remember Skype? A decade ago, most of us used Skype for international video calls, as well as clunky, early versions of Webex and GoToMeeting for corporate presentations.
In 2011, a start-up called Zoom challenged the corporate incumbents with up to 40 minutes of free videoconferencing that guests could join with a single click. Ten years later, in a pandemic that has turned video meetings into a daily activity, a "Zoom meeting" has become the new "Skype call".
"Everyone now is just so videoed up," says Kaisa Heikkila, digital analyst with audit, tax and consulting firm RSM Australia.
However, Zoom's brand dominance may prove to be as tenuous as Skype's. Well-funded contenders are emerging. Google has opened up its Google Meet videoconferencing platform, previously reserved for users of its productivity suite, Google Workspace (formerly G Suite and Google Apps).
In April 2020, Facebook launched Messenger Rooms for up to 50 people in a call. The tiled layout of participant videos – up to 16 on a desktop and eight on a mobile – resembles the design of Zoom.
The biggest story in video meetings, however, is Microsoft. The productivity giant added a videoconferencing and online chat tool, Microsoft Teams, to its cloud suite Microsoft 365 (previously Office 365) in 2017.
After a slow start, Teams' usage has grown spectacularly. Microsoft CEO Satya Nadella revealed to investors in October last year that Microsoft Teams had 115 million daily active users, up by 50 per cent from six months before.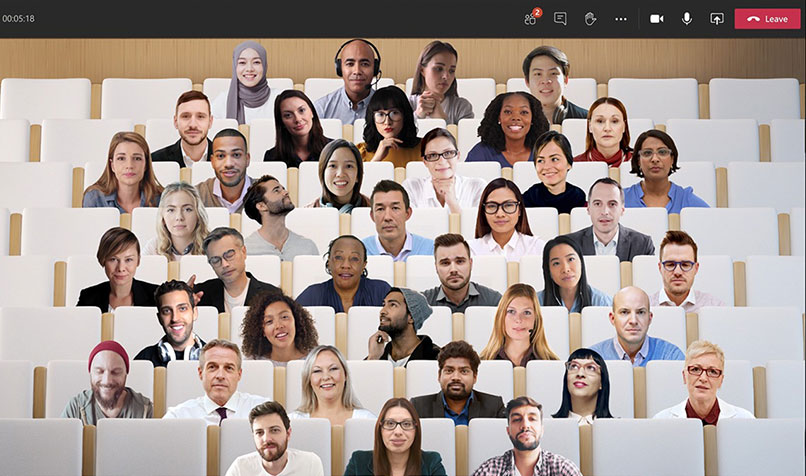 This growth is following Zoom's rise to 300 million daily meeting participants from just 10 million in December 2019. Google Meet has 100 million daily users.
These groups of daily users are not identical, however. Zoom and Google have had a lot of success in the education sector and among the general public. Meanwhile, the enormous business customer base of Microsoft Office users is helping Teams become the default corporate platform.
"I'm involved in lots of video meetings – a day doesn't go past where I don't have a Zoom or Teams meeting," says Matt Paff, principal of software advisory firm Value Adders. "At the start of the year, I was having more Zoom meetings than Teams, but now I'm using Teams more than Zoom."
Why the change? "I just think Teams has gotten better. During COVID-19, more and more people have adopted Microsoft 365 and all the licensing that comes with it. The larger corporations are all going to Teams," says Paff.
Teams is, in fact, a chat platform for business with videoconferencing bolted on top. This means that chat conversations during a call can continue after the call has ended.
"Someone can send you a note saying thanks for being part of the meeting, even if you have dropped off the call," Paff says.
Webex and GoToMeeting have had several refreshes to make them easier to use. However, they are mainly used by enterprises that bought them years ago, Paff says.
Heikkila, who recommends business software to clients, uses Zoom, Skype for Business, Microsoft Teams and Google Meet. Most RSM staff in Heikkila's division use Microsoft Teams for internal meetings and Zoom for client meetings.
"People have personal tastes, and we have guidance from IT. It's really up to the individual which tool they use to meet with a client," Heikkila says.
Heikkila's favourite Zoom feature is "breakout rooms" – the ability to divide attendees into mini-meetings to discuss a topic in greater detail, and then bring all attendees back to the original video meeting.
Not to be outdone, Microsoft released a similar feature for Teams in September 2020.
Heikkila finds the Microsoft Teams experience in the browser a little cumbersome, compared to the simpler design of Zoom. Zoom also includes "audience participation" features such as pop-up quizzes, which Heikkila has found indispensable.
"The problem is engagement. People have been on Zooms for nine months. They are starting to switch off their videos and typing an email. If I'm pitching to someone externally, how can I tell if they're listening to me?" Heikkila says.
Heikkila uses the quiz function to ask how everyone is feeling and to get feedback throughout a presentation. "It's just a way to spice it up a little," Heikkila says.
The big question is, how much room is left for Zoom to innovate? Microsoft has been hot on Zoom's heels as well as developing its own exclusive features.
Heikkila has one further tip to solve the problem of video overload. She uses screen capture software, such as Loom, to record short video snippets of herself sharing her screen to discuss a slide, diagram or document. Heikkila then emails the video link to her colleagues to watch in their own time.
"You can go from a half-hour video meeting to a 10-minute 'this is what's up', and the other person can watch it on demand. It's a game changer. It eliminates so many meetings."
How to choose a video meeting platform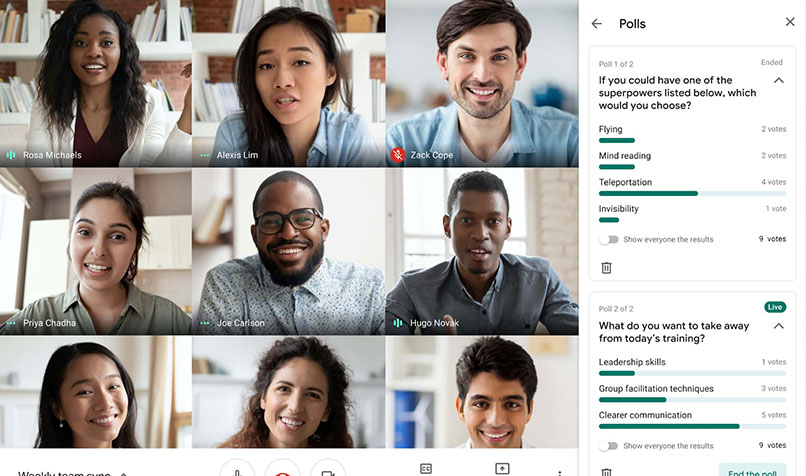 Video meeting software has matured and become much more reliable, in part due to the rollout of high-speed internet connections for business and residential users. The quality of video on all platforms is quite similar, although Paff finds Google Meet a little less consistent.
While there is still a wide field of players, the momentum right now is with the productivity suites from Google, Microsoft and Zoom.
For small and medium businesses, the biggest differentiator will be subscription price. If you are already paying for Microsoft 365, then you will most probably have a licence to use Microsoft Teams, Paff says. It is hard to justify spending on Zoom or some other dedicated alternative instead.
The same philosophy applies to using Google Workspace. Google Meet is included in the bundle and works perfectly well for almost every scenario.
You can use Zoom with Google Workspace and Microsoft 365 – both have integrations that add a Zoom meeting to a calendar invite. The Google-Zoom integration is excellent, while the Outlook-Zoom integration doesn't work as well, at least for the moment.
That's because Outlook frequently asks you to re-authenticate Zoom with password and captcha identification, which becomes quite frustrating. By contrast, all that's required to add a Teams video call to an Outlook event is a simple slider button.
Zoom is still the easiest for attendees to join. Microsoft Teams doesn't require attendees to have a Microsoft login – external users can click an invite link and join the meeting in a browser window. However, it is difficult to manage the Teams desktop app if you hold multiple Microsoft accounts for different businesses.
Both Teams and Zoom can be used for webinars and other live events with up to 10,000 attendees. They also both have "rooms" software packages, which give a huddle area, boardroom or conference room with its own login for group meetings.
These packages integrate with third-party displays, video cameras, microphones and even lighting controls.
Zoom has the edge on the software here – multiple users can share their screens simultaneously, and a meeting room can display schedule and availability on a small screen near the door. Zoom also includes a virtual whiteboard for scribbling down ideas among multiple attendees.
Microsoft has the advantage on hardware. It has released Microsoft Teams phones and touchscreen displays, promising tighter integration than Zoom, which relies on third-party manufacturers.
Software for shareholder meetings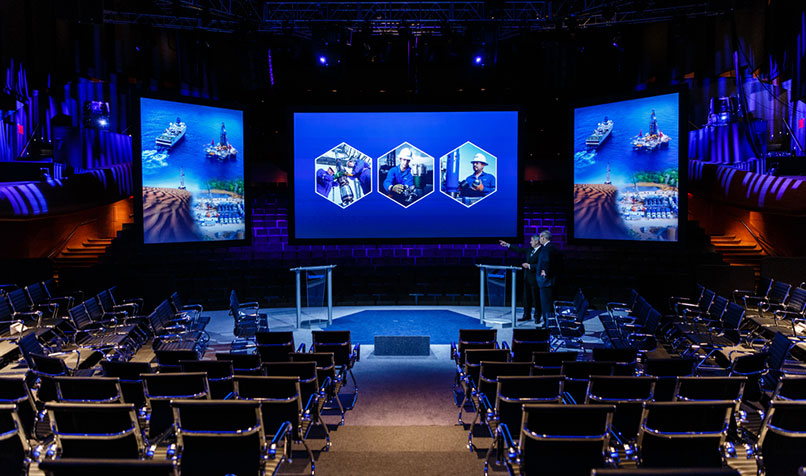 When the pandemic hit, the Australian Government introduced temporary measures to the Corporations Act 2001 that allowed virtual meetings for shareholders and electronic document signing.
Lobbying from industry associations has encouraged the government to make these reforms permanent, meaning that listed companies will increasingly hold shareholder meetings over video.
Multinational corporations are using three models to communicate with a global shareholder audience, says Patrick Eastwood, partner and head of Asia for MerchantCantos, the branding and communications arm of global financial consulting company Brunswick Group.
Fully virtual events
The first model is fully virtual and on-demand, using an online portal for a limited period. "The idea is not to replicate a live event. It's essentially a gathering place, a repository for content that has been produced in advance," Eastwood says.
Videos of presentations are pre-recorded and uploaded several days prior, along with the decks, financial statements and supporting documents. Some include a live Q&A for an hour or hold several Q&As to suit different time zones.
This model is serviced by dedicated investor relations platforms such as NetRoadshow or the exchange's own proprietary platform. These can scale to tens of thousands of investors.
This approach is popular with private equity firms and multinationals with a geographically spread investor audience, and it saves board members from flying to multiple countries and time zones.
"If you have attendees from the west coast [of Australia] to Europe to Asia, and you're trying to run a live event online, it's impossible. Someone will have to get up at 2am," Eastwood says.
Hybrid events
The second model is a hybrid event. It takes the content hub concept and adds livestreamed events. Investors can watch the live event and ask presenters questions using an online Q&A tool.
One popular platform, Virtual Investor Conferences, mimics the set-up of an in-person event. It includes an "auditorium" for viewing live presentations and engaging in Q&As with executive management, as well as an "exhibit hall" for watching corporate videos and downloading annual reports and investor kits.
Larger events, such as capital market days, will run breakout sessions for individual brands.
"It's more replicating a conference, because you can choose two or three breakout sessions to attend," Eastwood says.
Fully live events
The third model is a fully live, digital event. This is similar to running a live television event, with studios and professional camera operators in multiple locations.
An editor in the production suite takes feeds of the chairman, CEO and CFO in different offices, rotates the cameras to the active speaker and pushes the feed through a distribution platform such as Zoom or Facebook Live.
Live meetings sometimes use Q&As and polling to replace shareholder voting.
Whichever model you choose, it is important to note that its production values will reflect on the brand.
"The challenge is to replicate the experience that you would normally have in a live event – the stature and quality," Eastwood says. "The worst thing is when you have one of these big brands do what sounds like a cheap, pre-recorded presentation with PowerPoint."