In 2016, Daimler AG board member Britta Seeger was stranded at Istanbul airport in Turkey during the attempted military coup against the government and President Recep Tayyip Erdogan. Then vice-president, president and CEO of Daimler subsidiary Mercedes-Benz Türk A.S., Seeger feared for her life as armed soldiers threatened immigration officers around her.
As she lay on the floor, Seeger's son called her mobile from Germany. He'd seen what was happening on television and wanted to know if she was safe. She lied and said, "Yes I'm fine, it's all good! I'll call you tomorrow when I have more time'."
When she eventually made it out of the airport, Seeger found that a tank had crushed her car, but fortunately, she was otherwise fine. She says that what got her through the situation was telling herself to take things step-by-step.
It's a strategy she regularly applies to her work. As a member of the board of management of Daimler AG, the parent company of motor vehicle manufacturer Mercedes-Benz, Seeger is responsible for Mercedes-Benz Cars marketing and sales and oversees 30,000 staff. In her three decades with the marque, Seeger has moved swiftly up the ranks by being agile and adaptable.
Seeger conveyed this story in a keynote address at South by Southwest (SXSW) in Austin, Texas, in 2018, where she was presenting Mercedes-Benz's future plans. Piggybacking off the famous tech festival, Mercedes was running the ME Convention there – a series of talks and showcases designed around its latest product offerings.
It's part of the company's new marketing strategy and denotes a change in how it speaks to customers. Admitting that the automotive industry is not resilient to change and is facing more disruption than ever, Seeger says instead of just presenting and sponsoring motor shows in Frankfurt, Mercedes is using platforms such as Coachella, Burning Man and SXSW festivals to network with potential future clientele.
"Change has never happened this fast before and it will never be this slow again," Seeger told her audience. "You have to acknowledge the pace. Day by day you see dramatic change."
Reinventing the wheel
Later that day, I chatted with Seeger at one of Austin's famous barbecue restaurants, packed with SXSW guests enjoying local beef ribs, pulled pork and potato salad. With 10 days of local food, music, tech talks, film, comedy, networking and parties, SXSW is a cool place to be and Seeger knows it.
"We were looking for platforms where we get into direct contact with people who aren't so close to Mercedes, who you might not otherwise meet," she explains. "Mercedes and other businesses need to think differently. The ME Convention provides a platform to talk and share and an opportunity to interact with people."
Appealing to the next generation of customers is a big challenge, of course, particularly when competing with digital retail giants such as Amazon and Tesla. Seeger estimates 25 per cent of Mercedes-Benz sales of new and used vehicles will be conducted online in the next five years. It's why the company is experimenting with pop-up stores offering onsite support, so potential customers can converse with product experts about cars, but be under no obligation to buy – at least not immediately.
The move into experiential retail began in the US with pop-up stores in Atlanta, Miami and Chicago.
"It's about instilling enthusiasm about the car," Seeger says. "This doesn't mean that you only stick in the digital journey, it's omnichannel. We think customers shopping online will increase dramatically, but we have to be good at both – combining tech with customer service."
She says customer service in Australia is already robust and that it is a growing market for the brand.
"The Australian market is a very attractive market and among the top 15 in the world. We have a strong positioning of the brand there and lovely products and very strong dealers. They invest in the brand and the customer relationship and this combination over the past five years has led to very significant growth for us."
A career of 30 years and counting
German-born Seeger started her career at Mercedes-Benz in 1989 in customer care. Since then she has held positions in sales and branding as well as senior management. In 2013, she was appointed president and CEO of Mercedes-Benz Korea and Daimler Trucks Korea in Seoul, and in 2015 took up the role in Istanbul, where she had overall responsibility for the production and sales of trucks and buses in Turkey.
Seeger has been a member of the board of management of Daimler AG since 2017. Considering Ola Källenius, who will become Mercedes' new CEO in May 2019, previously held the role Seeger has now, she seems to be in the driver's seat (excuse the pun) for future promotion.
Appointing a female CEO could also be a good move for the company. Mercedes has openly admitted it needs to hire more female sales staff and wants to be the top choice among premium car brands for women by 2020, garnering at least 30 per cent female customers. The aim of its recent marketing initiative, She's Mercedes (highlighting women business owners and professionals), is to make women more familiar with the brand.
As a leader, Seeger is a believer in encouraging diversity – of men and women, young and old, European and international workers – to instigate creativity.
"As managers, it's our key job to unlock the creative potential we have in our people. Who would we be not to hire smart people and rely on them and unlock their potential?
"The most important thing we, as managers, have to do is give a platform in which you can speak up and identify problems and invest time not in complaining about problems, but saying, 'OK, we have a problem, let's learn from it going forward'," she says.
Seeger is responsible for a shift in culture at Mercedes-Benz Cars from the top down and often dresses casually, wearing sneakers while presenting on stage. "Sneakers, taking off a tie, yes, this is symbolic but sometimes it breaks down thinking barriers too in a time of change," she says.
Although Mercedes-Benz traces its origins to Karl Benz's creation of the first petrol-powered car, which was patented in 1886, Mercedes today is adopting some traits from the start-up world. After all, it was founded in a garage and retains what Seeger calls "a pioneering spirit".
Knowing what customers want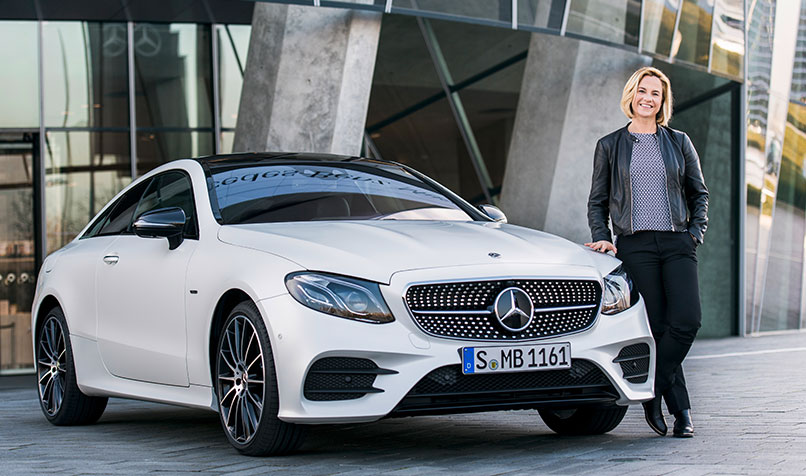 Recognising that not all its customers in the future will own cars, another initiative Seeger and the board are investing in is mobility services comparable to Uber and Lyft. A partnership with car rental company car2go was formed with the intent to serve three million customers in eight countries with high-end vehicles.
The automaker plans to continue its carsharing investment with driverless cars, which it promises will be in development two to three years from now and on the market in three to four. The intention is to reduce fuel consumption and improve traffic safety. Mercedes also envisages driverless buses, freightliners, trucks and helicopters.
Perhaps the biggest strategic move in recent times has been Mercedes ending its 30-year sponsorship of German football and replacing it with a partnership with eSports company ESL, recently renewed until the end of 2020. The decision was based on a need to energise the next generation of consumers, Seeger says. More than 200 million people follow eSports competitions.
"We see hundreds of millions of people around the globe playing this – [and] we want to invest in it," Seeger says.
"[In] our first experience with doing these things together, we had excellent feedback from the audience. They appreciate it if a tech company is interested in their sports."
With so much change, it's hard not to wonder if it's too much too soon. However, Seeger has enough history with Mercedes to believe this is the right focus for the future. "One of the most interesting times is now – where we should be changing and challenging ourselves."
Seeger also believes Mercedes can maintain its luxury status while adapting to the demands of a new market. "Bringing us together with young platforms opens us up to new audiences, but the core brand doesn't change," she says.
"What I really love about Mercedes-Benz is our diversity. We are engaged in so many things: social engagements where we contribute to society, Formula One where we improve our performances, and we have SXSW where we offer a platform for networking and participating. This is what is so thrilling.
"We are a big company, but we are very focused and disciplined," she adds. "We want to deliver the best outcome for customers, day by day." Or, in other words, step-by-step.
Three's company
Like all women who choose to juggle a career and family, Mercedes-Benz's Britta Seeger has faced hurdles in her corporate journey. Seventeen years ago, she found out she was pregnant with triplets.
"I said to my husband, 'You know, it's funny, I'm changing my body but also my whole life and you just go to work. And then I give birth to the babies, I sit at home with the three babies and you just go to work.' When you have three babies you do not have much time to think about your future career.
"My husband came to me and said, 'I have an excellent idea. I stay home, and you go back to work'."
After 18 months, Seeger did return to work while her husband took a year off. He then founded his own company.
"Without him it wouldn't have worked," she says. "And honestly, not only for the kids, but when I was offered a job to go to South Korea you need to have a partner who says, 'Yes, let's do it', and when offered a job in Turkey someone who says, 'Yes, we can do it'."
Now teenagers, her two sons and daughter keep life "very entertaining and every day [is] different", she laughs. Keeping physically fit keeps her sane.
"Strength, endurance and cardio [are important]. I'm an early bird and I'm really awake even before my first coffee. Sport has a similar effect on me – like restarting a computer. Concentration, power and my attention increase by doing sports. That's why I make sure that I train regularly."