At a glance
Amie Scruton CPA is chief financial officer at Art Processors, responsible for driving the organisation's planning and forecasting, risks and opportunities.
Art Processors is a global experiential design and technology company working mainly with cultural institutions.
While the business uses digital solutions to transform client operations, it has also been through its own finance-led transformation.
Living through the lockdowns and restrictions of a pandemic has taught us about what it means to be human, says Amie Scruton CPA, CFO of Art Processors.
We desire knowledge and learning, connection and closeness. We long for stimulation, collaboration and creativity. These are all vital aspects of what it is that attracts us to art, and following on from the worst effects of the pandemic, they are increasingly being driven and enhanced by digital solutions.
"That attraction we feel to art, that is exactly what being human is," Scruton says. "The curiosity and inspiration that you get from somebody else's inspiration and creation are what it means to be human."
Scruton has been deeply involved in the art world for over a decade, becoming the company accountant for Hobart's globally acclaimed Museum of Old and New Art (Mona) in 2011. Over the past three years, she has been at the financial helm of a business that has played a significant role in making Mona so engaging.
Art Processors is a global experiential design and technology company. "In layman's terms, that means we're born of both worlds – the visitor experience and the technology that enhances it," she explains.
"This exploration and unification have the end result of enhancing a visitor's experience, particularly in cultural institutions. That's the market that we know. It doesn't mean we won't eventually move into other markets, but we're very invested in the cultural and arts sector."
At Mona, as at the numerous other galleries and exhibitions Art Processors has on its global client list, Scruton's colleagues have been responsible for making the experience exactly that – an experience.
Before opening Mona, owner David Walsh decided to democratise the experience by removing all wall labels within his cavernous, architecturally astounding gallery. He wanted no scholarly rhetoric and no shuffling around in a queue, reading information stuck next to each artwork. He wanted raw excitement.
To create this experience, a personalised, interactive experience known as "The O" was developed, described on the Art Processors website as "an accessible and user-friendly mobile experience for iOS and Android that provides location-based content for a variety of learning styles and interests. It provides the ability to 'love' and 'hate' artworks, virtual exhibit queues, augmented reality capabilities, and 'save tour' functionality for off-site engagement."
David Walsh has described The O as the single most essential ingredient of the entire Mona experience.
"If The O wasn't there, I was never going to open, because it was the thing that gave me the freedom to create in the way that I wanted to create," he says.
Having witnessed what Art Processors had been able to achieve from the client's point of view, Scruton joined the business in 2018. She led the business through a period of massive growth, from 18 to 75 staff. Then came the challenges of COVID-19.
"Even in normal times, partnering with cultural institutions that have minimal or tenuous funding can be very difficult from a financial perspective. We've had to build a business model that allows for that," Scruton says."If our primary focus is to create incredible visitor experiences that enhance the assets of the institution, it can't be just for well-funded galleries. So, we've had to invest heavily in our people and processes to create an offering that can be shared in a more egalitarian way."
Making this a reality has involved turning some of the company's focus on innovative, creative technology inwards, to transform the inner workings of the organisation to better prepare it for a new era of business.
Finding her niche
Raised in Toowoomba in Queensland, Scruton didn't originally intend to become an accountant, or work in Tasmania. She imagined her career being based in the political or diplomatic space.
"I was young and fell into a business degree, and it was then that accounting struck a chord," she says. "It required an organised mind."
"I had an interesting journey, as my degree was punctuated by the birth of my son in my early 20s. I had to work hard to make sure I didn't get left behind as I tried to balance finishing my studies and motherhood, and finding opportunities that didn't see my family suffer."
After completing a bachelor of business degree at Queensland University of Technology, Scruton made her family part of the solution. She entered her own family's small construction-related business, Fixlay Tiles, and helped to grow the company to a 30-plus workforce with a reputation for technical excellence.
As is typically the case in small businesses, Scruton gained experience in numerous fields rather than specialising in just one.
"I really built some confidence up when I was there," she says. "That basically took care of the first decade of my working life."
Her next job, with a large, publicly listed retailer, couldn't have been more different. She felt like a small cog in a large machine, and it wasn't a situation she enjoyed. Then came the job opportunity with Mona.
"I stayed in that role for over seven years, and that's what made me the finance professional I am today," she says.
"It was very fast moving and involved quite a number of industries within the group, including wineries, breweries, hospitality, cultural institutions, philanthropy and more. Although we tried to create a modicum of structure and process, you didn't know what was going to happen when you turned up to work each day."
It takes a particular personality to work at the leading edge of the art world, Scruton says.
"If you were completely technically focused, you'd likely not create the value that's required in this role," she says. "You need to be highly adaptable. You certainly need to be not offended very easily. You need to be very creative and able to find solutions to deliver some pretty outrageous projects around great unknowns and major risk."
She has dealt closely with controversial artists, taken on leadership roles in the organisation of the winter music and arts festival Dark Mofo and, one memorable day, took delivery of a shipping container filled with adult toys for an installation in the museum.
"There were often some very interesting descriptions in the ledger," Scruton smiles.
Strategy: change the way art is experienced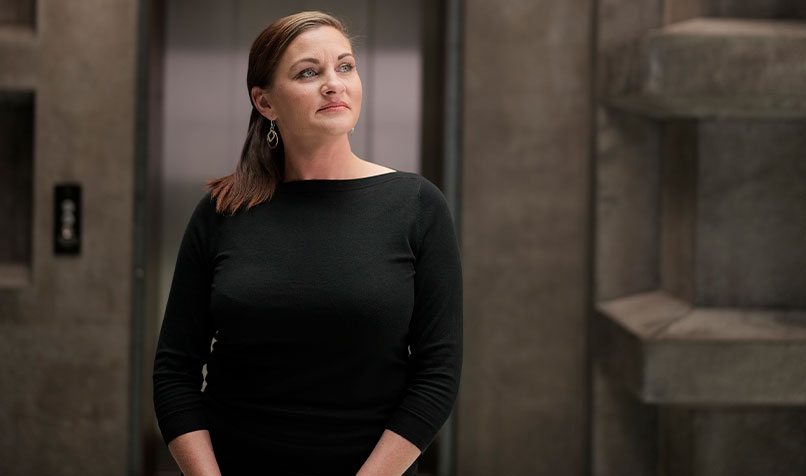 By convincing Art Processors to turn the focus of its technological expertise back onto itself, Scruton brought about a transformation in the way the business manages and uses its finance function.
With its two offices located in Australia and in the US, Art Processors was using two different financial systems. Neither had the ability to integrate with other platforms, nor with each other.
"It was an awful time-killer," Scruton says. "Quite frankly, I was tired of bending these systems as much as I could. Providing any useful data at the month end would take an entire day."
Partnering with DXC Technology to implement Microsoft Dynamics 365 Business Central enabled the organisation to digitally transform by consolidating global financial data in the cloud, ensuring staff had access to accurate, real-time financial activity. What used to take a day could now be achieved with the click of a mouse.
"What it means, in a tangible sense, is that I've got complete transparency of data," she says. "We have data visualisation from live, real-time, clean, smart data. I've got the ability to automate transactional processes.
"For me, the most important thing is that it has broadened our remit from just historical financial reporting to helping provide the data and guidance that drives the business into the future. The days of reporting slightly interesting historical data from yesterday or last month are over. That's a bit useless now. The organisation expects from us intelligent forecasting, and we've got the ability to do that.
"The implementation of the solution, and the impact it has had on the business, have been probably a highlight of my career to date."
That same insight and transparency are what will drive the company's clients forward, too. The business strategy, developed in 2019, is built around helping public institutions, galleries and other spaces and events to engage their visitors in a meaningful way.
"The only thing that changed in terms of our strategic focus during the pandemic has been a slight diversion in the technology roadmap to release solutions to help with COVID-19-safe reopenings," Scruton says.
"The focus of public institutions in the past has been on how many people would come through the door. That was linked to funding. Now, it's increasingly about being smarter, about engaging potential visitors before they come, as well as during and afterwards."
There is much these institutions can do, Scruton says, to upgrade the user experience. Why make visitors queue for an exhibition, for example, when they could sit at a nearby bar or cafe, or wander another part of the gallery and be summoned by a message on their phone at just the right time?
Why have wall plaques when people could be immersed in soundscapes, hear or see narratives on their smartphones or interact playfully with the artwork?
Why have large, empty lobbies when the space could be used for immersive experiences?
"If we didn't go through this transformation process, there is no way our business would be where it is now," Scruton says. "Our finance function is now an enabler for the rest of the organisation and an invaluable support to decision-makers. We want the same digital success for our clients – it's quite empowering."