My role: accountability meets opportunity
I have been QIC's CFO since 2011, and in June 2022 I was appointed to the dual role of chief financial and operating officer.
The dual role has expanded my accountabilities, and I now lead teams across operations and technology, people and culture, legal, regulatory affairs and compliance, and the environmental, social and governance (ESG) teams.
While these business-critical functions have altered what I am accountable for, they haven't changed my approach to how I work. I have been chairing QIC's corporate management committee and working collaboratively with other corporate teams for a long time as CFO.
Yet there is a subtle but important difference to my new role. As CFO, I focused largely on financial outcomes. Now, with the COO accountabilities as well, I have greater scope and opportunity to make positive changes to how QIC operates as a whole.
I recently appointed someone to lead the finance team day to day. This has allowed me to focus more on the new areas under my stewardship.
It has also made me realise that the more senior you become, the less you can be an expert in every function reporting to you. I can't be across every aspect of every team I lead. More than ever, I rely on the extremely capable people in my teams.
The combined role is far more about leadership, about people, and that's where I can add the most value. I need to be a strong, capable and decisive leader, but also one who everyone feels they can approach.
Game changers: twist of fate
I come from Ingham, a small town in north Queensland, and I was keen to go to university in Brisbane. I had set my sights on a degree in the health sciences.
In the end, I didn't get the academic results needed for a health science course. My back-up choice was a bachelor of commerce at the University of Queensland. I soon realised I was made to be an accountant and, ultimately, it felt like fate.
Another big game changer was the first day I walked into QIC in 1991. My first role after university was on the graduate program at Queensland Treasury, which involved rotations to different areas. My final rotation was to the newly created QIC.
I walked in the door and was given reconciliations and data entry work – and I loved it immediately. It was a new and vibrant organisation with a clear purpose to be the Queensland Government's investment manager and deliver strong, risk-adjusted returns for the government.
In early 2011, I had progressed to QIC's group financial controller. One day, the CEO called me unexpectedly. I thought I had done something wrong.
Instead, he offered me the role of CFO. I wavered – I had two little kids and didn't feel ready. He was persuasive and gave me the confidence to realise that I could do the role. Still, it came out of the blue.
My challenges: the ESG gambit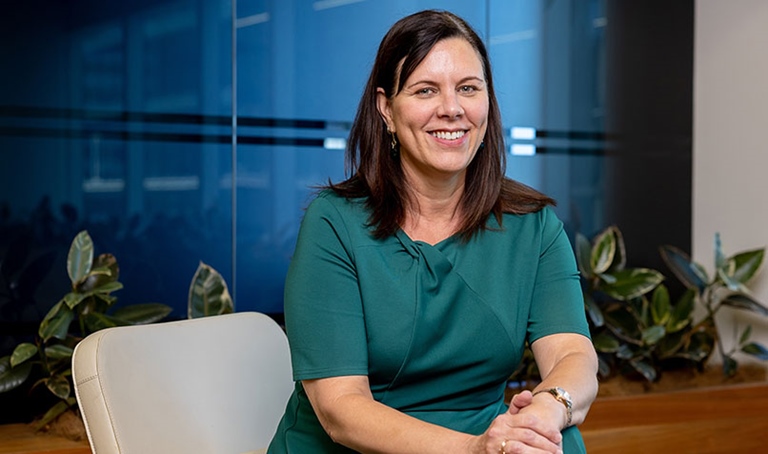 Combining the COO and CFO roles is a new challenge. I am conscious that I am stepping up and broadening my remit and accountabilities. This means I am laser focused on adding value and enabling outcomes that have a tangible impact on the delivery of the functions I lead.
ESG [environmental, social and governance] is a totally new capability for me, and it is one that is evolving externally.
At QIC, we understand ESG is increasingly becoming a leading priority for our clients – both for the Queensland Government and for our other domestic and international investors.
ESG considerations are increasingly influencing how we invest, what we invest in and how we operate. We are launching specific ESG-related capabilities, as well as working on improving the ESG results for our existing investment portfolios.
One of the other current challenges is our major systems transformation. We have recently completed the implementation of a transformational enterprise resource planning platform, which replaced all our previous finance and HR systems.
Some modules have been live for a year – others for just a few weeks. In my view, it takes at least a year or two after go‑live to get the system really humming.
Lessons learned and advice
Don't fixate on a specific career path.
The danger is that it can blind you to the opportunities around you that could move your career forward in ways that you didn't foresee or expect.
Step out of your comfort zone.
Team members often ask me how they can progress their careers, and it's by putting yourself in uncomfortable situations. There is a quote by award-winning Harvard Medical School psychologist Susan David: "Discomfort is the price of admission to a meaningful life".
If you want to grow your muscles, you go to the gym and go through a bit of discomfort. The same applies to your career.
Hear the feedback you get and absorb it.
When people receive development feedback, their first reaction is often to dismiss it, argue, ignore it or make excuses. It's worth receiving the feedback and really processing it. Work through any emotions, take it on board and plan actions to address it.
Do what you say you are going to do.
If I say I'm going to do something, then I do it. That builds trust, respect and credibility, which positions you well for opportunities as they arise.