Brands come and go, but aside from the sudden demise of names such as Arthur Andersen and Lehman Brothers, most become less relevant gradually. This is why conducting a brand audit can be a good way to help reverse a downturn in business, or protect against a future one.
It is not something many small- to medium-sized accounting firms consider, however.
"They don't tend to go down that path because around 82 per cent of their business comes from referrals and word-of-mouth," says Brent Szalay CPA, managing director of Melbourne-based accountants SEIVA.
"We do, and obviously we see value in it. It's about connecting with customers, building trust, staying relevant to them and matching perceptions with our offering."
Szalay believes there is a strong case for more firms to do the same. Indeed, if referrals wane as a result of clients drifting to rival firms, reliance on relationships alone may not be enough to promote growth.
Do you know the impact of your accounting brand?
"What many accountants don't realise is the impact their brand has on people before a referral ever happens, and especially over time," notes Daniel Herndon, principal of Indianapolis-based branding agency MilesHerndon.
"A brand audit can also help you work out the types of clients you want to target," Szalay adds.
"We all want to work with better people, so buying into the process can be of substantial benefit to accountants."
Even so, starting with clearly defined objectives is essential. A brand report card is one technique that can help you assess your brand's performance and identify its strengths and weaknesses.
Here are five more steps.
1. Aim for narrow outcomes when rebranding
Founded in January 2017, CW CPA is a professional advisory firm that has recognised the positive role branding can play in accounting. With offices in Hong Kong as well as Shenzhen, Guangzhou and Shanghai in mainland China, Spain and London, CW is managed by Thomas Wong FCPA and Rosanna Choi.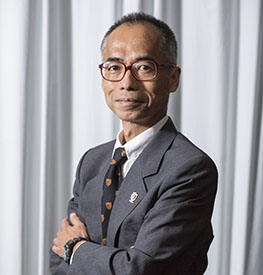 The CW name stands for "Connecting the World" and rebrands a previous firm.
Wong credits the rebrand as integral to realising the new entity's mission – which is to offer tailored services across multinational, multilingual jurisdictions with a strong emphasis on corporate social responsibility – and also for maintaining client loyalty.
"It provides us with a greater sense of identity and purpose," Wong says.
"Accountants nowadays cannot be conventional accountants. We can't stay in the box, because it's a globalised world. We have to be forward-looking and think like business people.
"That is why I wanted the firm to look younger, brighter, greener and socially caring."
2. Keep your clients close
"Firms need to look at each of their brand's touch points," Herndon says. "That means every way a client interacts with it: meetings, services, invoices, office lobby, websites and partnerships with associations or chambers.
"Even if changes don't have to be made, it's critically important to be aware of the experience clients have before and after they engage with you. Also review the marketplace you do business in and the competition."
According to Herndon, each area is a piece of a puzzle that will indicate what your brand should look and sound like.
"Ask clients what they think is distinctive about your practice, why they decided to do business with you, and what they would like to change. Try to capture their language, as they are the audience you need to speak to."
Also, don't overlook internal stakeholders.
"I hired a design firm which looked after all aspects of the website – business cards, stationery and even T-shirts – but always discuss rebranding with younger staff," Wong advises.
"I gave them the concept but most of the ideas were theirs, not mine."
3. Insource or outsource?
Unfortunately, rebranding is not an exact science; you can't always be sure you're going to get it right. Even big firms sometimes come unstuck, such as PwC, which at the last minute decided to pull a US$100 million investment for a name change to "Monday" for its consulting arm in 2002.
Analysis based on measurable metrics, not just subjective opinions, should be a given, but where the buck stops depends on a variety of factors.
"Rebranding professionals will bring an external point of view, but the challenge is finding the right person to work through a tough process that involves a lot of trial and error," Szalay explains.
"It's important to work with someone you trust and who understands your objectives – the branding comes after that."
Adds Herndon: "Smaller firms should conduct a brand audit in-house if they don't have the resources to hire an outside agency. The risk, however, is that people often see their own companies with a certain bias. It also helps to have a third party interview clients, as they will often provide more candid feedback to a third party."
4. Brand consistency matters
"Because professional services firms are usually reserved in their investments in branding, consistency can suffer," Herndon says.
"This applies to aesthetics [such as logo design], but firms should also focus on language and message. The question is whether you are communicating your unique values clearly and consistently between brochures, websites and in-person meetings.
"It's a frequently overlooked aspect, especially across the different mediums that represent a brand."
5. Promote the rebrand message
Once you have decided to roll out a rebrand, ensure existing and prospective clients know about it.
"The number-one challenge has been educating clients about our rebranding," Wong reveals.
"It's not a case of sending a simple email once or twice, or even three or four times. You need continuous social networking, which is an additional workload."
Stay brand relevant
Even seasoned marketers are divided on what constitutes a brand, but there is broad consensus that companies do not own their brands – they belong to clients or customers.
Brands are tangible and trigger emotional responses. The best deliver on a clear promise. Staying relevant is vital.
"A brand audit should define the 'tram tracks' of the brand and be a consistent reference for all its activities," says former CPA Australia general manager brand, Murray Chenery.
"Incorporating where the brand is different and preferred to competition is also important," Chenery adds.