It was during Friday night drinks with a friend that Sonny De Silva CPA first became involved in the Cyril Dharmawardana Foundation (CDF), a charity that provides free transport for cancer patients, the terminally ill and their families in Australia and Sri Lanka.
"My mother, who lives in Australia, had recently had a breast cancer ordeal, and so had my mother-in-law in Sri Lanka, and I was talking to my mate about the different levels of care in the two countries," De Silva says.
The friend De Silva was sharing a drink with is the son of famous Sri Lankan actor Cyril Dharmawardana, who passed away from cancer in 2013. His son, Binara, had recently launched a foundation in his father's name, and De Silva felt compelled to throw himself into the cause.
"It is tragic to think of the difficulty that people in developing countries experience trying to get to medical treatment. Many would be forced to forgo treatment because they can't access it," De Silva says. "We are so lucky here in Australia – we have one of the best public health systems in the world."
De Silva says there are emergency ambulance services in Sri Lanka, but the non-emergency sector for ongoing treatment and palliative care is less supported.
"We're the only non-emergency transport provider specially for the palliative care sector [in Sri Lanka]," says De Silva. "The hospitals know about the foundation, so doctors assess the need of patients, especially those living in rural provinces, and then contact us."
CDF has raised the funds for 16 ambulances in Australia – 10 of which have been sent to Sri Lanka, with the preparation and shipment of six more to follow soon. The service of transporting patients is conducted by paid staff. "Sometimes, people who have received our help end up supporting the charity and assisting patients, after receiving training," De Silva says.
In Australia, thanks to the public health system, patients are generally provided with free transport to treatment, so the charity has turned its focus to those living rurally, and to families of the ill, who want to be close to loved ones.
"We have held discussions with Ronald McDonald House, which provides accommodation for interstate families of children who are sick. We intend to provide services like picking up the families from the airport and taking them to their accommodation," De Silva says.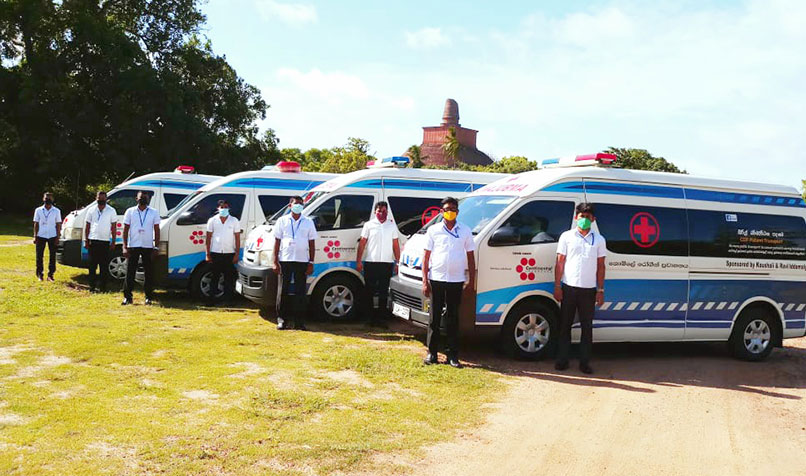 "Royal Flying Doctors also has a very similar outlook to us in terms of helping rural and disadvantaged families, so we have a really good working relationship with them. CDF is the beneficiary partner of RFDS [Royal Flying Doctor Sevices] for decommissioned ambulances."
Despite being flat out running his own financial services firm, DS Advisory, De Silva gives CDF about a day of his time each month.
His official title is head of CDF's advisory committee – advising on big picture strategy – but he is involved in many aspects of the foundation, and is its largest financial contributor.
"I really care about how every dollar is spent, and making sure we help the greatest number of people we can, so it's very satisfying to be involved in the financial management of the charity," he says.
De Silva looks forward to helping his friend Binara Dharmawardana and the CDF team to keep growing the foundation. "There is a massive need; the bucket will never be filled, so we must keep working and raising funds to help."
About the Cyril Dharmawardana Foundation
The Cyril Dharmawardana Foundation (CDF) is an Australia-based not-for-profit charity that assists cancer and terminally ill patients with transportation to their treatment. In Sri Lanka, CDF provides the only free non-emergency ambulance service, while in Australia, CDF provides transport support to families of the ill, and non-treatment transport for patients in palliative care. There are many ways to support CDF, including sponsoring an ambulance, which comes with an option of a personalised dedication in memory of a loved one or a business logo for corporate sponsorship.cdfcharity.org