By Martin Lenehan
Losing his best mate to a heart attack in 2012 unleashed an emotional whirlwind in former Kangaroos and New South Wales rugby league star Adam MacDougall. After the initial shock and sorrow came a determination to make a difference in the lives of men who were losing the battle of the bulge and lacked the know-how to fight back.
"Dennis was 42, a normal guy with a young family, but like a lot of us his work had become his priority and as a result his health took a back seat," MacDougall says. "After he died, his wife told us he had tried a few fad diets and I was pretty shocked when I looked at just how unhealthy they were.
"I was stunned to find that someone was dying every 12 minutes in Australia from health-related heart attack or stroke, and losing Dennis was my motivation to start The Man Shake."
Having studied psychology and sports nutrition, and earned an MBA from the University of Newcastle, MacDougall knew he had the nous to turn the concept of a healthy meal replacement shake into a winner, but he needed capital.
The 42-year-old's sporting success had allowed him to buy two properties – one in his home town of Newcastle and one in the Sydney suburb of Sandringham, where he lived while playing for the South Sydney Rabbitohs from 2004-06.
Going all in with The Man Shake
When he returned to Newcastle in 2007, MacDougall retained the waterfront Sydney property as an investment, but when funds were needed to launch The Man Shake, it was the five-bedroom home that had to go.
"It was a house I aspired to move back to one day, but I don't think that's going to happen now with Sydney house prices," he says with a smile
"It's probably worth a couple of million dollars more now, but I had to roll the dice. My accountant told me it was going to cost a lot to start the business, what with product development and testing and buying machinery, so I went all-in.
"We took two years to develop the product, working with doctors and nutritionists and food scientists to make sure we got it right.
"I'm a big believer that if you have a great product and the right motives then success will come off the back of that.
"A lot of blokes don't eat breakfast or they get up and eat like a 12-year-old boy, throwing down some sugary cereal and feeling like crap by 10am. Then they wonder why they are ripping the fridge door off and can't wait until lunch to eat again.
"I knew if I focused on helping that one busy person who was eating on the run by providing a convenient and simple option, then if he got a result he would probably tell his mate; that's how it built in the first 12 months."
Launched by a bloke, for blokes, The Man Shake claims to have 84 per cent less sugar than some other meal replacement shakes – the equivalent of 88 teaspoons of sugar per week.
It also promises that men can "lose the beer gut without losing all the beers" – a big statement on which MacDougall is prepared to stake his reputation.
"I knew that if I made a promise like that and I went to the footy and some bloke hated it, I would hear about it," says MacDougall, who played six rugby league tests for Australia and 11 State of Origin matches for the New South Wales Blues.
"I was walking up Caxton Street in Brisbane on the way to an Origin game one night, trying to impersonate [former Queensland captain] Darren Lockyer so people wouldn't recognise me, when this group of blokes came charging towards me in maroon jerseys.
"I thought I was in for it but this bloke stuck his hand out and said, 'Even though you're a New South Welshman I want to say thank you very much. I've been using The Man Shake and I've lost a heap of weight!'
"That's when I knew I was on a winner."
Taking The Man Shake out of the Man Cave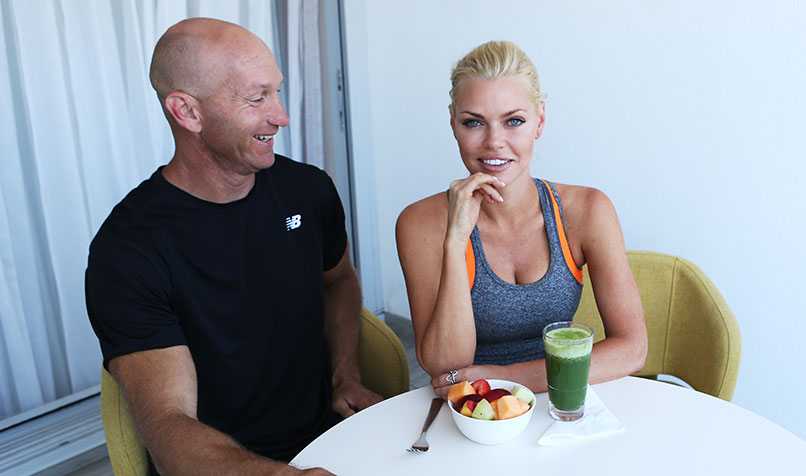 What began in his garage with wife Belinda and one person sending out orders has blossomed into a multilayered business with manufacturing facilities, a marketing and digital team, and 16 staff working out of a new 140sq m dispatch facility at the old Australia Post headquarters in Newcastle.
A successful businesswoman in her own right, Belinda was one of Australia's youngest-ever McDonald's managers, running the Mayfield franchise in Newcastle.
"There's a big difference between knowledge and wisdom," MacDougall says. "Knowledge is knowing, but wisdom is doing. I had a lot of knowledge when I finished my league career, because I had made a promise to my mum that I would study while playing footy. However I was very lucky to have Belinda there, who had 20 years of business experience in the real world."
The Man Shake now boasts more than 150,000 customers and has expanded to include The Lady Shake, The Man Bar snacks, books, a kids' breakfast shake and The Man Challenge, a home-based 10-week exercise and food program.
For A$24.90 per week, customers receive video workouts they can follow on a mobile device as well as food plans, customised workouts and tips from premiership-winning AFL coach Paul Roos, who took the Sydney Swans to the 2005 title.
MacDougall has poured A$2 million into this foray into the digital world and admits to "getting nervous" when he started investing in technology. "Shakes and bars are tangible; you can touch them and see them on the shelf, but this is very different," he says. "You give someone an app to get healthy and fit and, within a month, that app could become redundant and the videos we shoot only have a limited shelf life.
"The digital platform is expensive and time-consuming, but it adds tremendous value for people because no one else has The Man Challenge. We provide a full program for people to change their lives through health, fitness and mindset."
In excess of 50,000 people have signed up to take the Challenge since it was launched in 2015, so the technology gamble has clearly paid off.
MacDougall has had interest from the Nine Network in the digital side of his business, as well as an approach to sell his food business for "tens of millions of dollars".
He knocked it back.
"I potentially think it is worth a lot more than that and I'm a bit young to be retired at 42 anyway," he says. "It's still a new business and we're still growing. Every cent we make we are conscious of reinvesting into the business.
"Each product has cost us more than A$250,000 to get to market – from the sampling costs to getting the taste right and the formula right. Then, there are manufacturing costs and the bags and the packaging. We've spent millions, but I'm passionate about the crusade I'm on and changing people's lives.
"I always liked that tale of the chicken and the pig being asked who was more committed to the bacon-and-eggs breakfast. The chicken was involved, but the pig was committed.
"A lot of people in business are the chicken. They'll lay an egg and they'll walk away. I had to be 'pig committed'. I'm all-in."
When Australian cricket legend Merv Hughes decided the time had come to lose some weight, he reached out to Adam MacDougall.
"Merv had some great success [on the shake] and after he had that success, I asked if I could pay him to be an ambassador," MacDougall says. "Paul Roos also approached us and he was excited about what I was trying to do. He has been important for us because our tribe is blokes, and blokes love their sport.
"To people in Melbourne I was just some bald bloke, so to have Merv and Roosy endorsing it down there, I can't put a value on what they've done for the brand."
One piece of advice
"If you want to start a business, start today. Don't wait for the perfect day. Focus on helping one customer solve a problem and that one customer is going to become your best customer, and they are going to help spread the word."