At a glance
Melissa Azzopardi CPA is general manager finance with the Australian Football League.
Azzopardi's current role follows a three-year stint with Tennis Australia, where she was appointed as CFO in 2018.
Working with two prominent sports organisations during a pandemic has highlighted for Azzopardi the need to adapt to change quickly.
After helping to steer Tennis Australia through its most challenging year on record, you might think Melissa Azzopardi CPA would take a break from sport.
An industry largely centred around travel and large crowds, it is among the hardest struck by COVID-19 restrictions. This year's Australian Open alone recorded an estimated loss of A$100 million.
However, instead of changing industries, Azzopardi switched codes. Within four days of leaving her role as CFO of Australia's governing body for tennis in March this year, she stepped into the newly created position of general manager finance at the country's most dominant – and arguably most beloved – sporting code, the Australian Football League (AFL).
Upon reflection, team sports may be more Azzopardi's style. She joined Tennis Australia at the start of 2018 with a mandate to transform the finance function and spearhead the department's integration into the wider business.
This required building the trust of a finance team of 30, who were somewhat uneasy about the changes their new boss would introduce from her corporate background.
Azzopardi also needed to foster strong relationships with the board and the organisation's various state bodies to introduce the systems, processes and governance structures required to support its significant growth.
"I was new to sport, and the industry sometimes speaks a different language," says Azzopardi. "But I love leading teams and being part of teams. I needed to do a lot of listening and a lot of learning, but I'm very comfortable asking questions."
From corporate to courtside
Azzopardi grew up in Ballan, a town of about 3000 residents in western Victoria. Like most country towns, its local community thrives on sport. As a teenager, Azzopardi held the role of treasurer for the local netball team, which may have been a sign of things to come.
However, she spent the first two decades of her accounting career in the corporate sector.
While completing the CPA Program in the mid 1990s, Azzopardi took up a work experience role at Australian Unity. She spent the next two and a half years with the insurer before switching to industry rival QBE, then moving on to senior finance roles at Carlton & United Breweries (CUB).
She started with Origin Energy in 2008, working her way up to the role of financial controller – corporate. A decade later, she stepped into the world of sport.
Azzopardi's recruitment to Tennis Australia was part of a broader succession plan for the organisation's finance team. David Roberts CPA was the organisation's chief operating officer when he recruited Azzopardi to the role of director of finance. Within 10 months, she was CFO.
"David had been with Tennis Australia for 21 years and did an absolutely amazing job," says Azzopardi. "I was asked to come in and take it to the next phase. I spent months working closely with David to really understand the capability that we needed as an organisation, both in terms of people and systems.
"Traditionally, in a sporting organisation, you just have your finance people there to do your payroll and accounts payable and the core accounting processes," explains Azzopardi.
"Tennis Australia and the AO [Australian Open] had grown significantly, which drove the increase in volume and type of transactions, the broadcast and the interest from international sponsors.
So, my role was to develop and lead the finance team so they could play a key role in supporting the business through this growth."
In 2016-2017, Tennis Australia achieved revenue of A$320 million. Sponsorship income for the Australian Open had risen from A$35 million to A$86 million in three years, while broadcast income had lifted from A$54 million to A$118 million in the same time.
Revenue in 2019-2020, including the 2020 Australian Open, which was not affected by the global pandemic, surged to more than A$450 million, and the event injected A$387.7 million into the Victorian economy – up by more than 12 per cent from the previous year.
"Tennis is a worldwide sport, so I had a lot to learn about international finance markets," Azzopardi says.
"Looking at exchange rates every day wasn't something I was used to, and this was my first role where I was involved in hedging. I needed to work closely with the banks to build my knowledge and skills."
COVID-19 hits the grand slam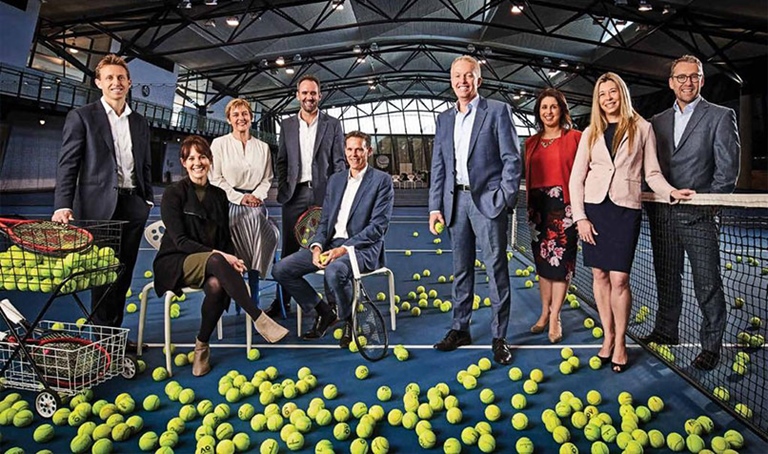 When Australia's borders closed in March last year to contain the threat of COVID-19, Tennis Australia faced months of uncertainty. Azzopardi says she was forced to "trust her gut".
"As a finance professional, you always fall back on the facts," she says. "What we learned through COVID-19 is that, yes, absolutely you need facts, but you're not going to have all of them. You've got to make some gut calls.
"Obviously, you're managing the risk, but you've got to make some decisions off the cuff, and you've got to put forward ideas that aren't always based in the finance department. You may have a good idea about what could happen in the tennis side of things, or in the entertainment or hospitality side of things."
Azzopardi says Tennis Australia's first priority was its people. Customer-facing tennis facilities around the country were closed, as was the organisation's head office, located at Melbourne Park, and staff were required to work remotely.
"Our business is just our people, so we did everything we could to make sure we could keep our workforce. They're the ones that build the event and deliver our sport to the community."
Drawing on reserves
Tennis Australia received more than $A4.5 million in JobKeeper support as it sought to implement measures to combat the exceptional financial cost of staging the 2021 Australian Open.
The organisation had originally expected the tournament to cost between A$25 million to $30 million. As the event approached, however, the organisation expected the expenses to stretch to more than A$60 million.
"The challenging thing in a pandemic environment is that, in addition to delivering an international Grand Slam, the Australian Open is about the fans and the customer experience, which is the brand that Tennis Australia has built," says Azzopardi.
"We needed to balance that in the face of restrictions that were changing almost every day. We had to consider whether we could even do the Australian Open. Could we actually have patrons on site? How were we going to get the players into Australia?"
Before the pandemic struck, Tennis Australia had built up a cash reserve of A$80 million, which Azzopardi describes as an "absolute anchor point".
"We wouldn't have got through it without that," she says.
"Having reserves that strengthen your balance sheet is absolutely key. We had to carefully manage the balance sheet, while also trying to support our people and suppliers who contribute to the delivery of the Australian Open.
"With the Australian Open, we did five, six, seven different scenarios, and what played out wasn't even one of those scenarios – it was a whole lot of them jammed into one," adds Azzopardi.
"To be able to take all those pieces and throw them up in the air and put them back together was an absolute learning curve and, as hard as it is, you can't get disillusioned. We really feel we got there in the end, given the constraints. Could we put on all the 'bells and whistles' that we were used to? No, we couldn't. That was hard, but what we did was amazing."
Power of teamwork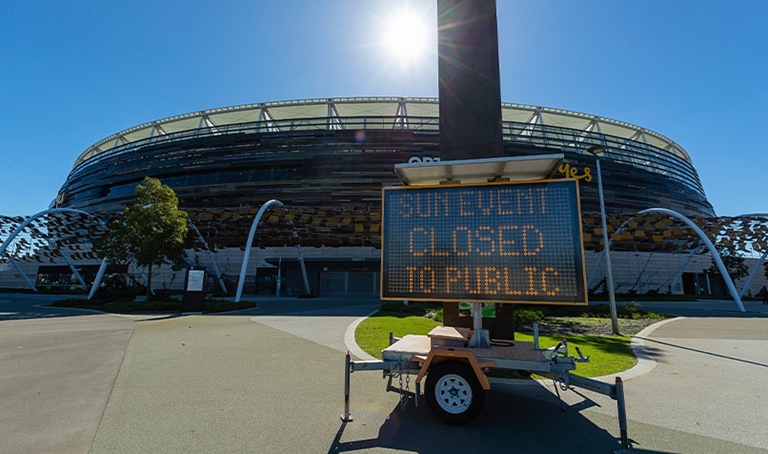 Azzopardi's decision to move to the AFL in March this year was inspired by the promise of a broader scope and a desire to be part of an organisation that "brings the community together every week".
"AFL is in every Aussie home and it's made such a difference to people's lives, especially over the past year with COVID-19," she says.
"A lot of people couldn't go to a game, but they still invested in it and still supported their clubs. People could still get out and have a kick-to-kick, and it just continues to bring people together."
During the tumultuous 2020 season, the AFL recorded a loss of A$22.8 million and drew on A$60 million of cash reserves. Year on year, AFL revenue was down by A$119 million to A$675 million.
"The way the AFL survived what it went through last year and just continues to thrive is fantastic," says Azzopardi, adding that this year's season has presented possibly even more challenges than 2020.
"Last year, the AFL could relocate out of Victoria during its lockdown and just operate in a hub," she says. "This year, state lockdowns have been more widespread and unpredictable.
"My team includes procurement as well, and my procurement lead manages all the travel logistics. While game schedules are still trying to be finalised, he's trying to arrange charter flights for teams and get them in quarantine and get them tested so they are ready to play. It's amazing teamwork, and it's been a great way to learn about the business."
Azzopardi's role at the AFL includes engaging with the CFOs of the AFL's 18 clubs, all of which are independent entities. Her role requires her to partner with the executive leadership group, drive the financial rebuild plan for the AFL and support the industry's major financial decisions.
In addition to the financial and audit risk aspects of her role, Azzopardi says she is enjoying learning and supporting the many facets of the AFL business, including the recently established and expanding women's league, the AFLW, the Marvel Stadium business and witnessing the far-reaching impact of community football.
She manages a team of 30, and is again charged with bringing them closer to the business.
"There's a lot of looking up and looking out, and that's what also attracted me," she says.
"We are also implementing an ERP [enterprise resource planning] program, so there's that transformation piece again.
"Of all the skills that I've learned along the way, this is where I get to use my gut a bit more and be able to help direct the organisation and really contribute to key decisions. I'm loving it. I think this is absolutely the right move for me."
A sporting career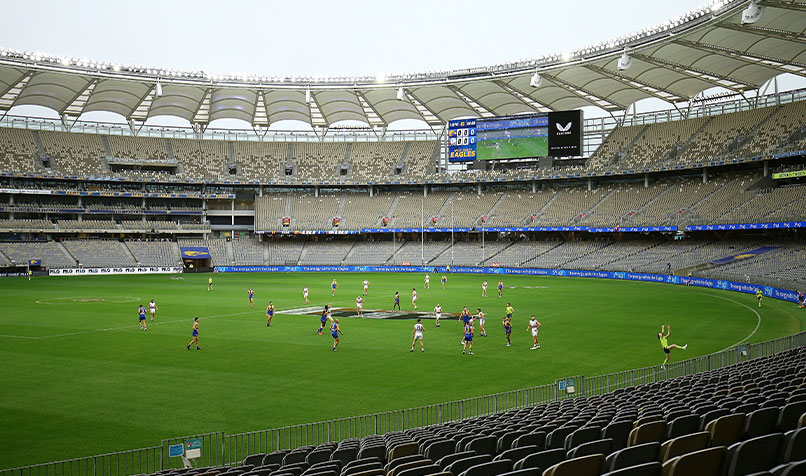 COVID-19 has delivered many lessons. For Azzopardi, the experience has taught her to be more flexible and open to change.
"You've just got to roll with it, and you've got to adapt to it.
"You might have done a big piece of work on Friday, and then you come back on Monday and so much has changed. I saw that at Tennis Australia, and I'm seeing it at the AFL, but you need to be resilient and keep looking for the next solution. Where do you want to get to and how are you going to get there? If there's a diversion, well, maybe that's the not right path. You can't be wedded to just one answer, which can sometimes be hard in finance."
Azzopardi says she is proud to have worked for large Australian brands throughout her career and continues to personally support the organisations she has worked with as an avid consumer, whether it be energy, beer or insurance.
Stepping into the sports industry has brought great rewards for Azzopardi – and she says it's an industry often overlooked by finance professionals.
"Sport is a big industry, where the money generated goes back into the development of the actual sport, and back-end processes just need to try and keep up with the growth," she says.
"In my role I could bring a level of focus on compliance, risk management, team structure and finance systems needed to support these back-end processes. This then allows the finance teams to focus on partnering with the business.
"I think COVID-19 has really brought out the importance of traditionally back-office support services to sporting companies, whether it be finance, legal or technology.
"People with my corporate experience can go into the sporting industry and bring new ideas and change, and then lead that change to support the required governance and finance processes, much like a corporate, and right-size this process for the relevant operations of that organisation.
"What I love about what I do is, I get to bring my corporate skills to the business, but also be involved in something that's such an important part of the community. It really is the best of both worlds for me.