Australian Rules football fans crammed into Melbourne's Ikon Park stadium to watch history in the making. While women have been playing the game since its creation in the mid-19th century, it took more than 150 years to develop a professional female league.
On that balmy summer evening, the newly minted women's Collingwood Magpies team clashed with the Carlton Blues. The Australian Football League (AFL) had expected a crowd of up to 12,000 people at the inaugural match, but 24,500 AFL Women's (AFLW) enthusiasts packed the stadium.
As thousands more waited outside the locked gate, former AFL CEO Gillon McLachlan ventured outside to apologise to fans.
"We didn't quite anticipate this crowd, and it's fabulous," he said.
The financial power of women's sport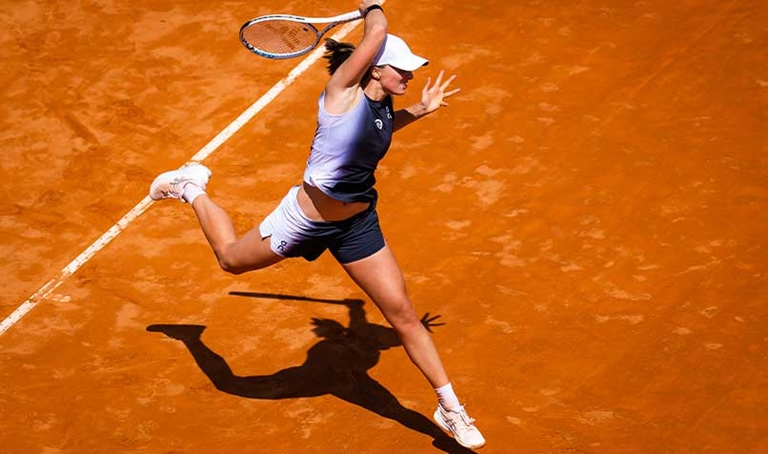 Fast-forward six years and sporting leagues of all stripes can no longer afford to underestimate the power of women's sport.
Along with attracting a growing legion of fans, women's sport is also drawing hefty corporate sponsorship deals and an increasing global broadcast audience.
No longer just a "nice to have", women's sport presents huge economic potential, and its momentum is growing around the globe.
India's Women's Premier League, for example, is set to become one of the most lucrative teams in the world. The five franchises in its inaugural cricket tournament sold this year for a collective US$580 million (A$909 million).
US women's basketball league, WNBA, raised US$75 million (A$117.5 million) last year to support player demands for expansion, higher salaries and better benefits. Football Australia leveraged its co-hosting of this year's FIFA Women's World Cup to achieve a goal of gender parity in participation by 2027.
Meanwhile, Cricket Australia is well on the way to becoming the first major Australian sport to achieve pay parity at a domestic level.
"We recognised that supporting and developing women's and girls' cricket at all levels would yield enormous benefits for the game in the long term," says Stuart Whiley, general manager of strategic projects at Cricket Australia.
"The impact of our world champion women's team cannot be overstated when looking at the future of the game."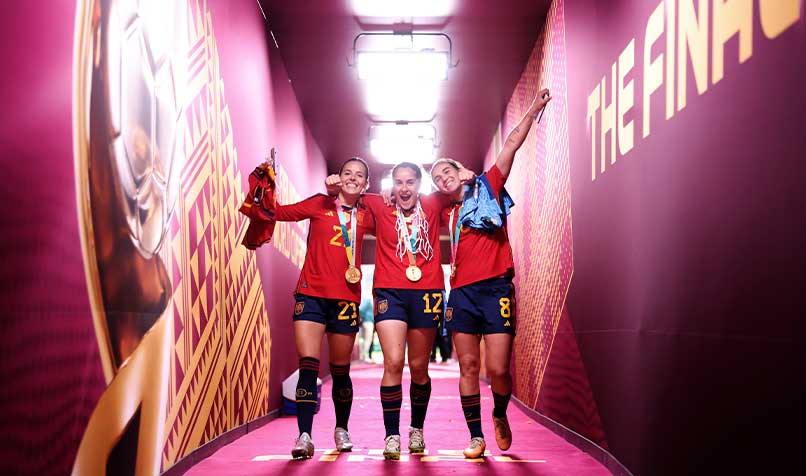 Sport is a powerful vehicle for unity and social change. However, a long history of indirect discrimination has created barriers to the development of a market and patronage for women in sport.
Just like in the corporate world, many obstacles remain in place and risk limiting the economic potential of women's sport.
Women account for 40 per cent of sportspeople and attract a strong viewership, especially when a national team is playing. The ICC Women's T20 World Cup 2023 held in South Africa, for example, attracted 192 million global viewing hours.
However, the ability to deliver strong TV ratings has not been matched by its representation in media coverage.
Recent research from Purdue University shows that women's sports coverage totals about 5.4 per cent of sports airtime. A Signal AI analysis of 250,000 news articles in more than 80 languages has found that women's tennis Grand Slam events receive 41 per cent less coverage than men's events.
Along with structural barriers, sexist attitudes continue to limit the potential of women's sports. A 2023 report published by the UK's Independent Commission for Equity in Cricket, for example, reveals that women cricketers still routinely experience sexism and misogyny.
The report also shows that the women's game is treated as subordinate to the men's game.
A response to the report by Women in Sport notes women have "little or no power, voice or influence" within cricket's decision‑making structures.
"For every couple of steps forward for women's sport, there seems to be a couple of steps back as well," says Michael Burke, a sports ethicist at Victoria University.
Burke points to the length of the AFLW season as an example. Currently about half the duration of the men's, the shorter season can make it harder for teams to reach their potential before the competition season ends.
"Key to equality is being able to control your own destiny, but it still seems that women players and women's competitions are expected to be satisfied with the crumbs that the men's organisations are giving them," says Burke.
Will the new pay secrecy amendment keep everyone happy?
Levelling the playing field
A number of sporting leagues are seeking to even the playing field and reap the broad benefits that women's sport presents.
Football Australia, the country's governing body of the "world game", has pledged to become the nation's largest community sport to reach gender parity for participation by 2027. Its Legacy '23 Plan is seeking to champion gender equality and inclusivity through football.
Carlee Millikin, general manager, World Cup Legacy Programs at Football Australia, says current participation rates for women and girls is 26 per cent. High-profile corporate sponsorship is helping to make the game more attractive for all, she says.
"We've had some amazing partners come on board, like Commonwealth Bank and Subway," she says. "LEGO Australia has come on board as our first official Legacy partner, and it's really exciting to have support from a brand with such a global reach.
"Commercially, it's been important for us to partner with high-profile organisations to make sure that we're pushing the positive message about women's football and getting it into every home."
Millikin explains that Football Australia's club development program is seeking to drive women's inclusion through education and resources for clubs. She says the more women and girls in football, the better the game will be.
"It's going to not only drive more participation and retention in our sport, it's also going to drive better health outcomes across the board. Plus, more commercial partnerships and sponsorship for the game."
Millikin says reaching gender parity in participation by 2027 has required Football Australia to "challenge the way we've always done things".
"We need to make sure that we're being innovative with our initiatives," she says.
"For example, outdoor football is our bread and butter. However, what we're finding through research is that many women and girls actually want social formats of the game, so we need to align the ecosystem around those opportunities to increase participation."
Club facilities have also presented a challenge to female participation in the sport. Millikin says a national facilities audit has revealed that 60 per cent of community sporting grounds don't have a women's change room.
"That's a big statistic," she says. "For women and girls coming to a community sporting ground, that is going to directly affect whether they stay and continue playing football.
Building the right infrastructure is one of the biggest challenges to achieving parity in participation."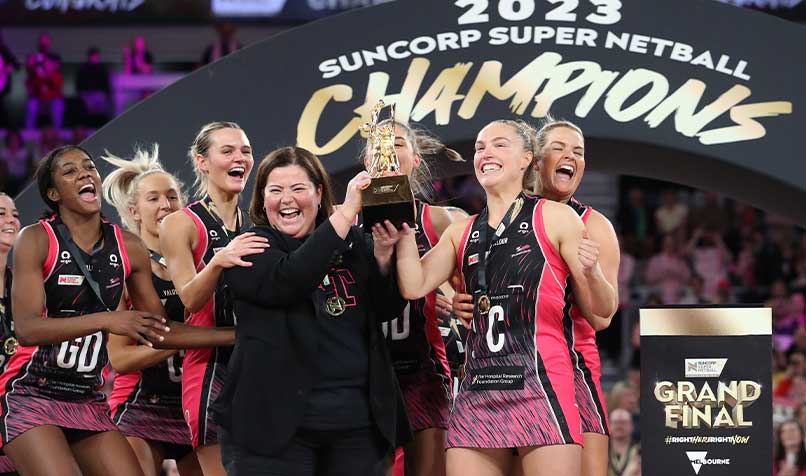 It has been 50 years since tennis legend Billie Jean King was successful in her drive for equal prize money for women in the US Open. It took another 34 years for all tennis majors to follow suit.
Outside of the Grand Slams, however, a wage gap in tennis persists, as it does in almost every sport. At the 2022 Italian Open in Rome, for example, Novak Djokovic, the winner of the men's tournament, received €836,355 (A$1.4 million). Iga Swiatek, who won the women's event, earned less than half that.
Each played the best of three-set matches against the same number of opponents throughout the tournament.
In response to public backlash, Italian Open organisers have committed to awarding equal prize money by 2025.
A 2019 report into pay equity in sport by Male Champions of Change Sport, finds that revenue and athlete pay depend mainly on broadcasting and media rights. It notes that investment in women's sport reflects a commercial and strategic decision that is likely to drive an increase in revenue and greater success for women's teams.
It also shows that investment in women would also increase a sport's overall profile and stands to benefit its commercial outcomes over the longer term.
"Gender equality and pay equality in sport won't happen through good intention or token efforts," says Elizabeth Broderick AO, founder of the Champions of Change Coalition.
"When you invest in and develop women and girls equally with men, the market expands, the whole sport lifts and success follows," Broderick says.
Gender equity lessons for business
While disparity in gender pay remains persistent across the corporate world, some corporations are stepping up to help narrow the gap for women in sport.
In the US, Ally Financial recently signed a multi-million-dollar deal across ESPN networks that requires 90 per cent of its investment to focus on women's sports. This includes initiatives such as expanding game highlights, branded content and features across its networks.
Google recently announced a partnership with sports website The Athletic that promises to double the amount of women's sports coverage.
In 2022, the first-ever network to focus on female athletes, the Women's Sports Network, was launched in the US.
Some sporting leagues are also taking steps to close the gender pay gap. In April 2023, Cricket Australia and the Australian Cricketers' Association announced a new memorandum of understanding that includes a 66 per cent increase in payments to women cricketers to A$133 million over five years.
The majority can now earn more than A$100,000 a year, making them on average the highest paid female players of team sports in Australia by a significant margin. In Super Netball, the minimum salary is A$43,000.
The AFLW minimum wage is almost A$40,000, while the National Rugby League Women's (NRLW) is A$30,000.
"The increase in remuneration for female cricketers reinforces the message that cricket is a sport where female athletes can thrive and succeed, attracting more girls to the game and nurturing talent from a young age," says Cricket Australia's Whiley.
In 2022, US Soccer ratified an equal‑pay agreement that requires the men's and women's national teams to receive an even split of World Cup prize money. The prize money on offer at the men's World Cup is more than seven times greater than at the women's tournament.
In 2019, Football Federation Australia and the players' union, Professional Footballers Australia, signed an historic equal revenue-sharing agreement. The agreement ensures an even split of all national team earnings, except prize money, between male and female national team players.
When it comes to the lessons for business, Millikin's advice for increasing gender equality – across the sporting and corporate field – is to begin with a thorough consultation process.
"It's about bringing people on the journey with you, and that's not just the women within the organisation, but the men as well," she says.
"You also need to understand the barriers that exist that are specific to your organisation, and there are probably going to be several of them," adds Millikin.
"Decide which barrier you can target first and how you can take a multifaceted approach. If you commit to change, you can make it happen."