Phil Ruthven is a futurist, but don't call him a fortune teller. As a long-range business strategist, Ruthven relies on facts – hard data, analysis and looking into the past – to predict what lies ahead.
It is reassuring that a man who has spent close to half a century looking into the future is not one to hanker for the "good old days". Given the chance, he would choose another shot at life in the decades to come where, he expects, we will be living longer, healthier lives and be up to five times better off financially.
It is a world he sees as being more tolerant and environmentally responsible. Although we'll probably be working into our 80s, there is a good chance we will only be putting in on average 20 hours a week.
That will be by choice, not due to any takeover of jobs by artificial intelligence. Ruthven predicts there will be more jobs to go around than in any previous generation. In his mind, the future is not a daunting place to be.
"People are very scared about the future," says Ruthven, founder of online market and industry database IBISWorld.
"Most of us tend not to look much more than a year ahead – we haven't changed from the Stone Age, where four seasons is about as far as anyone looked.
"A year was a long time in life and it still is today. Most families only think about the year ahead, but you can't plan companies that way. You need to think in five- and 10-year lots these days. I am much more fascinated with the long-term planning than short-term stuff."
In the past 200 years Australia has been involved in 27 recessions, four depressions, two world wars, and gone to war to help defend other countries in nine of the last 10 decades. Despite this, Ruthven says standards of living and longevity continue to increase.
"I spend my life not being surprised by events as much as most people are. That's had a very calming influence on my life and I try to transfer that onto my clients," he says.
"There's a calm and predictability they don't think exists, but it does. Yes, there are some things that are very hard to predict, but it's less than 5 per cent of things that worry your life – most people think it's the majority, but that's just rubbish.
"The vast majority are predictable, because they're so regular. That's been my experience and it's given me a sense of calmness."
In other words, there will always be difficulties and challenges, but the past tells us they can be overcome.
The birth of a businessman
IBISWorld began in 1971, when it was known as IBIS Research Services Pty Ltd. Prior to that, Ruthven worked as a scientist for Petersville Group, a food production corporation that owned companies including Birds Eye, Edgell and Peters Ice Cream.
He joined in 1961 as chief chemist and went on to become head of quality control at Edgell, then factory manager and eventually general manager of the factory and farms responsible for up to 700 employees in the high season.
Ruthven pinpoints three key moments as the seedlings for his own business idea. The first was a privileged visit to an underground NORAD (North American Aerospace Defense Command) war room while on a Rotary International study tour to the United States in 1967. There, he witnessed information being gathered digitally with such incredible speed, volume and coverage it made him wonder how much better businesses would perform with a holistic array of commercial data behind their decisions.
Then, while working late one night at the Edgell factory headquarters in Bathurst, New South Wales, he stumbled across a filing cabinet full of all the company's production records dating back to 1926, which was when the factory opened. Fascinated, he spent weeks studying tables and graphs into the early hours of the morning and discovered there were cycles and long-term trends that would enable him to plan the factory's schedules with more reliability than the often-changing requests he received from sales and marketing teams.
"It was there that I discovered the magic of being able to predict things, if you've got enough historical data behind you," he recalls.
The third major stepping stone to opening his data-gathering business was a promotion to research and development director at Petersville's Melbourne headquarters.
Although the corporation had famous brands under its umbrella covering general dairy and ice cream variants, pastries, fruits and vegetables, continental meats, imported fine foods and more, profitability was down. Ruthven slashed spending on new products and redirected two-thirds of the budget into market and operations research. The consolidation led to massive savings.
During this period Ruthven became aware of the Standard Industrial Classification (SIC) system – the complete definition of all industries in the economy – and took it upon himself to painstakingly begin to assemble data going back a century or more. He wanted to fill in the gaps about individual companies and their performance within those industries, so he dug through Australian Bureau of Statistics data and information he could gather from industry bodies, as well as newspaper and magazine archives.
He believes it was the first time anyone had done this, anywhere.
Together, these stepping stones led Ruthven to establish a new commercial management consultancy within Petersville Group called IBIS Research Services. A few years later he, with some backers, bought IBIS from Petersville and chased his vision.
Ahead of his time in a country running on opinions rather than statistics
However, it was a rocky road for this budding entrepreneur. In the 1970s, business leaders were reluctant to trust Ruthven's strategic observations over the opinions of those from inside the company. IBIS came close to collapse on more than one occasion.
"I think I hadn't realised the extent to which the country was run by opinions rather than statistics – and that would have gone for politicians of the day as well, it wasn't just corporate leaders," Ruthven says.
"In the 1950s and 1960s, it was often considered that if you had a degree in arts you were a well-bred man so, in a sense, it was the soft sciences that dominated education. We were never really, as a society, very numbers-based when it came to forward planning and thinking.
"The shock I ran into was not realising that numbers and trends were not nearly as convincing as somebody who had a title to their name or was over 50 years of age – I don't say that in anger, I say it as an observation. I was too far ahead of my time in assuming those things would happen."
However, Ruthven was determined and passionate about IBIS's purpose. He changed the company's focus to more short-to-medium term tactics, while continuing to collect data on all Australian industries for quantitative market research.
In 1988, Australia and New Zealand Banking Group (ANZ) became the first charter customer for an online industry and the company information database subsidiary company Ruthven called IBIS Business Information Pty Ltd. Today, the business has 2000 Australia-based clients with more than 50,000 users of its services.
By the mid-2000s, the Ruthven family owned the company outright and was debt-free. It was renamed IBISWorld to begin an international expansion, producing selected world reports on more than 100 industries and on every industry in Australia, New Zealand, the United States, Canada, China, the United Kingdom and Germany. France and Ireland are next on the cards, with Japan, South Korea and India to follow.
Not one to stop looking for new opportunities, last year Ruthven launched his latest business venture: the Ruthven Institute. It is aimed at providing detailed economic data and analysis, so more Australian businesses can achieve world's best practice profitability.
Ruthven claims that one-fifth of Australia's largest 2000 companies, accounting for almost half the nation's revenue, run at a loss over a given five-year period. His goal is to help businesses – large and small – understand the bigger global picture and how it can contribute to success.
In his new book, The Future for Our Kids, Ruthven identifies that one of the key challenges to be faced by coming generations will be acceptance of Asia as an economic, social and ethnically diverse region.
He says that in the 1980s Australia was more European than during British colonialism and is now on the way to becoming a Eurasian population. Over the next five to six generations, Australians will be Asian, he believes.
Australia's new role in the Asian century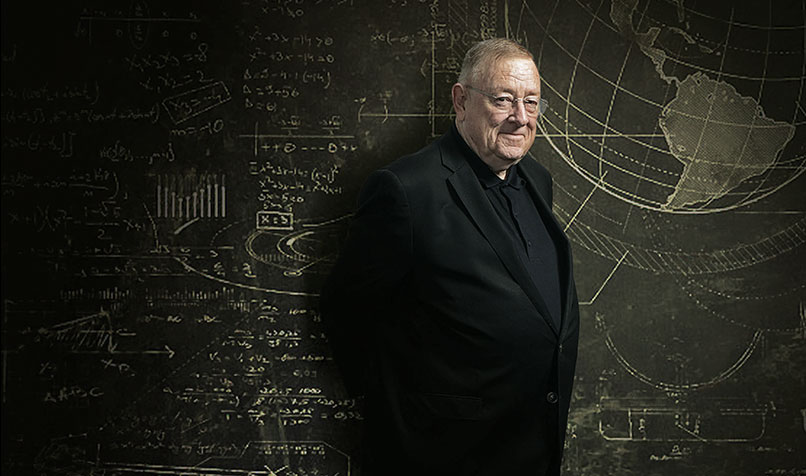 Australia already has two-thirds of its trade, tourism and immigrants coming from Asia. With China being the world's largest single economy, there is little doubt it could become the next superpower.
"For the first time in history, Asian nations are aware of Australia – its massive land mass, its abundant mineral wealth and its fabulous potential for growth," Ruthven writes.
"With more than five Asian cities boasting bigger populations than our entire nation, accepting our new role in the Asian century will be our biggest challenge."
He says emerging economies in South-East Asia are faring much better than Australia, but acknowledges they are in catch-up mode. For example, China has an annual growth rate of 6.5 per cent, India's is 7 per cent, Myanmar more than 7 per cent and Indonesia is growing at 5.5 per cent a year. Australia, by contrast, has a growth rate of 2.7 per cent.
China, India, Japan and Indonesia collectively accounted for more than 80 per cent of the megaregion's GDP in 2017, while Australia made up just 2 per cent of the region's economy, despite comprising more than 20 per cent of the region geographically.
"This bodes well for our trade and economic growth if we 'hitch a ride'," says Ruthven, "or better still, we get our act together and join the race."
He fears Australia is not looking far enough ahead and does not know where it is going.
Tourism, he says, is on track to become the single biggest income earner in the next 15 years, with the value of service industries also going up.
The concept of the employee could be virtually gone by 2050, as individual desire to have more control over fortunes and lifestyles sees contracts and entrepreneurship becoming the norm.
"We can't plan to be the same as the rest of Asia," Ruthven insists. "Asia is catching up to Australia [which] is still engaged in old-style manufacturing." Not enough questions are being asked about where Australia can go, and where we should go, he says.
Australia is primed to be a leader in this new megaregion, not a follower, but the key according to Ruthven is innovation.
"Businesses need to become smarter and more profitable to keep up with this new order," he says.
Thanks to Ruthven's business vision, they have access to the insights that can help them do just that.

Ruthven's advice for finance professionals
Educate yourself to gain a thorough understanding of why the most successful companies in Australia have succeeded, so you can pass that knowledge on to your company and clients.
Develop a deep and growing understanding of the role Asia may play in Australia's future.
Broaden your horizons beyond the financial to take a holistic view of the world.