Walk around the streets of Port Melbourne, Australia, and it's not hard to work out why this bustling coastal suburb, close to the CBD, and with an abundant supply of modern apartments and trendy cafes, is so desirable.
Yet, for those suffering from the phobia known as ornithoscelidaphobia, which is a fear of dinosaurs, perhaps parts of Port Melbourne should be avoided.
Just a short stroll from houses, behind the nondescript façade of a large office and warehouse facility in the area's industrial precinct, is a habitat for these extinct beasts.
Although they're obviously not living, these giant, life-like reptiles look, and can move, just like the real ones did millions of years ago.
Welcome to Creature Technology, a thriving enterprise of more than 90 employees that in just over a decade has established a reputation for building the most advanced animatronic creatures on the planet for theme parks, exhibitions, stage shows and even major sporting events.
With a team of digital designers, engineers and mechanics, fabricators, artisans and other technicians, and more than 6000sq metres of space to work in, the company has gone from strength to strength, boasting a number of multinational clients including Universal Studios and DreamWorks.
To get the full story, it's necessary to head back to Walking with Dinosaurs – the six-part BBC television series first aired in 1999 that broke new ground by combining computer-generated imagery and animatronics to create a "living" documentary of prehistoric life on Earth.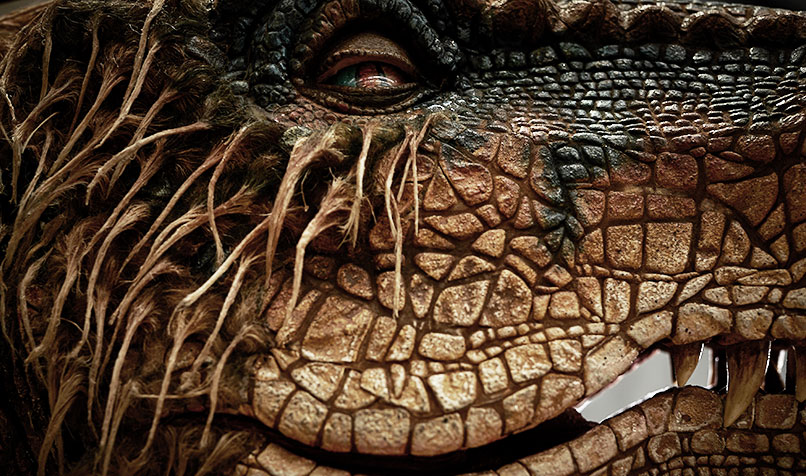 It was highly successful, attracting millions of viewers worldwide and winning multiple awards.
The miniseries also attracted the attention of Australian businessman Gerry Ryan, the entrepreneur behind Jayco caravans, wineries, resorts, and sporting and cycling teams.
In 2006, Ryan assembled a team to begin work on Walking with Dinosaurs – The Arena Spectacular, a touring show that would have as its centrepiece 15 moving life-size dinosaurs.
It was a big project, and Ryan knew he needed the best in the animatronics business to make it happen.
At the top of his list was Australia's highly acclaimed animatronics engineer Sonny Tilders, who already had extensive experience designing and building creatures for major movies including Peter Pan, Ghost Rider, The Chronicles of Narnia and Star Wars: Episode III – The Revenge of the Sith, and the TV series Farscape.
Ryan pumped in seed funding to enable Tilders to assemble a team to begin building a prototype robotic dinosaur, and the rest, as they say, is prehistoric history.
Two companies were hatched, with Ryan as the major investor and chairman: theatrical producers Global Creatures to tour the show; and Creature Technology to design and build the animatronics, helmed by Tilders having the dual role as CEO and creative director.
Animating dinosaurs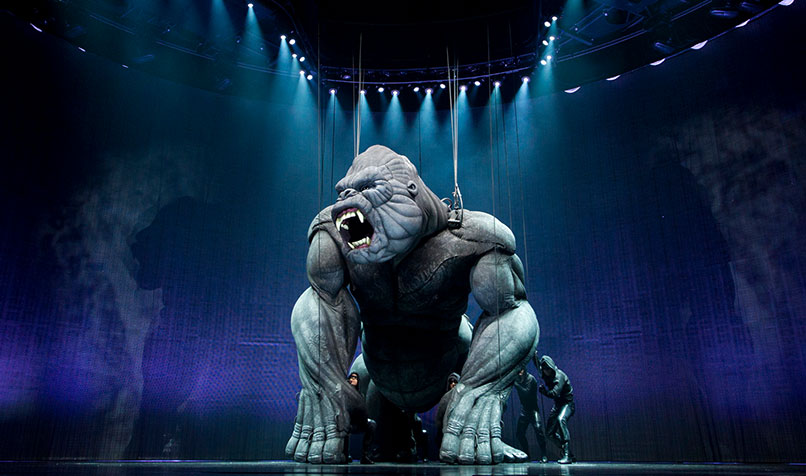 The results were phenomenal, with the touring Walking with Dinosaurs arena show attracting millions of visitors across Australia, the US, Europe and Asia.
Creature Technology was on the global map, and it wasn't long before there was a knock on the door from DreamWorks via Global Creatures to build the characters for the live show version of How to Train Your Dragon.
Another project developed about the same time was to build a giant animated gorilla puppet for the hit musical King Kong, currently on Broadway.
It was quickly followed by work to create a talking animatronic Statue of Liberty, standing 8m tall, for the Rockettes New York Spectacular at Radio City Music Hall.
Finance director Marc Warshall CPA, who has been with Creature Technology from the beginning, says that the real turning point for the company came with the increased flow of new contracts and cash flow.
"It was around this stage where Gerry [Ryan] saw that we were more than just a company doing interesting things, where we became a going concern basically," Warshall says.
"So he turned us into a business in our own right, rather than simply an animatronics supplier for Global Creatures theatrical shows."
Yet even with a better structure and strategy, the ebb and flow of deals meant that business was sometimes very thin on the ground.
On average, from the development of initial designs through to end fabrication, the projects awarded generally take years to complete, which in the past has put a strain on cash flow.
That all changed in 2013 with a phone call from Russia.
"It was set up through a mutual contact that knew of us. The people organising the [Sochi 2014] Winter Olympics wanted some mascots," Warshall recalls.
"By our standards they had left it pretty late; they were only sort of contacting us about a year out, and these things take some time to build."
The Russians wanted three giant puppets for their opening and closing ceremonies, but given the short timeframe involved, the Creature Technology team's feasibility study allowed for just two. Doing three would be too hard. The Russians understood, but they wouldn't take no for an answer.
After complimenting the company on the high quality of its submission for two, the Russians held firm on three. Not wanting to disappoint, the end result was three mascots: a fully animated bear, accompanied by a leopard and a hare.
"That was really the job that launched us as a realistic business," Warshall says.
"We made a profit, and it showed us that there is a market outside of what we had been doing and that we can do things for overseas markets."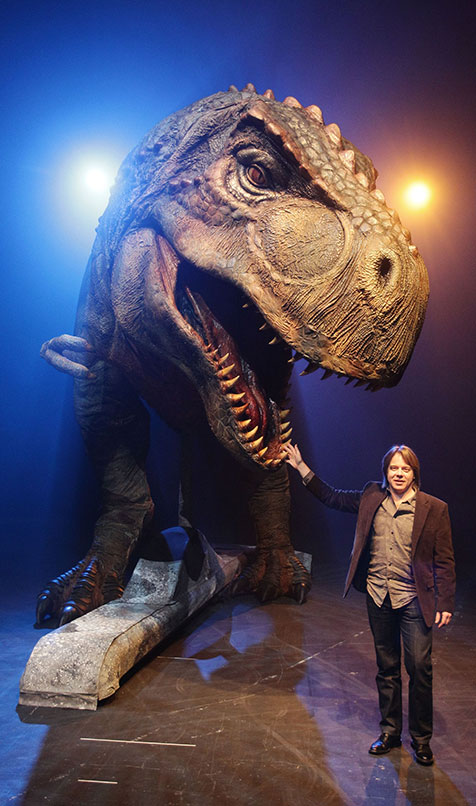 Yet, even with such a massive global success as the Winter Olympics, with its mascots seen by a viewing audience of some three billion people, the company realised that its future business direction was elsewhere.
"We made a decision that the premium theme park industry is where we wanted to be, and that was mainly because we'd done our research that this was an industry that was booming, and still is booming, thanks to companies like Universal Studios and Disney," Warshall says.
As part of this, the company undertook and invested research and development capital into electronic actuators to power its animatronics, given theme park operators were already moving away from hydraulics systems because of their loud noise and the high of level of care and maintenance required.
"That's when, by coincidence, Universal Creative was starting to plan its Skull Island: Reign of Kong ride in Universal Orlando Resort," Warshall says.
"They wanted to build a Kong … and one of their more junior people at the time had seen our work from that opening and closing ceremony at the Olympics."
Universal Creative sent out a senior representative from Singapore to check the company's credentials and operations, and within days Creature Technology had a major new contract.
"We learnt the Universal Creative methodology and the two companies worked together very successfully – so successfully, in fact, that we formed a strategic alliance that will see us collaborate on more exciting projects into the future."
That hasn't precluded Creature Technology from other deals, such as a contract to make the dinosaurs for the phenomenal Jurassic World: The Exhibition international tour.
The exhibition has been seen by more than a million people at The Field Museum in Chicago, The Franklin Institute in Philadelphia, Melbourne Museum in Australia, and the Cité Du Cinéma in Paris.
Fascination with these prehistoric creatures seems unlikely to end anytime soon.
Creature Feature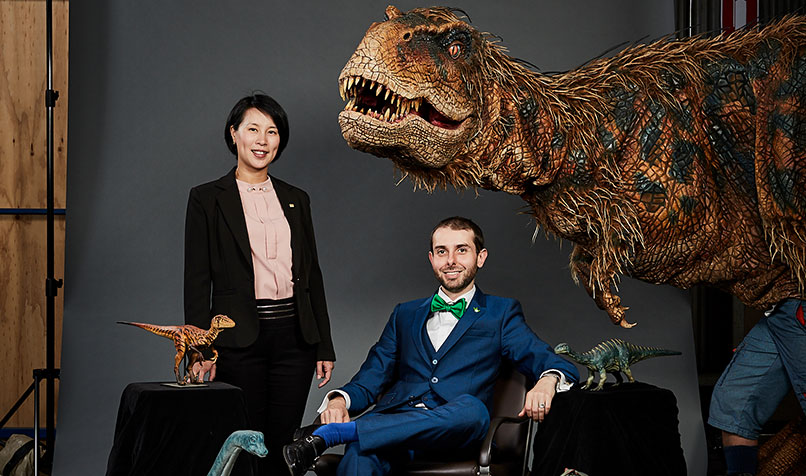 Marc Warshall CPA and May Zhang CPA bring financial discipline to Creature Technology Co. while supporting its creative mission to build animatronic figures for the world.
In the finance world, using the words "creativity" and "accounting" in the same sentence generally has quite undesirable connotations.
For Marc Warshall and May Zhang, however, the two words go hand in hand.
In their respective roles as finance director and financial accountant of Creature Technology, both CPAs have the daily responsibility of balancing the needs of a highly creative business with often complex fiscal demands.
They include costing and assessing the viability of what are generally long-term manufacturing projects for international clients, managing weekly cash flows, procurement and overseeing equipment purchasing, understanding and dealing with foreign tax legislation, processing royalty payments from past projects, and even sourcing government grants.
There's also oversight of what some may consider the more mundane aspects of everyday accounting life – payroll, accounts receivable and payable, management of income and other expenses, and the regular preparation of financial accounts.
"We wear a lot of different hats within the accounting function," says Warshall, who heads up a team of four.
"We're still quite a small organisation, especially in the finance side. We have to do a lot with a very small team, where many larger organisations would have teams dedicated to different tasks."
Warshall joined Creature Technology as a finance assistant in 2006, having completed a double bachelor's degree of business in accounting and banking and finance at Monash University.
He went on to further study while on the job, later becoming a CPA.
"It's just been a little bit fortuitous that I've been able to grow with the company," he says.
"I'm effectively the CFO and sit on the executive committee of the company, and report directly to the board as well. That's something that I've been fortunate enough to gain experience doing at a fairly young age, and I was expected to step up and do that. I hadn't had that experience before, and sort of had to prepare the yearly budgets and forecasts and all of those things that a grown-up company does when we were starting out and as we became a going concern."
Zhang, who has worked in China, Sydney and Melbourne since 2006, has a master's degree in professional accounting from Macquarie University. She's been with Creature Technology for just over three years, joining the company when it was finishing its King Kong theme park project.
"I think I joined at a perfect time because that was when we were just finishing Kong and then moving on to the next project stage," Zhang says.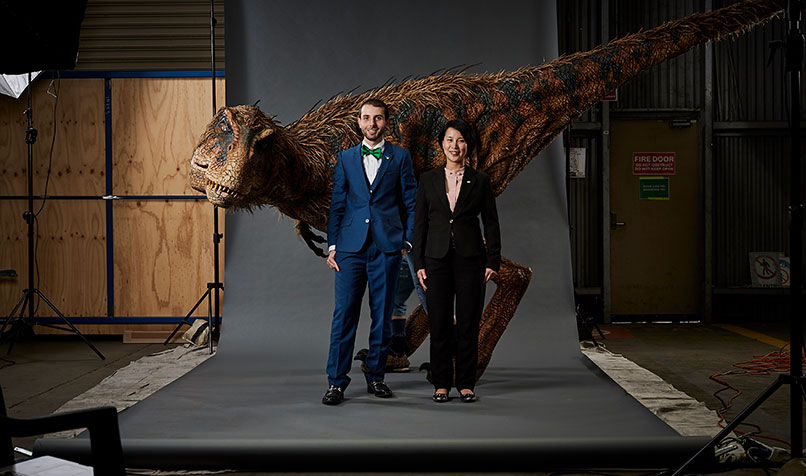 "Basically my job is supporting Marc to prepare spreadsheets for analysing our cash flow, doing the payroll, supporting Marc to do the strategic plan on the financial aspects of the company, and also managing tax and other kinds of financial and accounting-related tasks."
With the faint sounds of metal fabrication underway in the background, both Warshall and Zhang can rest assured they will receive a project update at some stage during the day, and that will help them with their ongoing forward cash flow analysis.
"We review our cash flow very frequently, on a weekly basis, and sometimes if there is something different or special happening, we may review it twice or even three times in a week just to see what that actually means to our cash flow," Zhang says.
"In terms of managing the cash flow, to make it accurate we need to work very closely with the production manager and the team, even overlooking and understanding what is actually happening in the workshop and what's happening with our suppliers delivering parts and those sort of things because they all fit into the cash flow and influence the company."
Warshall explains that the nature of the long-term projects that Creature Technology is involved with means that cash flow into the business is dependent on the achievement of specific production targets set by clients.
"There's different milestones that have to be approved … so we're expecting an amount of money, but then it has to go through different levels of approval by the client, and that can add 60 or 90 days to when you thought the money was coming in. We have to juggle that and work it out with our suppliers, and all of that."
In transacting so much of its business offshore, Creature Technology has been able to mitigate its foreign exchange risk in more recent times by requiring payments to be made in Australian dollars.
"A big part of my role is risk mitigation, and I push pretty heavily so that we now get to charge in Australian dollars, so that basically we're not taking on the foreign currency risk," Warshall says.
In a business environment where creatures and monsters rule the day, the finance team is all about keeping order.
"Our job is to put in enough rigour and structure and checks and balances so that we're not flying blind and shooting from the hip, but also ensuring we're not stifling what the organisation is trying to do.
"We are a creative organisation, we design and build bespoke animated figures that haven't been done before, so there's a real level of balance there."