Chris Powell FCPA is launching a new insurance company into a market dominated by behemoths. Australian insurers are among the country's largest companies, financial powerhouses with brands that are household names with long histories.
Powell is not overawed, however. He sees his competitors' size as a burden that will only help his disruptor life insurer Integrity Life break into the market.
He says Integrity isn't encumbered by legacy systems or the established thinking of the industry. It will be nimble enough to tailor services for independent financial advisers and consumers in a market that often tells the consumer what they can have, rather than asking what they need. His aim? "To be the easiest life insurer to do business with."
It might sound glib, but Powell aims to cut through consumer distrust of insurers and build relationships with independent financial advisers frustrated with established players.
Shock of the new
Powell has experienced the world of large insurance. He was chief financial officer of Zurich Insurance Australia for eight years, before moving to Centric Wealth as chief operating officer in 2011, seeing Centric through its sale to accountancy and financial advisory firm Findex in early 2015.
"The corporate experience of a large institution like Zurich enables you to gain a lot of strategic insights to the industry, locally and globally," he says.
Integrity, in contrast, was only founded in 2012 by a financial adviser and an accountant fed up with the status quo in life insurance.
Powell joined in 2015 and began the considerable work to build a team, documentation, policies and procedures, deal with risk management and, of course, raise the capital required to convince the industry regulator Australian Prudential Regulation Authority (APRA) that Integrity would be able to pay policyholders at possibly the darkest time of their lives, and should be granted an insurance licence. Fortunately, he likes a challenge.
"This was an opportunity to do something new and different in an industry that is institutionally driven. Integrity is going to be a new disruptive business in this industry."
Indeed, the business has ramped up this year, with capital raisings and its first product launch.
In January, Integrity acquired QBE Life for A$22.1 million, gaining the QBE Life insurance licence once APRA approved the purchase. Its new group life insurance products focus on the small-to-medium enterprise market and Powell has a retail product suite ready to launch within the month.
He originally planned to raise funding in Australia, but most of Integrity's A$180 million in capital comes from offshore investors, including four investment funds under the management of London-based Leadenhall Capital Partners, an investment specialist focused on insurance that is itself owned by Mitsui Sumitomo Insurance Group.
In June, Daido Life, a subsidiary of T&D Holdings, Japan's second-largest listed life insurance group, bought a 14.9 per cent stake in Integrity Group Holdings, Integrity Life's parent company, for A$13 million.
T&D told the Tokyo stock exchange that a cooperation agreement with Integrity – "which is introducing innovative services in the Australian life insurance market" – would result in a long-term and productive business relationship.
Daido is a leading life insurer in the small-to-medium enterprise segment being targeted by Integrity's group risk products, and Powell says Daido invested in Integrity to see how the disruptor would fare in the local market, which has many similarities with Japan.
Trust gap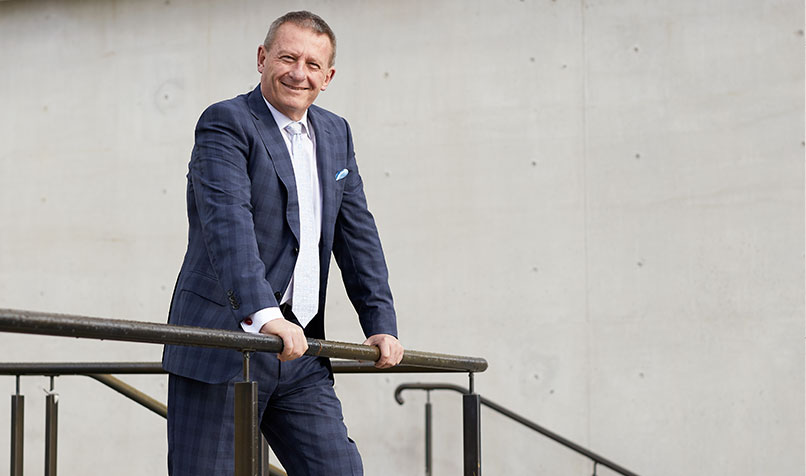 Integrity is launching at a time when financial institutions are under the scrutiny and opprobrium of the Royal Commission into Misconduct in the Banking, Superannuation and Financial Services Industry, with its daily stories of consumers being betrayed by institutions they trusted.
If insurance generally is regarded as a grudge purchase, life insurance is perhaps more so, since most people pay money for protection they will never use. Add to that a raft of negative publicity and the question arises: is this a good time to be launching a new life insurer?
"I don't see it as a challenge, I see it as an opportunity," Powell says.
The royal commission will cause damage to many traditional brands and he sees that as a perfect opportunity for Integrity to tell consumers it is different, that they will be treated fairly because the company wants to pay their claims.
"The most important thing we can do is pay claims, because that is what will restore trust in the life insurance industry," Powell says.
"We want to go into the market with the Integrity brand and talk about values and integrity. We are about putting integrity into the life insurance industry and living up to that – we must because that is our brand. Integrity is a complex value because it is about honesty, trust and transparency, and it is also about courage."
Powell acknowledges there is a trust gap in life insurance, although he says life insurers pay out well over 90 per cent of claims.
He also needs to convince the independent financial advisers who will recommend Integrity to their clients that the newcomer will be different. To that end, Integrity set up a panel of 30 advisers and talked them through their experience with insurers.
"We came up with 22 pain points," Powell says, and Integrity developed systems designed to eliminate the pain.
Powell has no interest in owning a distribution network, saying he wants to partner with advisers, many of whom are looking for an insurer that will give them a good experience, appropriate pricing and service, and meet clients' needs.
He is looking to build a bespoke service to clients, saying traditional offers are "off the rack" with minor options.
"The big insurers are still very institutionally based. They will say, 'This is the product you can have and this is how much you have to pay for it'."
Consumers may have to arrange doctors' appointments and fill out a 30-page form, only to be told three months later that another doctor's appointment is required.
"Are they really trying to sell you a life insurance policy?" Powell asks. "It doesn't feel like it – it's like you are applying for membership of an exclusive country club." Accordingly, he says it's not surprising some people walk away from the process.
Integrity aims to provide an easier, tailored offering, but won't it be more expensive?
Powell says its costs will be less because Integrity is new and does not have to maintain legacy systems.
"We have a completely clean slate. We are building our IT from scratch and can provide levels of service and product flexibility that the others cannot even contemplate because of systems constraints."
Removing complexity
In the 12 months to December 2017, life insurers earned A$16.3 billion in premiums, of which around A$6.4 billion was group risk such as corporate, industry and retail super funds, with retail premiums around A$9.9 billion, according to financial services researcher Strategic Insight.
It is an industry with huge barriers to entry.
Regulatory requirements have protected policyholders by ensuring insurers are financially viable and can pay claims. "At the same time, it has built barriers to entry that mean it is very hard for competition to come into the market, particularly new, innovative competition," Powell says. That has protected existing players, which have not had to innovate.
The sector has grown organically and through years of mergers and acquisitions. Powell says this has left the companies with huge numbers of legacy products to manage; multiple, ageing systems that are kept going because of the difficulty and expense of transitioning to something more modern; and, perhaps, a mindset that change is too difficult.
He believes consumers are given only the appearance of choice. Insurance products can be incredibly complex, with 160-page "product disclosure statements" that are meant to inform consumers, but merely confuse them.
Powell aims to remove the complexity and be more demand-driven. Financial advisers will be able to design a bespoke solution with their client, using products that can be customised to specifically meet the individual's needs and budget.
He has a team of around 30 that is increasing by the month. All staff must sign allegiance to the corporate vision that they will be part of a life insurance industry that is there for its policy holders when they most need help.
Powell has hired experienced industry employees and sought people who, he says, "are excited about leading the change needed to make the industry the best it can be, while strengthening its reputation among advisers and consumers".
"They want to make a difference in the industry because it is a great place to work and has been good to them, but they know it can be done better."
Powell sees his role as challenging thinking within the company. There are times when his team, for all their willingness, reach a limit. "I have to say: 'But what if?' What if we do it differently? How would we do it differently? How can we change?'
"You don't get these opportunities very often. This is probably the most stressful thing that I have ever done, but it is also the most exciting thing I have ever done, and the most fulfilling."