At a glance
Rajeev Jain FCPA is the CEO of Mumbai International Airport Limited (MIAL), which operates Chhatrapati Shivaji Maharaj International Airport (CSMIA), the second-busiest airport in India.
Pre-pandemic, one of Jain's most significant tasks was driving a project to finish constructing a second airport in Mumbai.
Jain has had to focus on resetting priorities in order to stem the financial losses incurred by CSMIA due to pandemic-driven travel restrictions.
The aviation industry was among the first to feel the economic impact as COVID-19 swept the globe in the early months of 2020. The imposition of travel restrictions and a wide-scale suspension of flights saw the industry suddenly switch to survival mode.
Global passenger numbers fell by more than 5.6 billion in 2020 and the decline in total airport revenues worldwide exceeded US$104.5 billion (A$147.6 billion).
For Rajeev Jain FCPA, chief executive officer of Mumbai International Airport Limited (MIAL), 2020 felt like the longest year on record. MIAL operates Chhatrapati Shivaji Maharaj International Airport (CSMIA), the second-busiest airport in India after Delhi's. COVID-19 restrictions on domestic and international air travel were implemented across India in March 2020, and the fallout for CSMIA was immediate.
Conserving cash flow is an ongoing challenge in an industry where two-thirds of costs are fixed, no matter how many passengers fly. For the financial year to 31 March 2021, Jain estimates that a total of 9.45 million passengers will have flown through CSMIA. This compares to 45.9 million the previous financial year.
"It's a conservative estimate," Jain says.
"The pandemic was never expected, and it became clear sometime in March [2020] that it was going to be greater than any challenge we've faced in the past."
Modernising Mumbai's airport
MIAL was formed in 2006 with the mandate of modernising and upgrading CSMIA as a joint venture between Airports Authority of India (26 per cent) and a private consortium led by Indian conglomerate GVK (74 per cent). Under MIAL's stewardship, the airport has undergone significant transformation, including the addition of an 84-metre-tall, wishbone-shaped air traffic control tower and the modernisation of a second air terminal, known as T2, with a design that draws inspiration from India's national bird, the peacock.
In 2017, MIAL won a bid to build Navi Mumbai International Airport, a second airport for a city of 20 million people that is growing by 5 per cent year on year.
The larger of the two airports, it will be located approximately 35km from CSMIA in Navi Mumbai, a satellite city of the Mumbai metropolis and home to mega infrastructure projects and a burgeoning real estate market since its creation in the early 1970s. The airport was originally expected to open in 2021, but the deadline has now been pushed back to 2023-24.
Jain acknowledges that COVID-19 has been a significant stumbling block for the Navi project, but is hopeful that it will not need to be postponed any further. "There may be a surge in demand for travel much earlier than we are expecting," he says. "A lot of the land development work has been done – we have cut hills and filled the site. I think it will be the best airport in India because of its unique location. Plus, the city is growing around that area. It's the future of Mumbai."
Stemming the flow
Jain started his career as a management trainee with the MP Birla Group, before moving into the telecom and aluminium manufacturing industries. He joined MIAL in 2006 as the company's first employee.
"I was always in infrastructure, and an airport is a form of infrastructure, although it is quite different to running manufacturing facilities, because there is a much greater customer aspect," says Jain.
"I was approached for the role at MIAL, and I thought it would be an exciting new sector for me. I've enjoyed the journey."
This journey took an unexpected turn when COVID-19 changed the course of 2020. Between April and August last year, CSMIA's international passenger numbers plummeted by 96 per cent from the previous year, and domestic numbers dropped by 94 per cent over the same period, despite local travel bans being lifted in May.
Pre-pandemic, getting the Navi Mumbai airport project off the ground was among the greatest challenges for Jain.
When the severity of the pandemic became clear in March last year, however, his efforts turned to stemming the flow of CSMIA's financial losses.
Fixed costs, such as interest, utilities, maintenance and employee expenses, represent 80 per cent of airport operating expenses. Jain says CSMIA's operating costs have reduced by only 12 per cent since the beginning of the pandemic, while aeronautical and non-aeronautical revenue dropped by 70 per cent.
"Airports are 'lumpy' investments," says Jain. "There is a lot of capital expenditure at the beginning. Interest repayments present cash flow issues, and we are not contemplating how to surmount this issue, because we have to do something to infuse cash so that operations can remain ongoing."
Responding to a crisis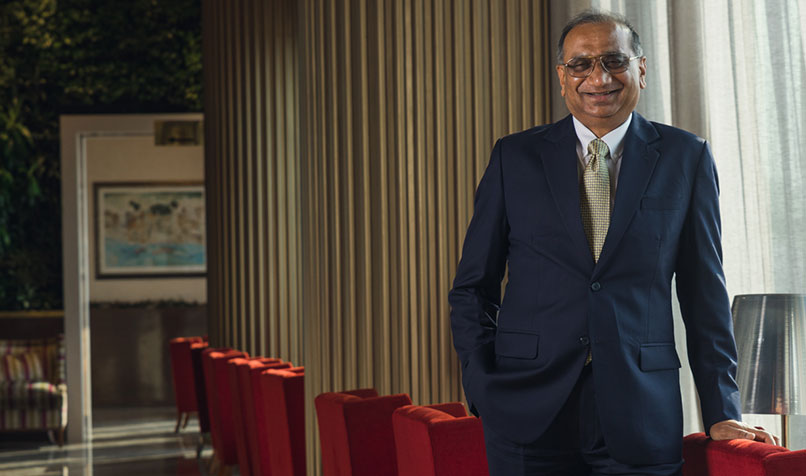 To preserve cash flow, the salaries of approximately 5500 airport contract workers and about 1500 MIAL staff were suspended for two months.
"We have not sacked any workers, but they are getting reduced hours and wages," says Jain.
"I expect the reduction in hours to remain for some time, because we have temporarily closed Terminal One due to low traffic.
"This has been another way to reduce expenses," adds Jain.
"There is no reason to incur operating costs, like utilities and power, at the terminal. We cut our electricity consumption by 60 per cent by closing it.
"We have also used dynamic lighting and switched off air conditioning across the airport wherever possible.
"Once traffic comes back to normal – or even 70 per cent – I think all workers will resume normal hours and wages."
CSMIA's air cargo business has managed to cushion much of the economic impact. It has continued to perform comparatively well, largely due to the urgent need for medical and emergency supplies throughout the crisis.
Between April and August 2020, it handled more than 169,000 tonnes of cargo, including approximately 135,000 of international and 34,000 tonnes of domestic cargo.
"We focused on cargo during this time and managed quite a large quantity, which has supported us very well," says Jain.
"We are expecting that, by year end, we'll have reached about 72 per cent of cargo capacity based on last year's numbers, so we anticipate our revenue from cargo will be going to be 10 per cent lower than it was last year."
Cash flow is key
In August 2020, it was announced that MIAL would be sold to Indian infrastructure giant Adani Group, making it the country's largest private airport operator after the GMR Group, which operates Delhi and Hyderabad airports.
Jain says the acquisition by Adani will provide MIAL with greater liquidity and will make funding for Navi Mumbai airport easier to access.
Cash flow has also been improved with a return of domestic flights.
By September 2020, Indian Airlines were allowed to operate at 60 per cent capacity, but Jain notes that international travel will be a challenge, with every country having its own COVID-19 travel restrictions.
Adapting to change
CSMIA has been quick to respond to the resumption of domestic travel, with a number of measures to address customer safety and peace of mind.
The airport launched a COVID-19 testing facility, available for all arriving passengers, and social distancing is encouraged through distinctive signage.
Seating arrangements at the food court and the terminal building have also been reshuffled to promote a safe physical distance, and the airport has put in place a QR code-enabled contactless check-in mechanism, which allows passengers to use their mobile phones to remotely operate check-in and bag drop kiosks for printing boarding passes and bag tags.
"This is the first airport in India that has an airport health accreditation from ACI [Airports Council International] for dealing with COVID-19," says Jain.
"These steps that we have taken are to instil a sense of confidence in passengers that it is safe to fly. Every month there is an improvement."
Despite signs of growth, Jain expects a challenging road to recovery. The International Air Transport Association predicts that global passenger traffic will not return to pre-COVID-19 levels until 2024. However, with Asia-Pacific being a growth market, Jain says the estimated recovery period is closer to three years.
"In India, the expectation is that, in two to three years, we will reach pre-COVID-19 levels of travel, but it is difficult to predict," says Jain. "We have to be ready with cash, so that we can be sustainable."
Lessons from the COVID-19 crisis
Rajeev Jain FCPA believes the pandemic has presented three important lessons for all finance leaders.
Lesson #1 Build a cash flow buffer
"If you are hand-to-mouth with your availability of cash, any disruption will hurt," says Jain. "There should always be a cushion in liquidity to tide the business over in case of unexpected disruptions."
Lesson #2 Be prepared to cut costs
"Even though 80 per cent of our expenses are fixed, we found ways to save," Jain says. "We cut electricity consumption by 60 per cent by closing one terminal. This is a big saving. Similarly, we had dynamic deployment of workers, which helped us to control our costs."
Lesson #3 Always maintain strong relationships with suppliers
"You need to have very good relationships with vendors, so that they can support you during a crisis," says Jain. "In normal times, pay them on time and have a good rapport with them, so they are willing to stand up and help in times like this."