At a glance
Shane Fitzsimmons was a teenager when he began his career with the New South Wales Rural Fire Service in 1985.
Fitzsimmons was on the cusp of moving on to his next career challenge when the east coast of Australia was hit by an unprecedented bushfire season – the worst in its history.
He successfully led the 74,000-member organisation through the crisis, and has now been appointed commissioner of Resilience NSW, tasked with developing strategies to cope with widescale disasters.
In mid 2019, Shane Fitzsimmons took a well-earned break from work as he prepared to stand down as head of the New South Wales Rural Fire Service (NSW RFS). After 12 years at the helm, and with more than 35 years' experience fighting fires, he was looking for his next challenge.
His plans were soon put on hold, as the east coast of Australia prepared to face the most unprecedented fire season in its history. By the time Fitzsimmons was back at work, more than 1000 fires a month were already burning in New South Wales during winter – and the fire season hadn't even officially begun.
Fitzsimmons told the New South Wales Government he could not leave his job "because the season was shaping up to be a difficult one".
That was putting it mildly. The ensuing months saw New South Wales go through the worst fire season in history, with nearly 2500 homes destroyed and 26 lives lost – including six firefighters, three aerial firefighters and three volunteers – in the worst of conditions over the most protracted period of time.
"We were facing a relentless fire season of hot, dry weather that just dominated week after week, month after month, right through winter and all through summer. I knew I needed to see this through," Fitzsimmons says.
Plan for the worst, hope for the best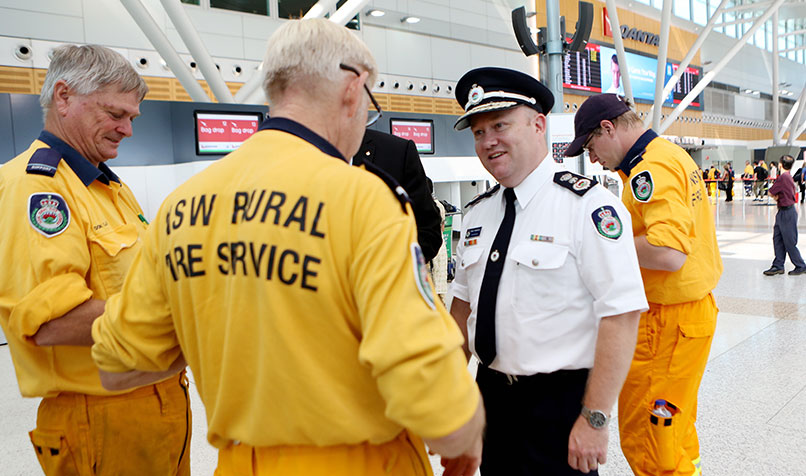 Staying on was the right choice, and Fitzsimmons has been widely praised for leading an organisation of 74,000 members through the disaster. Protecting the community and the lives of the firefighters is an enormous responsibility. It is literally life and death, and not something Fitzsimmons takes lightly.
A leadership trait Fitzsimmons relies on is the capacity to make decisions and take action, particularly in a crisis, when information is limited. "To do nothing is not an option," he says.
Fitzsimmons says the strategy he adopted to battle the fires included risk assessment, scenario planning and "making sure we had the strongest, best trained, best equipped, best skilled workforce we could have in place".
"At the end of the day, I want everyone to come home. To do that, you've got to work out what is the risk, and the old adage of 'you plan for the worst and hope for the best' is very much a part of fire and emergency management planning," Fitzsimmons says.
"It's also about scenario planning, 'what ifs' and what are the trade-offs? The challenge we saw this season was, we were going into another fire season that was driven by the drought and signalling the potential for a very much above-normal fire season. We had to plan for that."
With these predictions front of mind, Fitzsimmons began lobbying for new assets, such as large air tankers for massive water bombing exercises. The new equipment would need to come from overseas, and with both Southern and Northern Hemispheres' fire seasons now lasting longer and overlapping, this was no easy ask.
"You've got to make decisions using the best information you can, and as the season scaled up, even though we had our own assets here, we increased them.
"We're the only jurisdiction in Australia that now owns their own large water bombing air tanker. I told the government, 'If we don't have our own, we are competing with the Northern Hemisphere for those assets and they are a finite resource across the globe'."
Fitzsimmons also began preparing a targeted communications campaign to the New South Wales public to prepare people for what lay ahead.
"We did lots of additional pre-season briefing work. We put a lot of communities on notice with awareness campaigns. We developed targeted media strategies, and we got the best advice we could from the best scientists and forecasters in the country," Fitzsimmons says.
People first, always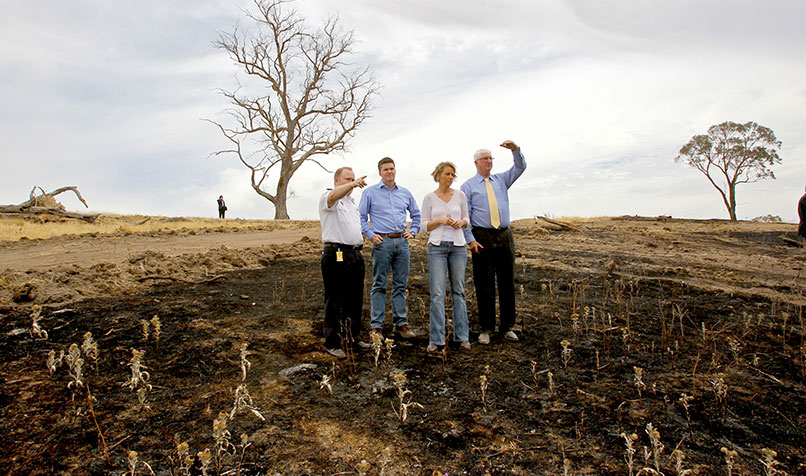 Fitzsimmons began his career with NSW RFS as a teenager in 1985. By the time he was 19, he was heading up his brigade as captain. By his mid-20s, he was a career firefighter destined for the top job. He was appointed commissioner in 2007 and, despite the stripes on his uniform, he is very much a man of the people and places great importance on being authentic, respectful and decisive in a crisis.
"I've always tried to stick to some fundamental leadership traits," Fitzsimmons says. "The first one is authenticity, so it's actually about being a better you, and not pretending to be someone you're not. If you're trying to behave differently in a crisis than...in real life, I think you're going to come up short."
Organisations such as NSW RFS are built on volunteers. With 74,000 people giving their time and energy to keep the organisation ticking over and stepping up in times of great disaster, Fitzsimmons says respecting the views and opinions of others with diverse perspectives is absolutely critical.
"As a fundamental principle, if you're looking after a volunteer emergency service in a local community, you want the diversity of that local community fire service to be reflective of the community it's servicing and protecting.
"If you don't have a respectful and inclusive collaborative leadership style, then the volunteers are going to call that out very quickly and go somewhere else where they are valued and respected."
Facing a new crisis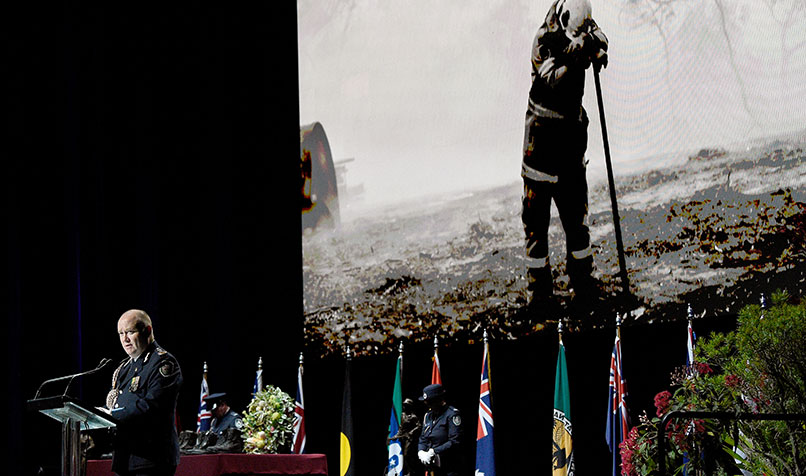 By January 2020, Fitzsimmons was in discussion with the government about the unparalleled recovery effort needed to rebuild and support communities in the months and years ahead from the combined effects of the bushfires, drought and flooding.
At the same time, a new disaster was unfolding, as COVID-19 began spreading across the world. The need for a centralised agency with strong leadership could not have been greater.
"Obviously, the scale and complexity of COVID-19 wasn't fully realised at that stage," says Fitzsimmons. "It was on the radar. As it turned out, dealing with a pandemic of this nature is right in the remit of Resilience NSW.
"We will be working within government, across government and with community, not only in terms of how we work in response to the extraordinary challenges of the COVID-19 pandemic, but, as importantly, how do we recharge, restart the economy, achieve social cohesion and make sure everyone is included in the plans in an emerging and post-COVID-19 operating environment?"
Empathy and understanding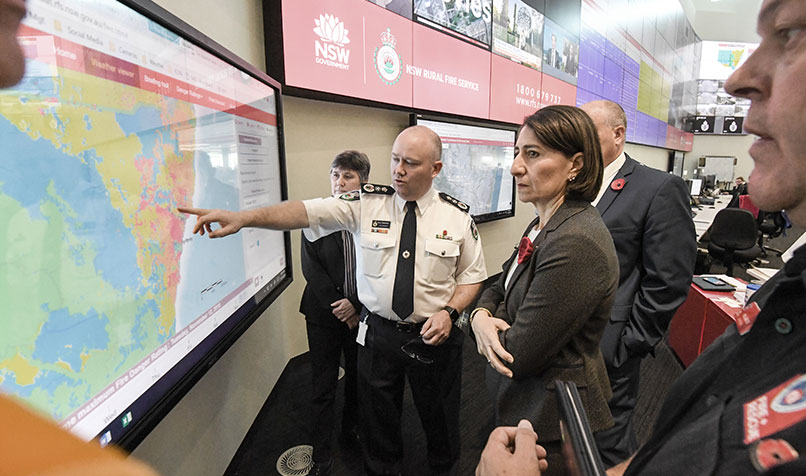 Throughout the 2019-2020 bushfire season, Fitzsimmons travelled all around New South Wales, going into relief centres and witnessing the devastation firsthand. He says he was in awe of people's resilience and candour.
Being able to help people in difficult situations is one of the reasons he accepted the role as head of Resilience NSW.
"It's one of the principal reasons that motivated me to accept this role – the ability to do more and help people in a different way, and particularly those people who are finding themselves at their worst as a result of major disasters or disruption.
"I don't ever really 'switch off', but what I do find some solace in is that when you are spending time with people, and you're going through the worst-hit areas, it provides perspective. It makes you realise, when you think you're having a bad day, somebody else is having a worse one," he says.
As Fitzsimmons settles into the new role, his immediate focus is to set a strategic path to help navigate the post-pandemic future.
"The real challenge is how do we, as individuals, as families, as local communities, as businesses, as industry, as government, non-government – all arms of our functioning society – pull together and work through a very complex and challenging environment and become a COVID-19 safe, and a COVID-viable, functioning society and economy?" asks Fitzsimmons.
The answer remains to be seen, but there is no doubt that Fitzsimmons is up for the challenge.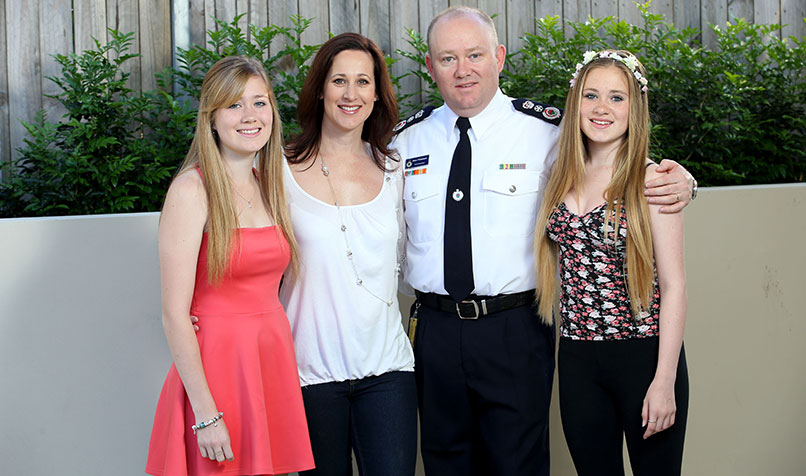 Two years into his term as commissioner of the NSW RFS, Fitzsimmons started a program of cultural change within the organisation, to make it more inclusive and address a gender imbalance and the stereotypical notions of male and female roles within the fire service.
The program has been building incrementally, and has required commitment and strategic leadership, both to combat opposition and inspire thousands to embrace new ways of working together.
Progress to date has seen female assistant commissioners appointed for the first time in the organisation's history, as well as a new flexible membership model that encourages more women to volunteer.
"If we want to be reflective of our communities, if we want the best people available to help make the best decisions and deliver the best service, then women are more than 50 per cent of the best people out there. We've got to be getting them in," Fitzsimmons says.
Trina Schmidt, executive director of membership and strategic services at NSW RFS, says Fitzsimmons' commitment to the task has changed the way the organisation operates, with former critics coming round to Fitzsimmons' point of view.
"Whatever forum he is in, whether it is with leaders or front-line staff, Shane is Shane. What you see is what you get, and he says what he means and he does what he says. It inspires people to be open and transparent and to get on board," Schmidt says.
"He has really spearheaded the flexible membership model and is incredibly passionate about it. It changed the way we think about volunteering with NSW RFS, and gives people the opportunity to be a member at whatever point they are up to in their life," says Schmidt.
"At its core is inclusion, with a strong focus on removing artificial barriers to women becoming and remaining members with us."
Fitzsimmons also signed up to the Male Champions of Change Fire and Emergency management group, a unique model that works with influential leaders to redefine men's role in taking action on gender inequality.
"Through the Male Champions of Change, as industry chiefs, we are sending a message to the fire and emergency services sector that women are a part of our life, and women are part of the fire and emergency services, and there is no impediment to women playing a meaningful role in anything that we do," Fitzsimmons says.
The group's convenor, Victorian Equal Opportunity and Human Rights Commissioner Kristen Hilton, says Fitzsimmons has a sense of humility that allows him to be open to understanding what the issues are.
"Shane has a sense of urgency about him in terms of gender equality and making sure that the ability to volunteer is open to everybody. He is outspoken and pragmatic. He is a person of purpose," Hilton says.