At a glance
Angus Raine FCPA is executive chairman of Raine & Horne, one of Australia's oldest real estate franchises.
Raine believes strategy in real estate relates more to training, preparing and managing franchises to deal with a volatile sector, rather than planning around interest rate dynamics and central bank determinations.
He is a strong advocate of education in future-proofing one's career, and has qualifications in strategy, leadership, property valuation, real estate, finance, corporate real estate, and franchising.
Wherever Angus Raine FCPA goes, he is asked the same question. Everybody wants a free piece of property intelligence from the man whose name is signposted across rural, regional and urban Australia.
The man on the street asks him, as does Sky News. Even his peers at the Reserve Bank of Australia liaison committee aren't backward in coming forward: "What do you think about property in x, Angus?"
That "x", of course, is wherever they live.
He's used to it, but Raine is quick to point out that he doesn't sell property any more.
He is the head of one of the country's oldest real estate franchises, Raine & Horne, which has been in business for 136 years. Strategy relates less to interest rate dynamics and central bank determinations, and more to training, preparing and managing his 330 franchises to deal with the inevitable vicissitudes of the Australian property sector.
When his father Max turned Raine & Horne into a franchise model in 1976, it was achieving about A$60 million in national sales. The business his son now oversees covers the length and breadth of Australia, generating A$6.2 billion in sales a year. It manages 100,000 properties and sells over 10,000 annually. It is also increasing its profile internationally.
Angus Raine's career story
Raine is also acutely aware of another question, or at least the assumption made by many of us – that the job was designated his from birth. Perhaps so, but his career does not read that way.
"It would have been easy to step straight into the family business, never venturing beyond Raine & Horne," he says, "but I was always mindful of the need to distance myself from any suggestion of nepotism."
He says he didn't need to be told. "Dad says it was his idea for me to gain experience beyond Raine & Horne. I say it was my idea, so we've agreed to disagree."
He secured his first independent role cutting commercial deals for DTZ (now Cushman & Wakefield), but his career includes stints at blue chip property firms Knight Frank and Savills.
Eyebrows were often raised among rival firms when he applied for a job outside the family.
"They thought I might be a corporate spy – or worse, the black sheep of the family," he laughs.
An alumnus of Sydney's Cranbrook School and the University of Sydney, Raine always believed nothing could be taken for granted, that he had to improve his general industry and business skills no matter what. He has completed qualifications in strategy, leadership, property valuation, real estate, finance, corporate real estate, and franchising.
In 2008, he took the advice of a business consultant, and undertook the Owner/President Management Program at Harvard Business School, which endowed him with hundreds of contacts around the world.
Throughout it all, the fear that it could all come apart has never quite left him. It sounds slightly incredulous, but in his 30s with four small children, he believed he could be made jobless, and to counter this he wanted to be as fluent in the world of finance as he was in real estate.
Education, he says, future-proofs a career.
"I have read a lot of horror stories about family businesses imploding. I had to educate myself so that if something happens I could get another job in the finance sector and be suitably qualified."
Such is his acumen nowadays as a wide-ranging business commentator and speaker that the 53-year-old is regularly asked to speak on a range of topics. That versatility is also why he was made an honorary Fellow of CPA Australia.
The family real estate business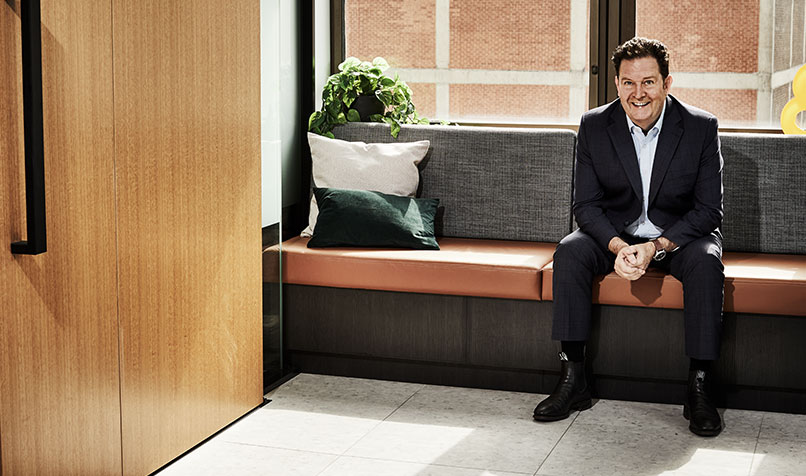 Keeping the family at arm's length informs the Raine strategy. Since the 1960s, the firm has determinedly taken on an outsider as CEO to ensure Raine & Horne is run like a corporation and not a family business. Current chief executive Brian Reid is one of his muses, but so are his non-executive directors.
Consultants, too, have their place. If education future-proofs a career, then independent advice shock-proofs a business, according to Raine. Independence was what saw him through the global financial crisis (GFC).
"The non-execs had greyer hair than me, they'd seen more cycles and they were great sounding boards. For so many years you tend to question yourself. Often they would say just keep going, you're on the right track. I needed that, particularly during that period."
Real estate is a volume business, and a lack of stock is the industry's greatest fear. During the GFC, every man and his dog wanted to sell. It may have answered the stock problem, but franchises are businesses, too. They felt the shock just as keenly as property owners, and a number of the firm's franchisees didn't make it through.
Asked what makes a good real estate agency, Raine boils it down to thrift in good times and in bad. You get the impression that the ritzy look and the big car – so redolent of the "successful" real estate agent – is anathema to him.
Smart agencies don't splash out, they squirrel it away. They don't buy the new car or the new boat, they build their property management to cover the overheads of the business, he says.
"When sales are down, that carries the business. Don't overspend or overcommit on anything. Cycles will come and go, but all the while build your property management either organically or by buying competitors. It will underpin the business."
For most of the past five years, the strategy has been both heavily international and heavily digital. Raine has established the business in India, where he believes an economic boom is well in play.
The company now boasts a sales team across three offices in Fiji, 12 offices in Malaysia, 11 offices in Bangalore and Goa, India, and one office in Dubai, United Arab Emirates.
It is about to open in Vietnam, and it will be opening in Indonesia and Hong Kong this year.
However, it is India that remains the backbone of Raine & Horne's Asian fulcrum.
"Given the way India is growing its middle class, it could be as big as our Australian business and perhaps even bigger in five to 10 years' time," he says.
Raine believed years ago that digital was the way forward, and changed the company banner colour palette to make it more visually effective online.
However, the biggest changes have been in data management, artificial intelligence and customer relations management.
He doesn't believe in the old property dictum of putting your thumb in the air to determine the way the wind is blowing, and has invested heavily in forward-looking systems.
The company has been busy rolling out its CRM system, Compass Plus, to all its offices around the country, as well as DigiKit, a first-to-market web-based interactive appraisal platform for both sales and property management.
The rollout is about 90 per cent complete, he says.
Today's appraisal, he says, is tomorrow's listing and the next day's sold sticker.
"It means our crystal ball is now much clearer than it was 20 years ago," Raine remarks. "We can see through the data and know the amount of commitments coming down the line in the next six to 12 months."
However, it is the firm's artificial intelligence platform, Amplify, developed by Danish firm CCT Marketing, that is the tech star of the franchise.
Raine & Horne has marketed 11,000 properties through this platform via its ability to work around people's social media feed. Amplify is termed a "programmatic digital marketing platform".
Raine says it is so well targeted that listings are getting as much as 17 times more exposure in front of prospective buyers and tenants. Raine & Horne claims 12 times the industry average click-through rates.
"It's no longer about spraying and praying. We're now doing 600 listings a month based on the platform's intelligence. The average reading time is 2.5 minutes per listing, against an industry average of less than a minute," he says.
An example of its effectiveness is the firm's marketing of new developments in north-west Sydney to its Bangalore offices.
There is a high population of non-resident Indians in that area, and they can easily target the overseas market: "We can now geo-map areas knowing full well that Indians love this part of Sydney," he says.
Raine remains frank and unassuming as a person, but underneath there is a firm determination to make sure Raine & Horne is well ahead of current technology and well-equipped for future shocks.
He takes nothing for granted, and his honorary award of FCPA is humbling, he says.
For Raine, there is never an excuse to rest on your laurels, nor should you forget the important things.
"During the bushfires [in NSW and Queensland in late 2019], I made sure I spoke to our offices in Glen Innes and Noosa. That old-fashioned touch in 2020 goes a lot further than it did a few years ago. They need to know we're there to support them."
Favourite reads
What to ask the person in the mirror
Robert S. Kaplan
This explores the critical questions in becoming a more effective leader and reaching your full potential. It is a very confronting and thought-provoking book.
Double your profits
Bob Fifer
This is a great reference book to read just before you do annual budgets.
How to prepare now for what's next
Michael McQueen
A great read about how to survive in the era of disruption.