By Stephen Corby
Successful entrepreneurs are often lauded for their ability to stay ahead of the curve; exhibiting a kind of business sixth sense that allows them to know what consumers will want before we know it ourselves.
For Ruslan Kogan, there is no curve to peer around because he can see the future. His business decisions are built on mountains of data analysis, and backed up by predictive algorithms that use machine learning to predict human behaviour in ways that surprise even a tech-head like Kogan.
Some people see Kogan as Australia's answer to Amazon founder Jeff Bezos. In 2006, a then 23-year-old Kogan made a massive roll of the dice when he set up kogan.com – an online store that initially sold just two types of Kogan-branded LCD televisions, assembled in China, direct to consumers for a very budget-friendly price.
A dozen years later, the site has expanded to sell 17 categories of goods, including fashion and books, along with Kogan Travel, Kogan Mobile and Kogan Insurance services. It boasts more than eight million customers in Australia alone.
Clearly, Kogan.com is no ordinary retail outlet.
"Ha, no it's not – we joke that we are a statistics business masquerading as an e-commerce company," Kogan says. It's no joke; every employee of his company, at every level, must pass a logical and analytical reasoning test.
Kogan also gets a lot of help from all of us, of course, through the information we freely give away to Google every day.
"Google search data is just brain-to-keyboard, with no filter," he enthuses. "It's the most accurate market research you can do.
"You look at your Google search history [and] like it or not, it's a very accurate indication of who you are, what your interests are, and what your current intent is. We analyse that data to determine what products to get, and our site now has more than 70,000 of them. We don't create demand; we service demand.
"With bricks-and-mortar stores, they have to take an 'if you build it, they will come' approach. However, if we know exactly that for every 32-inch TV, there are 1.76 searches for a 42-inch TV, then if we're ordering 1000 [televisions] at 32 inches, we know to order 1760 at 42. Which means our inventory is perfect. It's very efficient."
You might think that, surely, he gets it wrong sometimes. Can intention to buy really always equal sales? Yet Kogan claims that over the past 12 years, and the tens of thousands of container loads of products his company has ordered, he can count on one hand the number of times he's been wrong.
He gives an example of an Android tablet that was delayed in shipping, during which time Google updated the operating system, making it semi-redundant, but he still sold them all at a profit.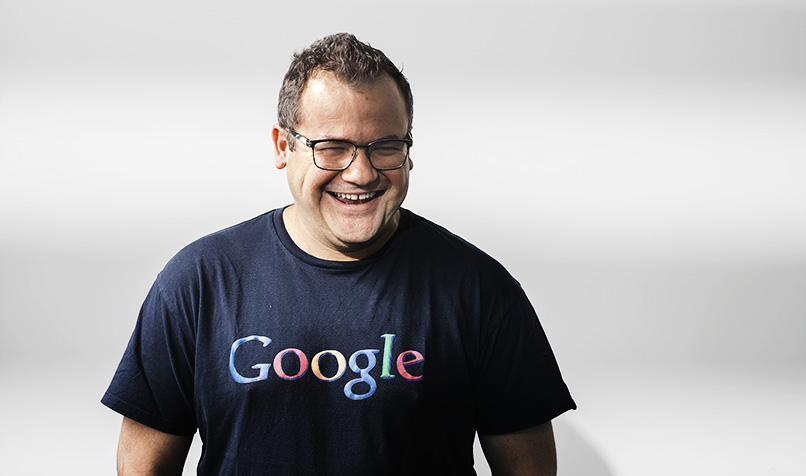 Analysing data is just one part of his business, says Kogan. It's "algorithmic prediction engines" that allow him to "know what someone wants, before they know they want it".
These predictive algorithms are a big deal globally, of course, because they are also heavily relied on by mega-retailer Amazon, which recently landed on our shores – an invasion that Kogan welcomes with open arms.
Amazon has already predicted a world in which it knows when you're feeling like a pizza to go with that Friday-night football game you love, and will send a drone to your door to ring your doorbell and offer you one – hot and cheesy – before you've even thought to order it.
Kogan, who seems mildly amused by the idea of drone delivery ever taking off, says this kind of predictive software is "fairly complex", but attempts to explain it in layman's terms.
"The way that it works at a high level is it says, 'We get a few hundred thousand people come to our site every day. They perform all sorts of actions. They buy stuff. They look at stuff. Some stuff they look at for longer than others. Some categories they look at, some they don't look at.' We've got billions of data points on our customers.
"What the system does is it says, all right, we've got these billions of data points and we're seeing your behaviour right now. Based on those data points, what you've done up to this point looks very similar to this cohort of people. Therefore, we're pretty sure this is what you'll do next."
Kogan is a fan of checking out how this works for himself, and was recently shocked when he bought a winter camping jacket from his own site, only to have it attempt to sell him a pair of thongs.
Assuming something was wrong, he emailed his IT people, no doubt quite fiercely, and was told that the software had found that people who go camping generally want a pair of thongs to get to the shower, no matter the season.
"A bricks-and-mortar shop would never think to put the flip-flops next to the winter jackets, but we can," Kogan says, happily.
Who are Australia's biggest bargain hunters?
One of the more surprising things the site's data reveals about its customers is not just what they want, but who they are. You might think kogan.com is favoured by budget-conscious, internet-savvy millennials, but it's actually the over-55s, living in Australia's most affluent suburbs, who are the biggest users of the site.
"We were surprised when we saw the data, but it makes sense because 55-plus people, they have put their kids through school, have paid off their houses, they've got disposable income, and their conversion rate's higher, they're spending more," says Kogan, who is just 35 himself.
"Plus, when we look at our sales, affluent suburbs are our biggest customers. They're the bargain hunters. It's the most expensive suburbs in Australia that would be our biggest suburbs.
"I think that the world's changing in the sense that there's an element of pride around being frugal.
"When Aldi opened in Australia, and I love what Aldi does in the grocery space, I used to walk around there proudly. You know, chest out, chin up, and I'd see people with heads down, like they didn't want to make eye contact with anyone. Now, you walk through Aldi and it's changed. No one's got their head down any more; they're proud to be frugal."
Kogan believes that's also led to a change in the way people shop for everything, not just groceries, with a shift to what he calls "brandless quality".
"I think there's a huge wave of change happening in the world, and people now care a lot more about the product than they do about the brand," he says.
"For instance, 20 years ago if you wanted a TV, you would say, 'Well, I'm getting a Sony or I'm getting a Grundig. It's Japanese or it's German, so it must be reliable.'
"Today, people go 'I want a TV, I'll Google 32-inch TV', then they'll open a new tab and start comparing reviews and blogs for the different models, and they'll buy based on that: on the product, not the brand.
"We've seen this wave of brandless quality across the entire spectrum of retail. You've got H&M booming; you've got Zara booming; you've got Uniqlo booming."
Welcoming Amazon to Australia
Nothing booms louder, or more ominously, for local retailers than the arrival of Amazon, which launched in earnest in Australia in December 2017.
Amazon isn't just a big deal in the online-shopping space, it's a behemoth, and is now ranked as the most valuable brand in the world, having overtaken Google in the 2018 Brand Finance Global 500 report. Amazon's brand is valued at nearly US$151 billion, putting it ahead of Apple at US$146 billion. Google is ranked third, at US$121 billion.
Surely, then, Kogan must be worried about the impending competition from Amazon. Far from looking concerned, Kogan smiles widely, grabs his phone and says "watch this". He opens Amazon's Australian site and types in a search for "LED TV". Sure enough, the top half a dozen hits are listings for his own, Kogan-branded televisions, and links to buy them.
"Yep, Amazon is a marketplace, you see, so that's our flagship branch, on Amazon; so is that a competitor for me, or my friend?" he asks, eyebrow arched.
"I think Amazon will have a lot of positive impact. If you look around the world at markets that have a big marketplace player like an Amazon, or in China with Alibaba, they're all markets with online retail penetration significantly higher than Australia.
"At present, our online sales are worth 7 per cent of the total market, but other countries are in the high double digits, and the US is approaching 20 per cent.
"A huge player like Amazon changes the paradigm; they re-educate the market. They teach people to go from 'Hey, I need to buy something, let me jump in my car and drive to the shops' to 'Hey, I need to buy something, let me open my laptop'. That can only be good for us."
Kogan seems to think that there will be plenty of the online-shopping pie to go around, and Amazon will do the job of making it grow. Even at just 7 per cent of the total market, online retail is worth A$24 billion in Australia at present, according to the NAB Online Retail Sales Index.
"We're a tiny speck of that, but the biggest growth is going to come from the 93 per cent [of the total retail market]," Kogan emphasises.
That tiny speck that he's talking about added up to a turnover of A$289.5 million for Kogan's enterprises in the 2017 financial year. Meanwhile, his personal wealth is estimated at somewhere around A$350 million.
It's a pretty good result for a bloke who first went into business at the age of 10, selling golf balls he'd found and cleaned, "because I wanted to be able to walk into the candy shop and buy all the lollies", and later sold televisions because he just loved having the latest gadgets.
Which makes you wonder, having achieved success beyond excess, why doesn't Kogan just retire and play with his toys? (Funnily enough, his favourite hobbies are fishing and camping, which he says are unaffected by wealth.)
"If you want to retire when you hit a certain amount of money, then you were never in it for the right reasons. I think with most entrepreneurs, it's all about the drive, and it is a competitive sport," he says.
"Why didn't Roger Federer quit at 10 grand slams? He would have had enough money at 10, but it's about the competition.
"For business people, it's the same. Why was Steve Jobs working until his last few days? Why is Lindsay Fox [turning 81 in April] still working? Why is Richard Branson still working?
"The fact is, very early on, the money starts to become irrelevant, although the money is the scorecard, because it's directly related to how many people you've helped. I like to look at how many people the Kogan brand has helped; how many people have been able to afford a present for someone they wouldn't have been able to if they hadn't saved money through using our brand.
"I do love the competitive nature of our business. I'm jumping out of bed in the morning because we're operating in such a competitive space, and working out how we're going to do things better, meeting challenges. I still love that, every day."