When Sunshine Coast accountant Josie Collins CPA was still a business student at the University of New England, she learned that just 38 of about 200,000 registered accountants in Australia identified as First Nations people.
The under-representation was a shock.
As soon as she gained her CPA designation in November 2022, Collins (nee Tully) joined the Indigenous Advancement Committee of CPA Australia's Queensland division to help bring more First Nations people into the accounting profession.
Collins says there are many gaps between Indigenous Australians and non-Indigenous Australians. "I am doing what I can to help close the gap in financial literacy," she says.
Accountants can help individuals improve their knowledge and empowerment of finance and money and can also help First Nations business owners, Collins says.
"We're seeing more and more Aboriginal entrepreneurs emerge, and I think it's important for them to have trusted accountants who they can turn to who understand their communities," she says.
Real-world impact
Collins is a commercial analyst at Queensland aerospace technology manufacturer HeliMods. She joined HeliMods as a senior accountant in 2021, pivoting from the public practice work she had done while completing her bachelor of business degree.
Collins made the move because, while she had enjoyed advising clients in public practice and the variety of businesses she worked with, she also wanted to see the real-world impact of her advice in action. "I thought, imagine the impact I could have if I could devote all of this to one organisation," she says.
Soon after she joined HeliMods, Collins was taking on projects that went beyond her senior accountant role. She was promoted to commercial analyst, working closely with the company's founder and managing director Will Shrapnel.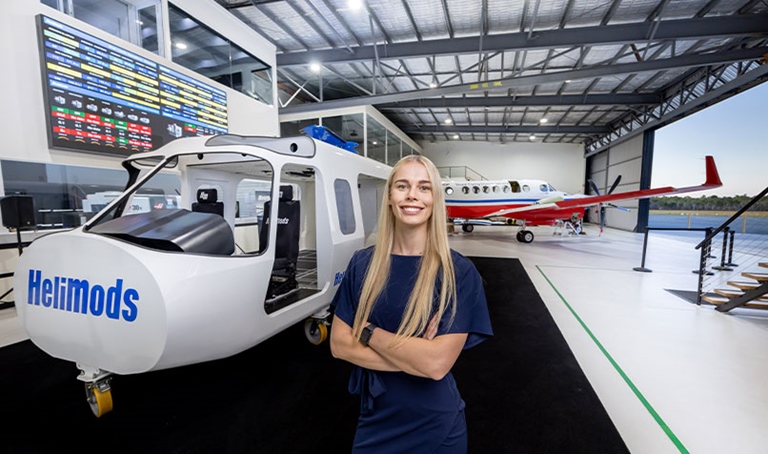 Collins' involvement with the Indigenous Advancement Committee is far from her only community leadership role.
"Throughout all my public practice roles I did get to mentor some uni students and graduates, and I loved it," Collins says. "I believe my natural leadership skills come from being the oldest girl out of six kids. I think you learn a thing or two along the way."
Collins also sits on the Sunshine Coast Young Chamber of Commerce executive committee, which she describes as her "passion project". What began as a social media group with 15 members in 2020 has grown significantly, with Collins and other members trying to do things differently to other chambers of commerce, focusing on authentic relationships and fun.
"It's not a chamber where you go and hand out business cards. It's more of a chamber where you go to build confidence and genuine connections. It's not just for business owners.
There are a lot of professionals like me, who come and who don't have their own business, but still want to be surrounded by those like-minded individuals who are making a positive impact on the coast," Collins says.
The Young Chamber of Commerce features guest speakers to educate members about different topics and provides a safe place where everyone can be included and feel comfortable. It also encourages members to join their own local chamber of commerce and groups like the Sunshine Coast Business Women's Network.
"It's really a place to encourage you to spread your wings, surrounded by those also navigating the first 10 years of their career," she says.
Collins also joined the board of the Caloundra Chamber of Commerce and became an ambassador for the World Gym Caloundra. She trains at the gym about five times a week, which she says has mental health benefits. "It's very much my safe place, my happy place," she says. "Although I do so much, it's my downtime."
Through her "whole of life" approach, Collins is able to integrate personal growth, leadership skills and her passion projects, while contributing to her community and the accounting profession.
One piece of advice for new accountants
Choose a career you love. It is a huge part of your life. Work–life balance is a hot topic these days, but I don't view it as a day‑to‑day or even week‑to‑week concept – this is a 'whole of life' concept to me.