At a glance
Australia's packaging industry is expected to expand at an annual growth rate of 1.2 per cent over the next two years.
The industry has been shaped significantly by shifts in the standard retail experience during the pandemic that have driven an added emphasis on brand experience, where in many cases parcels in the mail are a business's only chance of a physical interaction with consumers.
Sustainability is another key focus, with consumers preferring brands that prioritise recycling, reuse and recovery of their packaging while lowering their use of plastic.
Well-designed packaging that looks great and is easy to use has a major influence on the buying decisions of consumers. The product may be fantastic, but if the packaging is deficient in some way – bad design, poor protection, excessive plastic – then customers won't buy it. Those good first impressions reflect the value placed on a brand and add up to healthy profits for the companies that get their packaging right.
By 2024, Australia's packaging industry is expected to grow to 35.8 billion units from 33.7 billion units in 2019, a compound annual growth rate of 1.2 per cent. Hard plastics account for the largest share of the packaging industry, followed by flexible packaging, while glass packaging is the fastest-growing material.
The food and beverages sector consumes the lion's share of packaging materials. It is also where the competition between brands to stand out in a crowded marketplace is at its most fierce, particularly for small and medium-sized manufacturers.
"Brands have had to get creative in how they make meaningful connections with their customers, particularly in a more socially distanced world, where food delivery has separated brands from customers," says Shayne Tilley, senior director of marketing with global creative agency 99designs.
If the packaging is particularly attractive, buyers are more likely to take photos and share it on social media. It's free publicity, so not paying enough attention to the aesthetics is a lost marketing opportunity, says Tilley.
The trend of unboxing videos on YouTube, where part of the review is dedicated specifically to how the product is packaged, is an indication of how much packaging – not just what's inside – matters.
There is another dimension to packaging – one that no food company can afford to ignore – environmental sustainability. Consumers, particularly in the younger age groups, look for brands that prioritise recycling, reuse and recovery of their packaging, while at the same time helping consumers change their behaviours to become more environmentally responsible.
The 2025 targets set by the Australian Packaging Covenant Organisation (APCO) are for 100 per cent of Australian packaging to be reusable, recyclable or compostable. Of plastic packaging, which has some of the lowest recovery rates of any material, the target is for 70 per cent to be recycled or composted.
The targets are helping to keep the pressure on food and beverage businesses to make their packaging more sustainable. One of the world's largest food manufacturers, Nestlé, has established an Institute of Packaging Sciences that, together with suppliers and other external partners, is exploring alternative packaging materials.
Unilever, another fast-moving consumer goods (FMCG) giant, says it is well on track to halve its use of virgin plastic by 2025, reducing its use of plastic packaging by more than 100,000 tonnes and employing more recycled plastic in its packaging.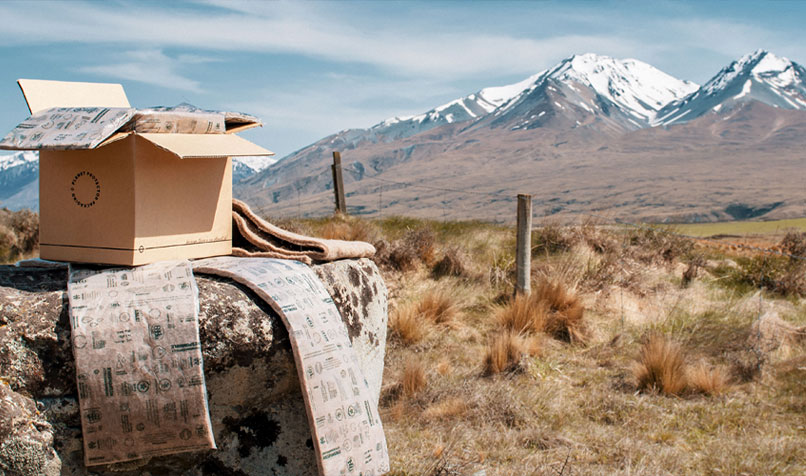 While fast developing technologies are creating alternatives such as plant-based plastics, the APCO targets are under threat when cost is pitted against sustainability.
For a company to change its packaging material – such as swapping from a fossil fuel-based polymer to a biodegradable polymer – "requires a significant investment of time, money and HR costs", says Dr Nicole Garofano, head of circular economy development at Planet Ark's ACE (Australian Circular Economy) Hub and member representative with the Australian Institute of Packaging. Several rounds of trials and approval stages need to be gone through before the packaging comes to market.
Packaging costs have also been heading north since the onset of the COVID-19 pandemic, says packaging consultant, Neil Ainslie.
"During COVID-19, we have seen shipping and freight costs grow tenfold. It is forcing Australia to go back to manufacturing after letting our capabilities go offshore. But the question is, will people absorb the increased costs? We make an Australian plastic punnet for 10 cents, when one can be imported for 7 cents," says Ainslie.
Unfortunately, the pandemic is also negatively affecting research and development exactly at a time when brands are wanting to introduce more sustainable materials, says Michael Grima, industrial designer and packaging specialist.
"Testing and trials of new technology materials for packaging that is more sustainable – and that has the capability of being able to extend shelf life and reduce food waste – are being cancelled or delayed because producers can't get access to the materials from overseas raw suppliers," he says.
Garofano explains the supply conundrum. "One of the APCO targets is to use 50 per cent of average recycled content to be included in packaging by 2025. The challenge in achieving this target is that reprocessing in this country is very limited. Unfortunately, we are having to buy a lot of material from international suppliers, sometimes at a premium rate."
Nevertheless, Garofano emphasises that Australia is making progress on recovering and processing local recycled content and that, while there are gaps to fill, awareness is increasing among consumers and investment in recycling infrastructure is happening.
Not least among it is the Recycling Modernisation Fund to which the federal government is contributing A$190 million and which, along with investments from states and territories and industry, is estimated to generate A$600 million in recycling investment.
Intelligent packaging
One of the most eye-opening developments in packaging is in the Internet of Things (IoT), whereby protective packaging is embedded with sensors, software and other technology that allows them to exchange data with smart devices.
"Digitalisation is extending packaging's traditional role and opening up a whole world of new opportunities," says Anders Andrén, product manager automation solution with Tetra Pak.
Imagine a scenario where you are on the way home from work and thinking about what to cook for dinner. An "intelligent" pack of noodles that you picked up in your lunch hour has a unique ID code that, once scanned by a smartphone, connects to your home fridge and checks on its contents, dynamically adjusting expiry dates to see what is viable.
Based on that information, as well as on your previous behaviour and preferences, suggestions about what to cook are then sent to your phone, including an alert if some of the suggested ingredients are missing or expired.
Alvise Cavallari, Nestlé's digital printing program lead, says that digital printing of packaging allows for customisation, "moving from a conventional rigid supply chain to a networked supply chain, where different players can print different static and variable layers of an artwork in one or several locations".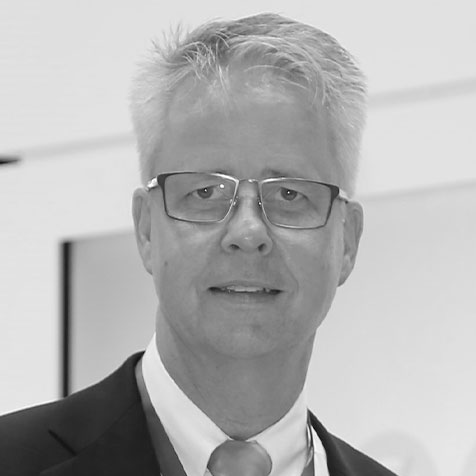 Full traceability of individual packages will also soon be possible, adding value for stakeholders along the supply chain, from logistics to recycling.
Unique, codified packaging as a portal to communicate more meaningfully with consumers is just the beginning.
"Food companies have recognised that consumers want more than a tasty meal, and that the product is fresh and safe to consume. They want to know where it came from, how it has been processed, its carbon footprint and how they can dispose of packaging responsibly," says Andrén.
In the future, intelligent packaging will be "born digital" – the centrepiece of the value chain, connected to the Internet of Things, says Andrén. "Codes will enable devices and packages to talk to each other, providing new levels of services and insights for brand owners, manufactures, retailers and consumers."
Case study: How one packaging company is persuading brands to go green
Joanne Howarth is founder of Planet Protector Packaging, a company with 25 years of experience in the food and beverage sector.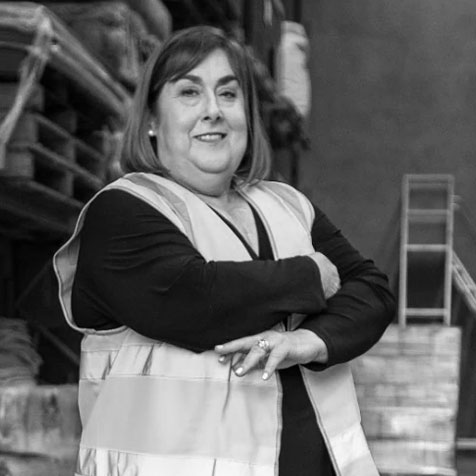 Experience working with e-commerce food delivery services in Australia has shown Howarth that, although customers love meal kits, they hate the bulky, nonrecyclable polystyrene boxes in which meal kits are usually delivered. Determined to find an environmentally sustainable alternative that brands could use to package and transport perishable goods, Howarth's company has developed packaging insulated with sheep waste wool encased in recyclable or compostable foodgrade film.
Launched in 2016, the insulated, compostable pouches or larger boxes for fresh and frozen goods are all recyclable, biodegradable and compostable. Most of the company's close-to-400 clients are small to medium-sized businesses, but increasingly larger companies are coming on board.
"There has been a transition in the landscape over the last four years. Companies need to report around their ESG [environmental, social and governance] and in line with the UN's Sustainable Development Goals. Businesses are thinking more about the way they present themselves. Changing your packaging is a demonstrable way that can get you quick wins, because that is the first thing the consumer sees, and it sends a message that this company cares," says Howarth.
Sustainability always comes as a cost, but it is an investment for the future, says Howarth.
"Today there is more value put on sustainability than in the past, and some businesses are prepared to pay a 10 per cent to 15 per cent premium for packaging," says Howarth.
There are many inherent cost savings as well, such as a reduction of warehouse space taken up with bulky polystyrene boxes, or the 40 per cent to 50 per cent loading on insurance due to polystyrene's flammability, says Howarth, which makes her alternative cheaper in real terms.
Design packaging trends
Packaging can be a potent marketing tool. Shayne Tilley, senior director of marketing at 99designs by Vistaprint, offers insights on current packaging trends.
Product names front and centre
Product names are the star of the show. Instead of using illustrations, imagery or logos to make the product stand out, these designs leverage creative lettering and typography to leave no doubt about what's inside. For example, you know exactly what's in the Forbidden Foods range of rices or Actual Seltzer cans.
Organically shaped colour blocking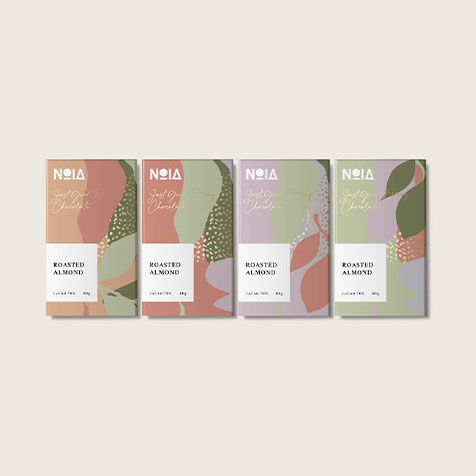 Colour blocking as a packaging design concept is nothing new, but what is trending are the unique textures, colour combinations and organic shapes that are being used to appeal to our collective need for calm as we shrug off the past two years. From chocolate to gift boxes and cans, this trend spans industries and sectors.
Technical and anatomical ink drawings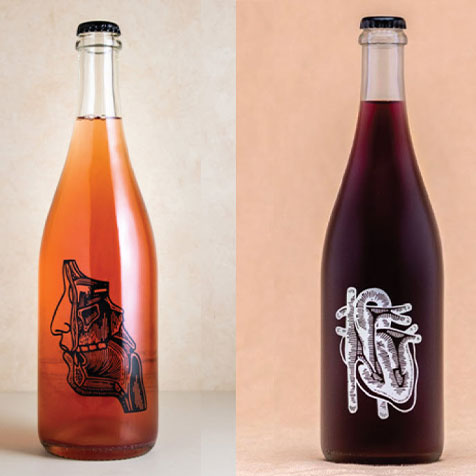 While minimalism has long reigned supreme in packaging design, intricate and technical illustration styles are also having their time in the sun. Placed against simple and striking backgrounds, designs like those featured on the bottles of Fin Wines wouldn't look out of place in the pages of an encyclopaedia.
Authentically vintage unboxing experiences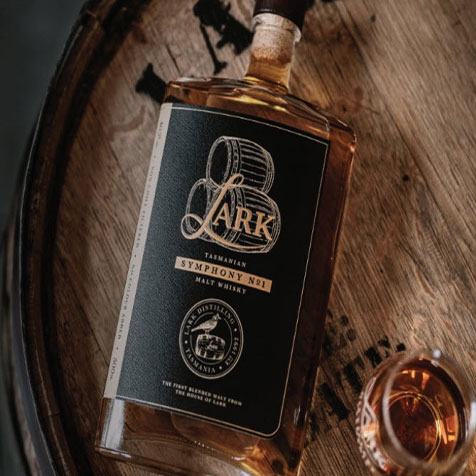 Vintage packaging trends never die, but there's a greater emphasis on treating packaging as an immersive in-home experience that transports consumers to another time. Tasmania's Lark Distilling Co. launched its Symphony No.1 Blended Malt Whisky this year, but the materials and textures used in the packaging make the product feel like something straight out of the history books.