More than one-third of the world's food is lost or wasted annually at an estimated cost of US$2.6 trillion (A$4 billion), according to the Food and Agriculture Organization of the United Nations (FAO).
This staggering figure includes US$700 billion (A$1 trillion) in related environmental costs and US$900 billion (A$1.4 trillion) in social costs.
Research from Boston Consulting Group indicates that, by value, food waste ranks in the top 7 per cent of global economies, in terms of GDP.
Countries that collectively represent more than 50 per cent of the world's population are now striving to halve food waste by 2030. This effort aligns with Sustainable Development Goal 12.3 from the United Nations (UN). The goal targets post‑harvest food losses in production and supply chains, and food waste reduction at the retail and consumer levels.
Systems approach for best results
To help stem the tide of food waste, the entire food value chain must work together, from farmer to consumer.
McKinsey research suggests that, by successfully tackling the food waste problem, retailers and manufacturers could reduce the cost of goods they sell by 3 per cent to 10 per cent. This would capture US$80 billion (A$123 billion) in new market potential from food that would otherwise be lost.
Tracking global progress towards 2030 remains tricky because countries have different levels of maturity in data collection and use varying measurement criteria. However, positive indicators have been emerging in the form of reconfigured supply chains, smarter production methods and regulatory levers.
Other improvements have stemmed from rethinking labelling, accelerating food rescue endeavours and behavioural nudges to encourage consumers to eat their leftovers instead of throwing them away.
"A systems approach is definitely needed to fix the problems of food supply and reduce its waste," says Professor William Chen, food science and technology director at Singapore's Nanyang Technological University.
A recognised global leader in the field, Chen works as an adviser to the World Health Organization. He also consults to the FAO and the Asian Development Bank on topics such as food security and safety to urban farming, precision fermentation and alternative foods.
Waste transformation
Food security risks are always in Chen's sights due to Singapore's unique status as an island state where agricultural land now represents just 1 per cent, or 7 square kilometres, of all land. The majority of the food consumed by Singapore's 5.6 million residents is imported from 170 countries.
Keen to extract maximum value from the existing food system, Chen chose food waste valuing as one of the university's research pursuits in 2015. He subsequently established an innovation lab with Asian beverage giant Fraser and Neave.
"Beyond looking at food waste as fertiliser or compost, I wanted to add value and upcycle it to benefit the economy," Chen recalls.
In the process, Chen and his colleagues turned a modest S$150,000 (A$170,000) in initial research funding into S$55 million (A$62 million). They accomplished this by engaging food industry enterprises and government in public-private partnerships to show how food waste can be transformed into new products.
The team turned the cellulose in durian husks – Singaporeans consume 12 million durian fruit every year – into adhesive bandages. They also showed how 39 million tonnes a year of barley, a beer brewing by‑product, could potentially be used to replace egg yolk in mayonnaise.
Other notable waste transformation measures have included using herb stems for hand sanitiser and miso and soy milk for biodegradable food wrap.
"Using food waste as a resource is the way of the future," Chen says. "If we can collectively reduce food waste to zero by being smarter, there will be no need to use more land or grow more crops."
Circular economy: what it is and how it benefits the environment
Bringing down barriers
Australians have the dubious honour of being among the worst food wasters in the world. About 7.6 million tonnes of food are thrown away every year in Australia, with 70 per cent of it still fit for consumption.
This equates to about 312 kg of food per person. According to the National Food Waste Strategy Feasibility Study from 2021, this costs the economy A$36.6 billion a year.
It is ironic that a country that produces enough food for 75 million people, with a population of just 25 million, counts five million residents as "food insecure", says Dr Steven Lapidge.
Lapidge heads Fight Food Waste, a company that runs several of the nation's major food waste initiatives, including the Adelaide-headquartered Fight Food Waste Cooperative Research Centre (CRC).
The CRC, launched in 2018, partners with business to fund food waste reduction research and now works with 49 industry partners and eight universities.
The CRC's operational arm, Stop Food Waste Australia, is backed by a consortium of partners that represent the entire food supply chain and all levels of government.
One of the centre's key projects is the Australian Food Pact, which asks food manufacturers to make a voluntary commitment to reduce waste. Among the more than 30 signatories are industry giants including Simplot, Mondelez International, Nestlé and Unilever.
For Australia, Lapidge says, there are some specific challenges to be tackled. These include disease, horticultural waste caused by extreme weather events and supermarket specifications for right-sized, unblemished produce.
Business incentives
It is often cheaper for companies to throw away surplus food than donate it to a food rescue service, Lapidge says.
"We're trying to create a platform to incentivise not only food donation, but also the infrastructure essential to redistribution, including transport and logistics and cold storage facilities," Lapidge says.
Such infrastructure costs money to a business, none of which can currently be claimed.
In the US, the UK, France, Canada and Belgium, food rescue services are benefitting from dramatically increased donations due to tax incentives.
In Australia, tax benefits already flow to food businesses that invest in finding solutions, through the Research and Development tax incentive. Lapidge is currently lobbying for a similar treatment for food rescue and logistics.
Another barrier to large-scale waste solutions is the need to aggregate surplus food, Lapidge says.
This is because, in most areas, retailers are banned from backhauling food to a distribution centre for repurposing or upcycling.
There is also widespread confusion about food labels – especially "use by" and "best before" dates, he adds.
Some countries, like the UK, are moving away from "best before" dates on food packaging, because they are indicators of stock rotation, not a deadline for disposal.
"The 'use by' dates are the ones you need to worry about, but 75 per cent of the population don't know the difference. People need to rely on the look, feel and smell of what they're buying," Lapidge says.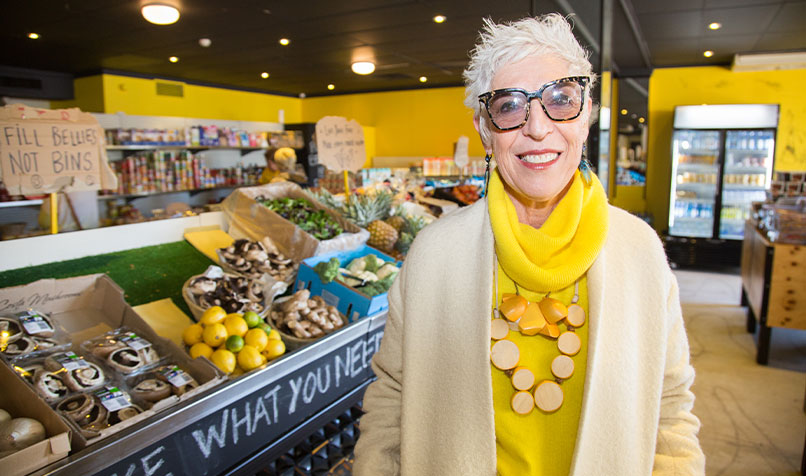 Individual behavioural change is critical in helping reach food waste reduction targets, says Ronni Kahn, the founder of Australian food rescue charity OzHarvest.
"We are all about transforming the system through advocating and policy change," says Kahn, who campaigned for the Civil Liability Amendment (Food Donations) Act. The Act, passed in 2005, allows businesses to donate food without liability.
Kahn says she has seen significant growth in public awareness in the two decades since she founded OzHarvest.
"We've moved the dial, but there's still the best part of 360 degrees to go. We need to educate people on the quality and the lost value of food."
Kahn believes true understanding begins with individuals. This is because householders run both businesses and organisations, and households are responsible for 40 per cent of waste in Australia.
Solutions to reducing household food waste need not be complex or expensive.
An example of a simple but effective measure is Use It Up tape, developed by OzHarvest with Monash University's BehaviourWorks. The tape helps reorganise fridge contents to prioritise what needs to be eaten first, and it has been shown to help cut food waste by 40 per cent.
The large-scale commercial picture
Meanwhile, Fight Food Waste Cooperative Research Centre is working on larger‑scale commercial solutions. This includes DIRECT, a cloud-based software that food businesses can use to crunch numbers across the value chain. The software factors in the cost of water used to grow and process food, the cost of transportation and packaging waste.
"It provides a benchmark for reducing waste and costs," Lapidge says.
Lapidge also encourages accountants working in the food industry all along the supply chain to familiarise themselves with the true costs of food waste.
Opportunities for improvement abound on the production side as well. In Asia, where agricultural holdings are typically small, Chen sees widespread opportunities to help farmers become more efficient through low-tech monitoring and value-adding.
"Traditionally, they produce the same crops year after year. Farmers need to diversify and to find simple ways to transform their produce. Better quality food can be sold at higher prices," Chen explains.
"Improving supply chain management would enhance transparency, food safety and bring on consumer confidence – at the same time reducing food waste."
The shared physiological need for food gives everyone a vested interest in cutting food waste, Chen says. "We all have a role to play."
Food loss and waste accounting and reporting standard
The Food Loss and Waste Protocol (FLW Protocol) is an international, multi‑stakeholder partnership that has developed the global Food Loss and Waste Accounting and Reporting Standard (FLW Standard).
The purpose of the FLW Standard is to provide organisations and governments across the globe with greater information about food loss and waste to motivate them to cut back on the inefficiency.
The FLW Standard is accompanied by both a value calculator and a webinar. There are also real-world case studies from organisations and governments that have worked with the FLW Standard.
The FLW Standard can be used by accountants to gain insight on how much food is not being used as intended, and it provides a clear way to track food loss and waste. This information can be used to dig deeper into the causes of food loss and waste, identify hotspots and prioritise these areas for targeted action.