At a glance
Most of the business innovation that has taken place over the past few months has involved embracing mobile and digital technologies.
Innovation and a pivotting of operations alone will not ensure business transformation that will stand the test of time.
When pivotting with the long term in mind, it is important to put systems in place to help employees upskill and take them along on the journey.
Keeping one's eye on the silver lining can be difficult when your business is feeling the impact of an economic slump. Yet, while some companies have grappled with how to keep their business afloat and connect with customers during lockdown, some were able to evolve their business model.
There have been temporary transitions – breweries and distilleries producing sanitiser, fashion houses making scrubs and face masks, and even car companies manufacturing ventilators.
Small businesses and sole traders such as gymnasiums, dance schools and business coaches turned to cloud-based meeting platforms such as Zoom and Webex to prop up income through online classes.
Forced into change, many companies discovered new ways of doing business that may just stick.
Virtual realty
One example of a pivot that's here to stay is from award-winning Australian home builder Porter Davis. Seemingly overnight, the company transitioned a process that was almost 100 per cent face-to-face – buying a house – to online.
Potential buyers go through an immersive, three-dimensional walkthrough of displays and virtually visit dozens of locations to find their dream home.
By May, Porter Davis had already taken home buyers on more than 40,000 virtual walkthroughs, and many of its new home contracts had been signed over Zoom videoconferencing.
General manager of marketing and sales, Shaun Patterson, says the pivot was, in fact, the result of long-term vision.
"Four years ago, we invested millions into our digital transformation, launching virtual tours, which has paid off today," he says.
Post-lockdown, Porter Davis made virtual tours a key call to action on its website and promoted them through electronic direct mail, social media and realestate.com.au.
The company also conducted intensive training sessions with its sales teams to help quickly upskill them to selling houses online.
The home builder predicts that, even once the pandemic is over, the way it sells houses will never be the same again.
Using digital pivots to innovate
In 2018, PricewaterhouseCoopers (PwC) estimated that small businesses could unlock an additional A$49.2 billion of private sector output in Australia over the next decade by embracing mobile and digital technologies.
Unsurprisingly, this is where most business innovation has occurred during COVID-19, says reinvention expert Sean Leong, who specialises in digital transformations in social, commercial and risk disciplines.
"Many businesses didn't know where to start with digital, but the pandemic meant they had to," he says.
Showing new-fashioned Kiwi ingenuity, global education design company Nanogirl Labs, based in Auckland, turned around its operational model in less than a week.
"Our business really centred around in-person live engagements," explains CEO Joe Davis, who founded the global education design company with Dr Michelle Dickinson, one of New Zealand's best-known science communicators.
"We toured large-format theatre shows globally, engaging students in exciting STEM [science, technology, engineering and mathematics] learning content, and providing teachers with training and resources."
To pivot to an online subscription business, Nanogirl Labs tripled its team, created a full production studio, and wrote and shot weeks of content in four days.
Two weeks in, Nanogirl Labs had grown the business by 52 per cent, had subscribers in 75 countries (69 of those new customers) and, as a business with a social conscience, was helping thousands of families during a difficult time.
"We are currently selling access to our 50-lesson program for just NZ$50 (A$48), and for every subscription we sell, we are gifting one to a family who could not otherwise afford to take part," Davis says.
"This pivot was forced by the crisis, but has fundamentally transformed our business for the better," she continues.
Leong says this type of innovation demonstrates the importance of using different channels to connect with customers, even in good times.
"When your business is going well, avoid becoming too tied up with your current growth and not thinking of the next stage of your product or service," he says.
Cooking up change
Fourth-generation Australian family business Winning Appliances managed to retain its team, including product and culinary experts and showroom managers, during the pandemic, by hosting video product selections and appointments, staging virtual cooking demonstrations, and providing website and telephone support.
"We were able to harness technology we have been building in-house over the past decade to speed up the move to remote working," says Jo Devery, COO of Winning Group.
Not only did team productivity, learning and growth improve significantly, but customer demand also hit a high – Winning Service performed 69,000 deliveries in April alone.
"We have even had customers send through pictures of what they have been cooking," says Devery, who adds that online innovation will continue.
Pasquale Trimboli, who owns award-winning restaurant Italian and Sons, and Mezzalira Italian Restaurant in Canberra with his brothers Dominic and Joe, says the team saw the writing on the wall before the lockdown.
"Rather than hope it wouldn't happen, we accepted it, and shifted our business online days before the lockdown was announced," he says.
They launched a fully licensed pick-up and delivery service and ready-to-eat meal kits, with orders taken online and via an app. Typical fare includes smoked duck breast and wild mushroom and porcini ragu, with something nice to drink, naturally.
"We already had the food photography, and we had been able to retain a majority of staff through the JobKeeper scheme," Trimboli says.
While their overall turnover has been down, the new services have been successful enough for the brothers to rethink how they will do business in the future.
"It has opened our eyes to ways to interact with our customers."
Trimboli says the pivot is a testament to believing in what you do and setting the trend.
Where the smart money was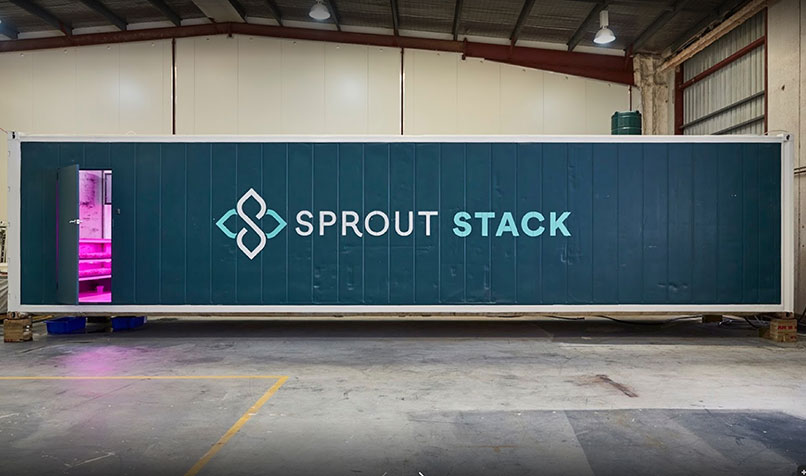 Agricultural food production is rarely cited as at the forefront of innovation.
Yet, one of the most astonishing growth curves spurred by COVID-19 was seen at two-year-old Sprout Stack Australia, a vertical farming business that won a New South Wales Government's Green Globe Award.
Even though the global vertical farming market had been estimated to be a US$50 billion (about A$71.5 billion) opportunity by Barclays Research, Sprout Stack is Australia's only commercial vertical farm.
Sprout Stack uses about 2 per cent of the water and between 10 per cent and 20 per cent of the fertiliser of conventional farming.
During the pandemic, its sales of organic, micro salad greens and herbs tripled to 300kg a week.
"We had lost a portion of the business from the food service industry," says CEO Hugh McGilligan, whose entire operation, in Sydney's northern suburb of Brookvale, is contained in five recycled shipping containers fitted with advanced, hydroponic and LED light systems.
"What we lost, we gained tenfold from both pre-existing customers, such as Harris Farm Markets, and new food delivery services.
"We are currently looking for investors, because we cannot meet demand."
McGilligan says a growing desire to buy clean, sustainable food – accelerated by COVID-19 – will continue to boost the bottom line.
The smart money has also been in digital healthcare services.
In April, medical journal The Lancet reported that health planners worldwide were shifting towards virtualised care. Chinese physicians were said to be telehealth consulting to upwards of 100 patients a day.
Teladoc Health, which is based in the US, performed more than 20,000 virtual medical visits a day in the first quarter of 2020, with revenue growing to US$180 million (about A$257.4 million) compared to US$129 million (about A$184.4 milliion) a year before.
In the UK, Babylon Health, which uses artificial intelligence to connect patients with information and treatment, is already the official primary care provider for the National Health Service.
In Australia, at Cape Byron Medical Centre, a multi-disciplinary New South Wales practice, services ranging from GP appointments to physiotherapy were converted to telehealth services within days of pandemic lockdowns being announced.
Principal GP Dr Tonya Coren says the centre used SMS, email and social media to connect with patients and help transition them to the digital service. It will continue to offer telehealth consults for those who find them effective and convenient.
Building artful customer connections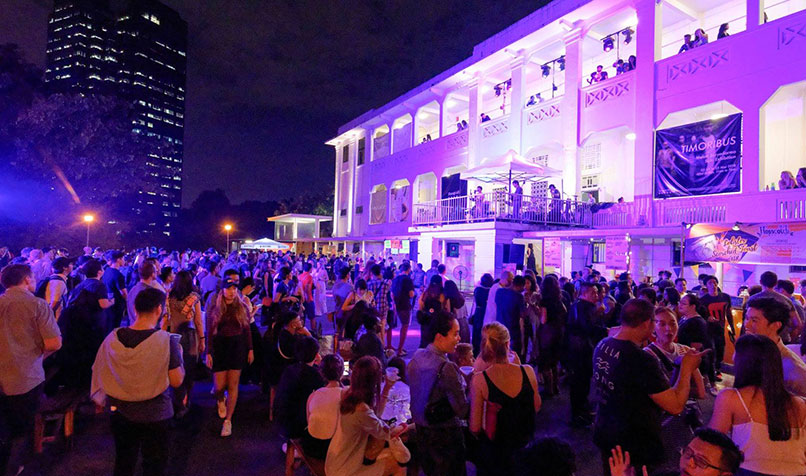 The pandemic has been a classic moment of truth for businesses and customers, Leong says.
"Opportunities have been available to companies that are in touch with customers' pain points and are willing to work with them to thrive. In a tough time, it's about building relationships and doing the right thing – a balance between commercial behaviour and establishing a genuine connection."
Nowhere has this been more true than in the arts and entertainment industry.
With galleries, museums and theatres taking an immediate hit to revenue, and festivals and tours cancelled, the industry desperately needed to pivot to another way of continuing its work and connecting with customers.
In Singapore, the National Arts Council rolled out a S$55 million (about A$56.8 million) Arts and Culture Resilience Package.
The support also included grants for digitalisation projects, as well as The A-list of online entertainment that will continue to be a way to appreciate the arts, according to deputy CEO Paul Tan.
In Australia, the new, free streaming on-demand service, OA TV, implemented by Opera Australia, was so well received that the service may continue to operate as part of a subscriber offer, says artistic director Lyndon Terracini.
Free virtual museum tours, of everywhere from the Louvre to the British Museum, have also served as a valuable tourism promotional tool for when travel restrictions are lifted.
In the music industry, online gig series The State of the Music is underwritten by the Victorian Government. Featuring a diverse range of Australian artists, the weekly episodes live streamed on YouTube and Facebook.
The global pandemic has given us a portal into what's possible and ahead, Cathy Chon, founder of CatchOn, one of Asia's leading brand communications agencies, has told the Global Wellness Institute.
"We're going to see such incredible innovation in technologies addressing all aspects of life – whether remote working, online learning or in health and wellness," she says.
How to future-proof your business
Reinvention expert Sean Leong has suggestions for businesses aiming to evolve and be adequately prepared for whatever the future may hold.
Spend most of your time finding and retaining talent. There is no antidote for the wrong team.
Leaders must model and enforce wellbeing practices. Clarity breeds innovation.
Understand what is distinctly human in your business, and automate the rest.
Implement a specific retraining and deployment process for employees who are displaced by technology.
Do not rely on just a physical sales funnel – you must tap digital.
Measure anything that matters to your business. If it matters, it has to have a number.
When you look at your evolving business model, focus on servanthood – to your customers rather than self-interest – and building simple, horizontal processes that rely on hard-to-replicate relationships between customer value, profitability, resources and processes.
Other smart pivots
London's The Auction Collective took art auctions entirely online, complete with the world's first downloadable bidding paddles.
China's JD.com first started selling products in social media chat groups and on college forums to survive the SARS outbreak. It is now one of the largest business-to-consumer e-commerce stores.
Poolwerx Australia created storefront water testing, where Poolwerx collects the water sample from a client's car, completes the test in store, and delivers treatment chemicals contact-free.
Global clothing retailer Patagonia launched Patagonia Provisions, adding an entire range of long shelf life food, from coconut oil to coffee.
Takeaway delivery service Deliveroo UK rolled out Essentials by Deliveroo, including convenience items such as cereal and tinned goods. In Australia, the company has added more than 2100 new restaurant and catering partners to the platform, and Deliveroo customers can now have smallgoods, produce, specialty groceries and ready-to-heat meals delivered to their door.