Who Gives A Crap may not seem like a terribly aspirational name for a business, even one that sells toilet paper, but it shows how the new force of consumer consciousness is turning traditional business practice on its head. Put simply, more and more people – from millennials to baby boomers – want to spend their cash on products from companies that care.
"Society expects more from business," says Mark Daniels of Melbourne-based Social Traders, an organisation that supports social enterprises development. "Fifteen years ago it was about the environment. Now we are seeing more and more social enterprise."
Social enterprises are businesses that are set up to tackle social problems, improve communities, provide people with access to work and training, or help the environment. Some are not-for-profits, some are profit-for-purpose, some do both. Yet however they are structured, businesses devoted to positive change are proving to have a lot of appeal for socially conscious customers.
For the common good
Who Gives A Crap donates 50 per cent of profits to help build toilets and improve sanitation in the developing world. So far, the five-year-old business has donated A$478,500. By using eco-friendly materials – recycled paper, bamboo and sugar cane – to make its toilet paper, the company says it has also saved 30,797 trees, 74 million litres of water and 5922 tonnes of greenhouse gas emissions.
Simon Griffiths and Jehan Ratnatunga from Melbourne, and Danny Alexander from the US, launched the business in 2012 with a crowdfunding campaign on Indiegogo. Griffiths famously sat on a toilet in a draughty warehouse and refused to move until they had enough pre-orders to start production. Fifty hours later, they'd raised more than A$50,000.
Griffiths' previous experience with non-government organisations (NGOs) and not-for-profit social enterprises convinced him a 50 per cent giving model was the best for building a scalable, high-impact start-up. It's worked: Who Gives A Crap will soon expand into the US.
The fact the business donates half its profits to help build toilets is the number-one reason customers shop with them, says Griffiths. "On top of that, we make great products, offer a convenient home delivery service and offer bang for buck. We also have 1200 per cent more puns than any other toilet paper company," he jokes.
Singapore's Bettr Barista coffee academy is another social enterprise making its mark. As well as coffee education, it runs a holistic training program for marginalised women and at-risk youth. The program goes beyond vocational barista skills training to develop participants' emotional resilience and other life skills.
"We exist not just to make a profit, but to positively influence the people who are both within and outside of our organisation – our suppliers, partners, staff, customers," says founder Pamela Chng, who left a successful web business to start Bettr Barista in 2011.
Asian consumers lead the way
Nielsen's 2015 Global Survey on Corporate Social Responsibility revealed that consumers in the Asia-Pacific were a third more likely to buy socially aware brands than their counterparts in North America and Europe.
The Singapore Centre for Social Enterprise, known as raiSE, helps social enterprises with funding, training and advice. It has worked with both Bettr Barista and Edible Garden City, a for-profit business that uses urban farming to provide therapy and employment for those with autism.
"Our goal is to help cities become more self-sufficient by growing food in underutilised spaces like rooftops, under viaducts, and everywhere in between," says Crystal Tan from Edible Garden City. "We supply fresh herbs, flowers and vegetables to food and beverage outlets and, in the future, homes."
Edible Garden City was founded five years ago by Bjorn Low, an online marketing specialist who left work in the corporate sector to spend three years working on organic farms across Europe. He returned to Singapore with the dream of combining his knowledge of biodynamic farming and his business training.
Today, Edible Garden City employs 22 full-time staff, and has built more than 50 food gardens for hotels, schools, food outlets, property developers and domestic households. It also runs free farming workshops. The aim is to get more Singaporeans growing their own vegetables; at the moment the nation imports 90 per cent of its food.
"We now are focusing on a business model we call Citizen Farm. It's designed to be a closed-loop urban farming system that integrates natural systems with modern technology," Tan explains.
"Our social model also means we train and employ people with disabilities. Currently we employ eight adults with autism part-time. Farming is not just an employment but also therapy for them.
"People love to see what we do," she continues. "We constantly get emails and requests from the public and schools, local and abroad, to come visit us, do workshops and more."
Across the strait from Singapore, Social Enterprise Malaysia is building public awareness to spur a new generation of social entrepreneurs. Non-profit EPIC started there six years ago as EPIC Homes, with a flagship project to train urban folk (with no background in construction) to build houses for "orang asli" indigenous families living in rural areas. In June, it completed its 100th dwelling.
The group is now expanding its goals beyond housing for the disadvantaged. In April 2017, co-founder and CEO John-son Oei relaunched the venture as EPIC 2.0. It is now structured into three social enterprises: EPIC Collective, which builds platforms to mobilise people to transform their communities; EPIC DNA, where participants learn practical skills; and EPIC Communities, a community-driven developer with the aim to build cooperative and sustainable communities.
Initially, the social enterprise kicked off with private sponsorships and government grants, but it now generates revenue from its technology platforms, learning workshops and talks, and design-and-build services.
Australians eat it up
Good food and good coffee are helping change lives in Australia. Long Street Coffee in Melbourne raised A$18,746 in a crowdfunding campaign to open its doors in 2015. It operates like a conventional cafe but has a social mission, offering young refugees three-month hospitality traineeships.
In Sydney, the YWCA NSW runs profit-for-purpose enterprises to help fund programs for women and children escaping domestic violence. Its aim in 2017 is to raise enough funds to build a women and children's refuge.
Along with its two Song Hotels in Sydney (formerly known as the Y Hotels) and Song Kitchen restaurant, YWCA NSW runs the staff cafe at property group Mirvac's head office in
Sydney's CBD. An initiative of Mirvac CEO Susan Lloyd-Hurwitz and former YWCA NSW chief executive Anna Bligh, all the cafe's profits – which Bligh hoped could be as much as A$100,000 a year – go to the charity.
Another Australian enterprise whose profits support the disadvantaged is Salvos Legal, a law firm owned by The Salvation Army, which specialises in corporate, property and technology law. All profits are used to fund Salvos Legal Humanitarian, which operates free legal services for people in need in New South Wales, Queensland, Melbourne and eventually regional Victoria.
Lush profits, charities win
Lush Cosmetics has made its name by doing skincare differently. Set up in the UK in 1995, its products are handmade, unpackaged if possible and never tested on animals. A core tenet of the business is to benefit the environment, and the people and animals in it.
"Our Charity Pot program provides financial grants to grassroots organisations that create positive social change within the areas of animal welfare, human rights and environmental protection," explains Natasha Ritz, Lush brand communications manager in Australia.
All Charity Pot Hand and Body Lotion sales, minus GST, go to a pool that funds these small organisations. Since Charity Pot began in 2007, Lush has raised £20 million globally to donate to grassroots charities.
In the 2016 financial year, the program raised A$308,450 across Australia and New Zealand, which was distributed to 26 charities. One recipient was Peanuts Funny Farm animal sanctuary at Windellama in New South Wales, which rehabilitates neglected animals and provides therapy for children from dysfunctional backgrounds.
Connecting big business
The rise and rise of social enterprise is providing conventional businesses with opportunities to support worthy initiatives and satisfy customers' concerns.
Social Traders' Connect in Australia matches corporate and government organisations with certified social enterprises. Members including Westpac, L'Oréal, Nestlé, Boral, Mirvac and Lendlease have collectively committed to spend A$12 million with social enterprises.
Lendlease has partnered with Muru Mittigar Aboriginal Cultural and Education Centre in Sydney's west, an Aboriginal-owned social enterprise that aims to expand its Indigenous consulting services and increase long-term job opportunities for the local Darug community.
Salvos Legal has gained work with Australia Post through Social Traders' Connect. Westpac has been working with Who Gives A Crap, creating an opportunity for its product to be stocked through Staples, a major supplier of office supplies.
"Corporates are mostly motivated by creating new value for their organisation and strengthening their brand, staff attraction and retention," says Daniels from Social Traders.
"This is true, triple bottom line thinking," he adds. It's a concept that is definitely catching on.


Who Gives A Crap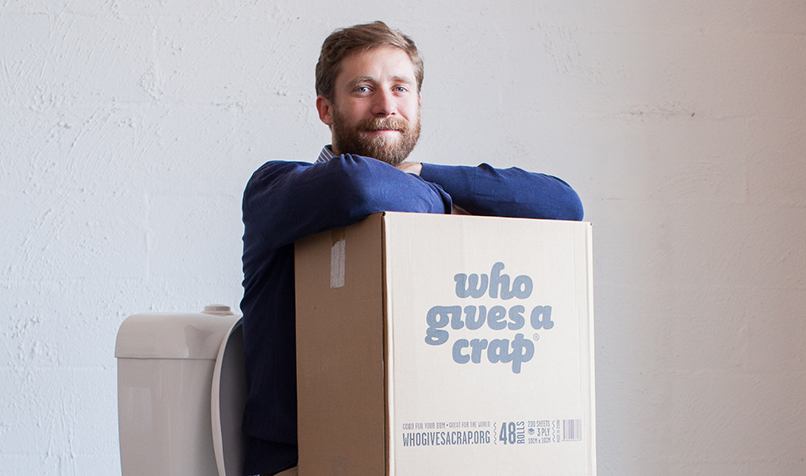 "We love toilet paper because, for us, it's our way of making a difference," says Simon Griffiths. "We started Who Gives A Crap in 2012 when we learned 2.4 billion people across the world don't have access to a toilet. That's roughly 40 per cent of the global population and means that [people with] diarrhoea-related diseases fill over half of sub-Saharan African hospital beds. These diseases kill 900 children under age five every day."
Griffiths helped set up social enterprises ripple.org and Shebeen Bar in Melbourne, before starting Who Gives A Crap with Jehan Ratnatunga and American industrial designer Danny Alexander. Alexander had previously worked with Method, one of the largest eco-home products companies in the US.
Who Gives a Crap now has 18 full-time employees. "I think we all thought it would be a success, but the way it has been successful has definitely been unexpected," says Griffiths. "We didn't expect that selling toilet paper would work well as an e-commerce business or that we'd see the level of loyalty and engagement from our customers that we do see every day.
"We have team members working in seven cities across three continents. This has been great as it has allowed us to hire the best talent, wherever they may be," Griffiths says.
Long Street Coffee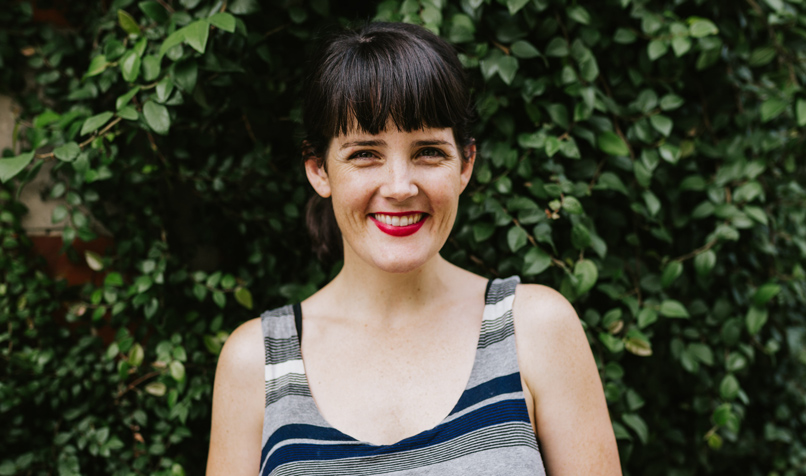 At university, Jane Marx and her husband, Francois, did volunteer work with young refugees. "A lot of the people we met were struggling to find work, and not having a job was proving to be a huge barrier in their attempts to rebuild a life," she says. "We decided to open a cafe that would provide paid training opportunities to young refugees, so they had the skills and confidence to secure that vital first job."
While the couple knew the hospitality trade, there were challenges to opening their cafe in Melbourne's Richmond. "We knew nothing about how best to structure a social enterprise, and we had very little start-up funding. It took a lot of hard work and creative thinking," she says.
"The cafe is structured as a conventional business and we use funds generated from trade to pay our trainees' and trainers' wages. We receive a lot of support from local businesses and individuals, who donate their goods and time to Long Street. This allows us to allocate extra funds to our program.
"This has worked well for the past two years but, increasingly, we are having to knock back potential funding because we aren't a not-for-profit. Recently, we registered a not-for-profit that will operate alongside Long Street. The not-for-profit is tasked with expanding our operations and our training program," Marx explains.
"It's a bit of a hybrid model, but we're confident it's the best way to scale substantially, while maintaining self-sufficiency."
Bettr Barista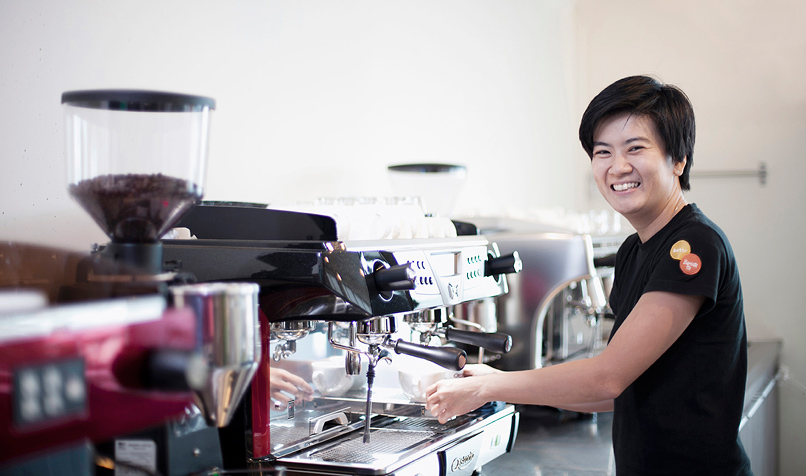 Bettr Barista's holistic training program for marginalised women and at-risk youth in Singapore goes far beyond barista skills to offer classes that build emotional resilience, coping/life skills, self-defence skills and physical endurance, says Bettr Barista founder Pamela Chng.
Profits from other areas of her coffee academy mean that the 12-week program is available to those who need it for a fraction of the usual fee. The program has generated over S$500,000 in salaries to date and some students have become certified adult educators running their own classes.
The business partners with 62 social and government organisations, Chng says. "We have been fortunate to have had a lot of community support, as well as funding support from Singapore's Ministry of Social and Family Development and corporates such as DBS Bank and NTUC Income, which helped launch micro-enterprise retail community coffee carts."
Bettr Barista now employs 30 staff and, since it started in 2011, it has trained 3000 people from 26 countries and served 94,000 cups of coffee.
Capacity International
A big heart isn't all that's needed to sustain a social enterprise. Consulting group Capacity International is filling a knowledge gap by helping budding social entrepreneurs write strategy and design projects. They also advise on how to measure performance and assess social impact.
"For the past year we've been trying to focus on the smaller end of town – micro-businesses and students – they have great ideas but often they have no business acumen and no access to business advice," says Miles Deayton from Capacity International.
"We do workshops, explain what a marketing plan is, give them information around regulation such as tax returns and WorkCover. If they don't have access to that information and support, people can't do as well as they should and that's a shame."
He believes Australia's 20,000 social enterprises need to be cultivated.
"Let's get sensible regulation," he says. "Our greatest fear is that government will get too heavy-handed. We've got to do something to make a not-for-profit sustainable."