At a glance
According to the Financial Reporting Lab of the UK Financial Reporting Council (UK FRC), corporate reporting will move towards augmented reality (AR) and virtual reality (VR) technology in the next five to 10 years.
The UK FRC identifies three levels of implementation of digital technology that comprise add-ons for supplementary information, as well as a possible fourth level that involves enhancing the user's understanding of the report with AR and VR.
AR and VR could present information about long-term performance in a more informative way than static graphs or charts.
The global pandemic's role in moving us towards leveraging digital technologies in our everyday lives is so widely acknowledged that it has spawned a meme: "Who led your digital transformation? CEO, CIO or COVID-19?"
The question is, how far will companies go in uprooting conventional ways of doing business?
Will the pandemic-driven momentum of the past 18 months push the corporate world to adopt concepts that are just now reaching maturity, such as augmented reality (AR) or virtual reality (VR)?
Corporate VR was already picking up in niche applications when the pandemic hit. Johnny Lam CPA, partner at PwC Hong Kong and deputy president of CPA Australia's Greater China Division, says a client recently used VR as part of a safety training program on a construction site. Lam tried out the training himself.
"It has a simulation of how I would feel if I fell from 40 metres above the ground. I didn't put the safety belt on, then I lost my balance. I hit the ground and saw my blood coming out. It is so real – you can feel the freefall," Lam says.
Augmented vs virtual reality
AR and VR sound similar, but provide quite different user experiences.
AR overlays the live view of the real-world environment with digital objects and information. The Pokémon GO phenomenon has served as AR's global "launch party".
Hordes of teenagers – and quite a few adults – have been rushing around their neighbourhoods, nose in their smartphone, tracking and capturing virtual monsters.
One of the most popular non-gaming AR apps is Houzz, a home improvement app with an e-commerce store. Users can select "View in My Room 3D" to place a photo of a couch they may wish to buy within the camera view on their smartphone.
Houzz uses 3D technology to produce a lifelike representation of the new item of furniture, taking into account the lighting angles and floor position.
AR can run on smartphones, heads-up displays in cars and see-through eyeglasses.
VR, on the other hand, creates an entire virtual world for you to explore. In some cases, it requires a pair of all-encompassing goggles, a handheld device for interacting with objects and a powerful computer to continually create the virtual world and everything in it.
The VR world can be a terrifying, demon-infested spacecraft or a delightful walk-through of a virtual recreation of Buckingham Palace.
Uses in corporate reporting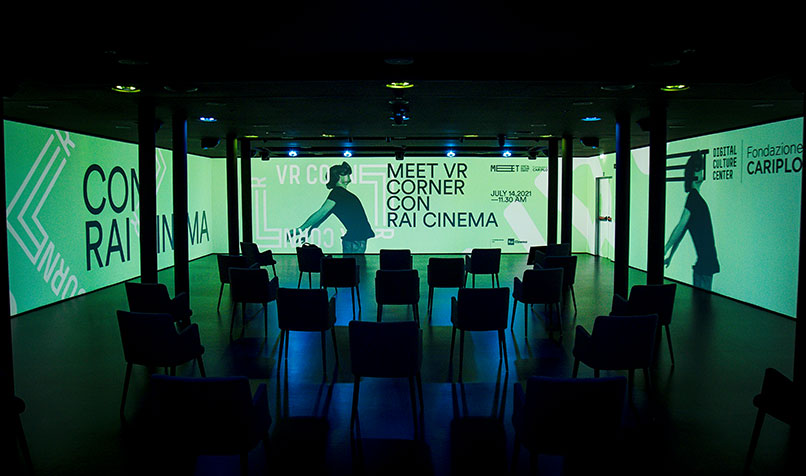 The idea of using AR and VR in corporate reporting is gathering momentum.
In February this year, the Financial Reporting Lab of the UK Financial Reporting Council (UK FRC) published a research report that divides digital experiments in corporate reporting into three levels of implementation.
The first level involves adding QR codes into a document to allow users to watch videos, slideshows or other multimedia containing more information about a particular topic. Alternatively, the code could launch a document such as a sustainability report or take users to a digital version of a paper report.
This approach is simple, low-cost and easy to implement, with users able to access additional content without leaving the physical report.
The second level involves creating a virtual "front end" for a report using VR or 360-degree panoramas. This is a more engaging way to explore reports and works especially well when focused on a specific theme.
However, when it comes to an annual report, this approach only works for the digital version, which needs to be supplemented by a PDF or hard copy.
The third level involves a fully virtual report environment, which users enter to interact with a mixture of video, photographic and textual content. Rather than replacing the traditional annual report, the aim of the virtual report is often to provide an engaging summary, with links back to the full annual report.
The UK FRC has proposed a possible fourth level, where VR and AR could be used to enhance the user's understanding of the annual report.
"Annual reports are most powerful not when they simply tell the story of a single year, but when they tell how a company evolves and changes," the report says. "Investors often highlight the need for comparative information over several years to help predict the company's future."
AR and VR technology could present information about long-term performance in a more informative way than static graphs or charts.
For example, it could be used to create business modelling that evolves and changes as the user moves across the reporting timeline, or 3D graphs and charts that create insight into the company's performance.
The UK FRC outlines several areas for future development and improvement for using AR and VR in reporting.
Event-based reporting includes scheduled events such as annual or interim results, annual general meetings or shareholder meetings. As a result of the pandemic, videoconferencing has become a very common way to conduct these meetings, and this fits well with the use of AR and VR.
Insight reporting covers examination of a company's operations, business model and products through meetings with management and site visits. AR and VR offer an alternative to physical meetings and have already been used by companies to provide product and operational insights.
Aspirational and narrative reporting encompasses everything else within corporate communications. Again, video is already a commonly used medium, and AR and VR offer the opportunity to turn the viewer into a participant within the narrative.
"This makes VR and AR ideal for communicating emotive subjects such as sustainability, and corporate purpose and history," the UK FRC says.
Setting and maintaining standards
Environmental, social and corporate governance (ESG) reporting has been rising in importance over the past decade.
In Malaysia, companies have also been moving towards integrated reporting.
"During this period of the COVID-19 pandemic, ESG reporting has become more important, and clearly demonstrates the commitments of corporates to our society," says Alex Ooi FCPA, executive officer of the Audit Oversight Board.
There are currently no specific assurance standards on ESG reporting, with or without virtual reality technology, says Ooi.
"We always encourage transparency in reporting. If you just have so-called visual augmented reporting, everything will just be 'fluff'. There must be standards to ensure that companies report the bad as well as the good."
Michael Davern CPA, professor of accounting and business information systems at the University of Melbourne, agrees that, while the pandemic will result in an influx of new ideas to the reporting landscape, a regulatory mandate is essential.
Davern points to the example of the reporting language, XBRL. It brings powerful search and information analysis to digital reports, but its use in Australia is limited because there is no regulation to enforce it.
He is concerned that AR and VR are solutions in search of a problem, rather than the other way around.
"I don't see this as enhancing the dialogue between investors and management, because the scarce resource is always the time of management. As a shareholder, I can't call the CEO of Wesfarmers and talk to him about how he's going to manage things next year. Is this going to change that? No."
Davern sees the most likely application of AR and VR in aspirational and narrative reporting – and most likely to put a "shiny spin" on what is coming next rather than provide substantial information.
The UK FRC agrees in its report – AR and VR work best when used to enhance understanding of intangible aspects, and for a wider audience than time or distance usually allow.
A time yet to come
While we already walk around with augmented reality devices in our pockets, the technology's widespread adoption is still some years away. The FRC concludes that corporate reporting will fully turn towards AR and VR in five to 10 years.
"The ability for VR and AR to bridge between the physical and the digital gives it a useful role in supporting and building understanding about a company, its business model and its operations at a distance and scale," the report says.
"VR and AR need to overcome several regulatory, cost and user challenges before they become a key mechanism for company reporting."
How AR and VR will affect audit
The most promising crossover between AR and VR and audit is the site visit. Site visits can take up a lot of time, are expensive and are difficult to do when travel is restricted.
Johnny Lam CPA sees a strong argument for AR and VR in stocktakes, for example. PwC Hong Kong may deploy as many as 20 staff on one project in Mainland China, and it can take a day of travel simply to get to some of the more remote factories.
"Maybe, with VR, I can send two staff with a camera to look at the whole facility and ensure that what I see in the 'virtual reality' is the same in the real world," Lam says. Then, his colleagues could do the stocktake from their office rather than onsite.
It is a similar story for financial or operational due diligence. Lam has a client with a construction site in South Asia, but he can't send staff there because of COVID-19 restrictions.
The big question is who controls the camera, says Professor Michael Davern CPA. "Is there some assurance or authenticity? Does the auditor get to 'drive' and say, 'I want to look in this direction'? Then, how do you protect staff privacy or not reveal your trade secrets?
"We still need to work out what the processes are that wrap around these new technologies, and how you audit and manage that disclosure."
Tyler Wise CPA, director of Wise Accounting, says before auditors jump onto AR and VR, they could look to other technologies that have the potential to improve audit.
"I look forward to blockchain, with immutable data," Wise says. "You would know exactly what is in there, and it can't be altered.
"As to when AR and VR would be used in the corporate world, it feels so far away."