At a glance
Investing more time and effort into digital transformation has helped accountants accommodate the need to conduct more advisory work online during the current pandemic.
Early adopters of digital technology in accounting practices agree that, for those concerned about time and cost, there is plenty of cheap technology that can be mastered quickly.
The wave of digital transformation over the past few months means that there will be no going back to doing things the traditional way, even post-pandemic.
By Nigel Bowen
Kyelie Baxter CPA, managing partner of IQ Accountants, was not exactly blasé about having to shut down her office earlier this year, but she was a lot more relaxed about it than many other business owners.
Baxter is a Gen Y digital native and self-confessed "tech nerd", and was judged MYOB 2019 Certified Consultant of the Year and 2019 Partner of the Year (boutique firm) at the Australian Accounting Awards.
She had long ago ensured there was no real need for her nine staff or hundreds of clients to go to the office, or post, personally deliver or even email documents.
"Most of the staff, who've long had the option of working partly or entirely remotely, kept doing what they would normally be doing at that time of year," she explains. "While they focused on tax planning, another team member and I dealt with all the JobKeeper, JobSeeker and other shutdown-related client enquiries."
Baxter heard plenty of shutdown horror stories from friends in the industry throughout March and April. "Peers were expressing concern to me about clients having to drop documents off to staff members' homes," she says. "Staff having to lug equipment back and forth between the office to their homes. Staff having to commute into the office – and risk getting infected – to prevent bottlenecks forming," she says.
There were no such issues for Baxter's staff or clients.
"Our office has been paperless for years," she says. "If clients or staff need to upload or download financial statements and tax returns, they use an online portal, one that allows documents to be electronically signed. Client consultations are done via the GoToMeeting videoconferencing platform.
"The staff and I use Slack for routine communication and task management, and video conference when we need to have an in-depth chat."
Time's up
"I remember the days when I'd be handed half a ream of paper whenever I needed to review a big job," Baxter continues.
"I can also recall posting tax returns and business activity statements out to clients to manually sign, then logging, filing and ultimately archiving those signed documents. Not to mention spending countless hours doing data entry and bank reconciliations. The scary thing is that many accounting firms – I'd guess about a third of them – are operating like it's still 2005."
A decade and a half ago, Baxter began buying out the other partners in her firm because they didn't share her vision. That vision centred on leveraging technology to cut costs, driving efficiencies and making business processes less tedious and time-consuming for herself, her staff and her clients.
"It's amazing how many accountants advise clients to leverage technology, but find excuses not to automate processes themselves," she says. Baxter likens these accountants to the proverbial plumber who never manages to get around to fixing the leaky taps in their own house.
"A lack of time and money are the usual excuses, but there's plenty of technology – such as instant messaging software or videoconferencing platforms – that's cheap and that can be installed and mastered in a matter of minutes."
Baxter, a long-time digital transformation "evangelist" and member of CPA Australia's Digital Transformation Centre of Excellence, argues that there is no going back to business as usual following the shutdown.
"If you were servicing an older clientele and didn't need to attract younger staff, it was possible to keep doing things the old-school way prior to February 2020," she says, "but two things have now changed.
"First, whether or not they aspired to such a role, many accountants were forced into becoming business advisers as a result of COVID-19. Suddenly, it was no longer enough just to take care of a client's tax return; they wanted your input on how to steer their business through the shutdown and post-shutdown period.
"Second, people have gotten used to doing everything online. They aren't going to want to go back to doing things the old-fashioned way."
Oasis Dental Studio's GM is smiling
After closing down three clinics, the general manager of Oasis Dental Studio grabbed his laptop and relocated to his home office. For the next two months it was business as normal for Mark Ritchie CPA, aside from putting on a T-shirt and shorts rather than a suit in the morning.
The chain of dental clinics Ritchie runs is owned by three 30-something dentists who feel entirely at home in the digital world. Oasis Dental Studios offers remote consultations (you take a picture of your teeth with your smartphone and send it in). It also has a strong social media presence and encourages patients to make appointments via an online booking system.
Ritchie argues that the back end of the business is now even more impressive than the front end.
"We've used MYOB AccountRight since the early days and, over the past five years, have invested in a range of solutions that have been transformational," he says.
"First off, AccountRight became cloud-based a few years ago. Then we invested in Receipt Bank, which plugs into AccountRight and reads and extracts data from receipts, invoices and other documents. That eliminated a huge amount of manual data entry work.
"Receipt Bank is just one solution – there are plenty of others, such as EzzyBills and Expensify – and any accountant or CFO who isn't already using a receipt data-extraction tool should invest in one immediately. Oasis Dental Studio has doubled in size over the last two years, but I haven't had to increase the hours of our three-days-a-week accountant. That's largely thanks to Receipt Bank."
Deputy, a staff-rostering and time-tracking tool, has also played a role in keeping the accountant's workload light. "Staff use Deputy to fill in their timesheets, that data gets sent to AccountRight and payroll is sorted with no need for any manual data entry," Ritchie says.
Ritchie also uses Employment Hero to store staff contracts, as well as MyPractice Cloud, a tool that allows dental practices to collect and analyse business performance data. He is also currently considering investing in the cash flow-forecasting software Castaway.
During the shutdown, Ritchie communicated with colleagues using Facebook Workplace's videoconferencing feature.
Ritchie, who flies to Sydney every year to check out the latest SaaS (software as a service) offerings at Accounting Business Expo and Accountech.Live, agrees with Baxter that digital laggards will find it tough going from here on in.
"It's been obvious for years that many tasks are being automated, and that accountants will need to transition into an advisory role," he says.
"Whether they are in commerce or public practice, soon being across the latest technology will be part of the job description for accountants and CFOs. They'll be expected to alert their clients or colleagues to tools such as Receipt Bank and show them how to use these tools."
Videoconferencing today, globally distributed workforce tomorrow
If you are not the owner or general manager of a business (and perhaps even if you are), at this point you may be wondering how to convince your colleagues to get with the digital transformation program.
For instance, if you're the CFO of a company or government agency, exactly how do you persuade key decision-makers to embark on a program of radical change? Even if you do win over the C-suite, how do you then get buy-in from the rest of the staff?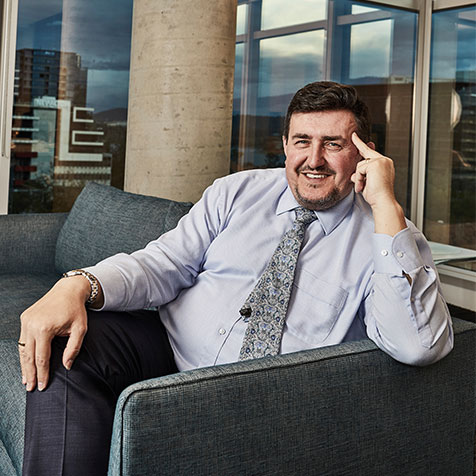 Tony Krizan FCPA is both the CFO and chief information officer (CIO) of the National Health and Medical Research Council (NHMRC), an independent statutory agency that allocates about A$900 million in funding every year to Australia's medical researchers.
Over the past 16 years, Krizan's organisation has experimented with a range of technologies.
Not all of those experiments have been an unqualified success. Yet, tools such as workflow management software, data analytics, machine learning and videoconferencing have taken much of the friction out of researchers applying for grants, as well as staff processing grant applications.
Krizan points to videoconferencing as a technology that now seems unremarkable, but which has had a game-changing impact on the NHMRC, and which is likely to have a similarly transformative effect on many other Australian organisations.
"For decades, hundreds of NHMRC-appointed committee members and peer reviewers had to assemble in Canberra or Melbourne several times a year to consider grant applications," Krizan notes.
"In 2016, the NHMRC early adopted videoconferencing. We weren't prescriptive about transitioning meetings from the physical to the virtual, but we encouraged our secretariat staff, committee members and peer reviewers to embrace videoconferencing. Whatever their initial concerns, they quickly came to appreciate the time-saving flexibility provided by the technology.
"The move to videoconferencing also meant that the NHMRC had access to a deeper and more diverse talent pool. All those people who weren't in a position to travel regularly – due to caring responsibilities or for some other reason – could now take part in committee meetings and the peer-review processes. Plus, all the money that used to go to travel and accommodation expenses could be put to better use."
Krizan has emerged from the shutdown thinking that, some day in the not-too-distant future, NHMRC staff – who are already located all across Australia – may be distributed all over the world.
"Everything is possible in a digitally enabled world," he says. "Medical research is a globalised endeavour, so it may make sense to have a more distributed workforce than is currently the case. Virtualising the assets of the NHMRC to enable staff to work and committee members to engage flexibly in a distributed manner should allow the NHMRC to continue to optimise its human resources."
Negotiating a burning platform evacuation
Whatever the next stage of the NHMRC's digital transformation journey, Krizan will keep in mind what he calls the "rule of thirds" when attempting to alter long-standing work practices and change his organisation's culture.
"As a general rule, in any organisation one-third of the people will be open to change, one-third of them will be resistant to it and one-third will be undecided," he says. "The trick is to start by convincing the undecideds. Once that's done, you try to get the traditionalists to understand they are risking being stranded on a burning platform and need to adapt to changed conditions."
Krizan's final tip for aspiring digital transformers is not to let the perfect be the enemy of the good.
"Whatever you do, the early adopters will insist you're not moving fast enough, the traditionalists will warn you you're embarking on a reckless frolic, and the undecided will be fixated on whether they'll be better or worse off under the new arrangements," he says.
"The trick to winning hearts and minds is to hammer out a compromise that all three groups feel they can live with, even if they don't get everything they want."