Bruce Jeffreys was a long-time glasses wearer who was dissatisfied with everything about the eyewear business. The glasses he relied on were expensive and easily broken, especially with young children in the mix, and ordering a replacement pair took weeks.
"I couldn't really understand why the product was so bad," he says.
Jeffreys already had one successful business venture under his belt, having launched GoGet in Newtown in Sydney's inner-west in 2003. Back then, the sharing economy was in its infancy, and car-share was yet to enter the common lexicon.
"We started very small – with just three cars and 12 members – and that's grown to over 110,000 subscribers across five cities, accessing a fleet of over 3000 vehicles," he says. "It's one of the biggest car-sharing schemes in the English-speaking world."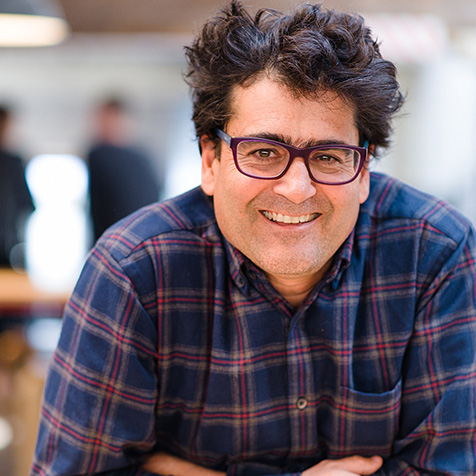 GoGet sprang from Jeffreys' desire to solve a problem: our cities are overrun with cars. "A lot of streets, especially in the inner-city areas, are full of parked cars that are hardly used," he says. "GoGet was about trying to open up more green space."
He applied the same problem-solving faculty to the business of eyewear. If you had a blank sheet of paper, he mused, what would be the best service you could come up with?
The answer was Dresden Vision, an entirely new business model – one that prioritised accessibility, affordability and sustainability – that would disrupt the traditional eyewear industry.
First, Jeffreys, with business partner Jason McDermott, radically simplified the product, creating a modular frame in collaboration with industrial design firm Vert.
They offered just one style in four sizes and hundreds of colours. The frames, made from ultra-durable, fully recyclable nylon, are easily customised with interchangeable and replaceable parts. They are also affordable, with prices starting at A$49 for a pair of prescription glasses with standard lenses. The glasses can be ordered online, and the German-engineered lenses are cut in store.
"It's quick to get, quick to replace – it means you can get on with your life," says Jeffreys. "The current industry puts you through a very long sales process, which is all about upselling you all the way along. We're focused on what you need."
Dresden partnered with Astor Industries to produce the frames in Lakemba in Sydney's west. "We're the only mass producer of prescription eyewear in Australia now," says Jeffreys. "All the others have closed."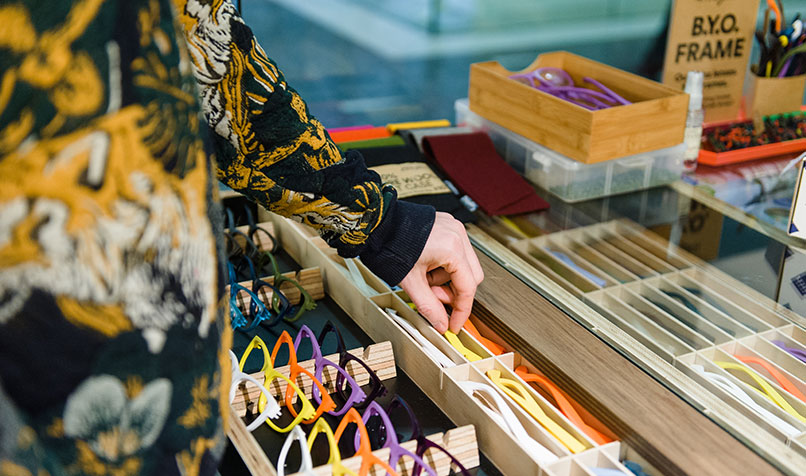 A commitment to minimising environmental impact informs every aspect of the Dresden business model. The frames are made from both new and old plastics in a closed loop system, with production waste and reject parts collected and fed back into the system. On paper, creating a zero-waste product was easy, says Jeffreys. In practice, finalising the manufacturing process is anything but straightforward.
"It's part art, part science," he says. "It's not as predictable as you'd think."
Dresden has so far created frames from beer keg caps sourced from local Sydney brewing companies, marine debris collected from Byron Bay beaches, ghost fishing nets found on the Arnhem Land coastline, milk bottle tops from cafés, and offcuts from Australian polymer banknotes.
Establishing which repurposed plastics work as a manufacturing material is a process of constant trial and error. "For every one that we're successfully selling, nine have failed," says Jeffreys.
Dresden currently has 14 stores in Australia, New Zealand and Canada, including two new outposts in Brisbane and Canberra. "We're now scaling it online, across countries and physically in-store," says Jeffreys. "We've worked out what we're doing – it's going well, and the customers are loving it."
One piece of advice
"It's a really long road – starting up a new business is like running a marathon. It's not about sprinting at the start, it's about a steady pace for a lot of kilometres. The longer you're in the race, the more opportunities come your way."