When Blake Woodward and his wife were expecting their first child four years ago, they were able to make some choices based on options that would never have been available to their parents.
Both work as consultants at PwC, where the parental leave policy is for 18 weeks of leave on full pay – for both parents – which has to be taken within the first year of the child's life.
This can be taken flexibly. It can be 36 weeks at half pay, or a few days off a week to make up the 18 weeks over a longer period. Unpaid leave can also be taken up until the child's second birthday.
The decision the couple made, and one that may not have been made by many earlier generations, was that Woodward would take the initial period of leave and be the primary carer, while his wife continued to work full time.
"My wife was on the verge of a senior leadership position going into the partnership, so it was important for her, if she was going to try and keep her career, that she stay at work," Woodward says.
"She felt she needed to get back to work sooner rather than later, and that made the decision for me to take parental leave much easier."
Four years on, and the couple now have two children, are both still at PwC and have configured the company's leave policies to work best for them.
When their second child was born 14 months ago, Woodward took two months of leave upfront when the baby arrived and then – after the paid 18 weeks of leave ran out and amid the pandemic disruptions – decided to take unpaid leave.
The couple's choices – and the company's parental leave policies – have meant that both of their careers advanced while they also started their family.
"We have both received promotions in the last few years, and the leave policy has meant we are better able to support each other and do more of the caring when the other person needed to put the accelerator on their career for a period," Woodward says.
"It has also meant that both of us are equally skilled and equipped to care for our kids, so if one needs to work late or has to travel, we are absolutely able to leave the kids with the other partner at home."
Carefully planned parental leave, enabled by PwC's policies, has benefitted the Woodwards' family life and careers, but the situation is not the same everywhere else in professional Australia.
One female accountant in Adelaide, for example, recounts her own parental leave experience as one that compromised her career. She asked for anonymity, because she still works for the company, a local mid-tier accounting firm.
"We had a leave policy, and I did take everything I was entitled to, but when I came back to work, I would say I went through a period of invisibility," she says.
"Most of my key clients were given, permanently, to male colleagues, and it was as if I was starting my career again. I just didn't feel that there was support for me, both as a mother and as a professional – it was one or the other."
Her experience points to the historic downside from years of entrenched attitudes – female employees risk their careers when they become mothers, including lower pay and a lower superannuation amount at retirement.
This divide still persists today and has been exacerbated further by COVID-19 disruptions, with women comprising a higher percentage of part-time or casual workers and thus more vulnerable to being sacked and less likely to be eligible for government support programs.
Annabel Crabb, chief online political writer at the Australian Broadcasting Corporation (ABC), has written extensively on the issue of parental leave, and has a deep understanding of shifting cultural attitudes through her work on the ABC program Back in Time for Dinner, which looks at social customs over decades.
A mother of three, Crabb has shared the parenting duties with her partner, and agrees that gender inequality when it comes to parental leave disadvantages both sexes.
"There was 2016 research by Bain & Company, which showed that men are twice as likely to have their requests for flex work rejected, because we have this underlying set of assumptions about whose job it is to look after the home and children, and whose job it is to be principal bread winner," she says.
"I feel sorry that a lot of men have missed out on being a bigger part of their children's lives because of these assumptions, and it's heartening now to see the change, particularly among larger organisations."
Crabb says she would never argue that men and women have identical needs, but says the system continues to have expectations that women will change the way they work when they become parents, while there were no matching expectations for men.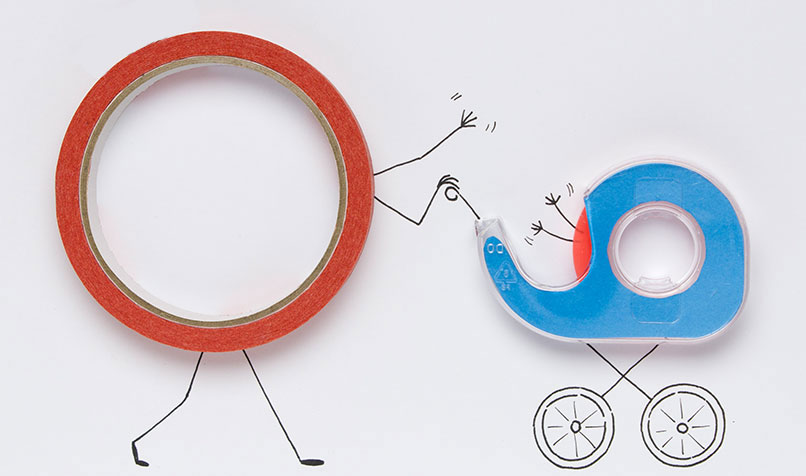 She points to the contrast between public comments about New Zealand Prime Minister Jacinda Ardern, who became a mother while in office, and lower parental expectations of Australia's Prime Minister Scott Morrison, who is also a father of a young family, as a high-profile example of this double standard.
"Raising a child is a fraught process. It takes a huge amount of attention and is a hell of a juggle, but it's time to stop looking at it as a woman's juggle and start seeing it as a human juggle," she says.
Although Australia has had legislated equal pay for men and women since 1969, the Workplace Gender Equality Agency recently estimated the national gender pay gap at 14 per cent, which means that women must work an extra 59 days in a year to earn the same average wage as men.
This is reflected in superannuation, with Industry SuperFunds research showing that women currently retire with nearly half – or 47 per cent – less super than men, equating to about A$90,000 less in retirement savings.
The wheel of change, it seems, turns slowly. What was once "maternal leave", for example, is now called "parental leave", but while that term indicates gender equality, the most recent ABS data from 2017 shows that just one in 20 Australian fathers – or 5 per cent – takes primary parental leave.
Woodward says he experienced a significant online backlash, from both men and women, when his parenting experience inspired him to set up a website, Suit Tie Stroller, to support corporate dads.
"The ferocity of some of those comments did take me aback," he says.
"There was a lot of pushback about a man's role to be at work, and that I was a failed dad because I was letting my spouse go back to work while I did the caring.
"My point is that dads, mums and kids all benefit from gender-equal policies, and the employers can, too, but right now less than 50 per cent of Australian businesses have a parental leave policy, and very few of those extend to dads."
Since 2011, Australia has had a federal government scheme in place that funds paid parental leave at the minimum wage for 18 weeks.
This is available only for mothers, adoptive parents or other people – such as fathers or grandparents or other family members – in exceptional circumstances.
For many progressive firms, the government mandate is a low benchmark, which best practice contemporary human resource policy well exceeds.
In the world of best practice, parental leave is fully funded and flexible, available to both parents and even extended to grandparents.
This is not only equitable, but can build the organisation a reputation as an employer of choice and help it attract and retain the best talent.
Nicholas Vayenas, managing director at Liquid HR, says he has "100 per cent" been in recruitment situations where candidates have chosen one organisation over another based on entitlements such as parental leave.
Vayenas works with many organisations, particularly small and medium-sized ones, that see parental leave as "covered off" by the national legislation and not warranting any further discussion or action.
Echoing the experience of the female accountant from Adelaide, Vayenas also identifies re-integration of parents back into the workforce as a key issue.
"This is the challenge that doesn't get addressed as much as it should, and I really see female employees struggle with it," says Vayenas.
"Caring for young infants and building a career at the same time can create tensions, so this is really the point where an organisation has the opportunity to manifest an environment of genuine consideration and flexibility."
One accounting firm that has won plaudits for its approach is the Melbourne practice of federated national firm Pitcher Partners, an office with just under 50 partners and 750 employees.
There, Krithika Hansen, director – people experience, has been involved in implementing a scheme that offers 14 weeks of fully paid leave to both mothers and fathers, which can be taken in flexible blocks. One week is also available for staff who are new grandparents.
The program also comprises transition training for parents returning to work, and 10 paid days to come into the office for professional development sessions, team meetings or firm updates.
"These people are our talent, and the policy is really important for retention, because these are the people we want to keep in our firm and grow," says Hansen.
When the scheme was originally implemented three years ago, seven fathers applied for leave.
"Initially, there was a feeling of 'Is this really happening?', but it's really become the norm, and the second year the number of dads taking leave doubled," she says.
"When a male employee learns they are about to become a father, we start planning their leave with them, and it's helped in the sense that they understand they can be a really great employee and can also support their family, so it's about balance."
Hansen says the firm aims to be a leader in parental leave, but is waiting for the aftermath of the COVID-19 disruptions to see what changes might be appropriate.
Already, she says the "integration of life and work" has been heightened during the lockdowns, and many things may never be the same again.
"We are seeing children run in and out of people's home offices during meetings, so the last six months have really demonstrated the blurring of those lines," Hansen says.
Crabb agrees, and believes that cultural change on parenting and gender equality could be one positive to come out of the pandemic.
"All the research shows that young fathers are more interested in flexible work and, with intensive competition for quality recruits, I think offering an attractive parental leave and flexible work package is going to become more important," she says.
"Judging from [last] year, it is quite possible to change work practices very, very quickly, particularly if you have a pandemic to help.
"One of the really intriguing things about the last six months is seeing how swiftly even large organisations can completely change the way their workforces approach a working day, without a significant loss of productivity."