At a glance
The first chatbot, ELIZA, was created by Joseph Weizenbaum at MIT in 1966. It was a therapy bot that used keywords to reply with a scripted response.
On Facebook alone, 300,000 chatbots are active and more than eight billion messages are exchanged via chatbots every month.
Ray Kurzweil, an inventor, futurist and engineer at Google, has predicted that chatbots will have human-level language ability by the year 2029.
Go to a website, and you will likely notice a chat window pop up on your screen with an offer of help or a greeting on behalf of a brand. These are chatbots.
Some are so human-like, you could be fooled into thinking you were talking to a real person, for example, Mitsuku, the world's best conversational chatbot and five-times winner of the Loebner Prize Turing Test – the international contest for the most human-like chatbot.
Others, in contrast, go into an infinite loop of the dreaded "Sorry, I don't understand" response when asked the simplest of questions.
Because chatbots can be set up on websites and within messaging platforms such as Facebook Messenger, Slack and WeChat, they have become ubiquitous in the digital world.
A 2019 SurveyMonkey and Drift survey of more than 5000 adults in six countries found 70 per cent of respondents had used a chatbot to interact with a brand in 2018.
What is a chatbot, exactly?
Virtual assistants. Voice bots. AI bots. These terms are used interchangeably.
Simply put, chatbots are "computer programs that can engage in human-like conversations by text and voice", says LyeKing Tho, segment leader of Watson AI at IBM ANZ.
Conversational AI is the technology that is the brain behind a chatbot. It uses natural language understanding (NLU) and machine learning to understand what the user is saying and reply with a relevant answer.
For example, when a user says, "Hi", NLU helps the bot identify this as a greeting and respond with a similar greeting.
Although chatbots come in different forms, and with different functionalities, Tho identifies two types most commonly used by businesses.
The first type is rule-based chatbots, which use pre-set rules and scripted responses to help users complete a task.
"These chatbots are used mainly for conversations that require a deterministic answer like a yes or no," Tho says.
The second is AI-powered, conversational chatbots that understand what the user is saying, grasp their preferences, ask them for more clarification and respond within the context of the conversation.
Next-gen chatbots
In addition to the text-based chatbots, voice bots are being hailed as the next-gen chatbots.
Simon Stefanoff, director and voice and conversational AI lead at Deloitte Digital Australia, says although voice-enabled chatbots are relatively new to the market, there is a global trend to move towards conversation as an interface.
"Voice bots allow you to have a completely different kind of customer experience because you don't have to be in front of a device," Stefanoff says.
Voice-assisted technologies such as Amazon Alexa and Google Home can give back a small amount of independence in daily life, and are rapidly expanding into our cars, headphones and a variety of household appliances.
They provide a new channel for customers and are already being used to solve problems in the education, financial and healthcare industries.
What problems can chatbots solve?
Chatbots have often faced criticism for being hype. Initial chatbots failed to deliver real value for businesses because of unclear purpose and poor planning, according to a 2017 report by Forrester Research.
Tho insists, however, that in the past few years, enterprise businesses are achieving tangible goals through the use of chatbots.
"The AI systems that we're developing are capable of understanding what the user is saying and responding within the context of the conversation," he says.
Lisa Bouari, director of conversational AI company OutThought, says chatbots are past the point of hype, and businesses have started to materially benefit from these technologies.
Getting started with chatbots
Too often, brands and businesses adopt new technologies without a clear purpose. To make it worse, they don't make it clear to the customer how the new technology will help with a task, potentially leaving both with a bitter experience.
Bouari believes chatbots have received undue bad press because businesses have implemented chatbots to solve an overly complex business problem.
"Chatbots go wrong when businesses expect the bot to answer wildly varying topics or they try to replace an entire application with a bot."
The result is that businesses need to integrate chatbots with the workforce, not replace humans.
Assuming that technology is going to do the work for you is a misconception, says Stefanoff. "The world of AI is about how it can help humans do their job better, so the repetitive work can be taken care of by the bots, freeing humans to use their knowledge of the business and empathy to solve challenges."
How your business can use a chatbot
Stefanoff advises those looking to integrate chatbots in their business to start by understanding the business and the interactions customers are already having with your brand.
The next step, he says, is to identify opportunities where AI can be used to codify routine, repetitive jobs or improve customer experience.
IBM ANZ's LyeKing Tho suggests a hackathon approach to find out how chatbots can deliver value to your business. "This will ensure you build an MVP [minimum viable product] quickly, test it out with your customers, see if it produces good results and then release it on a scale."
After identifying a case for use and the scale of the project, the final step is to review the technology platforms and vendors that can help you build voice and text bots. The big players in this space include IBM Watson, Amazon Lex and Google Dialogflow.
Building and setting up a chatbot is a process of continuous improvement. "You design, build and train the chatbot, release it, and continue to test and train it so it gets better over time," advises Stefanoff.
Bots in action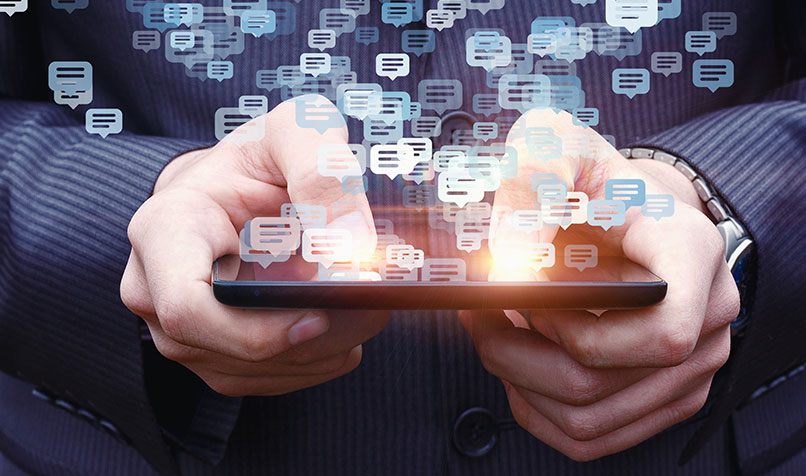 Chatbots are here to stay, and can drive real value.
Chatbots are well on the way to being established drivers of material value for businesses. They enhance customer experience, and are ever-present in the channels customers interact on frequently. Here's what a chatbot can do for you.
1. Enhance customer service. It is a common myth that a chatbot is some sort of customer service superhero that can replace human agents. "Chatbots are an opportunity to augment the capabilities of customer service operators and improve overall customer experience," Stefanoff says. "In many organisations, chatbots will not manage entire conversations, but focus on the small and time-consuming tasks."
Bot in action: KLM Royal Dutch Airlines' bot, BlueBot, is adaptable to almost any device or channel. If customers are not able to have queries answered by BlueBot, they are automatically referred to service staff.
2. Always on. Chatbots cater to millennials' demand for instant, digital connections. A 2018 survey conducted by SurveyMonkey and Drift found consumers prefer chatbots over other methods of brand communications such as email, live chat or social media because of their 24/7 availability.
Bot in action: New York-based mattress start-up Casper wanted a new way to engage potential customers, so it created a promotional bot called Insomnobot-3000 to keep users company when they can't sleep at night (the bot is active between 11pm to 5am).
3. Be where the customers are. Over 2.5 billion people use messaging services, according to a 2017 Georgian Partners report. "With chatbots, you can be present where your customers spend most of their time, and in where you want to attract and grow your customer base," Tho says.
Bot in action: Beauty retailer Sephora has separate bots for Kik and Facebook Messenger to engage with audiences across diverse demographics.
4. Automate routine work. Chatbots can ensure professionals are not buried in mountains of admin work and "free up their time for creative problem-solving".
Bot in action: H&R Block trained an AI-powered bot on 600 million data points including tax filing information, types of tax forms and articles to assist its tax professionals to prepare tax returns for clients.
5. Personalise user experience. Brands can deliver a better one-on-one experience through chatbots set up within personal accounts. Each conversation can feel like a 1:1 interaction as it'll be context-aware and informed by past interactions, according to Deloitte Australia's Conversational AI 2019 report.
Bot in action: Ceba, Commonwealth Bank of Australia's chatbot, is a virtual banking assistant that helps customers with a range of day-to-day banking tasks including ordering a statement and updating contact details in real-time from within their bank account.
6. Making information accessible: many websites offer search assistant bots that ask the topic and provide links to relevant content, saving users from endless scrolling through web pages.
Bot in action: UBank's RoboChat is the first AI bot for home loans. Trained on customer questions submitted via a LiveChat on the bank's website, this bot can answer hundreds of questions on core topics.
7. Enhance shopping experience. According to a 2017 HubSpot Research study, 47 per cent of shoppers are open to buying items from a chatbot. "With a bot, you can say you are looking for a medium black T-shirt and the bot will give you all the available options," Stefanoff says. "You can then go back and say you want a different colour or style, and the conversation unfolds naturally." Conversational commerce is in its infancy, but it has a bright future, he says.