Cloud storage services such as Dropbox, Google Drive and Microsoft OneDrive have become hugely popular, and for good reason: they're free – at least for a certain amount of storage – and they're very easy to set up and synchronise files between your computer, cloud account and other devices.
However, there is an alternative: setting up your own "cloud", using a device such as a network attached storage (NAS) appliance.
NAS vs cloud
Why would you want to do so?
Privacy and compliance are two possible reasons, because with a cloud service you're relying on a third-party provider and your business files may well be hosted in overseas jurisdictions.
Performance is another reason, particularly if you use large files. Cloud storage relies on your internet connection, while on-site storage devices run over a local area network (LAN).
While broadband is getting faster, performance over today's fast wireless (802.11ac) and wired (Gigabit Ethernet) networks is still lot quicker.
Then, there's cost. Cloud services are free if you have a limited amount of storage – ranging from 2GB to 15GB, depending on the service.
The greater your storage needs, the better cost equation is for a NAS appliance.
For example, the cheapest 1TB and 2TB Dropbox plans cost A$139 and A$210 per year respectively, whereas a 1TB NAS disk is a one-off cost of around A$85, and a 4TB NAS disk is less than A$200.
Sure, the NAS appliance itself is an additional upfront cost, but with no annual cloud subscription renewals to worry about, it should pay for itself over the medium term.
More than just storage
Of course, cloud storage services have their advantages, not the least of which are convenience and flexibility.
There's no need to set up a hardware device or install new drives as your storage needs grow.
With a cloud service, you simply sign up and install an app to get started, and buy more storage online if you need it.
The better cloud services also over advanced features such as collaboration tools and the ability to recover a deleted file or go back to a previous version for a certain period of time (typically 30 days).
In addition, both Google and Microsoft offer powerful online Office suites.
However, the software provided with NAS appliances has improved dramatically over the past few years.
For a start, they often offer Dropbox-like apps that allow you to synchronise files between your computer and the appliance, and even access files on the NAS over the internet from another computer or mobile device (with security controls, of course).
That's just the start.
For example, Synology's NAS appliances come with DiskStation Manager (DSM) software, which offers a wide range of apps – including its own Office-style suite, with Document, Spreadsheet and Slides applications that are compatible with Word, Excel and PowerPoint.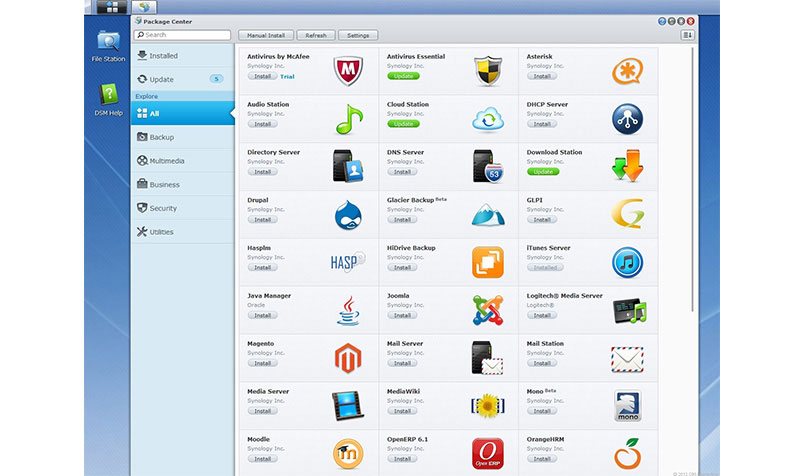 A Google Drive-like environment
DSM also features a fully-fledged email server, chat and document collaboration tools – so potentially, your business could have its own Google-like application environment, but on-site instead of in the cloud.
In addition, DSM also offers various file management and back-up tools, including the ability to sync with a cloud storage service for extra data protection, along with advanced security tools.
There are also add-on packages available, which make it easy to install third-party applications ranging from SugarCRM to WordPress.
We've considered Synology DSM here as a good example of what NAS appliances can offer, but other brands such as Asustor, Netgear, QNAP, Thecus and Western Digital also bundle useful file management, back-up and other business applications.
They vary significantly in their ease of use and range of apps on offer – even between models from the same vendor – depending on whether the appliance is designed for home, small business or large enterprises.
Be sure to do your homework before making a purchase.
What to look for when buying a NAS appliance
As well as the bundled software on offer, there are many other features and specifcations you may need to evaluate when buying a NAS appliance.
High-end models are now effectively file servers, offering advanced IT admin tools such as support for virtual machines or containers.
Entry-level models, however, are generally more user-friendly, so here's a quick guide to the basics.
The first thing to consider is the number of bays available – referring to the number of disk drives that can be installed, ranging from one to 20 or more. Cost ranges accordingly from around A$120 to over A$10,000 – and be aware that they're often sold "diskless" (without any actual storage).
It's also vital that the drives you intend to use are compatible with the NAS device, including the type of drive (traditional hard disk drive or solid-state drive), its maximum capacity, physical size (3.5in or 2.5in) and interface such asSATA (serial advanced technology attachment).
Look for what types of RAID (redundant array of independent disks) are supported, as this allows you to use two or more drives together for better performance or redundancy, so if one drive fails, you don't lose your data.
You'll need at least two bays for a basic RAID, or at least four bays for a more advanced configuration that provides both improved performance and redundancy.
A simpler software alternative
If a NAS appliance seems like overkill for you, there is an alternative: software such as Resilio, which allows you to set up file-syncing between your computer and other devices.