Businesses are spoilt for choice when it comes to marketing. You can advertise on millions of websites, potentially reach thousands of new customers on social media networks, generate repeat business with email newsletters, offer online competitions and surveys, optimise your website so it appears earlier in search results and much more.
However, all this marketing effort requires time and resources, which are in short supply for many businesses large and small. Enter marketing automation platforms, which can do much of the heavy lifting.
As many as 75 per cent of marketers already use at least one automation tool, according to Social Media Today's State of Marketing Automation Survey 2019 report. They aren't just for the big end of town either, with plenty of affordable options now available for small and medium-sized businesses.
Better results
Marketing automation tools can deliver better results than DIY ones – according to a study by Liana Technologies, businesses that use them have seen a 34.9 per cent increase in the number of leads and a 37.7 per cent improvement in the quality of those leads.
Through intelligent use of data, a marketing automation platform can optimise the effectiveness of your initiatives. For example, it can track user behaviours on your website and other channels, enabling you to better understand customers' interests and intentions.
Using artificial intelligence, automation platforms can even suggest what email content is most relevant to different types of customers – and even the best times to communicate with them.
In other words, they can help you personalise your marketing messages on a large scale, potentially resulting in more sales.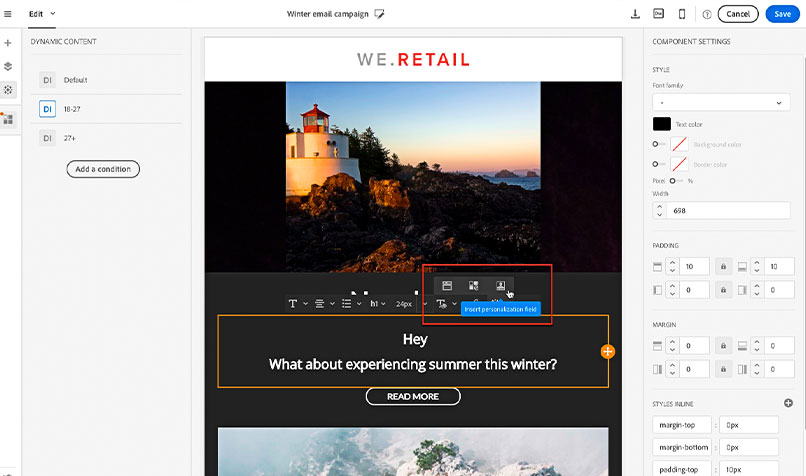 Established platforms such as Marketo and Salesforce's Pardot are fully featured enterprise products, which is reflected in their high-end pricing. Keap (formerly Infusionsoft) and HubSpot are similarly mature platforms that also offer more limited but more affordable plans.
Mailchimp has affordable (and even free) options, and now offers far more than its traditional email marketing tools.
These platforms vary in their approaches, but all offer a large suite of tools. Typically, they include the ability to create email campaigns and landing pages, rank leads based on their likelihood to buy, create market segments, measure the success of campaigns and more.
They also include, or integrate with, customer relationship management (CRM) systems for keeping track of leads.
These platforms can automate labour and time-intensive processes such as setting up automated email journeys for lead "nurturing".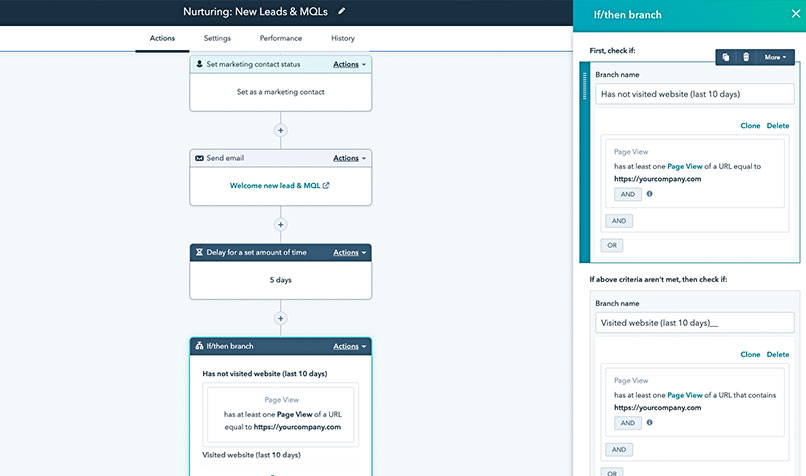 If you sell to businesses, you might send a series of emails based on where your leads are in their buying cycle – offering an interesting blog post or case study, then a video demo or an in-depth white paper, and so on.
Further along, you can offer an in-person visit and demo, integrating the sales process into the customer journey.
If you sell directly to consumers, the automated process might start with a discount offer. You can also create journeys for existing customers, such as personalised offers to increase repeat business.
Beyond email, these platforms typically offer a host of other tools, such as the ability to send automated emails to visitors who abandon a shopping cart on your site.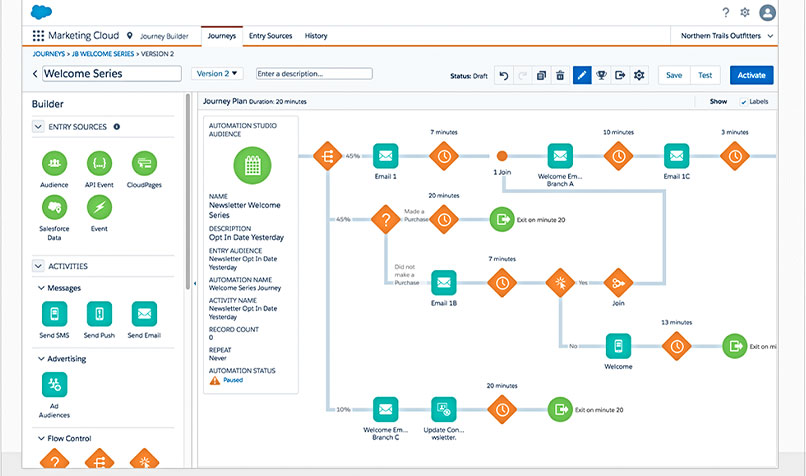 Some platforms offer social media integration, including the ability to create ads and schedule campaigns and posts on Facebook, LinkedIn and Twitter. This allows you to plan the customer journey earlier, even before they reach your website.
The likes of Salesforce Journey Builder and Adobe Campaign take this approach further, allowing you to plan and create customer journeys across email, web, mobile, social media and other channels.
If you want to schedule and post to multiple social networks at once, there are simpler apps, such as Viralpep. Blog2Social allows you to do much the same from a WordPress website.
The likes of Hootsuite and Sprout Social are more full-featured social management apps that include analytics and other advanced tools.
SEM automation
Search engine optimisation (SEO) is important to maximise your site's position in web search results. Search engine marketing (SEM) takes this further, adding paid search, such as Google Ads, to the mix.
The likes of Pardot allow you to automate SEM tasks, such as posting Google Ads and then integrating the responders to those ads into customer journeys.
Alternatively, specialised apps, such as Semrush, provide SEM and SEO automation tools. The Keyword Magic Tool, for example, can save many hours of work researching keywords for improving SEO. Semrush also integrates with the Yoast plugin, allowing you to do this research within a WordPress site.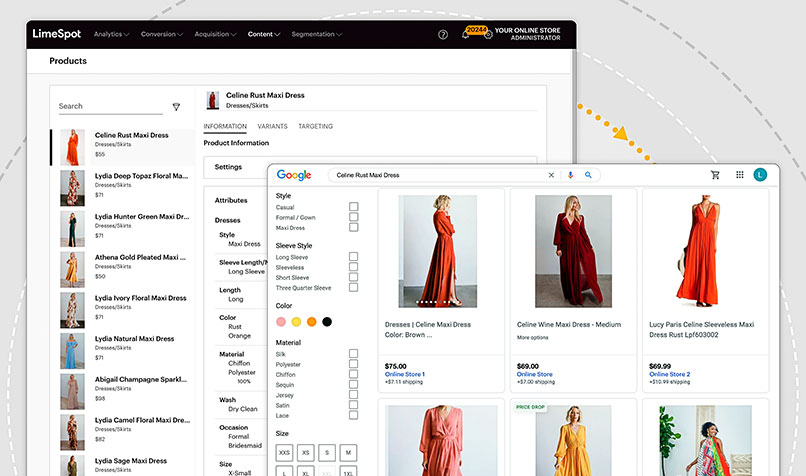 Advanced platforms like Marketo and Pardot include intelligent tools that learn customer behaviours, recommend specific email content and personalise web content that is most likely to convert leads to buyers.
Alternatively, specialised personalisation tools like LimeSpot can integrate with the likes of Mailchimp and Shopify.
LimeSpot recommends email messages for specific segments and allows you to add personalised product recommendations to an e-commerce site.