Not so long ago, smartphones looked much the same – and not all that dissimilar from the original iPhone launched in 2007.
Yes, they'd become faster, slimmer and chock full of features. Their cameras were now capable of stunning images and their screens much bigger and better. Yet the basic design of smartphones seemed to have reached a peak – until last year, when the first phones with foldable screens appeared.
Now, a new wave of foldable smartphones is arriving. At this stage, they're all Android devices, although Apple is reported to be exploring the technology.
Here's how the new handsets stack up against conventional smartphones.
Samsung Galaxy Fold
One of the first out of the blocks, the Galaxy Fold has two screens: a 4.6-inch front display for easily accessing apps and, on the inside, a 7.3-inch display that unfolds like a book.
Having postponed the Fold's original retail launch, Samsung has now included improvements such as an extension of the protective layer of its Infinity Flex Display beyond the bezel, and additional reinforcements to enhance the device's protection from external particles.
The Fold has some clever features, such as App Continuity, which allows you to open an app on the cover display and then automatically fill the larger display when you unfold the phone. Then there's Multi Active Window, which lets you run up to three apps at once on the big screen.
It also has the features you'd expect from a flagship Samsung phone, including a high-end processor, 512GB of storage and a three-lens rear camera.
However, the Fold has some compromises. The first is its size: it weighs a hefty 276g, and is about twice the thickness of a conventional smartphone when folded.
The second is its high price tag of A$2999.
Motorola Razr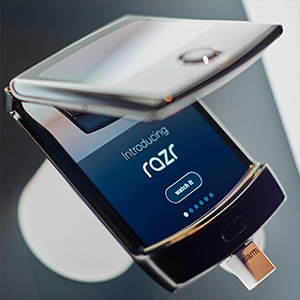 Motorola has taken a different approach. Its foldable phone model reprises the flip phone and uses the same name as, and similar styling to, the original razr, which was so popular during the first generation of flip phones.
The new razr opens up into a 6.2-inch display and weighs 205g, so it's significantly smaller than the Fold. It also has a 2.7-inch "Quick View" display on the front that allows you to view and interact with notifications, such as reply to an email and perform other tasks, like taking selfies. Whatever you see on Quick View automatically appears on the larger display when you flip it open.
Motorola has attempted to keep the cost down with a mid-range processor, single-lens rear camera and 128GB storage, but it's still pricey at A$2699.
Samsung Galaxy Z flip
Samsung's second attempt at a foldable handset is, as the same suggests, a flip phone. The Galaxy Z Flip has a 1.1-inch display on the front and opens to reveal a 6.7-inch display inside.
The front screen displays notifications and acts as a viewfinder for selfies, and allows you to automatically transition to an app when you unfold the phone. Unlike the razr – where the hinge is designed to be either shut or fully open – the Flip opens at any angle, like a laptop. It includes a "Flex Mode" at 90 degrees, allowing you to run two apps at once, for example.
The Flip is much the same size as the razr, but it has higher-end specs, including a top-end processor, dual-lens rear camera and 256GB storage.
Australian pricing hadn't been announced as we went to press, but it's likely to be more than A$2000.
Others
Other brands such as Xiaomi, ZTE and Royole also showed off some promising foldable smartphones. The most promising of all could be Huawei's Mate Xs, which opens like a book, similar to the Galaxy Fold. However, rather than two screens, the Mate Xs has one screen that folds back on itself. It features a 6.6-inch conventional display when closed, and folds out to an 8-inch display.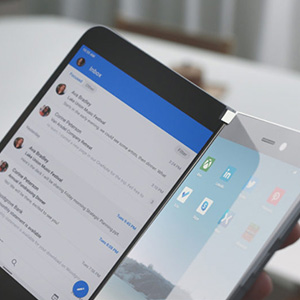 The Mate Xs will offer high-end specifications and some clever multitasking features to make the most of that tablet- sized display.
There's one big downside, however. The US Government's ban on Huawei means the phone won't have any Google apps, including the Play Store. It will have Huawei's AppGallery instead, although that's likely to be missing many popular apps.
Microsoft's Surface Duo won't have that problem. The software giant is scheduled to re-enter the phone market with an Android device – including the usual Google apps – later this year.
The Duo doesn't have a foldable screen. Instead, it features two 5.6-inch screens that open like a book and work together to form an 8.3-inch virtual display.
Ready for prime time?
At this early stage of their development, it's easy to spot the flaws in foldable smartphones. High pricing is the obvious one.
They also lack the utility value to warrant the extra price. The razr and Galaxy Z Flip are a little more compact in your pocket, but fold out to displays that are no bigger than some of today's conventional smartphones. The Galaxy Fold and Mate Xs offer larger screens, but are hefty and not at all pocket-friendly.
The long-term durability of the screens and hinges is another question mark. The foldable screens use a type of flexible plastic instead of the Gorilla Glass found on most smartphones. There were some early reports of razr and Fold phones being easily damaged – although Samsung has since made some design improvements to the Fold's hinge and screen.
Back to the future
Meanwhile, conventional smartphones continue to improve. For example, Samsung's new Samsung Galaxy S20 range offers better displays and cameras (including 100x zoom on one model), larger batteries, and improved 5G support. Pricing starts from A$1349 for the 4G model, and A$1499 for the 5G model – less than half the price of some foldables.
For under A$800 (or even A$450), today's mid-range phones offer more value and fewer compromises than ever before. Google's Pixel 3a and 3a XL, Apple's iPhone 7, Motorola's Moto G8 Plus, the Nokia 7.2 and Samsung's Galaxy A50 and A71 are some of the more affordable options that are worth considering.
Still, there's little doubt foldable smartphones will be prized by well-heeled early adopters. There's also no doubt the new devices bring much-needed innovation back to the mobile phone market.