There is much to be said for people who know when to seize the moment. They are the players who appear in the right place at the right time. Marco Steinhauer CPA, finance director of PayPal Australia, embodies that kind of good timing.
Steinhauer started work at PayPal Australia in 2014, just as e-commerce hit a major growth phase in Australia.
His skill set and academic talents were not the only things that drove him to the head of the company's finance division – there was also his wanderlust.
From local to global
Steinhauer was born into a working class family in Remscheid, a small town in western Germany.
He says he is still the only member of his family to have studied at tertiary level.
"My dad was the eldest of seven kids. He started working at the age of 13 or 14 to support his family. He had little choice but to be a factory worker. A good education was just not possible for his generation," Steinhauer says.
Steinhauer's parents saw that their son showed great promise in his studies, particularly in maths and science, and encouraged him academically.
In 2002, aged 22, Steinhauer won a scholarship to live and study in the US. It proved an enlightening cultural experience.
"All of it was eye-opening. My time in the US was a big part of my personal development. I grew up over there," he says.
Back in Germany in 2003, Steinhauer commenced a bachelor of economics at the Dortmund University of Applied Sciences and Arts.
His passion for logic and mathematics could have led him to a career as an engineer, but he was more fascinated by the business world.
"I loved the logical side of business," he says. "To me, it was about seeing all the different parts of it working together."
During his degree, wanderlust kicked in again, so Steinhauer applied for a scholarship to embark on a double degree, co-sponsored by Dortmund and the University of Plymouth in the UK.
While living in the UK for a year, Steinhauer studied international business while supporting himself as a semi-professional soccer player.
In 2007, Steinhauer finished his master's thesis and was again on the lookout for international opportunities.
"I had been to the US and the UK, and I wanted to find another English-speaking country. I chose Australia."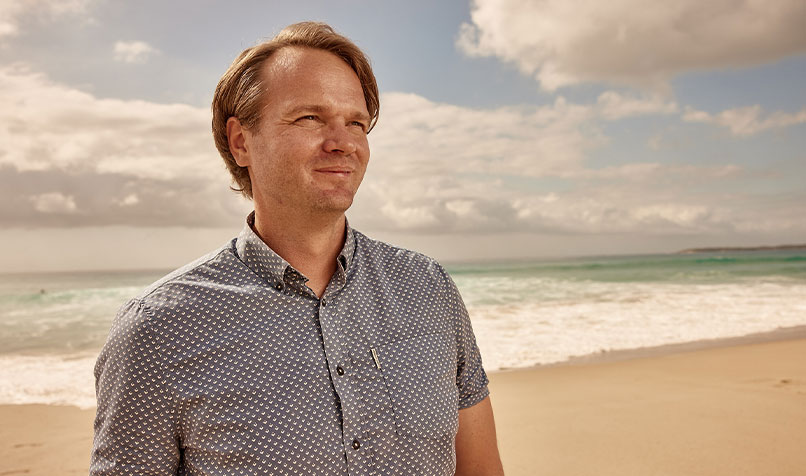 Steinhauer completed his CPA qualification in 2013 in Sydney, while working as a commercial analyst at Goodman Fielder and then as commercial manager at Stryker, a medical devices manufacturer.
His big career break came in 2014, a year after he completed his qualification, when he was offered a job as a finance manager for PayPal Australia.
"As they say, the rest is history. I had the feeling back then that online payments were the next big thing," Steinhauer says.
"The e-commerce base in Australia was still in its infancy, but I really believed it would have a big runway.
"People would begin to choose e-commerce because it was convenient. Working for PayPal was the obvious choice."
PayPal then was not what it is today. Most of its business was still on the eBay platform, and eBay made up much of the company's volumes.
In 2015, the two companies parted ways, and PayPal flew solo to expand its horizons. Today, eBay makes up a small fraction of PayPal's business, Steinhauer says.
"When people ask me what my career highlights are, I say they are still happening – the last eight years have been incredible," Steinhauer says.
"Going through the growth of the business and establishing ourselves as the top player in online payments has been brilliant. Now, PayPal is used on just about every website imaginable."
The business received its biggest boost during the pandemic. PayPal was perfectly placed to support payments during the various lockdowns, as people found themselves forced to buy online.
However, if the pandemic had happened 20 years earlier, Steinhauer says, the e-commerce industry would never have been strong enough – or large enough – to support the deluge of online transactions.
6 standout solutions for strategic managers
PayPal continues to evolve and is looking to expand to new areas. According to Steinhauer, new business possibilities may include new online verticals, updated product offerings and adjacent payment areas.
While PayPal Australia is guided by its US parent company when it comes to its product offerings, it still has a strong degree of autonomy in business strategy and decides which business areas to focus on within the context of its global strategy.
A big part of that strategy, Steinhauer says, is educating retailers on the benefits of secure payment gateway providers like PayPal to their business.
"What we do is bring security and trust to the website, but it is also about accessibility.
If a person wants to pay a bill quickly when they're sitting on a bus, that's where we have the advantage. There is no need to pull out the energy bill or your credit card."
Newer players in the e-commerce space, like Apple Pay, Afterpay and Zip Co are no cause for alarm – far from it, Steinhauer says.
"I have no problem with competitors," he says. "They expand the market, normalise e-commerce and build trust out there.
However, when I look at how Australians have responded to online payments, I know there is still a long way to go.
"We are still a relatively under-penetrated e-commerce market compared to the US and the UK."
The competition is also a good thing because, after all, online payments only account for about 10-15 per cent of all commerce, says Steinhauer.
There is room for other players, he says. The more they come into the space, the more they open up the sector. PayPal has even branched out with its own "Buy Now, Pay Later" offering.
Steinhauer is also aware that the cost of living has increased, and that there has been a pullback in discretionary spending. All the stats point to this, he says.
He believes PayPal can emerge from the credit squeeze as a better company and maintain growth acceleration in e-commerce.
"The squeeze will be here for a while, but our job is simple," he says. "We need to make it as easy as possible for people to get through it."