Sitting around the family dining table as a child, Tim Reed would listen intently to his father's tales about his string of businesses in regional Victoria – the highs, the lows and money matters. The nightly discussions gave him an affinity for small business that still informs his actions today as CEO of business management software provider MYOB, a company that prides itself on helping businesses better manage their financial affairs. The three pillars of knowledge his father passed on were: dream big, don't forget the fine detail, and never neglect cash flow.
"Listening to my father, I was always intrigued with the way businesses run and what it takes to run one," Reed says. "I always wanted to be involved in business in some way, shape or form."
At age 15, Reed's wish came true, working as a waiter in a family-run restaurant and wedding reception estate called Kenloch in Olinda, in Victoria's Dandenong Ranges. He was lucky to come under the tutelage of its owner Kath Martin, a woman with a "hard head and a big heart". Martin instilled in Reed the importance of people management.
"There's no magic," Reed says. "It's the constant of being present and understanding the people who work for you, and knowing what drives and motivates them to bring out their best. If you can make an environment where people enjoy themselves and like turning up to work and where they feel valued and appreciated, you'll get the best out of people."
Through his high school and university days, Reed kept his job at Kenloch, graduating to managing about 50 staff, running dining rooms and being master of ceremonies (MC) at weddings.
Nothing ventured, nothing gained
Armed with such experience and a commerce degree, he went travelling before landing in the United States in 1994 for a stint that was to shape his destiny. Then, in his 20s, he graduated from a two-year Harvard Business School MBA course as a Baker Scholar – a designation given to only the top 5 per cent of the class – and headed to Silicon Valley, just as the internet and web browser Netscape became the rage.
"They were exciting times," recalls Reed, who went on to hold senior management roles in sales, marketing, product management and finance with a number of US companies. What intrigued him the most in the US was venture capital – a new concept to him at the time – and its power to drive early-stage businesses.
"I'd never heard of Silicon Valley before I got to the US and I'd never understood the concept of venture capital – it just felt exciting and it was genuinely a place that could change the world."
The experience taught Reed the importance of investing in ideas and pursuing educated risks while limiting potential downsides, should something go wrong.
"That's something we do at MYOB now all the time as we are thinking about re-architecting the database on one of our platforms, or whatever it might be," says Reed, who became CEO in 2008 after spending five years as a general manager in one of the company's divisions.
The attitudes of Silicon Valley-based executives also shaped his views on recruitment. They hired a person in the belief that he or she could be a real star; in Australia, by contrast, leaders have tended to favour experience and a strong CV. Reed now insists that MYOB hiring managers, when assessing candidates, ask themselves: "Do you believe they are going to be a star?"
"If you are going to build something different and do something differently, then you need to bring together different people – people who think differently and approach things differently," he says.
Hard to please
Today, Reed oversees a MYOB accounting software powerhouse with about 1700 employees and, in May, the company reported annual revenue for 2017 of A$416 million, up 12 per cent on the previous year.
For all his success as a leader, though, Reed admits to being dissatisfied with most of what he does. Although he does not dwell on the past, he is conscious that he and MYOB can always be doing better to help businesses with tasks such as reducing manual data entry and accelerating cash flow.
"It's that belief that there is so much potential for us to be contributing and delivering more to our customers that makes me perennially dissatisfied," he says. "It's not about looking back and being harsh on myself as to why we aren't further ahead – it's a belief that there's so much more that we could be doing."
Such self-analysis is typical of Reed's desire to keep learning about business and, indeed, himself as an individual. He reads avidly to stay up to speed with trends such as artificial intelligence (AI) and quantum computing, or to learn from the insights of thought leaders. Among others, he values the thinking of John Hagel, a renowned Deloitte consultant based in Silicon Valley, who has written about terrain-based strategy versus trajectory-based strategy. The former typically sees leaders focusing on the present environment and seeking to build a sustainable competitive advantage at some stage in the future. The latter (Hagel's preferred approach in times of accelerating change) starts with a view of the future and works back to the implications for action in the present.
"That really changed the way I thought about strategy," Reed says. He is conscious, too, that a business is likely to fare better if it has a CEO with a healthy body and mind. Accordingly, he exercises three to four times a week, makes a point of kicking a football or shooting hoops with his three children on weekends, and takes time out to watch his beloved Geelong Cats play in the AFL (Australian Football League).
In a throwback to his childhood growing up on a farm, when time permits he also rides horses. "It became something that I found incredibly relaxing – to get on my horse and head up into the bush."
The "write" approach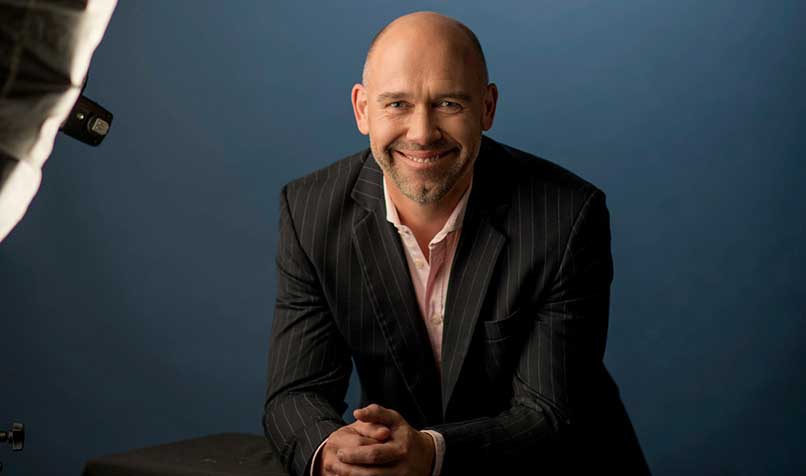 A quick glimpse at the MYOB website and its blog Pulse suggests that Reed is not your typical CEO. Rather than carefully crafted corporate messages, he writes about the virtues of the AFL's Auskick program for children, praises mothers for their contribution to society and business, and stresses the importance of sharing and listening.
In his day job, Reed finds listening to be particularly crucial in helping small-to-medium enterprises (SMEs). His motivation comes partly from remembering his father's stresses and successes, and also from a belief that smaller enterprises are a source of great innovation and game-changing ideas.
As MYOB grows, Reed is conscious of the trade-offs between having greater scale and potentially becoming less agile and innovative. To overcome that tension, he insists that everybody within the company – and even customers and partners – must clearly sense what the business stands for, its values and why it operates; that is, "MYOB exists to help businesses succeed".
"For me, if you can paint that picture of what you're trying to achieve, then what you're doing is empowering a huge number of people – both inside and outside the business – to help you get there," Reed says.
At strategy and review sessions, all staff members know he will ask them, every time, how they have been helping companies succeed. He also seeks to empower team members, whether they are in sales or software design roles, to make their own decisions and align themselves to the vision of the company. Reed explains: "I want them to be out there thinking [through] that lens and making decisions on the fly, rather than stopping and constantly feeling like they need to come back and check [with management]."
Always with one eye on the future, Reed expects the next evolution in cloud accounting will feature online platforms that automatically capture and collate relevant business data so business owners can, with minimal manual input, hand over the bulk of accounting administrative tasks to trusted bookkeepers and accountants.
"That's pretty exciting, because what we do know is that the greatest gift you can give a small business owner is time," Reed declares.
No doubt his father would approve.
Up for a challenge
With more than 400,000 online subscribers, MYOB is one of the clear leaders in cloud accounting.
Tim Reed admits that the transition to online platforms has been a test for himself and the company. Early iterations of MYOB's online products in the late 1990s and early 2000s failed abjectly, while another attempt when Reed took over as CEO a decade ago also hit obstacles. The leadership team underestimated the difference between building on-premise software versus online software.
"It sounds like just a product difference, but to have people who build really intuitive, great online software, the business needs to be an authentic online business," Reed says. "It has to be in the DNA."
With an increasing number of consumers embracing MYOB's online software, the boss can reflect on what it takes to transform a business. His staff use and understand online applications; a new cohort of tech specialists complements traditional strengths around domain knowledge relating to accounting software. The business's rough patch also forced Reed to consider and draw on his own, personal attributes.
"I am forward-looking and optimistic," he says. "I believe in the good of people and that there is always a range of options and it's a matter of being really thoughtful around the best option to take. There's no point allowing fear to paralyse you into inaction at points of change. You need to break it down to digestible elements and make the best decision you possibly can."
Pragmatism and a healthy dose of resilience also helped, along with communications skills to ensure his team knew at all times what they had to do. Reed observes: "In times of change, you can't over-communicate."
Topt traits
MYOB CEO Tim Reed lists the characteristics he admires most in leaders.
Courage. The best leaders often respond with insight and without fear when called on to make "big and impactful" decisions. "Quite often they're courageous decisions that fly in the face of what has been done in the past."
Humility. "People who are able to remain humble learn so much more because other people share so much more with them. It's a shortcut to almost everything in life."
Drive and vision. "You need to understand the goal and the destination that you're aiming for and have the fortitude, resilience and drive to remain committed to the course."