The fashion industry is among the biggest polluters in the world.
According to data gathered by the United Nations, garment manufacturing uses about 93 billion cubic metres of water each year – enough to meet the needs of five million people – while a single pair of jeans requires about 7500 litres of water to produce.
An estimated half a million tonnes of plastic microfibres from synthetic clothes is dumped into the oceans every year, harming wildlife and creating a major source of pollution.
The garment manufacturing sector is also one of the greatest contributors to the problem of modern slavery.
"Fashion has become so disposable," says Sofie Carfi CPA, lecturer with the Australian College of the Arts' (Collarts) Bachelor of Applied Business (Fashion Marketing) program.
"We consume tonnes of clothes and then just throw them away. I grew up in Melbourne when we had such a vibrant fashion industry, until much of it was sent offshore. Seeing the shops closing down would break my heart."
From audit to apparel
Carfi has always loved fashion, but it wasn't her first career choice.
"I was encouraged by my parents to be a doctor, lawyer, accountant or teacher – they were pretty much the four choices," she says. "I thought, 'Well, it's always smart to know how to manage your money', so I did an economics degree and majored in accounting."
She started her career as an auditor with Deloitte before moving to ANZ bank, where she worked as management accounting manager. Carfi took time off work when she had children and planned to return to work part time at a later date, but she faced the same dilemma as many other working parents.
"Women that go back to work part time usually end up working longer hours," she says.
"I knew from my friends who'd had a similar experience that, rather than working 9am to 3pm, I'd be staying back longer or working from home. I decided to go back to study instead."
Following a passion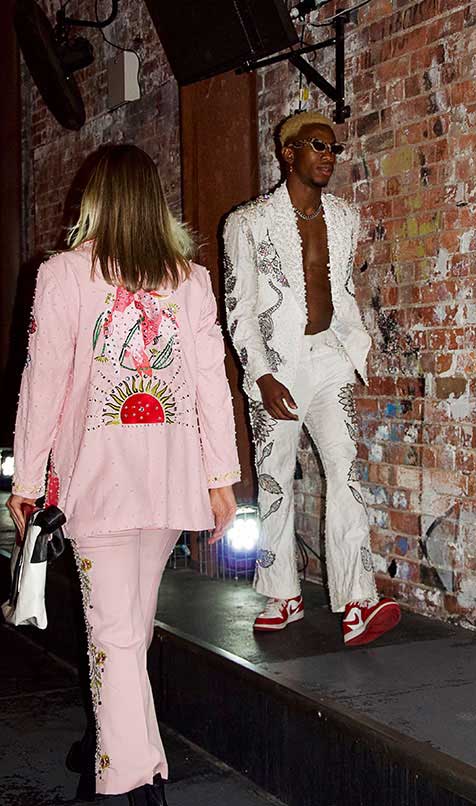 In 2013, Carfi enrolled in a fashion entrepreneurship master's degree at RMIT and went on to work for a local wool manufacturer before being approached by the Collarts in 2018.
"Because I was a CPA and had also studied fashion entrepreneurship, they thought I'd be good for teaching the business subjects," Carfi explains.
"Teaching was never on my radar, but I thought, 'What have I got to lose?'.
"Business is business, regardless of whether you're selling a coffee or a dress. You've got to have a margin; you've got to make a profit. I've got a passion for Australian industry. Anyone who has got a business takes a risk, and they put everything into it."
In 2019, Carfi founded Fashion Revival Runway, which is largely funded through sponsorship. It started with the concept of bringing together lovers of fashion for a salon-styled afternoon tea where local Australian-designed fashion was showcased.
"It wasn't like a typical fashion parade," says Carfi. "There was no runway – models walked around the tables, so people could see the fashion up close. And there wasn't a VIP table. Everyone was treated equally."
Another parade was planned for 2020, but when COVID-19 restricted public gathering, Carfi worked with a team of dedicated volunteers, including some of her students who were completing their industry placements, to film a virtual parade.
"We're giving [participating local designers] content for their social media, including both film and photos," says Carfi.
"If they cost that out, we're saving them thousands and thousands of dollars.
And we're always posting things about them on our social media."
Fashion forward
Revival Runway does not sell products or advertising, and Carfi stresses it is completely independent and staffed by volunteers who are connected by a passion to make a difference to the local fashion industry.
She notes that locally made fashion is more likely to be produced in small quantities from sustainably sourced materials and manufactured in ethical conditions.
Supporting small local fashion businesses also contributes to their viability at a time when economic conditions have never been tougher.
Carfi plans to extend the annual Revival Runway fashion parade to three times a year, which will give independent labels more exposure – and her participating students will gain industry experience each semester. As funding presents a challenge, Carfi has been working on creating a donation facility on her website.
"At this point, the business model is weak by an accountant's standards, but when you've got people knocking on your door who are willing to work with you as volunteers because they are passionate about it, you know that you are onto something.
"All Revival Runway wants to do is let consumers know that we have so much talent right here in our back yard and – if you really love fashion and want to make a difference – buy local, support local, love local. This will help sustain our fashion industry."
One piece of advice
"If you do something you love, you never work a day in your life."