By Katie Langmore
Paul "Pablo" Coonan CPA had an unusual journey into accounting. His father – a career and wellbeing school counsellor – suggested that if he left school in Year 9 for an apprenticeship, he could eventually attend university with a trade under his belt.
Coonan did just that. He went back to school in Year 12, aged 19, graduated in the top 5 per cent of New South Wales, and studied accounting as a qualified plumber. Later, as he was building up his accounting practice, he worked in both professions.
"I put an ad in the local paper for plumbing work and accounting work," he recalls. "The plumbing took off. It took longer to build up my accounting clients."
Coonan now runs his private practice, Green Thumb Accounting, from his home in the Northern Beaches region of Sydney. It is Garigal Country, which means a lot to him.
"My friend, Aboriginal author and researcher Julie Janson, helped us dig into my family history, and we found out that my great-grandfather was Aboriginal.
We'd thought he might be, but like so many people of the time it was hidden – people had to hide that history, or the government might take their baby, and I think within the white community there was also a sense of shame."
When Coonan found out about his Indigenous heritage, he was excited, but had no idea what to do with the information – how to connect with the local community. He did some online research and found a nearby Aboriginal support group, Manly Warringah Pittwater.
"As soon as they heard I was a CPA, they made me treasurer," he laughs.
Coonan now attends monthly meetings in his role as treasurer, undertakes administration duties and supports the many fundraising activities and events that the organisation holds, including hosting guest speakers and holding educational events for the greater community.
He says supporting the organisation is helping him to feel more connected to the local mob and his ancestry.
"I don't know much about Aboriginal culture, so I sit back – I don't present or anything. I feel sad I've missed out on that throughout my life, but I'm learning so much, and having a connection to all that history feels amazing."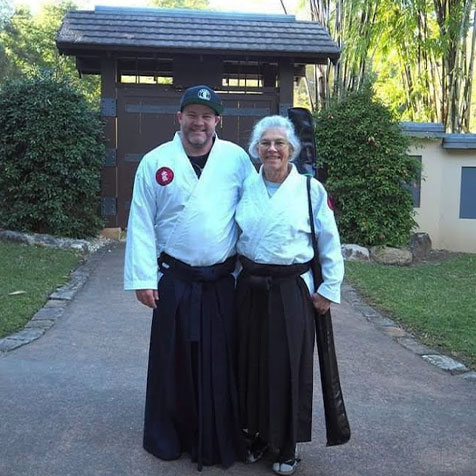 Coonan says volunteering for the organisation – the oldest Aboriginal support group in Australia – also feels very positive.
"To see all the misjustice going on and then feel a part of reconciliation through education and connecting white and Indigenous communities feels really good."
When not providing accounting services to local traders and supporting Manly Warringah Pittwater, Coonan works as an Aikido teacher in his own dojo, teaching local kids the martial art he has studied most of his life.
He is also a pro bono director of the not-for-profit Aikido Kokikai Australia, a national martial arts organisation helping Kokikai Aikido dojos around Australia.
"Training is a release after sitting down at a desk all day," he says. "But teaching the kids is the most rewarding part of it. Working with kids is awesome – you can really make a difference. They cheer me up after a hard day in the office."
During the lockdowns, most of Coonan's pro bono activities were put on hold, but when he can, he plans to attend Corroboree – an invitation that means the world to him.
"That's where you meet everyone and are accepted into the mob. That'll be a big personal step for me."
Manly Warringah Pittwater
Aboriginal support group Manly Warringah Pittwater is a local not-for-profit organisation in Mona Vale, Sydney. The organisation, which has been active since 1979, focuses on supporting Aboriginal people and connecting them with local community through initiatives, educational events and fundraising activities.