This is not only the internet age, it is the age of the consumer, ever more curious and impatient – and the pressure is on businesses to respond.
We search more because we can. We expect our smartphones to read our minds. If we look for a restaurant, we expect the search function to know whether we are at home wanting delivery, or in the city seeking somewhere nearby. At the same time, we are worried about sharing our information online, and want greater privacy and control over our information.
It is an era that will favour businesses that are quick to respond to the curious customer, says Karen Stocks FCPA, an Australian who is Google's global head of measurement, based in California.
"Because customers can find information, they are finding it," she says.
If we order online, we expect same-day delivery, and the lines have blurred between "high-consideration" and "low-consideration" products, a distinction that once drove entire marketing strategies. Searches for lowconsideration products such as toothbrushes have jumped because shoppers can search for "best toothbrush".
"It is not for marketers to choose. Customers are choosing what is high consideration and what is low consideration for them, now that they have access to this information," says Stocks.
The power reversal of the customer-marketer relationship is central to Stocks' role at Google, where she leads a team that manages advertising measurement across all Google products, including Search, YouTube and the Google Marketing Platform.
"My role is to be a bridge between product and sales teams, to make sure we get clear feedback on what our customers need, relay that back to product, work on product prioritisation and then take that back to sales," she says.
"I get to be frontline with our business teams in understanding what our customers need, but then also have conversations with product and engineering around what is it that we need to build for the future."
From entry-level accountant
Stocks' career path is a story of taking existing skills and leaping into a role to gain new experience. Not bad for someone who completed high school with no idea about a future career.
She has always been on the lookout for a new opportunity and the three businesses she has worked for since leaving university – Vodafone, Twitter and Google – have certainly provided it. None of them existed when she was finishing high school in the Australian seaside city of Coffs Harbour, New South Wales.
Maths was a favourite subject, so Stocks decided to take an accounting degree, which she loved.
On finishing, she saw a Vodafone advertisement for an entry-level accountant. Vodafone was a new entrant to the Australian telco market and her time there set the tone for a career in businesses facing constant, industry-transforming change.
Stocks remained with Vodafone for 13 years, with a new role every 18 months. At one point she was running the customer call centres. This involved workforce planning, "basically a mathematical problem", such as how to schedule a 900-seat call centre in three locations to answer 80 per cent of calls within 20 seconds.
A career highlight was resolving a Christmas Day dilemma for the telco. Sales of prepaid phones would jump as the holiday approached and there would be a deluge of buyers ringing to register their phones on Christmas Day, so they could call home. That meant rostering more staff to work on 25 December.
Stocks led a team to implement prepaid voice recognition, so consumers could register their mobiles by voice. The team won a global innovation award, but for Stocks the work meant more staff spent Christmas Day at home with family.
A manager told Stocks that if she wanted to make CEO, she needed sales and marketing experience.
Sales was a big gap and she was pondering her options, when in 2012 she saw a job for a sales and operations manager at Google.
"I kind of knew what Google was but wasn't quite sure," Stocks says.
She was confident she could perform the operations role and there would be an opportunity to learn sales.
"They wanted someone with strong operational experience and they were hiring people who could adapt. Google job descriptions can be vague."
The challenge was to join a business in an industry that was transforming, knowing "you could be doing something different in 18 months' time".
Joining Twitter as its first managing director in Australia in 2013 was the same. The industry was so new it was not possible to hire people with years of experience in the field. Stocks says companies such as Twitter and Google are looking for people with skill sets that are transferable, who are open to change and curious to learn. It is an approach that has suited her.
"I think that's where my career has been very successful, around identifying what those skill sets are and being open and curious to understand and take different opportunities to learn."
What prompted the decision to return to Google in June 2017?
"It meant working with a team I really respected, in an area of strategic importance that touches all areas of the business. It is extremely exciting: a once-in-a-lifetime opportunity."
Her children had grown, meaning it was possible to relocate, although they are a globetrotting family, travelling frequently between Australia and the US.
The digital world of measurement and trust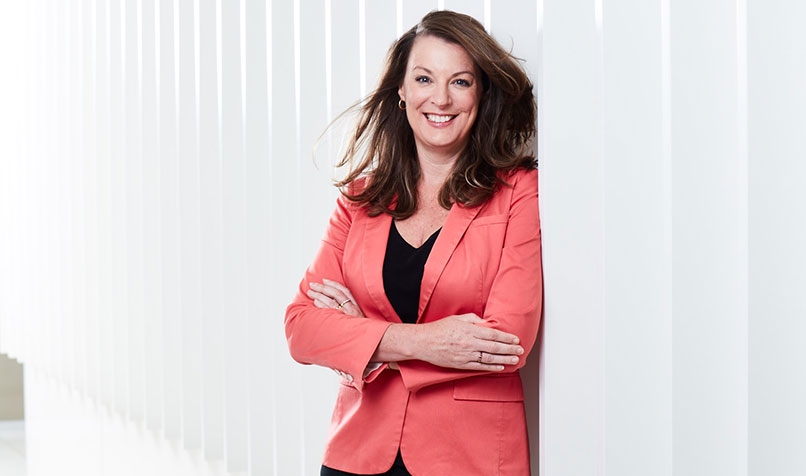 Stocks says there are durable elements around measurement, even in the rapidly evolving digital world.
"It needs to be trustworthy, it needs to be intelligent, it needs to be actionable, but the 'how' you deliver can change over time as the ecosystem gets more complex and people are on more devices."
Consumers are not only researching more, on multiple devices, they are also becoming more impatient. If we are walking down the street looking for a coffee, we expect to search and get immediate direction to a good café nearby without having to enter postcodes.
The challenge for business is to ensure it can meet consumers' needs in real time, she says. It sounds difficult and expensive. Can small businesses, for example, invest the time and money into this level of research?
Absolutely, she argues. "It requires more willingness to question what you are doing and an ability to be nimble. Smaller businesses can often move quicker than larger ones. This is about the DNA and the approach of the business to respond in time."
Her message to businesses? "First, focus on the user. Put them front and centre. Second, be clear about what you are trying to achieve, set KPIs and measure against those KPIs. A mistake I see businesses make is trying to measure everything and it is easy to get distracted by a metric that you aren't actually striving towards. If the goal is to increase brand perception on YouTube, measure against that."
A final tip? "Keep innovating and trying. It's constantly moving; we are constantly learning."
Privacy priorities
Paradoxically, demands for privacy are increasing at the same time as people want a fast, personalised response, which requires them to share information such as location and likes and dislikes.
Stocks forecasts this trend will only continue, that consumers will be more aware of their privacy and what they choose to share. Business needs to respect the customer's view, she says, and consumers need to decide what they are willing to share for the level of service they want.
The journey is just beginning, and now machine learning is providing the ability to process huge amounts of data faster than ever before, with the ability to provide marketers with more insight into their business.
Stocks expects new insights and some unexpected results from greater processing potential. She is enthusiastic about data-driven attribution, for example, where it will be possible to better understand the consumer journey before they make a purchase.
Stocks believes technology will provide more opportunities for accountants and auditors, freeing up more time to look at the overall health of a business, to identify risk and implement compliance and control. It will elevate their ability to be thought leaders.
"The good accountant moving forward is going to say: 'How do I use technology and machine learning to show me insights and trends that I may not have seen before?'."
It is an exciting time for the profession, she says.
Not one of the boys
Nowadays, Stocks works at the beating heart of one of the world's largest corporations, where she is part of discussions about how the Googlescape might look in five or 10 years' time.
She says it "brings the best out of me", but a week of conversations on high-stake decisions can be mentally exhausting by the end of the week and Stocks winds down with walking, listening to audiobooks – fiction and non-fiction – and practising mindfulness.
She does, of course, work in an industry known for its male dominance and on occasion walks into a meeting where she is the only woman, which has been the case in most places she has worked.
"It's about making sure I hold on to who I am," she says. "I try to avoid becoming one of the boys; the further I am in my career, the more confident I become about who I am."
She does point out behaviour that could be discriminatory, although she finds it is often unintentional. "I sit down and take people through it, I'd typically say, 'Let me give you a different perspective of other people's realities of how that might be approached'."
She says Google has a "huge focus" on diversity and it is important to bring other voices into the room.
Affinity groups
As she became more senior in the corporate world, Stocks experienced the ambivalence of many senior women who find themselves suddenly held up as role models and expected to speak on issues relating to women in business.
"I was just trying to do my job and I thought it was not fair that I had to speak up for females in business. I grappled with it for a while and spoke to other people about their experience, then I realised that I have an opportunity and an obligation.
"I was a role model. My whole emotional state pivoted and I saw I could get out there and show there are females in leadership positions and they can still be themselves. It was not an obligation, it was a privilege."
Stocks remains a director of Netball Australia, a sport she has to explain to colleagues in California, and caught a game on a recent visit to Australia.
She enjoys the athleticism of the game, which she can no longer play because of a back injury, and that it is a sport with strong female role models who have made it a professional career.
"It has a strong fan base and gives opportunities for females to be the best they can be in a sport where that sport is about them."
These days, when asked for career advice, her reply is to do "what makes your heart beat faster" and to give credibility to anything you want to do.
"If you have a five-year career plan it is OK, but not to have one is also OK. There are many paths to success," says Stocks.
"I could not have predicted my path; none of these companies existed when I was at university.