By Engel Schmidl
It takes brawn, brains and self-belief to beat the world record for most push-ups in an hour. Gold Coast CPA Jarrad Young managed the feat for the second time on June 19 this year, completing 2919 push-ups and bettering his record of 2806 achieved in 2018.
Young tells INTHEBLACK he invested a considerable amount of analysis, strategy and planning in undertaking his Guinness World Record-breaking effort.
"To break it down, I treat it like a boxing match," says Young, who is a director with Gold Coast-based Cordner Advisory. Before joining the firm, he was a senior manager at KPMG for nearly 13 years.
"When I do my push-ups, I think of it as a 12-round fight. I compartmentalise it into 12 rounds, in each round I do 15 sets, and in each set, I do 16 reps and take two deep breaths in the Balasana yoga pose," the 42-year-old single father of two says.
"I do that for 12 rounds, and the idea is that I have about two-and-a-half minutes in the end to break the record."
Beating such a record takes a lot more time and thought than just clicking start on a stopwatch and going for it. Young and his dad, Max, put a lot of planning into his "campaigns", with attention paid to diet, training routines and technique.
"A lot of it is trial and error. Each campaign lasts about four months, and you build up to that. You work it out with each attempt and tweak."
Hitting the wall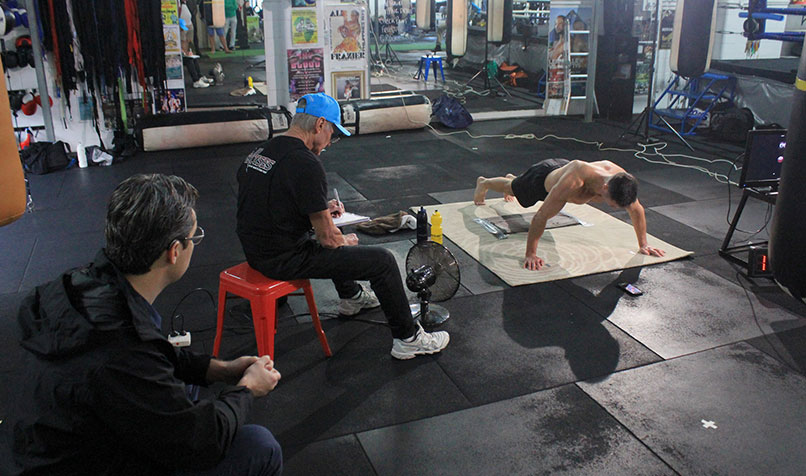 Runners often say the halfway point of a marathon is not at 21 kilometres, but five kilometres from the end, when fatigue kicks in and a runner must dig deep into their reserve of muscle memory and mental resilience.
Similarly, Young says the one-hour push-up challenge gets toughest at around three-quarters in, what he calls the "round nine" point.
"At times, I've gone out too hard, with too many reps," he says. "You get to the 40-minute mark, and that's when you hit the wall, that's when you get the self-doubt. Once you hit the last five minutes, you can see the end and push it out."
Young's obsession with breaking the one-hour challenge began innocently enough in 2017. His brother-in-law mentioned he and a group of friends had been trying to get to 1000 push-ups in an hour. Young joined in and soon enough had bettered that mark.
Out of curiosity, he looked up the record for most push-ups in an hour. Watching the record-holder at the time on YouTube, Young surmised there had to be a more efficient way to do it. He put his analytical skills to work. "I think there might have been an Excel sheet involved," he laughs.
"I was watching the previous record-holder, and he was going out and burning himself out at the start, getting lactic acid build-up. That's when I broke it down and looked at the numbers, and it was all about muscle memory repetition."
Physical and mental fitness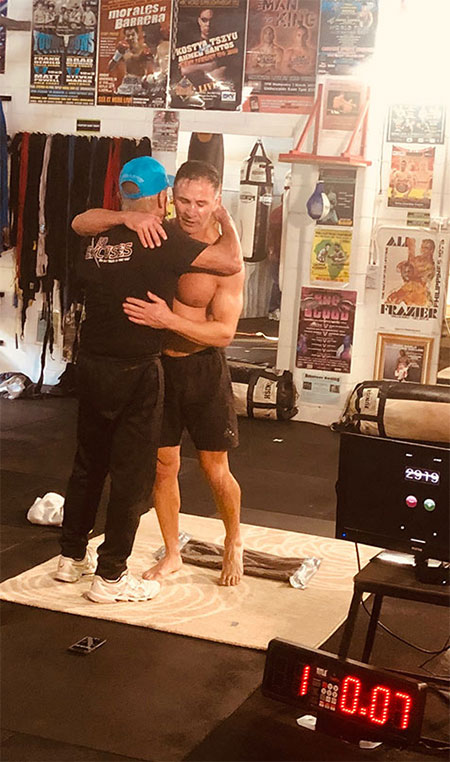 It was helpful that Young had a solid base of strength and fitness from which to start his endeavours. He played several seasons of A-grade rugby for local side Southport Tigers before a knee injury caused him to hang up his boots at 25. Physical fitness has always been an essential part of his life.
Luckily, Young's parents always encouraged him to pursue his education while also enjoying his sport. By Grade 10, Young had a good idea he wanted to do something with numbers.
Young got his Bachelor of Business degree from Griffith University, majoring in accounting. He was dux two years in a row at Griffith.
He says he works out about an hour or two a day, usually first thing in the morning. He likes to keep his fitness regime varied and incorporates running, swimming, boxing and yoga alongside gym work.
"To do the push-ups, you need strength, but you have to be fit as well. You can't just be bulked up. A couple of years ago, I got into yoga and the deep breathing elements. I make sure I maximise the breath going through my body and yoga gives you that core strength to hold your back up when you're doing the push-ups."
Young's dedication to physical fitness helps him stay mentally fit, too.
"It's addictive because those endorphins run through your body, and you come into work feeling great; you think better, you make better decisions, you're proactive and feel happier throughout the day."
More records to break
His next goal is to hit 3000 push-ups in an hour. It's a nice round figure that feels a little like some of those other great milestone numbers in sport, like the 10-second 100-metre sprint or the four-minute mile. "I'm stubborn. I've just got to break that 3000!"
Young is planning an even more audacious and gruelling challenge. "My plan next year is to do the most push-ups in 12 hours. It's a 31-year-old record. This is where the real planning will come into it."
For that attempt, he's hoping to help raise awareness of mental health issues, especially among younger people. It's still early days, but Young and his father have already started thinking about the arithmetics of pulling off such an achievement. It's an attempt that will take a lot of training, and maybe even a few more Excel sheets as well.