At a glance
With 20 years of experience in business technology and a long, ongoing academic career, Jannat Maqbool CPA balances her time between multiple roles.
She is principal adviser at a research and advisory firm, operations manager at a tech sector association, and works on the Hamilton City Council's Smart Cities Initiative.
She also plays an important role in shaping the curriculum of students in accounting and IT.
It's not every day that you hear about an Australian woman of Punjabi descent with a CPA qualification, who has scaled the heights of New Zealand's burgeoning financial technology sector.
Jannat Maqbool does not fit into any recognisable category. She might be Australian, but she has worked most of her adult life in New Zealand; she might have been born a Sikh, but she has converted to Islam; and while she might have 20 years' experience in business technology, she is also a fully fledged academic.
Strictly speaking, Maqbool is a principal adviser at Singapore-based technology research and advisory firm Ecosystm, operations manager at CultivateIT (the Waikato tech sector association), and works with Hamilton City Council on its Smart Cities initiative. She's also an important cog in the region's education sector, responsible for shaping the curriculum of students of both accounting and IT.
Descriptions and titles barely do justice to Maqbool's wide-ranging – almost maverick – role in the North Island region's flourishing technology ecosystem. Just when you think she's talking fintech, you discover this is only part of the role – she wants to improve agritech, deploy an IoT solution, and consider an application of artificial intelligence too.
Indeed, she's interested in any form of smart technology that will support local businesses and the wider community, bring business into the region and provide jobs for a rapidly evolving workforce.
Maqbool has managed to move into a set of roles that works from both the top down and the bottom up. One day she is talking to foreign companies that could potentially be a part of the region's growing technology hub, the next she is teaching students at Wintec (Waikato Institute of Technology) how to synthesise the worlds of business and technology.
When she spoke to INTHEBLACK, Maqbool was helping to organise Techweek Waikato as part of an annual nationwide festival of innovation coordinated by NZ Tech. "I was asked to do it one year and I have been involved ever since," she says matter-of-factly. Add to the list of achievements – conference organiser.
While she's doing this, she has other fish to fry at Wintec: "I'm looking to redesign their level five accounting applications paper and level six accounting information systems paper, and create an elective in year three – on financial technology innovation."
Multitasking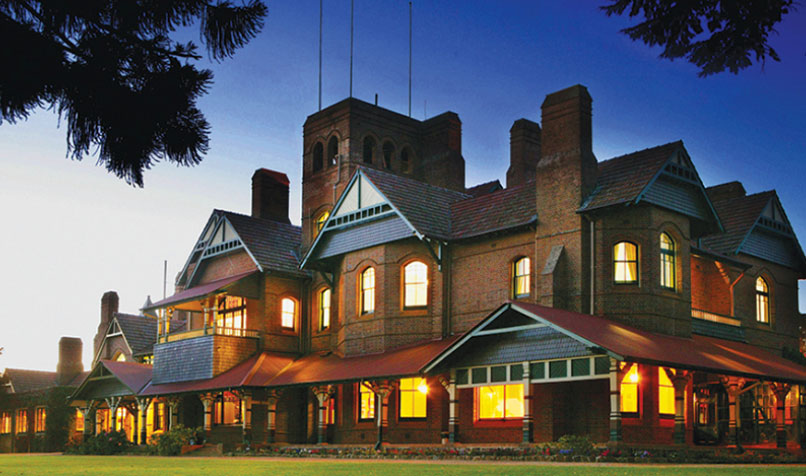 The vice-chancellor's residence and administration office at the University of New England, New South Wales.
How many roles can one person take on?
Maqbool's drive probably goes back to her heritage and the need to adapt her North Indian Punjabi background into a very Australian part of Australia.
She was born in Coffs Harbour in northern New South Wales to a Punjabi family, which had arrived two generations earlier in the mid-1890s as cane cutters, later moving to Grafton, NSW.
Her father, known as Milky, cut cane in his early years. He then moved into a labouring role and finally became a safety officer on public works projects: an entirely self-made man. "He knew that he had to make sure his children were well educated," Maqbool says.
Her father was something of a well-known local character. "When he was younger, he taught the plantation owners basic Punjabi so that they could communicate with migrating Indian workers."
She adds that growing up, there were a number of Indian families in the area that had become very well established over several generations. The first Sikh temple in Australia was built in Woolgoolga, just over 40 minutes south of Coffs Harbour, NSW.
Milky's children, including Jannat, were all natural-born engineers in the days when kids used to take things apart and reinvent them in their back yard.
"Back in the day it was just natural curiosity that ruled our lives. We had to learn how to fix things. We all learned to wire stuff, fix TVs. We all learnt the technical ropes, we all knew how to use soldering irons!"
If there was a moment when she found her niche, it might have been in 1985 when, as a 10-year-old at Grafton Primary, she discovered the Commodore 64 computer. Maqbool shrugs. Just as her older brother used to put car parts together to make bespoke vehicles, she saw nothing strange in a child learning computer language in a country town before the word "coding" was even invented.
For Maqbool, adaptation to circumstances has been the rule rather than the exception. While studying via correspondence for a degree in financial administration at the University of New England and living in Sydney, she landed a job in 1996 at Mercantile Mutual – now ING Bank.
Her mostly data entry role morphed into something far more technical. As a superannuation fund administrator in the era of fears about the Y2K bug, she took on the role of testing systems for what many at the time feared might be an IT Armageddon.
Fintech future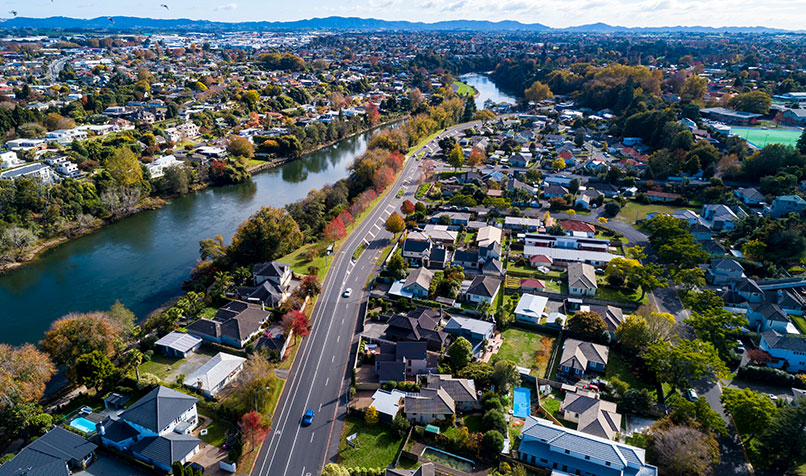 Aerial view of Waikato River, Hamilton, New Zealand.
Maqbool never looked back. She had seen the future that was fintech and would never stop running with it.
In the intervening years, Maqbool has completed her CPA qualification, which "just seemed to be the next logical thing to do". She took the CPA education path because it had a technology strand, which other equivalent accounting certificates then lacked.
Maqbool's time at Wintec began when she took on a role supervising IT student projects with industry. She is now a lecturer at the institute, and her work there has also led her to many research and community projects with outside partners. As operations manager for CultivateIT, she works with a wider group of stakeholders including Te Waka, the region's economic development agency, to support tech sector activity.
Along with Ecosystm, she collates research and provides advice in IoT, agritech and fintech for the Asia-Pacific, and presents insights at international events. However, for Maqbool it's equally important to stress that her mission is about developing the sector to support community wellbeing, and that is the focus of her role as Smart Cities adviser.
She is also completing a masters in digital business at Waikato University, for which she was awarded a scholarship. It's no surprise that for her thesis she has interviewed banks, regulatory authorities, startups and incubators to understand opportunities for collaboration between incumbent corporations and fintech companies in New Zealand.
"I like that I get to influence what's going on with the academic side – the pipeline of talent coming through – and also support industry by driving tech innovation as an enabler."
The pace of change, she says, means the tech industry must have graduates "who can hit the ground running" and "turning ROI tomorrow". She doesn't forget the accountancy students either.
"Everything is automated. Accountants don't have to do the basic numbers reconciling any more – that's all done for them. The students have to know how to work with the systems and focus on advisory and supporting businesses with information that adds greater value."
There is a greater social side to all this. Businesses and the students do connect in Waikato.
"They have to be networked locally because we are in the regions and the tech ecosystem must be able to support itself," she says.
"Wintec does a fantastic job in this space. We want all the pieces to align – that's the first and foremost thing – and that is why I enjoy the different roles I play in hopefully bringing it all together more," she says. "It wouldn't work, I think, with one full-time role."
Like other innovators, she is thriving in a portfolio approach to her career and community contributions. It's worth remembering she is also a bona fide academic not just working on designing programs and teaching students, but also pursuing academic studies herself as a lifelong learner.
"I'm passion driven – always wanting to make a difference. Not only am I a woman in tech, but I'm an ethnic woman in tech. I'm proud of that. There are so many different pockets of cool things. I want to be there for it all."
Technology pioneer
Wherever Jannat Maqbool went in the world of accounting, she was drawn into the technology that was evolving around the industry. Maqbool, the maverick accountant with a head for technology, understood it all.
When she and her husband migrated to New Zealand in the early 2000s, she worked in a systems accounting role at Motor Trade Finances in Dunedin. Yet again, she was drafted in for her "other skills".
Not long afterwards she wrote a macro to reconcile a new financial system with the old. When the MD asked who was responsible for the systems migration, he was flabbergasted.
Maqbool was soon sitting next door to the boss. "It was a finance company moving into becoming a finance technology company," she recalls. She soon was part of a growing team of people that was analysing and presenting data to gain new insights into the financial needs, habits and vicissitudes of customers and the group's 680 dealers spread across the country.
"We worked out who bought finance, how much they needed to borrow, when they were most likely to default and what percentage we should lend to them.
We also talked to dealers to understand what their biggest pain point was in the lending process," she explains.
From here, Maqbool and others built an online finance origination system and credit risk pricing model based on the data profiling the group had compiled. It was data management decades ahead of its time.
"We could combine data inputted through the origination system with third party data feeds to evaluate clients and come up with a base rate for finance."