By Kate Whitehead
Dr Moses Cheng FCPA, chairman of Hong Kong's Insurance Authority, is fresh from a high-powered symposium about the Greater Bay Area and carries with him the buzz of the day's excitement. He is fired up about what it means for his sector.
"I'm very happy. I was given to understand that, in terms of the development of the financial market, they want to start with insurance because they feel this is one area in which Hong Kong, Macau and the rest of the Greater Bay Area can work very closely to the benefit of everybody," says Cheng.
The Greater Bay Area initiative will bring together Hong Kong, Macau and nine cities in Guangdong's Pearl River Delta to create a mega-cluster, one with the economic clout of the Tokyo, San Francisco and New York Bay areas. Chinese President Xi Jinping first proposed the idea in a 2016 policy paper, and it has been much discussed ever since. Now the region is seeing the nuts and bolts of the initiative being put into place, and Cheng finds himself with a front-row seat.
"This is something we've been working on since the establishment of the Authority, something we've been actively promoting – let's run a policy in the Greater Bay Area. If that is successful and we can learn from that and through that experience, hopefully we can extend our services to the whole of China and that will greatly extend the market," says Cheng.
Independent regulator
Established in December 2015, the Hong Kong Insurance Authority is a latecomer as far as independent regulators go, but it has made up for lost time and that is in large part thanks to Cheng.
In 2015, he was preparing to step down as senior partner of legal firm P.C. Woo & Co after a 43-year legal career when he was appointed by the then chief executive Leung Chun-ying to take up the helm of the new body designed to regulate the insurance industry. Previously that role had fallen to the government, but the International Monetary Fund advised that as a key international finance centre, the various regulatory authorities of Hong Kong's financial markets should be independent of the government.
"We have the job of regulating the industry and at the same time are given the responsibility to facilitate its growth and development. It's the modern trend of keeping the balance between regulating the proper running of the industry and at the same time looking for new markets and opportunities so the industry can thrive and grow," says Cheng.
The Greater Bay Area, with a combined population of 70 million, represents a huge market. After the February symposium, which was attended by Hong Kong Chief Executive Carrie Lam, Macau Chief Executive Fernando Chui and officials from China's National Development and Reform Commission, Cheng had lunch with officials from Guangdong's regulatory authority.
With the Greater Bay Area blueprint finally on the table, they wasted no time working out how they might collaborate. It's something Cheng couldn't have imagined happening 20 years ago.
"There was such a disparity between us in those days, it wouldn't have been conducive to working together. Now, with the Greater Bay Area, in terms of our individual advantages and expertise, it can be put together. It's very exciting," he says.
Better together
Broadly speaking, the Greater Bay Area initiative is about encouraging the 11 cities in the area to work collaboratively, each drawing on its individual strength. It's a "better together" strategy, and Cheng is hoping that same dynamic will boost the insurance industry. For Hong Kong, it will mean a much bigger market for insurers, as well as giving them access to technology developed across the border in Shenzhen; and that's not all.
"Hong Kong reinsurers will be in a more advantageous position than their overseas counterparts, so the risks underwritten by insurers in the Greater Bay Area can be reinsured through Hong Kong reinsurers. That is a tremendous expansion of the reinsurance market," says Cheng.
One of the reinsurance industry's key challenges is the availability of people willing to join the industry. That talent shortage could be addressed with better links across the region. Cheng says he's been working hard to address the misconception that the insurance industry is for those who don't do especially well academically. He has been helping spread the message to parents and young people that there are good career opportunities in the insurance sector, and these are set to expand exponentially.
"If the market growth is what we are expecting, we will need a lot more people and some of these people can come from the Greater Bay Area and train in Hong Kong. That's part of the Greater Bay Area policy, to encourage exchange students," he says.
Bringing people together to work towards a common goal is something Cheng enjoys. It has been a focus of his work as chairman of the Hong Kong Insurance Authority, linking everyone from the boardroom down through senior management and staff, across the industry.
"My job as chairman is to unite everybody, gel everyone together. I think that's what we're doing right now – building up a culture of being a caring and effective organisation."
Team spirit
Cheng made a very vocal demonstration of that mission at the authority's spring dinner last year by performing You'll Never Walk Alone. He has enjoyed singing since his student days at Hong Kong University, where he was a chorus member in four operatic productions, and his annual performance is a highlight of the dinner.
"I will sing. We don't have to hire a professional singer! I'm not a professional performer, so if you ask me to sing a song it must be meaningful to everybody. I sang You'll Never Walk Alone because in the insurance authority we walk together as a team, that's the spirit I want to build."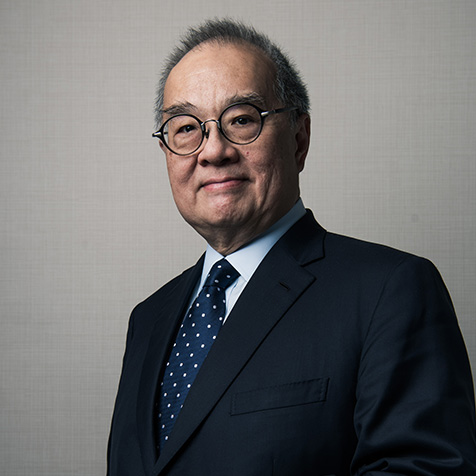 He stayed in touch with his singing classmates over the years and when they met with operatic tenor Warren Mok in 2003 an idea was born – Opera Hong Kong, a non-government organisation (NGO) committed to enhancing the appreciation of opera. As a lawyer and the group's founding chairman, Cheng was responsible for its corporate structure. The NGO has grown over the years, with the Opera Hong Kong Chorus established in 2004 and Opera Hong Kong Children Chorus in 2008.
"The vision is to build Hong Kong as a hub for Western opera in the region. Every year Opera Hong Kong does at least two full productions and two semi-stage productions. This year our young singers, together with the chorus, will tour four cities on the mainland. Again, that's from nothing. Not because of me, but because of everyone working together," he says.
With preparation for the next authority dinner underway, Cheng has been mulling over song choices and has settled on The Impossible Dream.
"The dream is that I would be loved by the insurance industry. It's quite difficult to achieve, almost impossible, but I think it's achievable if everyone works together. That's the spirit I want to project, everyone puts in their best effort," he says.
Those familiar with the lyrics penned by Joe Darion will be familiar with this line – "To be willing to give when there's no more to give". It seems a fitting choice for a man who decided in his late teens that he wanted to spend his life helping others.
"As a Christian, we are taught to share Christ's love with people. How can you do that? By helping those in need," he says.
His initial plan was to become a social worker, but that dream was dashed when his exam results weren't good enough to secure one of the coveted 20 spots on the course. Instead his name was passed on to a fledgling department within the social sciences faculty – the law department, which in 1969 was newly established. After an aptitude test and a long interview in which he says the only answer he knew for certain was in response to "What is your name?" – he was admitted to study law.
Integrity
The most challenging situations in his career haven't been tricky legal issues, but rather untangling relationship clashes. As senior partner, when two lawyers in the firm couldn't see eye to eye the problem usually found its way to his desk, by which time it was often a tense situation. He would listen carefully to understand their differences and help them see each other's point of view. None of this he minded doing, but one thing he wouldn't stand for was dishonesty.
"I can live with people who are not professionally top brass, I can help people to solve their problem, but if I can't trust you then I can't work with you," says Cheng.
He made this abundantly clear years ago when he fired a senior lawyer for not being good to his word, letting him go on three months' salary. It sent shock waves through the firm, but in the long run the harsh move paid off.
"A lot of clients came to us be cause of our integrity."
Governments, too, value an uncompromising attitude to honesty and integrity. Cheng may have retired from his legal career, but his reputation in business and ability to bring disparate groups together for a common cause mean he will be kept busy as the next phase of southern China's growth unfolds.
Dr Cheng's tips for young CPAs
Work hard and be passionate about what you do
If you are an accountant, you must be passionate about your profession. As a lawyer, I was passionate about my work. I didn't ask how much I would make from a case, but I was always looking for challenging cases. It's about the satisfaction of being able to do that case well and serve the client.

Put the client's
interest first As a professional, you've got to have the proper attitude to serve the clients' interests before your own. If you provide your service well, the remuneration will come.

Be caring
Be a caring person and exercise due care in your work.

Integrity is everything
Your reputation and integrity are built little by little over the years, but you can ruin them overnight if you are dishonest. You cannot compromise even the slightest bit when it comes to integrity.