At a glance
Justin Enright FCPA and Michael Kennedy FCPA began their mentee-mentor journey in 1990.
The roles have since reversed. Kennedy works as a strategic business adviser at Morse Group, where Enright is a managing partner.
They point to mutual trust and respect, a set of aligned goals and consistent dialogue as success factors in their working relationship.
Justin Enright FCPA, managing partner of Morse Group, a multi-office regional practice in Bathurst, New South Wales, and Michael Kennedy FCPA, now strategic business adviser at the same firm, have known each other for nearly three decades.
They met when Kennedy was managing partner at Darcy Kennedy, a regional practice in Dubbo, New South Wales. Their relationship has survived a 13-year age gap and different locations.
Their collaboration is based on respect of their mutual abilities and differences. Enright, 52, says they trust each other like no one else in business, and describes Kennedy, 65, as "a natural intellect".
"Michael was a scholarship holder, an honours student and tutor of others at university, whereas I matured in my intellect as I aged," he says. "I always saw him as the archetypal accountant I wanted to mimic.
"We can be in a room, or at a seminar, and he will ask one question that automatically shows he's across it and a deep thinker.
"Michael likes to tell clients I'm his boss now. But I still see him as superior in intellect, experience and know-how."
Says Kennedy: "Justin has a brilliant memory. He can recall things I have no hope of recalling. Perhaps he wasn't as academically strong as I was early on, but he's still pretty smart. He also listens very well and that's a terrific quality."
Building trust and respect
The story begins in 1990 – Enright had graduated with a bachelor of business degree from Charles Sturt University and was seeking a job as a business services accountant.
Kennedy, who was born in West Wyalong, New South Wales, was the same age as Enright is now. He had a bachelor of commerce degree from the University of New South Wales, had worked at business management consulting firm PricewaterhouseCoopers and, from 1978 to 1984, for Dubbo accountant Frank Darcy.
He had bought the business and grown it to include seven partners and more than 50 staff when he interviewed Enright.
Kennedy remembers Enright's enthusiasm and jokes that two other factors clinched the deal: he was willing to move to Dubbo and play for the Dubbo Kangaroos, and to become a coach of the newly reformed Dubbo Kangaroos Juniors.
"My first impression of Michael was his presence, and the fact he talks as loudly as I do," says Enright. "I discovered he has high standards and you don't present work to him you can't explain. You need to be able to rationalise it," he says.
"Michael also gave fairly brutal feedback – a good learning experience – but he backed people he believed in and gave me a lot of client contact, so I developed a broader understanding of different businesses."
Enright left the firm in 1996 to move to Bathurst because of family circumstances, joining Morse Group as a manager.
Kennedy recalls: "It was such a great disappointment. Justin had worked his way through and was starting up a service line to install software for clients.
"We had invited him to join the partnership, even though he was only in his 20s. That's how highly we thought of him."
The relationship comes full circle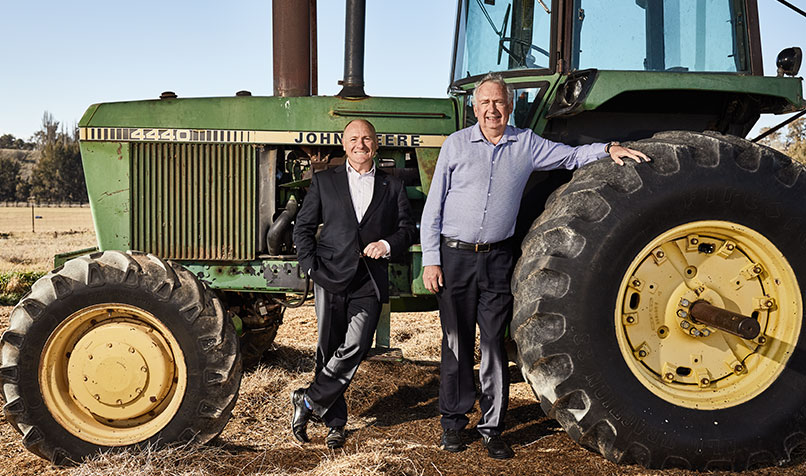 In 2000, Darcy Kennedy was acquired by a listed accounting firm and Kennedy became managing principal in Dubbo, and then in 2004, regional manager in Sydney in charge of eight firms.
From 2006 to 2011, he was a partner at Macquarie Partners and from 2011 to 2015, a partner at Deloitte Private in Norwest, a Sydney suburb, before retiring.
"I hadn't planned for retirement and still felt I was at the height of my accounting powers and had a strong client base," he says.
"I went on a couple of trips with my wife, Kaylene, and then I was just sitting around at home."
He and Enright were aware of each other's career paths, but hadn't been in regular contact. Then Kennedy received a surprise phone call. Enright takes up the story: "Everyone needs a reference point or mentor, someone they're accountable to.
"Michael ticked all the boxes. He knew my personality, what kind of issues I faced and was someone I've always had a lot of respect for. Then I heard he'd retired from Deloitte." The pair met for coffee and Kennedy agreed to consult for Morse Group.
"Michael gave me advice on practice management and client issues and I gave him time to see if he could fit into our culture and that I was worthy of hooking his wagon up to," says Enright.
"It morphed into him saying let's formalise this and, later, a new office at Norwest, where he is almost every day. That was a sign of my trust in Michael – opening that office.
For his part, he committed to bringing long-term clients to the table."
As Kennedy narrates: "It ended up I was driving to Bathurst every week, and every time I stayed in a motel room I asked why. Then a very significant former client called me and suggested Morse Group open an office in Norwest. Justin backed me and, by October 2016, that was where I was working."
The mentee-mentor relationship had come full circle. "I do like to tell people that I used to be Justin's boss and now he is mine," laughs Kennedy.
"Yes, I brought my experience in a very similar firm, but he gave me an opportunity to rebuild my confidence. The moment I walked in the door at Morse Group I felt more comfortable than I had for some time. I felt the warmth of a rural business and rural clients. My only regret is that Justin didn't approach me 10 years earlier when I could have spent more time helping him build his business."
A win-win relationship
Enright says: "It's not uncommon for Michael and I to ring each other about a professional or client issue at any time of the day or night, and often have the same thought about the best approach. For both of us, it's been a win-win."
He adds they also share a passion for service. Since 2010, Enright has been involved with CPA Australia, being a former chair of the CPA Public Practice Committee (NSW Division) from 2014-2016, and previously on the CPA Small Medium Enterprise Committee (NSW Division).
Since 2016, he has been on the CPA Australia Public Practice Advisory Committee, and in 2016 was awarded a CPA Australia NSW President's Award for Excellence in Service and Leadership. He was also a member of the Australian Taxation Office NSW Regional Tax Practitioner Working Group from June 2010 to July 2013.
Kennedy has previously held non-executive director positions with Advance Energy and Catholic Healthcare, and is a trustee with Catholic Healthcare. He has been a member of the Dubbo campus advisory committee for Charles Sturt University (CSU), a board member of the CSU Foundation and also served 10 years on the CPA Public Practice Committee (NSW Division).
Don't tell Enright, but Kennedy has plans – for a second retirement. "Justin doesn't expect it to happen," he says. "Neither does my wife. But we have bought into an over-55 retirement village, we'll continue to travel, and I'll continue some of my service activities."
Concedes Enright: "I'll delay Michael's retirement as long as possible by wrapping flexibility into his role.
"When it becomes inevitable, I know we will continue to meet and confide on all and sundry.
"Eventually there will come a time when there is someone who will be in need of my guidance, and I will morph into the role that Michael currently inhabits for me."
CPA Australia member resource:
What makes a great mentor and mentee?
For the mentor
Have the experience to provide substantial and valued guidance
Be a good storyteller, able to weave lessons into war stories
Judge when to intervene and when to step back
For the mentee
Have the humility to ask for help
Persist in developing your skills
Be motivated and aspirational
For both
Aligned goals and values
Trust and respect
A continual dialogue, not just infrequent catch-ups, with both parties maintaining a priority to respond to questions
A willingness to take risks and challenge each other when a need to act is identified