The practitioner: Dianna Jacobsen FCPA
Founder, Shine at Business and Shine at Leadership
I turned 50 in January last year and I'd never planned on having a party, but I wanted to do something to mark it and to give back in some way. I decided to start SHINE at Leadership, which is a program that helps people achieve success and happiness in life and in business. The funds from the program are given to rural families in need.
I met Deanne years before she signed up to the SHINE at Leadership program. We met at an event for rural women in business, and I was drawn to her energy. We had a lot in common, including our farming background and our passion for the livelihood and legacy. On a business level, Deanne was seeking strategy advice, and I knew I could assist her.
I started my practice, SHINE at Business, in 2010 and specialise in holistic advisory services for rural small-medium businesses and farmers/agribusiness. There's been an increased demarcation between the various areas of financial services over the past couple of decades, and there's a risk of critical advice and information falling through the cracks.
I have built up a network of solicitors, finance brokers, bank managers and other professionals with whom I collaborate for specialist support. I also love liaising with them and integrating the suggestions and recommendations that they bring to the table.
The SHINE at Leadership program takes a "money and mindset" approach. It focuses on business as well as personal wellbeing, empowerment and growth. Deanne epitomises the program. She is so willing and open to learning and is taking her business, and herself as an individual, to new heights. This in turn has a ripple effect, because she's able to help others around her.
I've worked with rural businesses across the country for decades, and I've seen so many of them struggle during the recent drought and bushfires. I'd often thought, "if only I had a small pool of money so I could help them".
The funds from SHINE at Leadership allow me to do this. Mostly our contributions are with supermarket vouchers and kids' school needs, like uniforms or excursions, especially during and post-drought, but I was actually able to give a farming family A$9000 from that pool of money last year, to help them make up the shortfall on a payment that was the difference in keeping their home or losing it in a foreclosure. It's a way of giving back to the industry in which I grew up, and in which I live and operate as well.
The SHINE at Leadership program helped Deanne to have the confidence to start her own mentoring business, Meraki – The Heart & Soul of Success, but she was already very efficient and capable with everything she does.
People outside of agriculture tend to think of farming life as something like [Australian television drama] McLeod's Daughters, which makes me cringe. It's not just about being out in the paddock with animals. It's a complex business and it has a lot of challenges.
What Dianne values about Deanne
Deanne has to manage so many moving pieces, and she does it with such grace, which I really admire. We have a good friendship, as well as a strong business relationship, which brings benefits and enthusiasm to us both.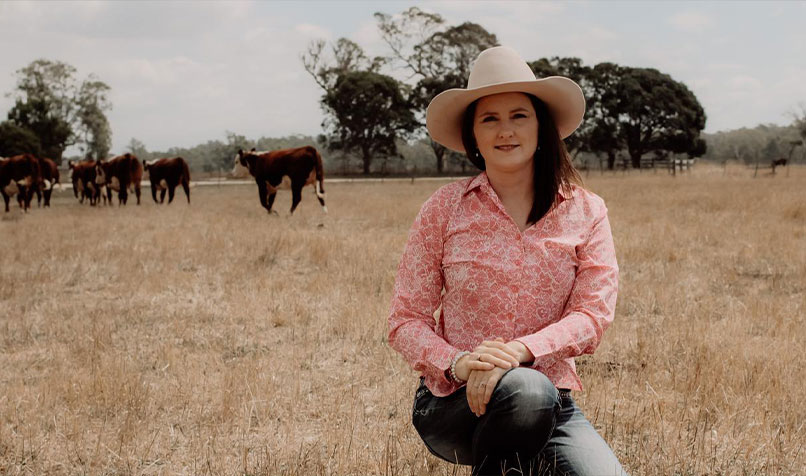 Owner and partner, Mawarra Genetics and Founder of agribusiness coaching and mentoring practice, Meraki - The heart & Soul of Success
I met Dianna about five years ago at an event for rural women in business. I didn't go to the event with a clear purpose in mind, but I was drawn to Dianna's stall with her bright yellow signage and, after chatting to her, I realised that she could help to bring a strategic lens to our farming business. I already had an accountant – and I still do – but I knew I could learn a lot from Dianna and that she could add value to our business.
My husband Peter and I run a Hereford and Angus stud farm in Gippsland, Victoria. We were in partnership with Peter's parents, who were very forward-thinking, and together we put in place a successful succession plan, which is quite rare. Peter and I have always been aware that it's something we need to have on our radar.
Dianna has been brilliant at helping us with that. She has an ability to facilitate conversations with everyone involved. We're fortunate that we all get along very well as a family, but Dianna is still able to bridge any gaps and to guide us through the process so that we don't inadvertently make poor decisions.
Dianna has also helped me to put systems and processes in place, so if I had to step out of the business tomorrow for any reason, someone else could step into my role and it would be quite seamless.
I recently undertook Dianna's SHINE at Leadership program, which was instrumental in helping me to start my own coaching and mentoring business, Meraki – The Heart & Soul of Success.
I know it sounds like a cliche, but the program has been life-changing for me, and I feel like I've found my purpose. I wouldn't have contemplated starting the business before undertaking the program.
I thought I'd learned a lot from Dianna prior to the SHINE at Leadership program, but it has made such a difference for me. It's a combination of the fundamentals of business and personal development, and I can't overstate how valuable it's been.
I live in Gippsland and Dianna is in Wodonga, but we see each other every few months and talk to each other all the time. We have a lot in common in that we both have agri-business experience and we both have a lot of compassion and empathy for others. We want to see everybody in our space achieve the best that they can.
I guess our main difference is that Dianna has a wealth of academic knowledge that just blows my mind. I am in awe of her academic and scientific knowledge. Her grasp of history and noetic science is nothing short of inspiring.
What Deanne values about Dianna
What I really value is that Dianna can distil that knowledge and share it in plain English. The wisdom she shares has helped me grow as a person and she's broadened my horizons.